Breaking down the chances of every European team.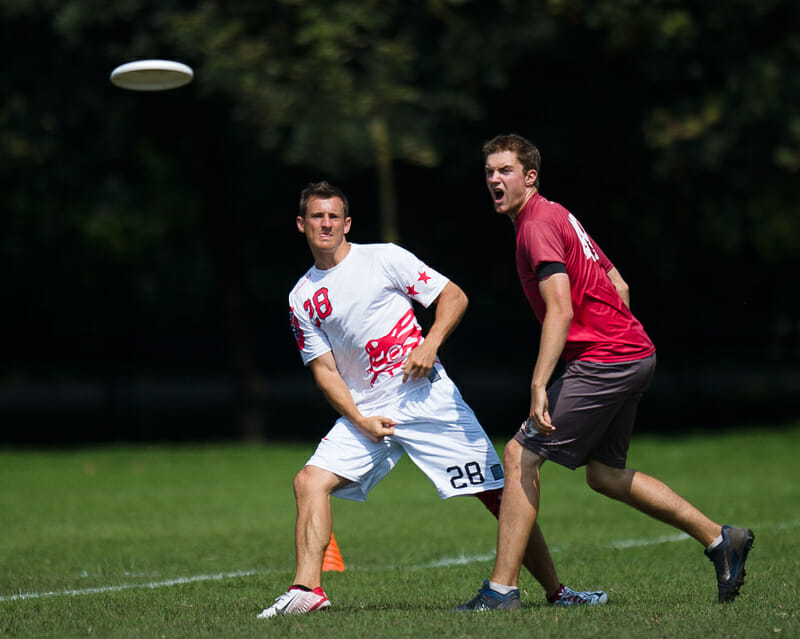 Ultiworld's coverage of the 2018 WFDF World Ultimate Club Championships is presented by VC Ultimate; all opinions are those of the authors. Please support the brands that make Ultiworld possible and shop at VC Ultimate!
This year, 20 of the 40 Men's teams at the WUCC will be from Europe. Here is what you can expect from the European teams, grouped by their predicted ceilings.
Bracket Busters
Though a few of the teams in the next tier may sneak their way into quarters if the bracket draw goes their way, the only two teams that have really shown themselves to be top eight in the world are Clapham and CUSB.
Clapham (GBR)
Clapham are the kings of Europe and have been for a long time. The last time they lost an European Championship was in 2012. At their last WUCC in Lecco, they only suffered one loss: a quarterfinals defeat to Revolver. Clapham was up 15-14 in a game to 17 but one missed throw in the endzone gave Revolver the lead, and Clapham was not able to scratch out another break, allowing Revolver to win it 17-16.
If you ask around about Clapham this year, you can hear a mix of comparisons to their team from 2014. Some say this is an even stronger squad, and others think they have lost a step in terms of competitiveness and drive. What is sure is that this is still a very competitive team.
With the athletic dominance of players like Justin Foord, Ashley Yeo, and Ollie Gordon combined with the throwing power of Alex Thorne and Chris Baker, the team has all the tools at its disposal. So far this season, they have played well, if not spectacularly. They have shown vulnerabilities: their two split squads took losses to Chevron Action Flash on UK Tour and two losses to CUSB on the season (first at the Bologna Invite, where they were still in tryout mode, and the other in the Swiss Draw rounds of Windmill, 15-10). However, Clapham roared back in the Windmill final with their classic second half defense to win the rematch against CUSB 15-13.
"I wouldn't say we split the games. I think we won the one that mattered," said coach Jaimie Cross after Windmill. "We took this tournament and will take that confidence going into Cincinnati."
The question looms as to how far their confidence can bring them. Anything less than quarters would be a disappointment, but the big question is whether or not they can take things further as they have their sights set on a medal in Cincinnati.
CUSB (ITA)
CUSB has been improving rapidly since their last showing at WUCC in Lecco, where they placed 19th. While their club has flashed great results at the EUCF and other major European tournaments, there are two more ingredients to their road to Cincinnati.
The first is the Italian youth. The Italian Men's Under-24 team shocked the world in January by getting a silver medal and holding onto a lead against USA for the majority of the final. Most of those players — Luca Tognetti, Arturo Laffi, Simone Gasperini and Bruno Mine — are from Bologna and are making big contributions for CUSB. If that strong season wasn't enough to bolster an already confident team, CUSB have also added a slew of pickups to the squad. Most notably, Canada World Games player Tim Tsang and Canada Open player Rumi Tejpar are big contributions to CUSB's O-line, along with Austrian Wolfgang Mitterer.
Their D-line also added some talent in Boston's Jordan Taylor and Thomas Edmonds as well as Michael Gaisl from Austria. Nasser M'Bae Vogel will also be suiting up with CUSB at WUCC, though he hasn't been able to get on the field with them this season due to AUDL commitments.
Adding these stellar local talents will make for a team that any WUCC opponent should fear. Their only big losses this season came from Guayota at the Bologna invite and Clapham in the Windmill final. The Italians have what it takes to make it to quarters at WUCC and are likely aiming even higher.
Bubble Teams
The next batch of teams are all talented and could easily find themselves making it to the prequarter round.
Bad Skid (GER)
Bad Skid is coming off of a 5th place finish at Windmill though they were, notably, missing their talisman, Holger Beutenmuller. They are adding back Nico Müller and Christophe Köble who were missing from last year's squad that got a silver medal at the EUCF. This team may have the best argument to be underseeded here, but quarterfinals for them will likely mean going through Clapham or CUSB to get there.
Chevron Action Flash (GBR)
Chevron Action Flash are also on the cusp of bringing things to the next level. After a 17th place finish in Lecco, the team looks stronger and should be disappointed if they don't make it to the prequarter round. Chevy are a team loaded with talent from all over England, and they may be the strongest team in Europe, in the most literal sense of the word; they are big and physical. Look for offensive contributions from their main cutters, Ben Burak and Rollo Sax Dixon. On defense, Issa Dualeh, Jake Aspin, and Matt Beavan will be making things really difficult for even the best offenses at WUCC.
Flying Angels Bern & Freespeed (SUI)
Flying Angels Bern and Freespeed are the two Swiss giants of European ultimate. Freespeed just beat FAB in the Swiss national championships on double game point. Freespeed have lost Pieterjan De Meulenare but have added former Clapham starter Rob Schumacher as well as a few talented defensive players from M.U.C. in Munich who didn't qualify. FAB still run their offense through Lorenz Stauffer, who has been playing elite level ultimate for over 20 years and may still be one of the best throwers in the game. However, FAB are finally starting to show some promise from some younger players; look out especially for Sebastian Gloor and their German pickups Lars and Jand Schmidt, who both played on the German U24 team.
Ragnarok (DEN)
Ragnarok is a team that, up until last week, would not have really deserved to be talked about in this echelon of play. However, they managed a 3rd place finish at Windmill, including a bronze win over Chevron and a narrow 13-11 loss to Clapham in the semis. They also, arguably, gave Clapham their toughest fight at the EUCF last year. Their all-star Mads Bakkegaard is still going strong at 37 years old but also keep your eye on Anders Børsen to make big plays. They have added Clapham's Connor McHale this year as well as the legendary Richard Harris, who has been out of the elite men's circuit for a couple years now but showed that he still has plenty of gas in the tank at Windmill.
Ranelagh (IRL)
We close out with Ranelagh and Tchac. Ranelagh is another team that would have been a notch below had it not been for their Windmill performance, where they battered Tchac 15-6 during the Swiss Draw rounds to get themselves into the quarterfinals. Robbie Brennan coming back to the team has really bolstered them with his new experience gained in Canada. Daragh Kelleher and Niall McCarney will also be making big plays for the Irish team. Plus adding Boston's Jack Hatchett to your line can't be a bad thing.
Tchac (FRA)
Their big loss to Ranelagh aside, Tchac have been doing very well this season. Their offense looked great at Tom's Tourney but seem to have lost a little bit of their flair at Windmill. They will be missing their standout handler, Ronan Bichon, in Cincinnati but are replacing him with Montreal Royal standouts (who started their careers with Tchac) Steve Bonneau and Quentin Bonnaud. If they can shake off the nerves they showed in Windmill, they should be poised to reach their goal of a top 12 finish.
Spoilers
While these teams certainly have a chance of getting a quality draw and cracking through to prequarters, there are enough reasons to doubt their consistency that we've got them a tier below the teams above.
Freezzz Beezzz (BEL)
The boys from Bruges have a very good argument for being in the prequarters rounds. They did win Tom's Tourney with some spectacular double game point wins over Tchac and Chevron along the way, but things seemed to normalize themselves at Windmill with longer game rounds. This is an extremely top heavy team with one of the best offensive lines in Europe. Lead by Pieterjan De Meulenare and Rephael and Benjamin Jonkers, this team could be scary if underestimated. Unfortunately for them, they are in a pool with Tchac and Freespeed. If they are unable to beat either of those teams, it will put them on a very tough road to make it into prequarters. The real question is whether or not their D-line can get the breaks necessary to win big games in Cincinnati.
FWD>> (AUT)
FWD>> had a great season last year, finishing 6th in the EUCF. FWD>>'s offensive line is one of the more complete ones in Europe. Each team member really knows their role and executes it effectively. This is great in one sense, but if teams figure out those roles, it has yet to be seen if they can adapt. They had an underwhelming Windmill, where their best result was arguably a 15-13 loss to Freezzz Beezzz. If they can find the magic they had last year they may go further, but for now it seems the play-in is likely their limit.
Otso (FIN)
Otso from Finland had a respectable 9th place finish at EUCF last year but also had an underwhelming Windmill, including a loss to Iznogood among others. They did manage some close losses to Freespeed and CUSB. Those types of losses will earn you Swiss Draw points in Windmill, but you have to actually close out games at WUCC. Luckily for the Fins, they have a pool with PELT and Relámpagos, so they have a good chance to get a 3rd place finish in their pool which could give them a good shot to still make the bracket.
PELT (IRL)
Then there is PELT from Ireland. There really isn't too much to say about this team this year, since they have not played in any of the major tournaments. In fact, they were one of the latest additions to the WUCC team list. So far, they have been very quiet about their roster and plans for WUCC. They had a strong 3rd place finish at Windmill 2017, when they brought on a few CUSB players to pickup, but that was a long time ago. It will be interesting to see the matchup between PELT and Otso to see who gets to bring a win into the bottom pool as both will likely lose out to Doublewide and Chevron.
Mooncatchers (BEL)
Finally, there are the Mooncatchers. A lot has already been said about this team, as they were the final team to be added to WUCC. Let's not mince words: these are not really the Mooncatchers that just won the 2018 Belgian championships. This is a pickup team. Getting key players like Christian Foster and Matt LeMar from the United States, this team actually has the chance to do fairly well. Given their crossover with the relatively weak Pool G, they actually have a pretty safe road to the play-in round.
Long Shots
Finally we are left with the rest. This batch of teams is unlikely to find themselves in the bracket when the pool stages are done. The teams in this group most likely to break out are Iznogood and Family.
Iznogood (FRA)
Iznogood had a decent Windmill that included a win over their French rivals Tchac. They had a very rough 2017 season where they did not even make it to the EUCF. However, they have added some firepower in the Mooncatchers Benoit Spapens and Quentin Walsh as well as Dutch standout Joram Mossink and Fire of London's David Pryce. Kevin Ou and Fred Bredard also had a great showing in the French national championship, where Izno lost to Tchac 15-12. This team has some athleticism and plays solid defense, but their offense has not been consistent enough to break them through to the next level yet.
Family Ultimate (GER)
Family boasts the Brucklacher brothers, Mo and Aaron, who are two of the most athletic players in Europe. They have led their team to be one of the fittest in Europe. A very small squad that "keeps it in the Family," they boast a lot of U24 talent and shocked many by making it to the German final, securing themselves an invite to WUCC. They had some respectable results at the Bologna Invite but haven't really been tested at the WUCC level outside of that tournament. They do have the benefit of a relatively weak pool with a shaky FWD>> and Iznogood, so they actually may have a decent shot of moving a bit further in the tournament if things start clicking in Ohio.
Devon (GBR), KFUM Örebro (SWE), Sokol (RUS), & thebigEZ (AUT)
Devon, KFUM Örebro, thebigEZ and Sokol will likely go out in relegation throughout this tournament. Devon did well to snatch the third UK spot from Fire of London, but their last place finish at the EUCF and lackluster UK tour results this year do not bode well for the team's chances in Cincinnati, even if they did show some signs of life with a win over Iznogood in the 7th place game at Tom's Tourney. Örebro finished 12th at Tom's and 15th at Windmill. The only teams at these tournaments below Orebro were Sokol with a 23rd place finish at Tom's and thebigEZ with a 21st place finish at Windmill. These teams do boast some talent and drive, but it is hard to see them making it to the bracket in such a stacked WUCC.
Final Thoughts
In general, things do look good for European teams in the Men's division. Clapham and CUSB have very good chances to make the quarterfinals, and with so many teams with a shot at prequarters, one of them will likely get lucky as well. In Lecco, there were two European teams in the quarters: Clapham and Heidees. The level of European men's ultimate has increased tremendously since 2014. The big question is whether it has increased more than that of the rest of the world. We'll find out soon enough.