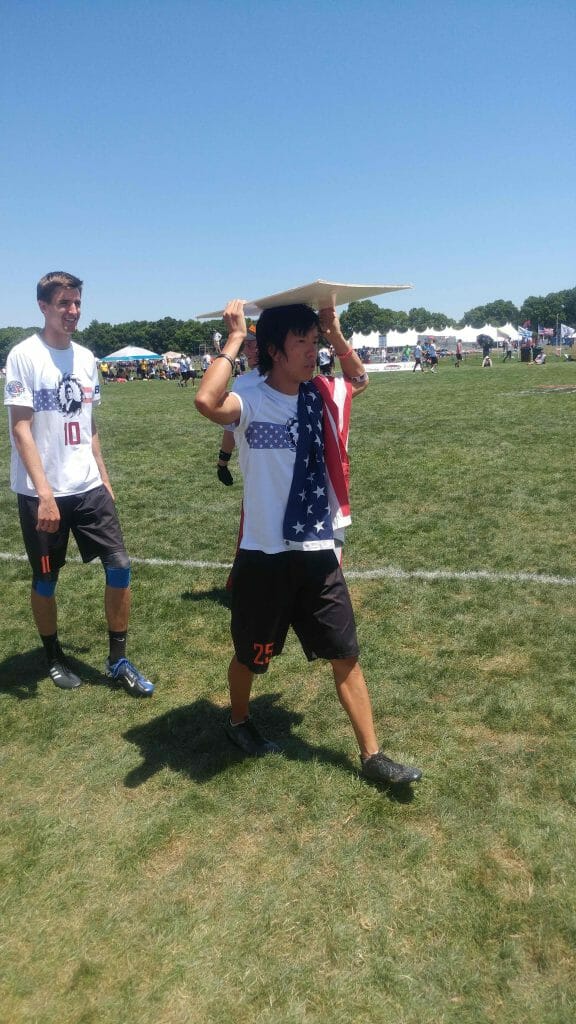 Throughout WUCC, we will be "embedding" with select teams and telling their stories with daily updates about their journey, history, and more. We call it Inside Break.
Ultiworld's coverage of the 2018 WFDF World Ultimate Club Championships is presented by VC Ultimate; all opinions are those of the authors. Please support the brands that make Ultiworld possible and shop at VC Ultimate!
Ever go to summer camp in Ohio?
"We're not at Worlds," said Bob Liu. "We're at summer camp."
Raleigh Ring of Fire rented an Airbnb in a more rural part of Ohio that strongly resembles a summer camp ground. The team picked up on it right away.
"It's this big house with a huge back porch. We are right on a lake. We keep saying we are at summer camp because we are all bunking together," said Jonathan Nethercutt.
Ring has totally embraced it and begun integrating it into every aspect of the week. Liu spent much of Ring's game against Clapham walking around with an American flag draped around him, holding a sign he found at the Airbnb. The players even integrated the name of the house, Harbourwood, into its cheers for the week.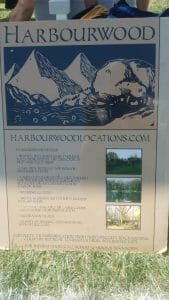 "In all honesty, the house is kind of a dump," said coach Mike Denardis. "The backyard reminds you of the entrance to a satanic cult." Still, Ring has embraced the beaten up house. The antics have even spilled onto the field for Raleigh.
"During our Germany game, we split our D-line into old and young," said Nethercutt. "Whichever line had fewer breaks had to cook dinner when we got back to camp." Unfortunately, the two lines tied for number of breaks in the game against Family Ultimate.
The goal is to stay loose, according to Nethercutt. He believes the whole team has bought into the bit.
"It's usually something stupid, like a Dad joke," he said. "We just end up building on it. When that happens, I think it's a sign that your culture is good."
Clearly, the laid back approach is working so far. Ring finished Tuesday at 6-0 on the week, with wins over Europe's top two Men's team, London's Clapham and Italy's CUSB, in power pools. This style fits a lot of the personalities on the team. Denardis called them "a bunch of goofballs."
It's an adjustment for some of the older players on Ring, who can remember a very different culture from the team's past. "For some of the older guys, this isn't the Ring they played for," said Nethercutt. "But I think they realize it is good for the team." Ring is embracing the goofiness and letting it manifest in having as much fun as possible. Even with the shift away from some of the old team attitudes, Nethercutt does not plan on burying the team's past.
"We always have the booing to fall back on," he said with a big smile.
Some things never die. Ring's hopes of a title might not either if Nethercutt has his way. "We want to finish," he said. "This whole week is about finishing better than we started. We are here to win this thing."
New attitude, same goals.