Revolver threatened and CUSB upended in a crazy Wednesday of bracket play.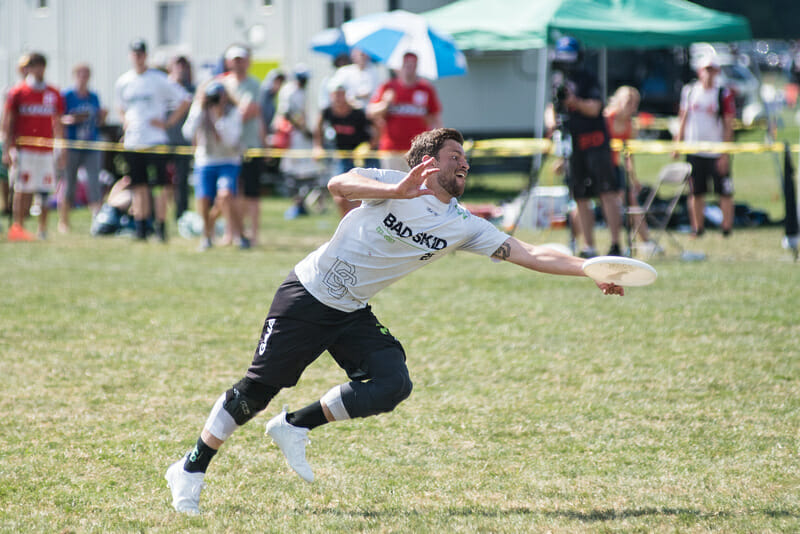 Ultiworld's coverage of the 2018 WFDF World Ultimate Club Championships is presented by VC Ultimate; all opinions are those of the authors. Please support the brands that make Ultiworld possible and shop at VC Ultimate!
After play on Wednesday, the men's field has been whittled down to eight.
Crossover Round
Chevron Action Flash (GB) 15-10 Hot Chilly (AUS)
In a game that loved the long ball, Chevron Action Flash and Hot Chilly found themselves in a shootout early. In what was an exciting game, the teams raced to 4-4, on hucks back and forth. Highlights were abundant. Hot Chilly used their size to create deep opportunities for scores, while Chevron Action Flash thrived on speed and power position to generate deep shots. The British side caught fire early in the second half and used their energy to pull away and win convincingly in what was otherwise a tight game. 
Wildcats (NZ) 15-14 Juggernaut (AUS)
After what began as a tight game between two teams who know each other well, Juggernaut pulled away to lead handily over Wildcats. Both teams showed defensive pressure and energy, laying out and forcing turnovers. Despite forcing a handful of turnovers by the Juggernaut offense, Wildcats struggled to finish off points and get breaks. After trailing 8-4, a furious comeback by the Kiwis forced double game point at 14-14. They continued to ride their momentum and broke to finish off the game, winning 15-14. 
Euforia (COL) 14-11 Flying Angels Bern (SUI)
After a slow start in the first half that saw neither offense gain much traction, Euforia took off in the second half. Using a bevy of short throws, handler movements, and throw and goes, the Colombians were able to efficiently work the disc up and down the field and never allowed the Swiss defense to gain stability. Their quick-paced offense was just too much for Flying Angels Bern to keep up with and after a tight first half, Euforia pulled out a victory, 14-11.
Nomadic Tribe (JPN) 15-14 Relámpagos (DOM) 
In the most evenly matched play-in game, Nomadic Tribe used their quick movement and precision throwing to squeak past the Dominicans. It was a game of traded breaks. Nomadic Tribe struck first with a pair of breaks to take a 3-1 lead but Relámpagos responded with a break of their own to bring it to 3-3. The teams went back and forth, each respond to one another's scores, tying the game up frequently. Nomadic Tribe opened up a one break lead midway through the game, using their shifting zone to generate turnovers, but Relámpagos gained a late 14-13 lead. On double game point, the Japanese pressure was too much and, after using a timeout, scored the winning goal, 15-14.
Freespeed (SUI) 15-10 Ranelagh (IRL)
Throughout the first half, both teams traded hucks and deep blocks in an athletic battle. Up 7-4, Freespeed took a timeout on the doorstep of the goal line with a chance to take half by four, but a miscue gave the Irish the disc back. They capitalized and were able to get a break back before halftime, down 8-6. The same deep ball strategy continued as both teams traded holds, but at 11-9 Freespeed switched up their defensive strategy unleashing their 1-3-3 defense. Ranelagh's handlers struggled against the tight cup and Freespeed broke three of the next five points for the 15-10 victory and a date with Revolver (USA) in the round of 16.
Comunidad El Oso (COL) 15-8 Warao (VEN)
After trading breaks back and forth early, Warao and Communidad El Oso found themselves tied at 3. Fueled by high energy defense, a run by El Oso saw them pull away and grab an 8-5 lead going into halftime. Out of half, El Oso picked up a couple quick breaks, and never looked back. The lead blossomed and El Oso rode their early run to victory. 
TCHAC (FRA) 15-10 FWD>> (AUT)
TCHAC entered the game with a ton of energy and a loud sideline. They rode their early energy to several quick breaks and took a 4-1 lead they would hold until the end. Sprinting down on every pull, they were able to stop the FWD>> offense before it even started. With pressure defense on every possession, TCHAC thoroughly controlled the game and rode their early energy to a 15-10 victory.
Clapham Ultimate (GBR) 15-10 Ragnarok (DEN)
Ragnarok jumped on a slow start from the London side and grabbed a 3-0 lead. But what started out as the most surprising game and potentially the biggest upset on the men's side quickly reverted to what we expected, a Clapham rout. After a much-needed timeout to catch their breath, Clapham rattled off seven straight goals and proved their athletic and skill advantage was too much for the Danish to handle. Ragnarok steadied themselves out of halftime and was even able to pull within two points at 12-10 but a hold and two breaks sealed it for the English.
Round of 16
Revolver (USA) 15-12 Freespeed (SUI)
Few American teams can say they've taken half on Revolver, but for the Swiss team, this was a game out of their dreams. Freespeed found early success sending the disc long to their athletic O-line cutters and stuck with that strategy throughout the entire game. The Swiss struck first with a break to go up 2-0, but Revolver responded to make it 2-2 and again a Swiss break to make it 6-4 was met with a response to give 6-6. The crowd grew increasingly electric as Freespeed took half 8-7. Revolver broke to make it 10-9 and most of the crowd thought the end was near for Freespeed but, using two different O-lines with completely different styles of play, they broke for 11-10.
That would be their last lead as the San Francisco club went on a 5-1 run to seal the game, but both coaching staffs saw it as the best game of the tournament so far. Revolver coach Martin Cochran told his side that "this was the best possible outcome for this game" and assistant Mike Payne had a similar outlook. "This was the first game that tested us and will prepare us for our next game and the rest of the season," said Payne. Martin Jenny, founder and now coach of Freespeed, was beaming with pride for his squad after the game. Throughout the game, he had reminded his team to "play with our hearts" and to embrace the mentality of succeeding as a team. Every member of the team saw the field. "We were going to win or lose with every member of our roster," said Jenny. He finished by saying he has "nothing but pride" for his squad, who knew they had played one of the best games in the program's history.
Nomadic Tribe (JPN) 14-11 CUSB (ITA)
CUSB forced two turnovers on the Nomadic Tribe O-line on the first point of the game, but had miscues on both possessions that gave the ball back to the Japanese. It was a sign of things to come as the Italians were close, but never sharp enough on their execution to win. The Japanese jumped out to a three point lead on the back of their zone that contained the Italians in the middle of the field, but suffocated their throwers against the side and back lines. Nomadic Tribe found quick offensive success shooting hucks with tremendous amounts of edge to streaking receivers who they could hit with only a step of separation.
Out of half, CUSB found their normal fire and rattled off three straight to even it at 8-8, but that would be the last time their D-line found the end zone. The pro-Japan crowd began to rally around Bologna after a layout catch block by Rumi Tejpar went back on a contested strip call, even though the livestream video board showed a clean block. But the support wasn't enough as Nomadic Tribe scored two throws later for their second break of the half. Nomadic Tribe will square off against Toronto GOAT in the only quarterfinal to not feature an American team.
Bad Skid (GER) 15-14 Clapham (GBR) 
Bad Skid found their way to a victory over England's Clapham for the first time in team history. After a 3-3 beginning to the game, Clapham finally got a bit of headroom after notching a break to take a 5-3 lead. Another break before halftime saw them take an 8-5 lead, and a hold out of half would extend the lead to 9-5. Bad Skid wouldn't let up, though, fighting throughout the second half, and they finally notched their first breaks of the game, tying it at 9-9. With newfound energy, Bad Skid took control of the game and built a 12-10 lead. Clapham fought hard, forcing mistakes out of the Bad Skid offense, and finally regained a break to make the score 14-14. With double game point looming, the Bad Skid offense showed patience, working the disc back and forth before finding an open huck opportunity. The huck carried over the intended receiver, but a trailing Bad Skid player picked up the trash with a layout catch, then finished off with a dishy throw on the goal line to win, 15-14.
TCHAC (FRA) 15-14 General Strike (CAN)
General Strike jumped out to a 3-0 lead and held onto that lead going into halftime. It seemed like they were in control of the game and would be able to hang on, but slowly TCHAC chipped away at the lead, pulling within one at 9-8, tying it at 10's, and then finally pulling ahead at 13-12. They had an opportunity to break to win, but with the disc on their own goal line Cam Burden intercepted it for a Callahan to send the game to double game point. General Strike had their looks but couldn't capitalize, as the French club took the game and will play Revolver in the quarterfinals tomorrow.
Ring of Fire (USA) 15-5 Euforia (COL)
Ring of Fire made quick work of Euforia, in a game in which the Americans were clearly superior. Euforia was unable to match the size and athleticism of Ring of Fire, making getting any open cuts all but impossible. Nearly every Ring defender was head and shoulders taller than their Euforia matchup. Ring took an early lead, 6-2, and it only grew as the game went on. Jack Williams was in fine form, with two goals and three assists for the American club. In all, Ring finished the game in under an hour, continuing their week's dominance.
Doublewide (USA) 15-4 Comunidad El Oso (COL)
After an exciting run, the Colombians tournament is over after a walloping from the American side. Doublewide's deep game was too much for the significantly shorter Colombians who had trouble generating turnovers on Doublewide's D-line offense. Doublewide jumped out to a 5-0 run and never looked back. They will face Germany's Bad Skid who is coming off the emotional win over Clapham.
Colony (AUS) 15-7 Wildcats (NZL)
In the matchup of Oceania rivals, Colony looked more polished and the Wildcats could not match their athleticism coming off of a play-in game earlier in the morning. The Australians opened with a 5-0 run, quickly burying any hopes of an upset. With the game sitting at 11-7, the wheels finally came off for a tired New Zealand side. The Colony O-Line worked through a spacious vertical stack that showcased their athleticism and throwing prowess, putting them in positions that Wildcats were simply unable to keep up with. Colony scored four straight, winning going away and earning a spot against Ring of Fire in the quarterfinals.
GOAT (CAN) 15-6 Chevron Action Flash (GBR)
After trading points back and forth, pushing the game to 3-3, it seemed as though we would be in for a tight game between GOAT and Chevron. However, the Canadians turned on the jets, forcing turnover after turnover. They converted time and again, scoring five straight breaks to take half 8-3. With all the momentum on their side, GOAT continued to roll out of halftime. They extended the lead and took down Chevron Action Flash, 15-6. Iain Mackenzie and Jason Huynh both tallied three goals for Toronto in the victory.
QUARTERFINALS MATCHUPS
Ring of Fire (USA) VS Colony (AUS)
GOAT (Can) VS Nomadic Tribe (JPN)
Doublewide (USA) VS Bad Skid (GER)
Revolver (USA) VS TCHAC (FRA)
Correction: An earlier version of this article misidentified the coach of Freespeed (SUI)