A night of ultimate unlike any other featuring some of the world's finest men's clubs.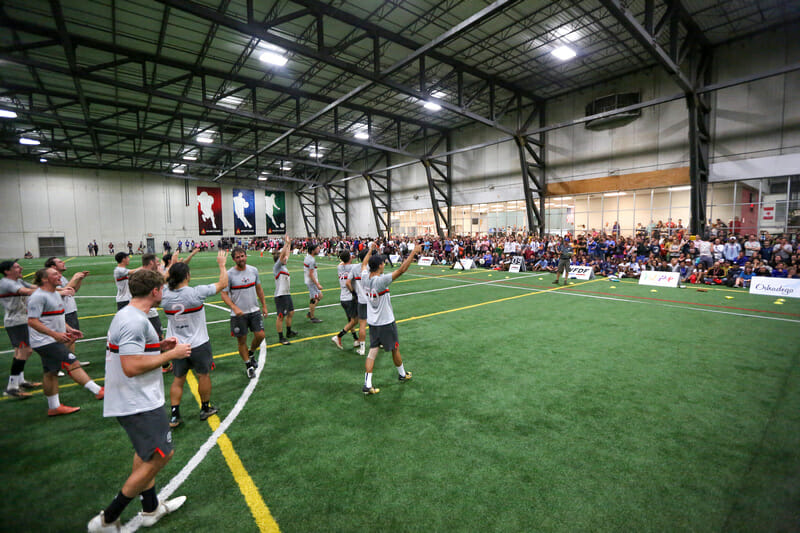 Ultiworld's coverage of the 2018 WFDF World Ultimate Club Championships is presented by VC Ultimate; all opinions are those of the authors. Please support the brands that make Ultiworld possible and shop at VC Ultimate!
Each semifinal game was not a single game. Each was two unique games, separated by hours, miles, and atmosphere.1 The first took place at the Lebanon Soccer Complex, the home of the tournament thus far, with overcast skies and a brutal upwind/downwind context. After two lightning delays, a rumor mill of speculation that games would be postponed to the next day or even canceled, and a scrambled but successful setup of a new indoor field site by the WFDF and Ultiworld crews, the games resumed, six hours and forty minutes later.
Pre-Delay
In the Colony (AUS) versus Doublewide (USA) matchup, both teams came in focused on pressuring the other with unrelenting matchup defense. The game slowed to a crawl, calls from both teams bogging down play and physical defense limiting the deep options for each squad. The wind picked up with every passing point and made the game into an upwind/downwind contest, and Doublewide struck first by breaking to go up 2-1. Every under from Colony was tightly contested with an athletic Texan defender hot on their tail.
Holding to bring the game to 4-4, Colony came down in a slightly poachy set, but Doublewide patiently worked it down the sideline until a low dish glanced off of Kurt Gibson's hands right on the goal line. The Australians bounced the disc between their handlers and then found John McNaughton on the break side, who launched a lefty backhand straight upwind to an uncovered Rob Andrews. Andrews, one of Colony's premier defenders and whose assignment was Gibson all game, had been able to limit Doublewide's best player and contain him in a way no other team had during the rest of the tournament, allowing only an assist and two goals. The next point, Brandon Malecek pivoted for a swing backhand and released the disc right into the outstretched right foot of Jimmy Tod-Hill for a short field turn that Colony again converted. Each team held once before the field site was cleared for lightning in the area.
***
On the far field, Revolver (USA) and GOAT (CAN) started their days in remarkably different ways. While Revolver repped their endzone offense and defense and had players warming up each of their throws and pulls, GOAT seemed content to be noticeably looser, juggling a soccer ball and taking far less time on 7-on-7 warm-up reps. Revolver proved they were here for business with a suffocating initial defensive point. The GOAT handlers had no other options than to swing the disc and reset backward until they flung a high stall hammer to the endzone. Although Revolver did not convert on that point, their D-line had set the tone and would on their next chance to take a 2-1 lead. But right as it looked like Revolver was on their way to a rout, an offensive miscue gave Toronto the ball and they capitalized.
That lead was short-lived, and Revolver's Cassidy Rasmussen found Nick Stuart retake the lead and then took half with a break three points later. After a gust of wind took over a GOAT throw, which just missed the hands of a Revolver defender and avoided a callahan, San Francisco had a short field. The same thing happened to Revolver's endzone pass, but a point block rebound landed in the patiently waiting arms of Michael Spear for an actual callahan goal, making the halftime count 8-6 Revolver.
The American side then made easy work of their offensive point out of half as Antoine Davis broke free from his defender to the front cone. Then, a singular, droning air horn sounded across the field complex and, after ten straight seconds, made it clear that danger was approaching from the swirling clouds above.
Post-Delay
After initially learning about their impending game from a WFDF tweet and only 30 minutes of notice, Revolver and GOAT rolled into the Wall 2 Wall Soccer Center2 to kick off the second wildest night in ultimate history.3
Revolver, some of whom had exceptionally cold cleats after trying to refrigerate them to get the smell off of them and unaware they would have another game later that day, attacked their warmup with the same ferocity they had in the morning. Some of the GOAT squad, who had expected to be done for the day, were "off doing anything you can name," said GOAT coach Sachin Raina before the game, "this is fun, we're going to go have some fun." And that was the message to the team, because they had so little time to prepare and to prepare for.  "They know they only have to try hard for 20 minutes. The warmup is going to be longer than the game," said Raina.
About ten minutes before game time, the crowd was allowed into the fieldhouse and the volume exploded. Players could barely hear one another from a few feet away and the broadcast crew had difficulty communicating through their headsets when the crowd would erupt in response to a big play. It was an electric atmosphere.
GOAT knew they had more experience in the still air of the indoor field since that is their home during the snowy Toronto winters, but they came out looking uncomfortable in the new conditions and Revolver pounced. Nathan White and Julian Childs-Walker found the endzone for the Americans and an approachable three goal deficit ballooned to an insurmountable five goal lead. Although GOAT immediately broke back, it wasn't enough. The stagnant air of the complex just served to enhance Revolver's throwing depth and the turf made their cutters even faster. At the ten minute remaining mark, it was clear the game was out of reach for GOAT, but both sides pushed the pace, GOAT hoping to spark a miracle comeback and Revolver in a mental game against themselves to reach 15 points before the hourglass ran dry.
After the game, captain George Stubbs noted how proud he was of his team's response and their tenacity. "It speaks to our team's character how we came out this game. Just, like, the intensity, the fire right from the start. Whoever thought we could've finished that game, I'm not sure one person in the crowd did," he said. And it truly was a remarkable feat, both teams combining for ten goals in a little less than 20 minutes.
***
Not long after their game's conclusion, Revolver and GOAT were ushered off the field. Following an ovation for their effort, they were cleared out by WFDF personnel, with a tight schedule to keep. Doublewide and Colony sprang onto the field and went through their throwing reps and game speed warmups. For Doublewide, the news they would be playing was slightly unexpected after they had talked with WFDF officials before leaving the fields. "[We] had no expectations that we were going to be playing tonight," said Gibson, and he called the evening "one of the craziest mental challenges that I would say I've ever faced." Even if they were frustrated with the arrangement and the surprise, Doublewide came out totally locked in, not missing a beat defensively from where they had left the game that morning.
Colony's first offensive point lasted six minutes without a turnover simply because they had no viable targets up the field. Every cut was covered or was too tight of a window for the Australians to attack, knowing they would only need a few holds to secure victory. Finally, they grew impatient and shot deep to Chris Kocher. Chris Larberg seemingly broke up the play with little contact but was denied a block by a foul call by Kocher. The crowd, numbering in the hundreds and only 20 feet from the field, booed incessantly but he did not concede. Pushing through the pressure, Colony found the endzone and reached half.
The teams did not take any break for halftime but did, however, have to switch sides of the field, dictated by the flip they had had nine hours earlier. From the second first pull of the game onwards, both teams ran tight rotations knowing the value of every point with the constrained time. A hold and then a ridiculous flying block from Kaplan Maurer knotted the game at 8-8. But time was running short for the American club. With 44 seconds remaining the final pull of the match went up, Doublewide on defense with one chance to win it. With each pass, the crowd's volume rose, bouncing off the ceiling and deafening any sideline talk. With a pick downfield and the disc on the far sideline, the buzzer went off. This would be it.
Paralleling their final point against Ring of Fire on the day prior, the play was nervous, each pass a wicked chance for the tide to turn and end a remarkable World Championship run. Colony swung to Kocher, who hit a speedy around flick to Gavin Moore, who immediately dished to Tullet. Clearing up field into the endzone, Moore recognized the open space on the break side and cut for the cone. For Tullet, it was an easy delivery.
And with that around flick into the endzone, the men from down under had eliminated two American teams in back to back rounds. They'll have a chance to complete the triple crown sweep early Sunday morning as they square off against Revolver, their toughest challenge yet.
---
Quite literally ↩

Editor: Seriously, that was the name. Of the site of the World Ultimate Club Championship semifinals and finals. ↩

The first being the lightning delay of the 2016 USAU College Nationals semifinals ↩