GOAT's side stack continues to work wonders.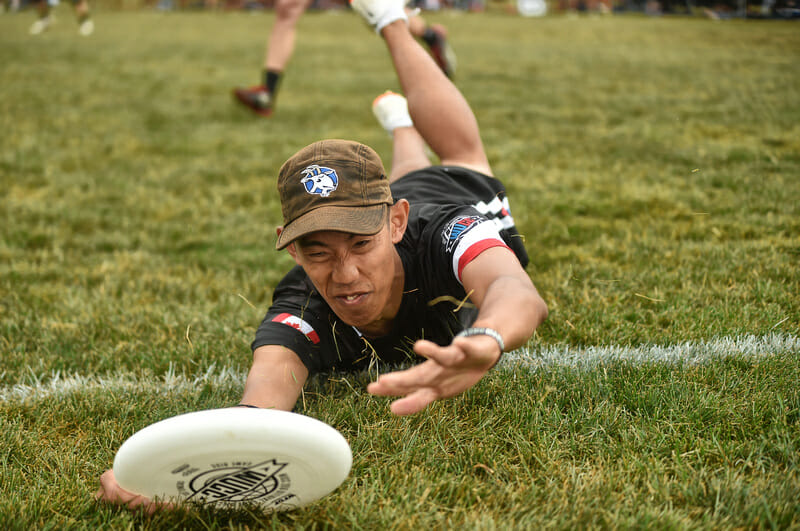 Toronto GOAT making the semifinals at Worlds shouldn't surprise anyone, but they were the talk of the tournament after taking down eventual silver medalists Sydney Colony 15-13 thanks to a near-perfect offensive display in power pools. GOAT's only loss at the tournament came to Revolver in semis, 15-10. So what is it that makes the Toronto outfit tick?
Side Stack
We didn't see a huge amount of GOAT's side stack offense this week, with Colony & Nomadic Tribe playing a lot of zones to nullify the initial isolations. It's a simple offense: isolate two players on one side of the field and let them run peppermills between them.
https://gfycat.com/SkeletalDeficientCrownofthornsstarfish
And if something goes wrong? Fill in with a lateral cut from the far stack into the middle of the field.
https://gfycat.com/ReflectingPeskyFunnelweaverspider
GOAT's O-line rarely threw deep in their two streamed games at WUCC, so it was difficult to judge whether they weren't generating opportunities or whether the defenses they faced were set up to deny deep shots. But the short range handler movement suits GOAT anyway, so they were more than happy to play small ball.
Small Ball
If ever a team ran through its handlers, it's GOAT. Confident working against a variety of zones and poach sets, GOAT's handler core of Thomson McKnight & Cam Harris looked almost bored as they comfortably moved the disc around. And it's not just those two; the rest of the squad are happy to work hard to generate short throws and keep the disc moving.
https://gfycat.com/ZealousImperfectDobermanpinscher
And again here — 30 seconds where the only movement comes from handlers Connor Armstrong, McKnight, and Jay Boychuk.
https://gfycat.com/PastelRelievedEasteuropeanshepherd
Beating Poaches
Is any team better than GOAT at taking advantage of momentary gaps in defensive coverage? The intelligence on show is just as impressive as the ability to quickly react.
https://gfycat.com/TameVacantItalianbrownbear
In the only break of the game against Colony, GOAT's D-line offense picked apart the Colony defense, found the poached player, and made the decisive score.
https://gfycat.com/TameVacantItalianbrownbear
All of defense is a gamble, and sometimes you lose no matter what. When the marker goes to ground in an attempt to stop the around break, the front of stack immediately reacts, attacking the now undefended space to the break side.
https://gfycat.com/ScholarlyBarrenDorado
Here's another example of GOAT taking advantage of gaps in coverage as Colony's Tom Tullett steps under to clog the throwing lane. Unfazed, Ben Burelle lasers the disc past the face-guarding Tullett to hit the poached player. This is a highly risky option — if the defender turns around, he could easily intercept the disc — but the speed with which the option is taken reduces the likelihood of it happening.
https://gfycat.com/ForthrightDefenselessAmericanlobster
What about this cheeky throw behind the defender's head?
https://gfycat.com/DisfiguredHighlevelLhasaapso
And when a Colony defender steps into the throwing lane, GOAT immediately makes him pay. Not only is the poach hit, but GOAT continues for the score.
https://gfycat.com/ShowyGeneralAmethystinepython
McKnight's footwork causes his defender to slip, and GOAT capitalizes with a quick goal.
https://gfycat.com/VagueEveryCockroach
Basically, teams playing GOAT should expect that they won't be able to recover from even a momentary lapse of focus. And because they are so adept at taking advantage of face-guarding defenders, it tempts those same defenders into looking away from who they are marking, an always dangerous proposition. All in all, playing against an intelligent, highly skilled offense is hard work and can be extremely frustrating.
Lapses In Focus
GOAT aren't immune to concentration errors of their own. Their D-line, in particular, struggled to convert against both Colony and Nomadic Tribe, hucking with a very low completion rate and suffering from a number of miscues, like this simple reset turnover.
https://gfycat.com/DistortedHospitableBarracuda
Against Nomadic Tribe, they could have taken a five point lead if they'd capitalized on turns they generated. Instead, they only managed a two goal lead.
Their O-line also had some issues, particularly late in the game against Tribe. It was only the third GOAT offensive turnover of the game, but McKnight's lapse of concentration could have been costly.
https://gfycat.com/GloomyNeatAfricanwilddog
And only the second break that Nomadic Tribe managed came at game point for GOAT when Cam Harris misfired.
https://gfycat.com/ThirdMixedGreatargus
In a competition stacked with teams that all seemed to play similar styles, it's great to see a team going deep in the tournament with some unconventional approaches to the game. Opponents would be wise to do their homework as GOAT gears up for the club season.