Big early leads made for little drama indoors.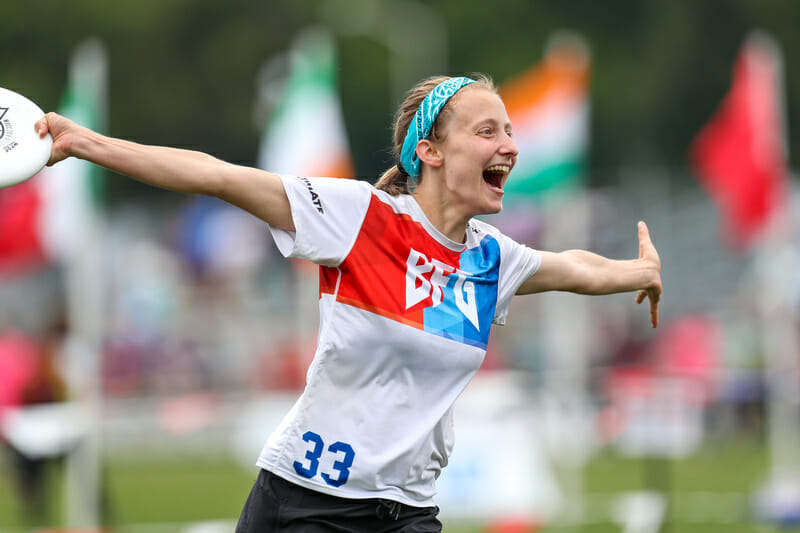 Ultiworld's coverage of the 2018 WFDF World Ultimate Club Championships is presented by VC Ultimate; all opinions are those of the authors. Please support the brands that make Ultiworld possible and shop at VC Ultimate!
Reaching the final four of a World Ultimate Club Championship is having a chance to walk on hallowed ground. The road to this point has been long and hard, five arduous days of heat and humidity and trying games that have placed these squads at the doorstep of greatness. Friday's action offered the chance for two teams to take the penultimate step towards gold.
All semifinal games were pushed into the 11 AM round in an attempt to dodge thunderstorms both before and after. Unfortunately, play was suspended at halftime in each of the games and ultimately forced indoors late in the evening, where the teams played a final 20 minutes of game action, significantly shortening the game.
As a result, games were split into two very distinct parts: one outdoors, one in. One windy, one still. Our recap reflects that dichotomy.
AMP (USA) vs BFG (USA)
Before the Storm
BFG have been focusing on mental training this season and dedicated themselves to being prepared for the unexpected. This maxim was tested to its full extent in the howling conditions on Friday morning.
The game opened with a hold for AMP, who looked every inch the tournament favorites they have been touted as all week long. The inimitable Carolyn Normile feeding the ever hungry Philadelphia goal machine affectionately referred to as Luke Ryan established what many expected to be a game long pattern. However, these Seattleites are not easy to rattle and responded in kind.
It was at this point that the elements really started to exert influence over the match-up. Turnovers began to mount as the game became increasingly dominated by the wind. BFG were able to react quicker and stole two breaks amid the building chaos. The key turning point of the half came at 5-3, with AMP trying to get a downwind offensive hold. After AMP sent a huck too short, BFG started to work methodically into the breeze. That is, until Tommy Li got the disc in power position and sent a shot screaming into the wind, looking for Andrea Coleman. Anna Thompson managed to recover the distance and leaped up to get the block, scraping the bottom of the disc with her fingertips. It bobbled, but Coleman was quick to readjust and contorted her body to pull in the crucial score. It was a potentially heartbreaking moment for AMP. BFG cashed in on the downwind advantage before the teams traded downwind holds for a 8-4 halftime score.
Indoors
Before starting the second half, approximately ten hours after the first one ended, we spoke to the two captains. BFG's captain Lili Gu knew her team were far from home. "We respect this team immensely," she said. "…We have some secret stuff for luck, we knock on some wood." AMP, despite their deficit, adopted a positive mentality for the coming half. Coach Patrick Sherlock outlined their ethos as "embrace the opportunity…aggressiveness on defense and decisive on offense."
In the second half, BFG never gave AMP a chance. Stifling defense on the unfamiliar ground combined with crafty poaching generated them a handful of turns. Pitch perfect hucks in the elementally inoculated arena made sure they took advantage of their opportunities. When the twenty minute timer went off, BFG found themselves 14-7 victors. Reflecting on the victory afterwards, Li said, "We are well rehearsed in our D-line offense."
When speaking about the final, he added, "the chains are already in motion." BFG definitely seem well capable of claiming gold.
Slow White (USA) vs Wild Card (USA)
Before the Storm
The battle of Boston started off like a fairytale for Slow White and a Grimm Brothers story for Wild Card. Slow White opened up with two breaks before Wild Card were able to hold. The next six points went in similar fashion, putting Slow White 6-3 up. Jeff Smith was in flying form, confident with the disc and nearly impossible to pin down without it. He frequently combined with the nigh undeniable Lexi Zalk for important yards, though this was far from a two person offense.
Slow White have made zig-zagging their way down the pitch an art form all1 can enjoy. At 6-2, things looked relatively unassailable for Wild Card. Their offense was slow to react to worsening conditions, a task made all the more challenging by Slow White's handler-focused defense. Slow White forced Wild Card into abandoning their system in favor of desperation hucks multiple times, before utilizing their patented 'fast but never frantic' offense to capitalize on their D-line opportunities. Towards the end of the half, Wild Card started to relieve the pressure on their handlers with hard running. As the heaven's began to open, so did the chances for Wild Card to get back into the game, though their defense had quite the mountain to climb.
Indoors
Speaking to Wild Card's captain Katherine Sullivan before the indoor portion of their match-up, she illuminated her sides plan to start scaling: "We will stick to our system." When I asked how they planned to play defense under the constricted context, she added: "We're going to be as weird as possible."
Initially, it seemed like the plan was ineffective. Slow started off the second half with an effortless hold followed by adding an additional break to their substantial tally, bringing the score to 10-4. With the game slowly sliding out of view, Wild Card started to show their true character, reversing the trend of the first half in their favor.
Wild Card held to make it 10-5 then broke to close the gap to four. The system Sullivan was talking about at halftime became far more apparent as Wild Card's O-line wouldn't give up another break in the game. They flowed elegantly down the pitch with every player getting involved, with Ian Engler specifically having a commanding performance. On the defensive end, Wild Card were able to capitalize on the turn they generated in way they previously couldn't with Maxwell Rick and Lilian Steponaitis leading the charge.
As time started to go, and Slow White continued to fluster, I heard a lone voice scream out: "don't force it." A critical mantra in ultimate, but one with heightened implications given the simultaneously decreasing lead and clock. Wild Card enjoyed a rare experience today by scoring the last two points of a game and losing it anyway. The time went as they were really starting to find themselves, evidenced by how crisp their offense had become. They won the second half 6-4, but it wasn't enough to correct their mistakes in the windy morning conditions. One can't help but wonder what would have happened if the game had been a little bit longer.
It is enough of a testament to its players that Wild Card kept fighting right to the last second of time. When that second came, they lost graciously. As for Slow White, they had realized a grand ambition. Speaking about the result after the game, Slow White's captain Olivia Hampton said, "This team is about playing ultimate with our friends, we are flabbergasted…so excited."
As they played in the second game, I was able to talk to her about their opponents in the final on Saturday, BFG.
"We're aware they are a hucking team and we have some special ways to stop it," she said, staying tight lipped about the specifics, but it basically revolved around help defense and making sure players keep their heads up. The latter will be increasing important as the indoor pitch2 will reprise its role for the mixed final. Between the crowd and the echo, that place can get debilitatingly loud.
For now, though, we have our finalists. Congratulations to BFG and Slow White, commiserations to Wild Card and AMP. The stage though hastily acquired, is now set, the curtains hung, and behind them, coy as is her nature, destiny awaits.
---
except their opposing defenders ↩

which we will refer to as 'The Thunderdome' ↩