AMP rallied from an early deficit to make the final.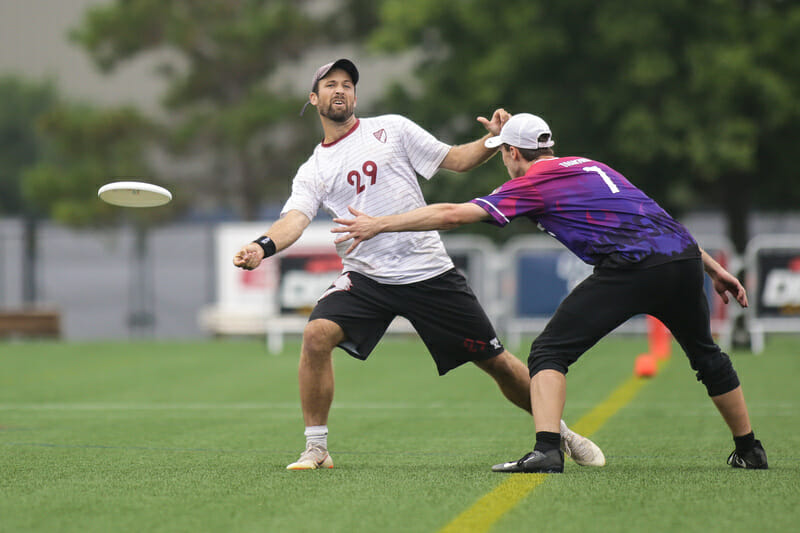 Ultiworld's coverage of the 2018 Mixed Division is presented by Universe Point cleats; all opinions are those of the authors. Please support the brands that make Ultiworld possible and shop at Universe Point!
The first U.S. Open mixed semifinal matched up #4 Philadelphia AMP (5-0) against #8 Minneapolis Drag'n Thrust (4-1). AMP dominated their pool play games with a +36 goal differential in five games. Meanwhile, Drag'n Thrust was a +18. Philadelphia fended off an aggressive Drag'n Thrust team to win 13-10.
With O-line stars Sarah Meckstroth and Brian Schoenrock starting the game on defense, Drag'n Thrust came out firing. On their third break chance of the game's first point, Kat Ritzmann hucked to Schoenrock to make it 1-0. After an AMP turnover on the ensuing point, Ritzmann assisted on another huck as Drag'n broke again to make it 2-0. "After coming off the BFG loss, we knew every point was up for grabs," said Meckstroth.
At 3-2, AMP finally gained momentum. First, Carolyn Normile earned a layout block, leading to a break to tie it at 3-3. On the next point, Michael Panna recorded bookends to give AMP a 4-3 lead. The teams then traded holds all the way until halftime, as AMP took an 8-7 lead. After a rocky start of the O-line, Philly's offense recorded nine consecutive holds to close the game. Drag'n was ready for Nicky Spiva's hucks and deep cuts early on. So Spiva became more of a distributor as the game progressed, opening up cutting lanes for his teammates. Linda Morse and Sean Mott had strong games downfield when they were isolated in space.
In the first half, both D-lines forced turnovers with some good individual huck defense, often with help from other defenders. However, the D-lines did not have much success with their break chances: AMP was 2 for 11; Drag'n Thrust was 2 for 8. The stars shined in the first half: Meckstroth had four points,1 while Schoenrock and Nicky Spiva had three apiece.
Two more holds brought the game to 9-8. On their second break chance of that point, AMP called a timeout 40 yards from the end zone. Normile immediately broke the mark to Steve Rosso, who hucked to Spencer DeRoos for a huge break. On the ensuing point, AMP forced two huck turnovers and Eric Nardelli scored to make the game 11-8. AMP's O-line took care of the rest, frustrating Drag'n Thrust's defense, who failed to break on their final six opportunities. Minneapolis's offensive efficiency also dipped in the game, managing just a 31% conversion rate,2 which put a lot of pressure on the defense.
While AMP's D-line offense was not as efficient as in their pool play games, their constant switching from matchup defense to zone — and excellent deep defense — gave them plenty of break chances – 18, to be exact. Coach Patrick Sherlock said, "We were pretty consistent with how we wanted to position ourselves on defense." Having Raha Mozaffari and Normile anchoring their D-line gives AMP two talented offensive weapons after a turnover.
After winning the national championships three consecutive times in 2014 through 2016, Drag'n have flown under the radar by "only" reaching semifinals at Pro-Elite Challenge, and by not qualifying for WUCCs. But not anymore. A dominating five-goal win over #3 Mixtape looks stronger after the Seattle team rebounded with three wins Saturday. Drag'n jumped out to a 9-2 lead over a strong Public Enemy team. The first half against AMP was the best half any team has played against AMP all weekend. "We picked up our level of trust [this weekend]," said Meckstroth.
Against AMP, the two immediate breaks show that Drag'n can go on runs against any team in country.  Meckstroth (1 goal, 4 assists, 3 Ds) and Schoenrock (6 goals, 2 Ds) were incredible in the semifinal. However, Minneapolis's efficiency with the disc was sorely lacking, resulting in some anemic conversion rates. Those numbers must improve to compete with the country's top teams. With some players returning from Master's Worlds and new experience gained this weekend, expect Drag'n Thrust to make some strong adjustments as the club series approaches.
AMP advances to the final to meet BFG, the same team that eliminated them from gold medal contention at the World Ultimate Club Championships just a few weeks ago. Philadelphia has some different personnel for this matchup, making it a new test for the title hopefuls.
---
Goals + Assists ↩

Percentage of their offensive possessions on which they scored. ↩