Philly's offense went nearly untouched.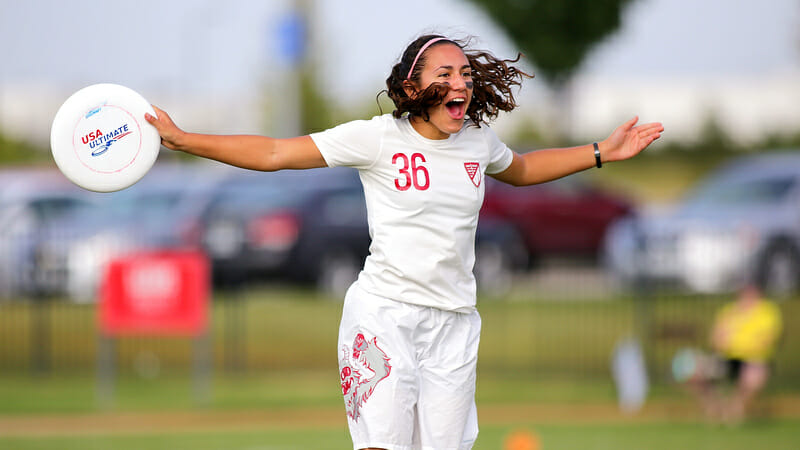 Ultiworld's coverage of the 2018 Mixed Division is presented by Universe Point cleats; all opinions are those of the authors. Please support the brands that make Ultiworld possible and shop at Universe Point!
MINNEAPOLIS — Two weeks after meeting in the semifinals of the World Ultimate Club Championships, Seattle BFG and Philadelphia AMP collided in the US Open final on Sunday. BFG's comfortable 14-7 win over AMP at Worlds was no predictor this weekend: despite playing without 2017 All-Club 1st Team selection Anna Thompson, AMP's offense was untouchable, and Philadelphia won 15-13.
It was an inauspicious start for Seattle. BFG opened with three turnovers on the first point. AMP converted their third break chance on a Spencer DeRoos assist to Carolyn Normile to take a 1-0 lead. The next six points were all holds, but they looked drastically different. AMP's offense started 3 for 3. BFG had three holds, but six additional turnovers.
"We didn't come out playing our tightest offense," said BFG captain Alexa Kirkland. "It was partially mental on our part, and partially that AMP is a talented team that you can't come out asleep against."
After 17 total turnovers during the game's first six points, the play cleaned up considerably: there were just six turnovers throughout the rest of the first half. The teams traded a break apiece. First, an early AMP turnover allowed BFG to break on one throw – a Tommy Li inside out flick to Sarah Benditt to make the score 5-4, BFG. Four points later, AMP earned the break back on a Yuge Xiao break throw to Luke Ryan, who acrobatically toed the line to put AMP up 7-6.
The second half, in contrast, was an offensive masterpiece. With AMP receiving up a break at 8-7, the teams traded the next twelve holds. Philadelphia's offense went turnover-free on that run. AMP utilized an array of passes into open space to create high percentage scoring opportunities. Nicky Spiva starred during the second half stretch with one goal and five assists. Whatever BFG did to try to stop Spiva failed.
"We executed a lot better [than the game at Worlds]," said AMP captain Emily Shields. "We were also effective at rotating the disc to the person that was open. We did a good job of punishing [BFG] when they poached us."
At 14-13, AMP finally turned over the disc on a late stall Spiva huck. But BFG's D-line, which hadn't touched the disc all half, gave it right back at midfield. A few throws later, Shields scored at the front cone, giving AMP the 15-13 win and tournament championship.
AMP finished the game with a stellar 76% O-Line conversion rate. Shields and Nico Lake were both big contributors with their ability to gain yardage both as handlers and as cutters.
While Philly's O-line was close to flawless, their defense finished just 2 for 14 on break chances. AMP has work to do with still over two months left in the club season. "It was execution errors [in the final]," said Shields. "We had some really nice movement. We had some really great swings to breaks downfield. We're definitely going to work on that going forward."
BFG meanwhile, will have to regroup after suffering their first loss in the 2018 calendar year "It's great to learn what it feels like to be under pressure and what it feels like to be in a position where we're [not winning] the whole game," said captain Lili Gu. "This is important for us to feel now so that we can develop ourselves for the rest of the season."
"We want to be aware of where we are mentally," added Li. "AMP has players who really shine in their offense. We'll go back to the drawing board and do a little planning as to what [AMP's] tendencies are."
The two teams may square off again at the Pro Championships in New York over Labor Day weekend.
Final Stats
AMP O-line Possession Conversion: 13-17
AMP D-line Break Conversion: 2-14
BFG O-line Possession Conversion: 12-26
BFG D-line Break Conversion: 1-4