Meaningful games await us on Labor Day weekend!
Resident Ultiworld rankings expert Cody Mills took the results from this weekend's Club Division action and ran the USA Ultimate algorithm to give a snapshot of what the USAU rankings would be if the season ended right now. You can see more on frisbee-rankings.com.
Men's Division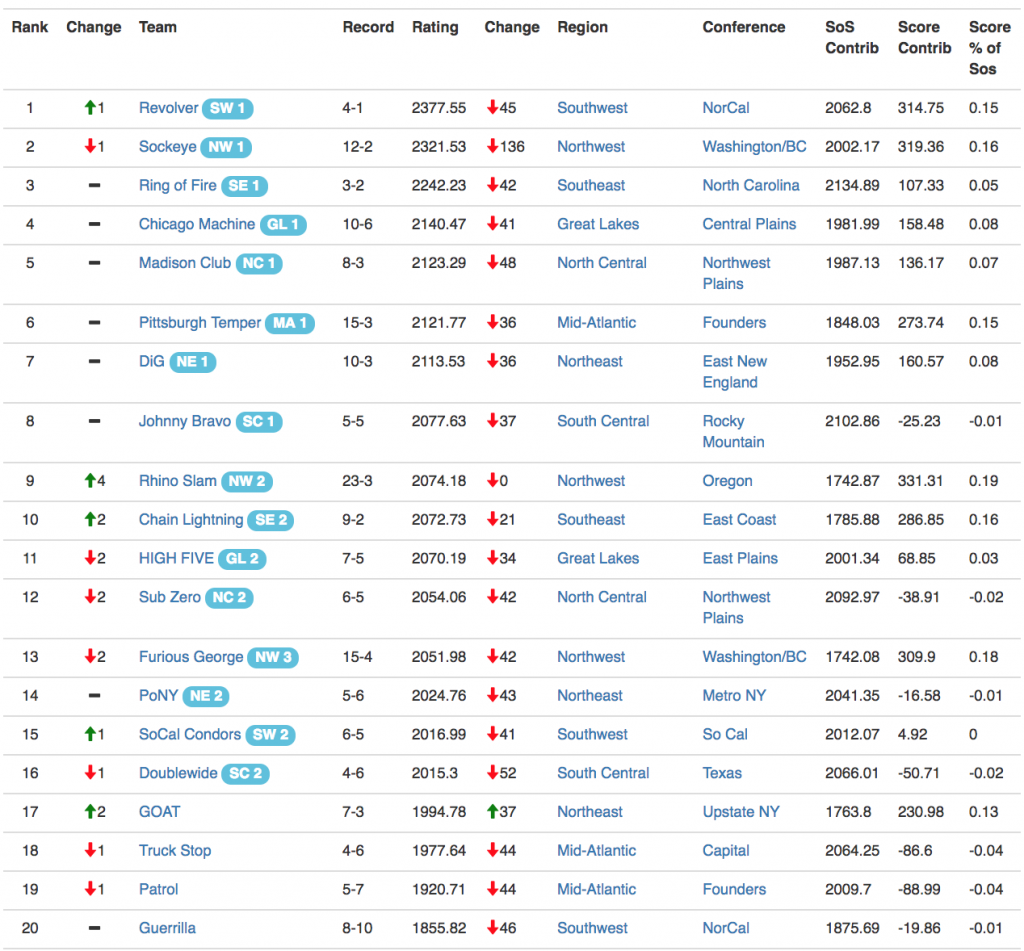 GOAT got max wins over nearly every opponent they faced this weekend at an upstate New York 'get to 10 games' tournament, but it wasn't quite enough to push them into bid-earning range. They're about 20 points back of Doublewide, who is not playing again this season. GOAT's best hope is probably for High Five to have a stellar weekend, since GOAT blew them out at Elite-Select. Or Sub Zero to have a terrible weekend. Either way, it's a long shot.
Truck Stop remains the last, best hope for a second Mid-Atlantic bid. Truck will be at Pro Championships this weekend with lots of highly rated opponents on their schedule. They'll need to continue to improve their play to make the jump. Patrol is also playing Pro Champs, but they've got a lot more ground to cover.
Could the South Central or Southwest still end up with just one bid? Yes, second order effects make that possible. Condors and Doublewide could easily switch places, and a big weekend from Truck could knock one of them out.
Mixed Division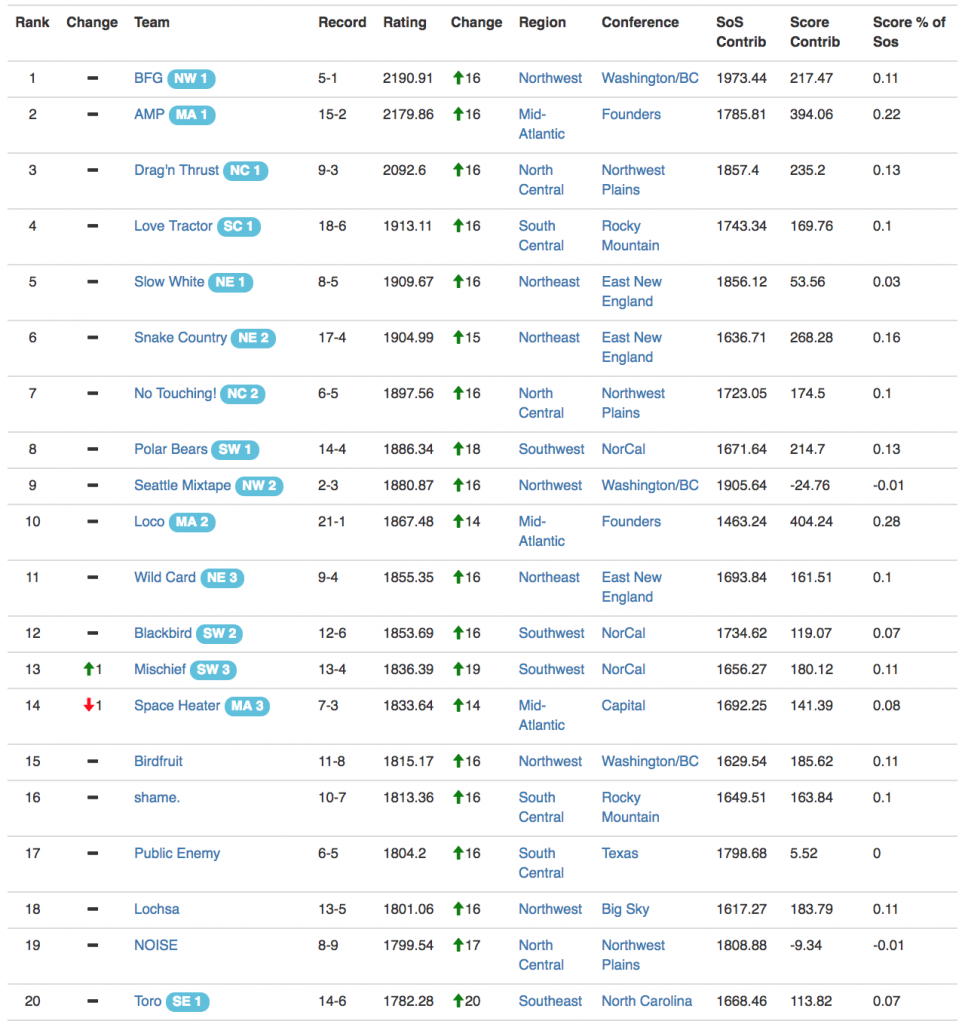 Space Heater is barely hanging on! They drop to the bubble spot, just 20 points clear of Birdfruit and shame. The good news for the Mid-Atlantic: none of those teams are playing this weekend.
The only real drama this weekend hinges on Wild Card. The bottom seeds at Pro Champs are just too far out to make a push into the bid range. Wild Card is over 20 points clear of the bid line, so they'd need to have a bad weekend to drop out and pass a bid from the Northeast on to the Northwest or South Central.
Interesting side note: Mixed is the only Division where regions are earning auto-bids (Toro at #20 for the Southeast and Steamboat at #31 for the Great Lakes)
Women's Division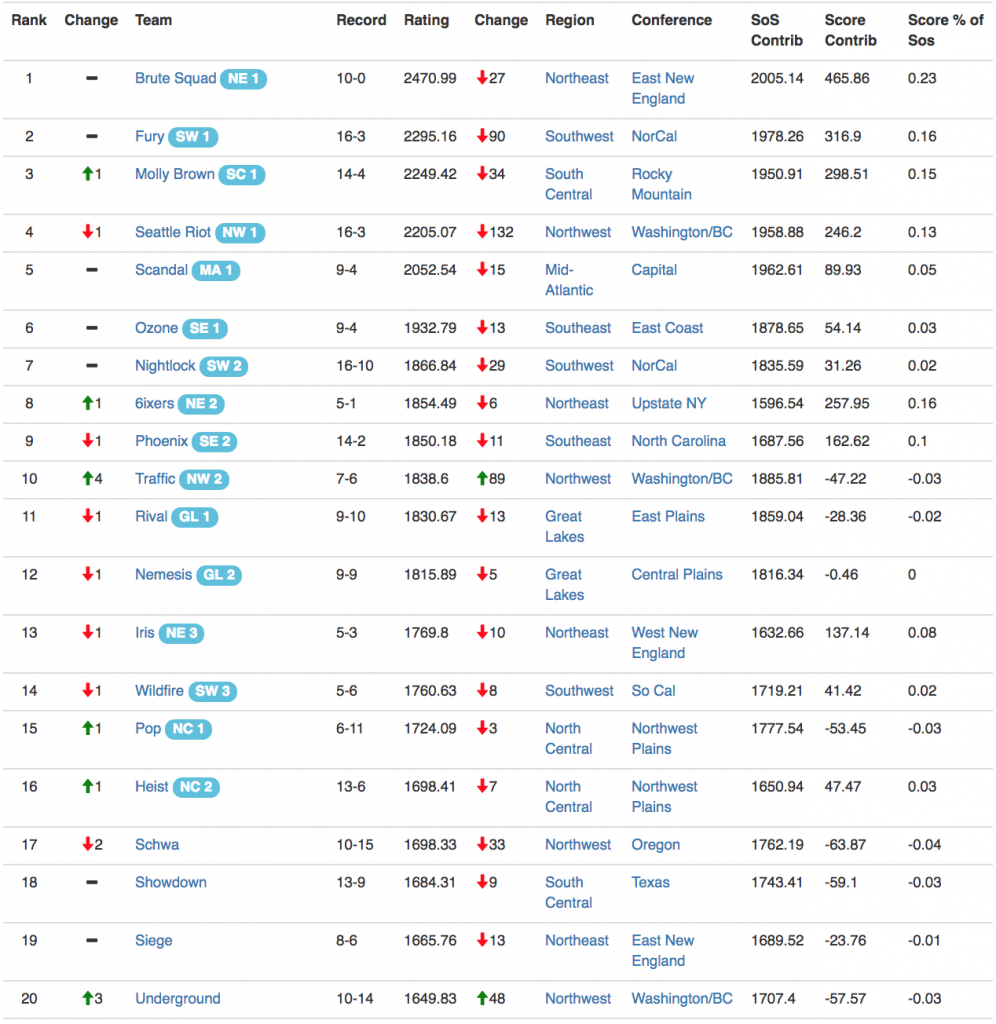 Because Iris is sitting at only nine games with no further sanctioned games scheduled, their bid for the Northeast is not going to remain in the region. That means that Schwa, despite falling two spots this weekend at the Bay Area Invite, is holding the last bid. Notably, #19 Siege has a chance to play into a bid at Pro Champs, where they might steal one away from either Schwa or Heist.
Schwa is incredibly close to Heist (.08 ratings points) in the last spot. Here's what Mills has to say about this situation: "I think it's worth reminding people that the convergence standard for the algorithm has never been specified publicly by USAU. That's why the absolute rating numbers from this site don't always match up with the official rankings, though the relative order/differences between teams match. Once I know where USAU is stopping, I can pin certain teams' rankings and reproduce their results, but it's basically impossible to predict when that will be ahead of time (I've tried and can't find any pattern). This matters because small perturbations occur with each iteration– at a 0.1 point difference like there is in the women's rankings, [it] might jump back and forth! The projections usually get even these small differences correct, but it's not a guarantee."
Heist won't have any excuses, though, if they don't earn a bid for the North Central. They play this weekend at Pro Champs.