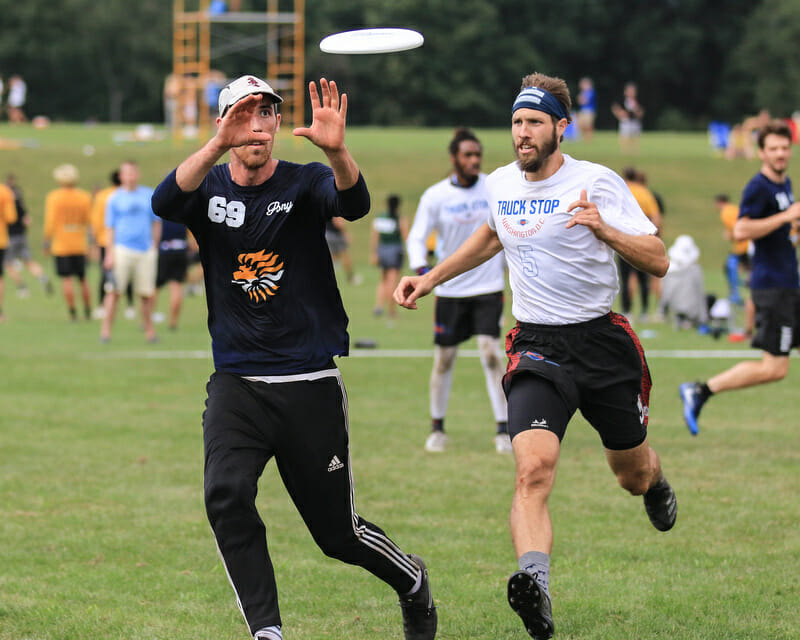 Bracket play on Sunday at the Pro Championships gave us a pair of pre-semis and semifinal games that cemented San Francisco Revolver and New York PoNY as the class of the tournament, setting up an exciting final on Labor Day Monday.
Pre-Semis
After losing in the final game of pool play to PoNY, Ring of Fire lugged themselves across the field complex to take on a Boston Dig team coming off a comeback win over Sub Zero. The difference in energy was evident from the offset, as Dig came to play in the present while Ring seemed to still be chasing the ghosts of their double game point loss in the last round.
With Ring stuck in the past, DiG shaped the future. They leapt out to a 6-2 lead behind a fiery defense that was rearing its head for the first time on the weekend. Chris Bartoli was seemingly everywhere for DiG's D-line, continuing a stellar weekend for the recent UMass grad.
There was a palpable sense of malaise and frustration from Ring. Time and time again, they would try to force a deep shot into coverage early in the stall count, as though desperately trying to score that one missing point from the game before. The usually stellar Jon Nethercutt was noticeably off the boil, at one point suffering through a stretch that saw him airmail a huck promptly after one of his scoobers got hand blocked en route to a break. DiG took half 8-4.
Ring's hopes of a second half comeback were immediately deflated when DiG broke to start the second period. Noah Saul was late getting off an around backhand and Henry Fisher had already broken off his cut by the time the disc was released. It was a sitting duck that Brett Gramann was happy to shoot down, and a few throws later, Boston's lead ballooned to 9-4.
The game ended with Dig's Rocco Linehan going up between Jacob Fairfax and Mischa Freystaetter, two of the best deeps on the planet, and came down with a score for the 15-8 win.
The other pre-semi between Washington DC Truck Stop and Denver Johnny Bravo was similarly one-sided. Truck Stop's defense keyed in on stopping Bravo's high release shallow space throws, forcing Denver to test their deep shots. This gave Truck's deep defenders the chance to do things like this
https://twitter.com/USAUltimate/status/1036406339738722304
Delrico Johnson had four blocks for Truck Stop, and most of them were as emphatic as that.
Bravo didn't have an answer, and an 8-3 deficit at half turned into an 11-4 chasm from which they would not emerge. Truck took their foot off the gas just a bit at the end of the game, and Denver managed to put a few points together that kept the scoreline reasonable, but the 15-8 final score did not unduly flatter the DC team.
It was perhaps the most impressive performance of the year for Truck Stop, who have slowly worked out of the hole they dug for themselves at Colorado Cup over the course of the season and now look like one of the best teams in the country. Coming into the weekend, the question was whether or not Truck could scrape together enough wins to earn a strength bid for the Mid-Atlantic. Now the question becomes how far can they go?
"It was a great weekend," said coach Darryl Stanley. "Younger players and rookies now know that they can compete with everyone in this country."
Semis
Truck would certainly compete with PoNY in the semifinal, but the home town New York team, fresh off a bye, was able to hold off a second half surge from Truck Stop and advance to the final. New York kept their undefeated tournament going with the 14-10 win.
Aggressive marks bothered Truck's handlers and PoNY generated turns by forcing throws just outside of receivers' catch radii. New York's D-line picked up two breaks in the first half, and a straight set of holds from the offense gave them an 8-6 lead going into the intermission.
Two more breaks after the half pushed the lead to 10-6. For PoNY, the formula was clear: Jimmy Mickle splashing pinpoint hucks to Ben Jagt to stretch the defense with Harper Garvey's backfield trickery moving pieces across the chess board. Truck Stop's plan was more muddled, as they tended to get stuck in high stall situations. As they had all weekend, Truck turned to Matthew "Rowan" McDonnell in desperate moments, but he wasn't able to bail them out this time, coming close but not close enough on several would-be spectacular saving plays.
Despite the deficit, Truck didn't give up and managed to pull the game back within one after PoNY's offense carelessly threw away a few possessions. But the effort to close the gap sapped Truck of the energy they would need to close out the game. PoNY pulled away after a hard-fought hold gave them a 12-10 lead that quickly became a 14-10 final after a tired Truck offense stalled out for two New York breaks.
In the other semifinal, Dig carried their full head of steam into a showdown with #1 San Francisco Revolver. After taking Revolver to double game point on Saturday, DiG had confidence that they could keep up with the defending champs. It was rocky in the early going for Boston, as Revolver's defense was dialed in from the start. Dig surrendered two early breaks and even their conversions looked uncomfortable, with Revolver stuffing their undercuts and taking away deep shots with big flat marks.
Boston worked their way back into the game by getting tricky. With Ben Sadok, Josh Markette, and Mac Hecht on the O-line, Dig has the potential to uncork a wide variety of throws. They needed to send a barrage of scoobers, hammers, and blades over the mark and into open space because Revolver had the force side lane locked down. It worked for the most part, but any time one of those high difficulty throws didn't work out, Revolver was quick to pounce.
The flow of the game remained steady the whole way: Dig hanging around as Revolver slowly increased their lead. Boston managed a few breaks but were never able to string any together as every time Dig broke, Revolver responded with immaculate offense. Much of that offense came from Antoine Davis, who pulled down five goals and won every battle downfield.
Trailing 14-11, Boston broke to stay alive. Unshaken, Revolver came out on the next point and put the game to bed. Ashlin Joye roped a flat backhand huck at stall nine straight down the line to Joel Schlachet, sending Revolver to the final.