While Boston ruled, the rest of the field also made their final impressions before the postseason.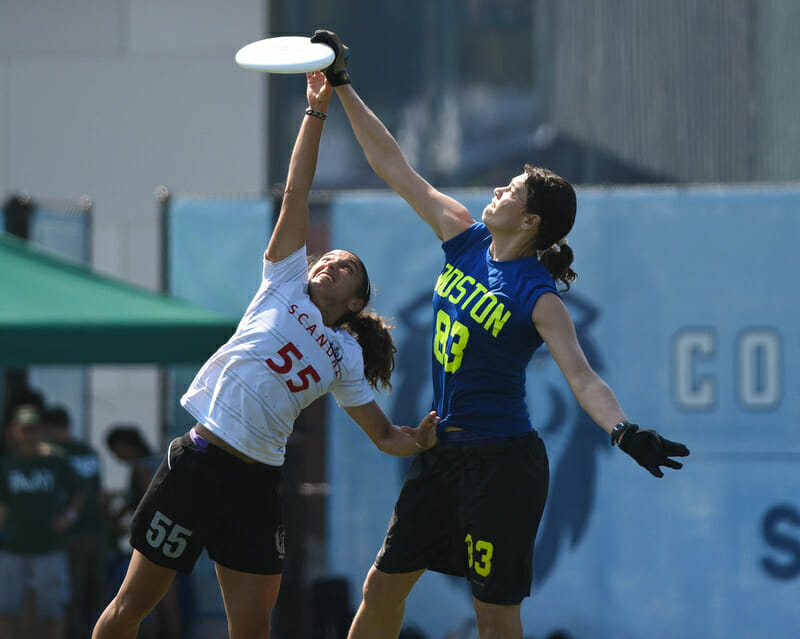 Ultiworld's coverage of the 2018 women's division is presented by VC Ultimate; all opinions are those of the authors. Please support the brands that make Ultiworld possible and shop at VC Ultimate!
Pro Championships wrapped a bow on the on the 2018 club regular season. Heading into the weekend, there were still plenty of questions to be answered ahead of the Series, and the long weekend did plenty to answer them. The final bid picture was set, some teams struggled through absences, Scandal showed signs of improvement, and yes, Brute Squad was very good.
Brute Squad Squashes the Field
Without any of the other top four teams attending Pro Champinships, it always was likely that #1 Boston Brute Squad would win the tournament without really being pushed late into a game. Their closest game surprisingly came against Washington DC Grit, a 15-11 win in the final round of pool play on Sunday morning, although they had already locked up their pool.
Brute were again pushed in the final by Washington DC Scandal. In that game, they took half at just 8-7, with the game on serve. They pulled away in the second half with four breaks to Scandal's none, but it was the only time all weekend that their game wasn't in hand early on.
Brute Squad's defense was simply too much for every offensive unit they faced over the course of the weekend. Their defense is the most dangerous weapon in the division right now, and none of the teams best equipped to cope with it were present.
Offensively, Brute did suffer through some minor hiccups. But their defense was so dominant that even when their offense was at its worst, they were never really challenged. Ironically though, when asked where Brute could most improve after the tournament, Kami Groom said it was the team's defense.
"I think our first go to thing is always gonna be defense. That's what we pride our team on. I'm very happy, and I think we all are, with our defensive performance this weekend, but that's always the spot we're gonna look at first no matter how strong we…to be better at that because we think that's what gonna set us up best to be successful in the women's division."
It would be difficult for Brute Squad not to be a frustrated with the way the tournament field panned out. With all of their chief rivals skipping the tournament in favor of the Bay Area Invite last weekend, they missed out on a last opportunity to fully gear up for semis and the final at Nationals.
But Brute attacked the weekend as best they could, and used it as an opportunity to fine tune things for the Series. "Our focus was definitely on improving," said Groom after the tournament. "It's the last tournament of the regular season. The next time we're gonna step on an ultimate field together to play ultimate is gonna be Nationals. So how can we, no matter who we're playing, push the standard ourselves? On defense, with intensity, and on offense, with good decision making. How can we raise that bar for ourselves, and make sure that every time we step on the field it's the same level of play on our end? And we did that for the most part."
And Groom also felt like their two DC opponents, Grit and Scandal, did provide the team with a good warmup for the post season. "DC ultimate is obviously very strong. Both of those game were very tough battles," she said. "We love the east coast culture and we feel like we have similar playing styles. Physical, gritty, working through stuff when it doesn't work. So it was awesome to be challenged in that way, kind of get a taste of our own medicine in a sense."
Brute ended the regular season as the number one team in the country, and holders of the first two Triple Crown Tour wins. Even without getting to play the other top four teams, Brute Squad look like the favorites to win a national championship as well.
Scandal Shows Signs of Improvement
#5 Washington DC Scandal's tournament was a genuinely impressive one. They reaffirmed their status as the number five team in the division at the conclusion of the regular season with their undefeated run to the final, and then gave Brute Squad their biggest test of the weekend to conclude the tournament.
Scandal's closest games were 15-11 wins over Boston Siege and Toronto 6ixers. Their game against Siege was probably their worst, as they needed breaks on the two last points of the game to finally pull away. The performance that might give them the most confidence going forward, though, was their only loss. Scandal had already shown an ability to beat teams the caliber of Ozone and 6ixers this season, but they had struggled mightily against the Big Four. They have two losses to Molly Brown by a combined nine goals, and also have a 15-5 loss to San Francisco Fury and 15-3 loss to Brute Squad on their resume.
That they were able to play with Brute Squad for as long as they did is a big improvement in that regard and has to be a big boost of confidence ahead of the Series. Head coach Alex Ghesquiere, though, wasn't concerned with final scorelines. "It doesn't have anything to do with the results; it has to do with whether we were hitting our goals," he said. "Are we running our systems well, are we playing with the right mindset, are we playing with our team goals and ethics in mind? And I think across the board the answer was yes. We're hitting those process metrics a lot more consistently than we were before."
A lot of the team's first year players had big weekends. Lindsay Soo was impressive all weekend and a key member of the team's D-line, while also coming over to play O-points at times. Danielle Byers was an a deep threat that teams had no answer for prior to the knee injury she suffered while making the game winning catch against Atlanta Ozone. Laurel Oldershaw earned unders all weekend for both O-line and D-line and was also a threat as a quick thrower after the catch. Scandal's turnover from last year to this year is well documented, but those new players now seem to really be finding their places in the team.
Ghesquiere credited the improvement of those new players, and the team's improved comfort with the team's new systems, as the cause of Scandal's strong weekend. "It's gonna be a season long story. We are growing every practice and it makes that we're getting better all the way through. We started with a lot of new people, we started with new roles, we started with new systems. I expect us to be closer still in these games [with the top four teams] when Nationals comes around. We're gonna have a chance to be on top next time."
6ixers Come up Short
#9 Toronto 6ixers would have loved to be that team to try and push Brute Squad in the final, but they came up short in their semi against Scandal. It was another weekend of missing top players for the Toronto club, with Saraha Bobak, Sarah Kidd, and others missing out. 6ixers had to play Brute in pool play, and when they finished second in the pool, it forced them to have to play in a semis play-in game. Already low on numbers, that game seemed to take its toll on 6ixers in that Scandal game, as they began to make mental errors.
6ixers' coach Evan Phillips attributed those mental mistakes to the taxing weekend on a short-staffed roster, but it was still a frustrating end to the tournament. "In terms of expectations I think we were hoping to make it to the final. I don't know about winning it, but making it to the final was probably our goal," he said. "We had our moments of 'Hey, this is the team that we can be,' and others, we were just up and down. I'm hoping to blame some of it on the short roster and missing players."
It's been a regular season of frustration for 6ixers, in terms of getting their full team to tournaments. They had more of their top end at Pro Championships than they did at Elite-Select Challenge, but their missing players still made an obvious impact. "Halfway through the tournament, I was like, 'Why are we struggling so much?'" said Phillips. "We have a deep team, but when your top end is not there, at some point you come to the realization that we actually need these people."
Still, Phillips saw positives to take away as the team now looks ahead to the Series. "The bright side is that the players who didn't play much got a ton of reps, so moving forward our depth will be fine. And we did fine, I mean we lost in semis, he said. "[The] grit level and competitive level showed that we have it, even without a lot of our center players."
It's a shame for 6ixers that they couldn't get a full dress rehearsal against the top teams before the series. They have ambitions of making semifinals at Nationals, but they'll have to do that with a team that hasn't played together since WUCC.
Ozone Still Not at Full Strength
While 6ixers were hurt by missing players, they have very little to complain about from #8 Atlanta Ozone's perspective. Ozone were without several hugely important players, including two of their top throwers Paula Seville and Sophie Darch. Kate Travaglini, Emily Lloyd, and Samantha Daugherty all missed out as well. The missed players continue a trend for Ozone, who have had a difficult time staying healthy this year.
Their 15-10 and 15-7 losses to Scandal and Brute Squad, respectively, could have gone better, but it's very difficult to judge what this team will be come the end of the season. But head coach David Berendes feels that hasn't been an entirely negative experience for the team. "There's kind of a 'next player up' mentality. It's forced first year players and second year players to step up."
Berendes said that it's prevented the team from being reliant on any one player, and they've gotten to build their depth as a result. He also felt like the team is just now starting to figure each other out. "This tournament was the best offense we've played all season," he said. "We've improved at every tournament."
It's been a rough season for Ozone in terms of results and injuries, but they did manage to avoid any glaring losses at Pro Champs. Comfortable wins over Bent, Hot Metal, and Siege were expected, but their 15-10 win over Heist in pre-semis was a real sign of the team heading in the right direction. Heist came back a bit late in that game to make the score closer, but Ozone were all over Heist for stretches. Katherine Wooten's throwing capacity remains elite, while Erynn Schroeder proved to be dangerous operating as a mid-cutter that could attack with her throws or her legs. Those should be a positive signs for a team that's been struggling to get back to the form that got them to semis at Nationals last year.
The Dust Settles on Bids
Pro Championships was an important weekend for many other teams, with several squads on the fringes of the bid picture.
#13 Madison Heist did enough to hold onto a second bid for the North Central. Their wins over Grit and Bent were important results, and losing only 15-12 to 6ixers helped save them from losing too many points.
#19 Washington DC Grit had an outside shot at earning a bid for the Mid-Atlantic, but they could only do enough to move up to 18th. It's a shame, because Grit really passes the eye test of a team deserving of going to Nationals. But their weak start to the season was too much for them to overcome. They look like a team very much on the rise, and if they keep the bulk of the roster together should be right around the Nationals picture next season.
The most interesting bid result over the weekend was #23 New York Bent's win over #17 Boston Siege. The Boston club was closer to the bid cutoff than Bent, and with both teams in the Northeast, it was Bent's best interest to lose that game by a max score. But they ended up winning on double game point, instead. The game wouldn't have ended up making enough of a difference anyway, with Siege finishing over 100 points back of the cut off, but it was still notable that Bent elected to play the game as it were any other.
All-Tournament Team
Kami Groom (Brute Squad)
Jordan Meron (6ixers)
Amy Zhou (Scandal)
Jessie Grignon Tomas (Brute Squad)
Katherine Wooten (Ozone)
Lindsay Soo (Scandal)
Robyn Wiseman (Heist)