Veteran cutters piled up goals backed up by strong defense as Brute Squad pulled away in the final.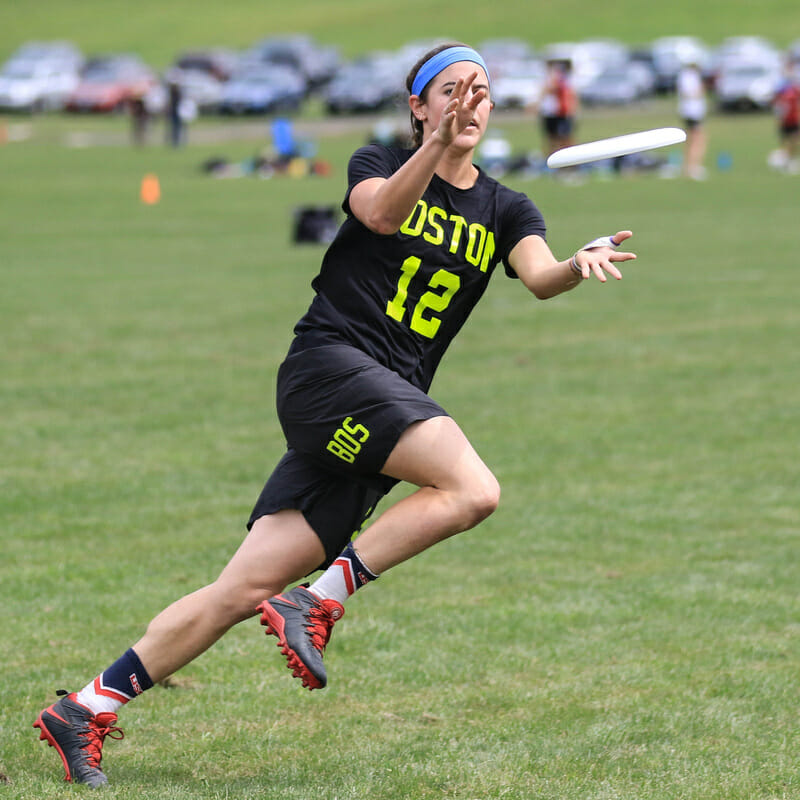 Ultiworld's coverage of the 2018 women's division is presented by VC Ultimate; all opinions are those of the authors. Please support the brands that make Ultiworld possible and shop at VC Ultimate!
NEW YORK, NY — #1 Boston Brute Squad is now a national championship away from completing the Triple Crown, after their 15-10 win over #5 Washington DC Scandal in the Pro Championships final. Scandal gave Brute Squad their toughest game of the tournament, and Brute Squad didn't have their cleanest offensive performance. But their defensive intensity, and goal-scoring onslaughts from Jessie Grignon Tomas and Kami Groom, were too much for Scandal to weather down the stretch.
Brute Squad didn't turn the disc over on the first four points of the game, getting two holds and a break to go up 3-1. Scandal answered with three straight breaks, though, as Brute's offense suffered through a blip offensively. It was the first time all weekend that Brute were down a break.
Boston got the next break of the game to take a 6-5 lead, and the two sides traded holds into half from there. The 8-7, on serve, lead was easily Brute Squad's slimmest lead of the tournament, and that was due to Scandal's ability to cope with the Brute Squad's trademark defensive pressure. They were broken just twice, and getting their own two breaks with their only chances to do so in the half.
It was an impressive start offensively, particularly considering how impenetrable the Boston defense has been. It was a Scandal start that caught Brute Squad a little bit by surprise, per one of team's top defenders, Kami Groom. "DC Ultimate is obviously very strong. Both of those game were very tough battles, with teams that came out punching in a way that we almost didn't expect," said Groom, also referring to Brute's surprisingly close game with Washington DC Grit earlier in the weekend. "We went in definitely ready for a battle, but they came at us even more than we were expecting."
It was largely a team effort from Scandal, too. Keila Strick wound up leading the team in points, with two goals and two assists, but no other Scandal player had more than two in either category. Brute Squad is a tough team to find positive individual matchups against. Scandal dealt with that by using a team approach offensively, rather than relying on single players like Casey Gorman or Kelly Ross, who had been responsible for a more sizable chunk of the team's scoring throughout the weekend. That approach worked well in the first half, and it helped them to hang with the no. 1 seed longer into the game than most expected them to.
The second half was a different story, however, as the tenacious Brute defense began to wear down the Scandal offense. Of the DC club's seven offensive points in the second half, they were broken on four of them, and they were unable to convert on their single break chance.
Brute Squad weren't especially efficient with the disc, either, at least not with their D-line offense. They converted just two of the first eight break opportunities in the second half, but their ability to hound the Scandal offense was consistent enough that they were able to pull away due to the volume of chances they created. Then on the final two points of the game, their efficiency returned, and they went 2-2 on break chances to close out the game.
Scandal head coach Alex Ghesquiere said his team's offensive struggles late were due to Brute's ability to apply pressure from the very beginning of the game. "We had to keep fighting through that defensive pressure. When you got a team as strong as Boston's, that pressure builds over the course of the game. It is classic that great defensive teams can string those late game breaks away."
Ghesquiere also explained exactly why it is that Brute's defense is such a tough one to deal with: "They don't allow any space to anybody. They don't have to make up for lack of one on one skills with positional flexibility. They stick to people and you're gonna have to beat them when they're six inches away from you, that's the number one thing. The second thing is they're very smart. They're well led, very experienced. They know what you want to do, and they will take it away and you have to do something else. That combination is very difficult."
When Brute did convert their break chances into goals, it largely due to the play of Groom. She was directly involved in every single one of Boston's breaks, finishing with four goals and two assists. Grignon Tomas was Groom's nearest equivalent on the Brute O-line, ending the game with a game high five goals.
After the game, Groom discussed the impact that the first year Brute player has had on the team's offense. "Jessie is an incredible player and what a pick up she was for us this year. She's one of the best on the team in spacing and timing, so I think she's always going to be one who makes the cut that is open or gets herself into position, so that doesn't seem fluky to me at all. We work through our system, and sometimes some players get the benefit and it's no surprise that that's her because she does everything right every time."
On the back of Groom and Grignon Tomas' individual brilliance, and the exceptional team defensive performance, Boston proved to be the better side in the final. It's the second win of the Triple Crown Tour for the Boston club, having won the U.S. Open back in August. While they missed the chance at the Club Worlds double peak, they'll have the opportunity to win the Triple Crown heading into the postseason.