Some crazy upsets set the stage for elimination play.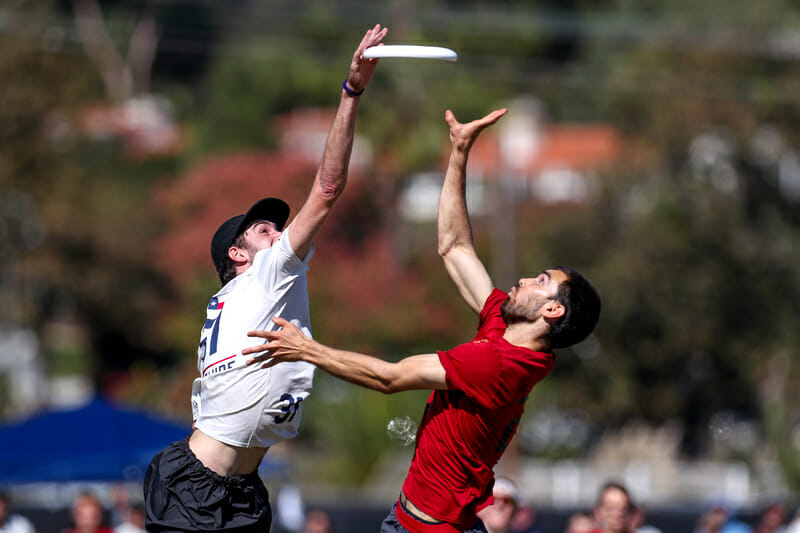 Ultiworld's coverage of the Men's Division at the 2018 Club Championships is presented by Spin Ultimate; all opinions are those of the authors. Please support the brands that make Ultiworld possible and shop at Spin Ultimate!
Pool play offered some big surprises in the Men's Division. We recapped it all in the liveblog — here, we tell you what matters and why.
The Excitement Started With Pool C
Why PoNY Needed To Lose Today
It was a shocking result not many outside of Colorado would have predicted, but PoNY went down in pool play against the bottom seed in their pool. New York did not look sharp, and Johnny Bravo played some of the best ultimate we've seen since Pro-Elite Challenge.
"We've had a tough transition working from, historically as a program, being underdogs, to having expectations and having every team give you their best shot," said PoNY's Jimmy Mickle.
Speculation about PoNY possibly missing the bracket if Rhino Slam beat Bravo in the final round and New York lost to a then-undefeated D.C. squad mounted. Then PoNY came out in the last round of the day and reminded everyone they have a chance at the Triple Crown Title with a resounding 15-9 victory.
"I felt like we were just sleepwalking through the first couple games," said Mickle. "I think it was a really good lesson for us to learn. Luckily, we got an opportunity to pull out the pool still. We didn't change anything tactically, mostly just realizing where we were energy-wise as a team and focusing on that."
It turns out that PoNY needed to lose in pool play to really start firing on all cylinders.
"Looking back, I'm like 'Sweet, that's awesome we got punched and we were able to respond,' and now we look really good going into tomorrow," said Mickle.
If anything, the loss to Bravo and then the response against Truck Stop only solidified PoNY's status as a national championship contender. It provided the spark necessary to refocus the team, and the result was a dominant performance in all aspects against D.C.
Poor Timing For A Loss: Truck's Path Tomorrow
Washington D.C. Truck Stop seemed like they were cruising after two wins to open the day in convincing fashion. D.C. then ran into a refocused PoNY team and suffered a crushing loss that not only cost them the pool but dropped them down to third because of point differential. Truck Stop now faces a prequarter matchup with Boston DiG and a potential quarterfinal with San Francisco Revolver.
"I was happy the way a lot of us look individually. Collectively, we will just have to bring it together tomorrow," said Truck captain Rowan McDonnell.
In their last game, Truck Stop fell apart offensively, allowing PoNY to go five for five on break chances before the game's final point in garbage time. Defensively, D.C. only managed to force the New York offense into a single turnover.
"It's going to circle back to the O-line. We never the let the defense get in their rhythm," said McDonnell. "That was on the offense. Our team, we are a D-line team."
Despite having a much tougher path, Truck will get defensive standout Delrico Johnson back for tomorrow. McDonnell also pointed out that playing a prequarter isn't a bad thing for the team. In 2016, after winning its pool, Truck Stop lost in the quarterfinals. In 2017, D.C. won both its prequarters and quarters games to advance to semis. It seems the like the longer path is not going to phase them.
"We're going to take a good day today into tomorrow," said McDonnell. "This last round was brutal, but it was a great day. Everything happens in bracket play. We're down for whatever."
Bravo's Offense Is Peaking Right Now
Denver Johnny Bravo did just enough down the stretch of the regular season to leverage their early season success into a Nationals berth. Post-July, the team struggled. But if there was doubt, it was about focus, not ability.
Today, Bravo was powered by a high-chemistry offense and a youthful defense. And for the latter two-thirds of their banner 14-12 upset win against New York PoNY, Jim Schoettler's O-line showed why they belong.
"I don't think there's a ton of talent difference, but I think there's just consistency difference," Schoettler said after the win.
Henry Konker, Denny Bechis, Stanley Peterson, and Matty Jackson were a nightmare for PoNY's D-line; they gobbled up yards on unders and refused to toss up the customary hammers that PoNY's defense had planned to chase. Konker was a utility player, able to eat up yards, play the continue cutter, and work the resets in the end zone set. Peterson made PoNY's Beau Kittredge look silly in the air more than once. And no one could keep up with Bechis.
"It was a pretty physical game," said Schoettler of the upset win. "Both teams were taking a lot of touches. In the end, they made one more mistake than we did."
The win over PoNY, plus a late-afternoon triumph over Portland Rhino Slam!, put Bravo into the bracket. They are set for a rubber match against South Central rival Austin Doublewide.1 The challenge tomorrow will be keeping the consistency Bravo found today, against their larger, more physical opponent.
Across The Other Pools
The Sneaky Interesting Prequarter: Vancouver Furious George Vs Minneapolis Sub Zero
It is much easier to question seeding after a day of play at Nationals. Sub Zero seemed a bit underseeded while Furious was overpromised at five. However, both teams showed they more than belonged in the Nationals field. Now, they meet for a chance to move forward.
Furious took a tough 13-12 loss to Ring to end the day. Sub rolled Mad Club 15-10 and hung on against High Five 15-13 to break seed in the pool.
For Vancouver, it was a day of coming very close but failing to come away with the right result. However, they are still alive, which is all that matters to captain Kevin Underhill.
"For better or for worse, we are here as the five seed," he said. "Whether it's inflated or not, kind of doesn't matter at this point."
Sub started slow and improved as the day went on. Minneapolis' defense was smothering at times against Mad Club and broke to win over High Five.
"We just need to keep getting the disc back to our D-line," said Josh Klane. "Possession is key for our offense."
This game will pit a team that did not generate many turnovers, but played incredibly efficient offense in Furious against a group capable of creating blocks, but may struggle to find offensive consistency in Sub.
The signs point toward Minneapolis winning this game after building throughout the day. Vancouver looked solid all day, but never made significant strides to improve. Sub has the edge with how explosive their defense can be, something Furious will struggle to match.
Sockeye Survived Day One
The week after Northwest Regionals, Dylan Freechild posted a message in the Seattle Sockeye GroupMe. He predicted that at the end of pool play, the team would be enjoying a 3-0 record, ready to sleep with a bye to the quarterfinal round.
Trent Dillon remembered that text message. It was sticking in his mind after Sockeye put away Austin Doublewide 14-11 in their first game. Dillon said the team was envisioning exorcising demons—those that followed the team since their disastrous 0-3 performance in pool play last year at Nationals.
The Seattle team that showed up at the Surf Cup Sports Park today was energetic and focused—almost to a fault. Their physical, suffocating defense took away passing lanes, while the offense tested the thrower's wind with long shots that feel neatly into the hands of Jacob Janin, Matt Rehder, Freechild, and Dillon. They didn't make any new friends along the way—Doublewide in particular was unhappy with the level of physicality.
"We're just looking two inches ahead of our noses right now. We're feeling hungry. If we can carry that, no one's going to be able to hang with us," said Dillon.
Sockeye's success today both rids them of last season's foul taste and sets them up for a favorable quarterfinal tomorrow. This is not the same team that dropped a game to Vancouver Furious George at Regionals, nor is it a team that would go breakless against Sub Zero.
After about 365 days, the Seattle team that looked ready to challenge San Francisco Revolver for a title is back on track.
---
The last round went to Doublewide on double game point in the South Central Regional final, but Bravo took down the first meeting 13-10 at Pro-Elite. ↩