Breaking down the afternoon's games.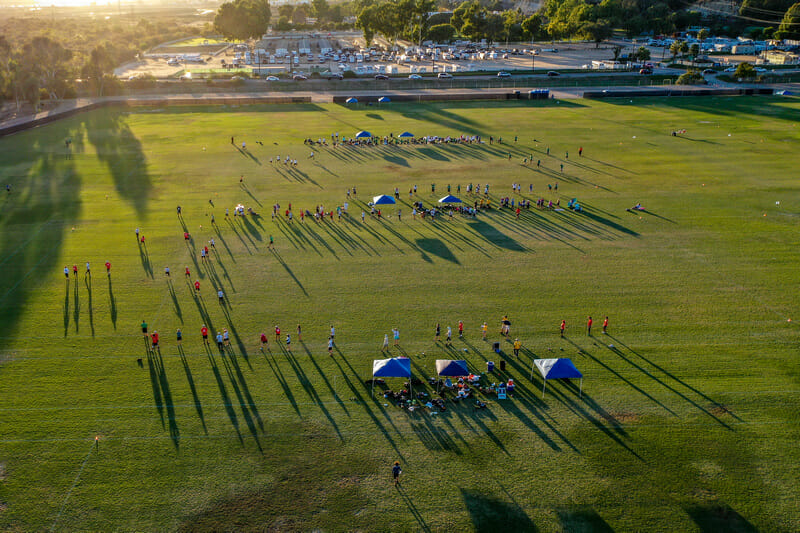 Ultiworld's reporting on the mixed division is presented by Universe Point cleats. All opinions are those of the authors. Please support the brands that make Ultiworld possible and shop at Universe Point!
The Mixed Division quarterfinals went mostly to chalk but not without some drama along the way. In the early games, Seattle Mixtape and San Francisco Blackbird battled behind the efforts of Khalif El-Salaam and Mac Taylor, respectively, with Seattle taking the last two points to win 13-11, while Boston Snake Country pulled away from San Francisco Mischief on the back of seven straight second half breaks to win 15-9. The afternoon saw a double game point finish between Seattle BFG and Washington DC Space Heater, with Space Heater's stars carrying them to the 13-12 victory, while Philadelphia AMP blew the doors off Minneapolis Drag'n Thrust, taking half 8-2 before winning 15-7.
Seattle Mixtape 13–11 San Francisco Blackbird
Despite starting slowly and falling into a 0-3 hole, Seattle Mixtape kicked it into gear to take half 8-7 and then the game 13-11 over San Francisco Blackbird. Blackbird came into the game relying on the talents of Mac Taylor (1G, 4A) and he nearly dragged San Francisco to the semifinals, picking his play up after John Kolb was hobbled with a hamstring midway through the second half. Taylor faced off against Mixtape's Khalif El-Salaam (4G, 1D), who closed Blackbird out with two of Mixtape's last three goals.
Blackbird opened on a 3-0 run, looking the fresher team after getting a bye into quarters from their double game point over AMP in the final pool play game Thursday. After a timeout to refocus, though, Mixtape came back with a 3-0 run of their own, forcing Blackbird to take a timeout to slow Seattle's run. From there, the teams nearly traded holds into halftime, with one break each way, as Taylor tried to keep Blackbird level with Mixtape's abundance of stars and halftime arrived with Mixtape up a break leading 8-7.
The second half continued much the same way as the first half ended, with Mixtape and Blackbird exchanging holds to 10-9 before Blackbird got their break back after a lefty turn from Cam Bailey. From there, though, El-Salaam took over, scoring to take it to 11-10 and 12-11 around a Blackbird hold from Kolb, who was in and out of the game after his hamstring injury at 5-4. Blackbird had some miscues throughout the game with their handler set and the last one doomed them as Mixtape converted it with a quick huck to Reed Hendrickson to take the game 13-11 and put Mixtape into the semifinals.
The story coming out of this one is that while one player can drive a team's offense to success, against this level and depth of talent, it was always going to be tough for Blackbird to end up pulling it out. However, the brilliance of Mac Taylor coupled with the early 3-0 lead helped Blackbird give Mixtape a real fight, and the Seattle squad will be better for it in the semifinals.
Boston Snake Country 15–9 San Francisco Mischief
In a game that was close through halftime, Boston Snake Country turned it into a runaway in the second half with a string of seven straight breaks to win it 15-9 over San Francisco Mischief. Snake Country got off to a good start after giving up an initial break, taking a 3-1 lead as Davis Whitehead (4G, 2A) took the reins downfield. A series of holds took the game to 4-3 with stars Han Chen (1G, 1A) and Lexi Zalk (2G) in the center of the action for Mischief and Snake Country, respectively.
As the first half progressed, the wind started to pick up and both teams started putting out zone defenses, with Mischief showing close to four different variants of their zone and Snake Country bringing out their own as well. The initial zone points were successful for each team, particularly Mischief, but both teams quickly figured out the defenses and worked their way through. Through this sequence, Mischief picked up back-to-back breaks and led at half 8-6.
The second half proved to be a different story, however, as Snake Country's stars started to shine while Mischief fell prey to the mental lapses and fundamental mistakes that have plagued them on occasion throughout the season. After a quick break out of half for Snake Country and a hold for each team, Snake began their run on a Jamie Quella (1G, 4A) score to bring it even at 9-9. Mischief did not score another point in the game, instead making it relatively easy for Snake Country with a series of drops and throwaways to take a lead 11-9. At this point, Zalk started to take over, getting a couple of run-through blocks to help Snake Country to complete the break train and close out Mischief 15-9.
In the early going, this matchup showed promise of a close, strategic, and hard-fought game, but at the end of the day, Mischief mostly beat themselves. It seemed as though inconsistent Mischief, who were upset twice in Regionals pool play, emerged in the second half to undermine the efforts of dangerous Mischief who won their region and notched an upset on Thursday against Space Heater. Snake Country will be happy with this result, but will know it won't be as easy against Mixtape in the semifinals.
Washington DC Space Heater 13 – 12 Seattle BFG
Washington DC Space Heater fell behind 3-0 to Seattle BFG but recovered to push past the higher-seeded Seattle BFG on double game point 13-12. The stars came out to play for Space Heater as Jenny Fey (1G, 2A), Kyle Khalifa (3G, 1D), and Pat Shriwise (1G, 3A) led the way, and DC took advantage of their aerial prowess to dominate the downfield game. From BFG, the indomitable Lindsay Simon-Fox (3G, 1D) and captain Tommy Li (2G, 1A, 1D) headlined as the teams battled throughout.
Despite being down early, Space Heater worked their way back into the game, eventually taking the lead at 6-5 with a goal and an assist from Alan Kolick. A series of holds took the game into half with Space Heater leading 8-7 and up a break on BFG. Out of half, Space Heater extended their lead with contributions from Claire Desmond, Georgia Bosscher, and Zach Norrbom, taking the advantage up to 10-7.
BFG would not go away, though, and made up ground behind the talents of Mario O'Brien and Tommy Li, bringing the deficit down to 1 at 11-10. Shriwise and Khalifa combined to give Space Heater the 12-10 advantage before BFG fought back to force double game point at 12-12. The game was decided on effectively a jump ball into the end zone from Joe Freund and Shriwise came down with it to give Space Heater the 13-12 win.
This was a close game throughout, with Space Heater's aerial presence making the difference in the end. BFG's handler movement was generally strong but they were hurt by some throwing weaknesses from their cutters. Getting two wins in two games against the Seattle teams will feel good for Space Heater, and they will go into their semifinal knowing they have a real shot to win it all.
Philadelphia AMP 15 – Minneapolis Drag'n Thrust 7
In a game that could have been the final, Philadelphia AMP dominated Minneapolis Drag'n Thrust 15-7 to secure their place in the semifinals. Familiar names Nicky Spiva (1G, 4A), Robert Roos (2G, 2A), and Sean Mott (2G, 1A) made the difference for AMP as they rolled over a surprisingly listless Drag'n Thrust. Drag'n Thrust was missing the talents of Caleb Denecour and had a potentially hobbled Sarah Meckstroth (2G, 2A), who primarily played in the second half and helped make the score more respectable after a 8-2 halftime deficit.
While the teams exchanged initial points, it was all AMP from there, as they capitalized on nearly every Drag'n Thrust mistake. AMP also seemed the more motivated team as they got multiple run-through and pressure blocks to take half 8-2. Brian Schoenrock (1G, 1A) did his best to keep Drag'n Thrust in the game, but couldn't do much against the collective power of AMP.
Coming out of halftime, Drag'n Thrust seemed to have their act more together, with the reappearance of Sarah Meckstroth largely responsible for that shift. Both teams' deep games emerged in the second half, with Meckstroth to Schoenrock for Drag'n Thrust and Spiva to Mott for AMP making back-to-back highlights to take the game to 9-3. A series of holds working through some zones from both teams took the score to 12-6 before a couple AMP breaks involving Michael Panna gave Philadelphia game point. AMP closed out the game with a Roos to Spiva connection after a Meckstroth to James Hron (2G, 1A) deep look to give the final result of 15-7.
Given their seeds coming in, one would have expected a closer game, but AMP came out as clearly the sharper team, running clinical offense while taking advantage of nearly every Drag'n Thrust mistake in the first half. The introduction of Meckstroth steadied Drag'n Thrust in the second half, but their overall performance belies their reliance on Denecour for offensive flow. AMP will be glad to have that strong performance under the belts going into the semifinal against regional rivals Space Heater.