Ring of Fire can't capitalize on early advantage.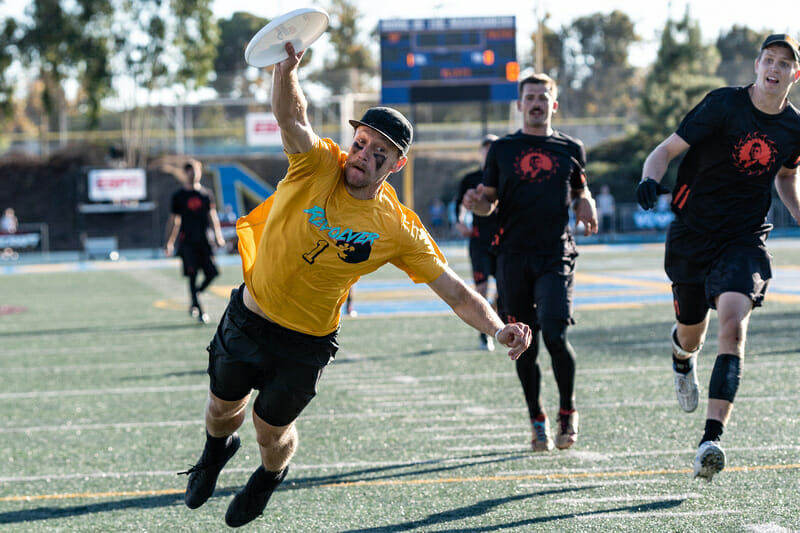 Ultiworld's coverage of the Men's Division at the 2018 Club Championships is presented by Spin Ultimate; all opinions are those of the authors. Please support the brands that make Ultiworld possible and shop at Spin Ultimate!
For the third straight year, San Francisco Revolver inched past Raleigh Ring of Fire 15-14 in a shootout semifinal. It was the second double game point finish in the three game series.
Grant Lindsley and Simon Higgins put the nail in the coffin for San Francisco, as Lindsley stepped into a long outside-in flick down the line with the score tied 14-14. Higgins accelerated, tracking the blading flick in the same third with Mischa Freystaetter giving chase. Higgins launches into a full extension layout, snagged the tailing edge of the throw, and sent Raleigh packing.
Lindsley let the flick fly almost on instinct.
"A vision of Simon with a couple steps away is a reliable thing. So really, I didn't think anything, but I've practiced that look enough to think nothing, but kind of just reflexively believe, 'If I do this correctly, he'll catch it," said Lindsley.
Revolver rushed the end zone to celebrate and Lindsley heaved a sigh of relief. "Incredible catch. I mean, he said it was a great throw, I'm not sure it was a great throw. It was a great catch for sure, though," he said.
Lindsley had reason to be nervous. With Ring of Fire crashing the passing lanes and Jack Williams out of reach of any Revolver defensive scheme, the defending champions quickly found themselves in a 5-2 hole.
The lead hinted at a changing of the guard at the top of men's ultimate: Could Ring, who'd been building and retooling rosters for years, move from scrapping to stay in a game with Revolver to controlling it confidently? In the moment, actually controlling a lead might have shocked Raleigh like a dog finally catching a mail truck.
"I don't think any of us expected it to be a three-point game. We thought it was going to come down to the wire," said Ring captain Jonathan Nethercutt.
Nethercutt went for five assists and a 96% completion rate on 53 passes, while also crossing over for important points to play defense. He played in the backfield, initiated offensive plays downfield, and crossed to play defense.
"[Nethercutt] has become more dynamic as a player in the last couple of years," said Lindsley. "He's super fast now, cutting deep, catching deep shots. He was already one of the best handlers in the division and now he's one of the best all-around offenders in the division. He's dangerous."
At 5-2, Ring's Justin Allen served up a signature flick pull that pinned Revolver deep in their own end zone with the wind swirling around the front pylon. By the time Revolver managed a reset, they were stuck inside the end zone and on the sideline, with Raleigh defenders shutting down first, second, and third options.
A high release backhand went up over the defense toward the center of the field, too high for George Stubbs. Ring's JD Hastings immediately picked up and threw what looked like the assist, but it got called back on a violation since he hadn't taken the disc back to the goal line. After the stoppage, he got the end zone offense going, playing a three-man game with Alan Laviolette and Mischa Freystaetter.
On the brink of taking a 6-2 lead, Hastings misread a cut and turned the disc over, giving the Revolver O-line another chance. Higgins caught his first goal a few moments later, beating Freystaetter in the end zone and and closing the gap to 5-3.
"We were down two breaks, 5-2, and turned it on the end zone line on an offensive point, with the possibility of going down 6-2, three breaks," said Lindsley. "We got a great team [block], covered to make it 5-3, and that's a big difference in momentum, stopping the blood from flowing."
Two holds later, San Francisco doubled down on Williams who—despite the mounting pressure—put up a monstrous six goals and one assist on the game. Williams sped off for the end zone Dillon Lanier lined up a pretty huck. Nick Stuart spied the play lined up coverage behind Williams and Cassidy Rassmussen got underneath William on the throw and launched himself upward at full speed for the block.
Rassmussen got free down field for a pass, then found Eli Kerns in the end zone with a slicing flick that arced back to the break side. 6-5.
Stuart was back in the mix on the next point with a block, but as Revolver started to work down the field in search of another break, Nethercutt stepped in. Kerns was charging down the break sideline tracking a huck, with Nethercutt right on his heels. As the throw came in, Nethercutt got a hand in while running at full speed, but his tip pushed the throw out just a few yards more and Kerns secured it and toed the line.
Then Kerns, feeling the heat, launched a hammer to the opposite corner of the end zone and nearly turned it, but Byron Liu came out of nowhere, saved the throw, and tied the game at 6-6.
Both teams settled some after Revolver's tying break—it was all holds for half. Ring headed to the sidelines maintaining the lead at 8-7.
The second half opened with a rash of turnovers. Marcelo Sanchez fired a throw into the end zone for Antoine Davis, but Davis couldn't secure it. Ring turned the disc over just a few passes later, still in the first third of the field. Eli Friedman put an end to a messy few minutes with a flip to George Stubbs to tie it at 8-8.
Then, as if they sensed that Raleigh was uncomfortable in the role of frontrunner, San Francisco got a foot in the door. After tying the game, Revolver kept sending out line after line of defenders hunting blocks and pressuring throws. While Ring's offensive rotation stayed tight, they were facing constant pressure from fresh Revolver legs trading defensive points.
Mark Lin read a reset throw perfectly for a run-through block and took off tracking the disc until it settled safely out of bounds near Revolver's scoring end zone. Kerns stepped to the disc and ripped a wild hammer to the opposite end zone corner for Dallmann, who couldn't secure it. The Ring O-line had a second chance.
The offensive engine got going in flow and the disc found Jonathan "Goose" Helton in motion. Helton caught on the run and took one more step to send a fast break backhand to Henry Fisher just 10 yards downfield, but Fisher never saw the throw and it hit the turf. Dallmann was open again a few throws later, reeling in a catch for another break and a 9-8 lead.
Revolver, now with the upper hand, moved in for one of their customary late-game runs. Russell Wynne scored a break to push the lead to 11-9 and a long-sought finals appearance was slipping away from Ring. The San Francisco offense was clicking again—Raleigh's junk defenses were slowing down initial Revolver movement, but Jordan Marcy, Ashlin Joye, Joel Schlachet, and Lindsley were finding the holes and getting to the second level. After staring down defeat in the first half, Revolver were ready to run away with the second half.
But Williams and the Ring core lines had no intention of going away quietly. Williams joined a Raleigh hybrid line at 11-10 and turned an Antoine Davis turnover into a flaming hot goal up the line–break and tie game, 11-11.
With both their offensive and defensive lines brimming with young talent in 2018, Ring finally looked today like the team they were supposed to be this past July, when the team suffered an earlier-than-expected exit at the World Ultimate Club Championships.
Team veteran Josh Mullen, playing in his last season for Raleigh, said the team was realized in Cincinnati that they had been uncomfortable as talented front runners—they were entering games trying to not lose instead of working hard to win.
"We made an active decision after [the loss to Sydney Colony] to not play to not lose again," said Mullen.
That spark, inspired by the talented Triangle Youth alumni who populate Raleigh's roster and piloted by William's ferocious competitive edge, was critical in hanging on against Revolver. When Raleigh conceded another late break to go down 13-11, they punched back to tie the game at 14-14 on a lefty backhand from Noah Saul to Mischa Freystaetter, forcing double game point.
Then, Lindsley and Higgins erased any lasting hope.
"It sucks to lose, this is the third time in a row, but we are ready for more of the fight. We're not done," said Ring coach Mike DeNardis.
"We fought really hard. We had everything in the palm of our hand and we let it go. We know we can be better. We know we can win that game. We know we can win that game running away."