It's a big weekend for college preseason action.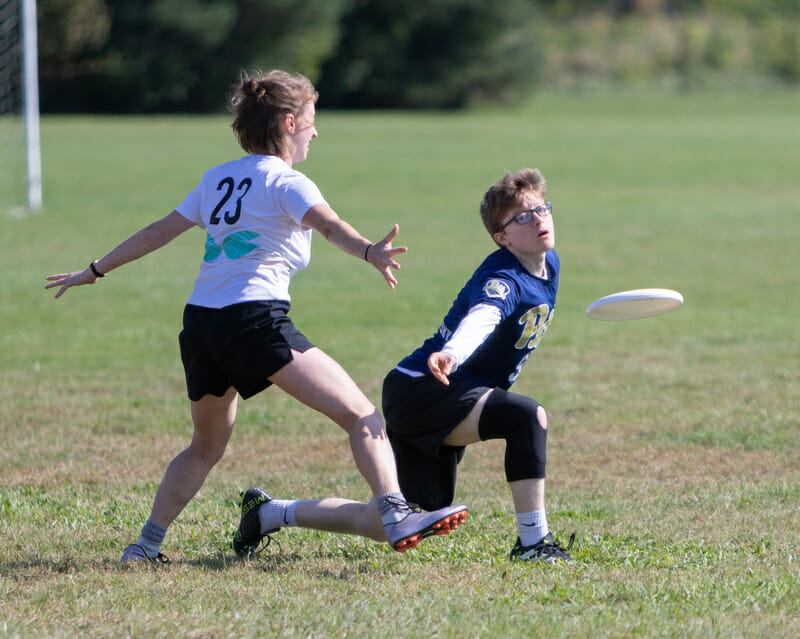 Ultiworld's coverage of the college fall season is presented by Spin Ultimate; all opinions are those of the authors. Please support the brands that make Ultiworld possible and shop at Spin Ultimate!
During the spring season, we will publish a bite-sized weekly recap of the action across the College Division. This will serve as a supplement to our standard tournament reporting and will offer a high-level look at the latest happenings and the biggest stories of the week.
This fall, we decided to sprinkle some additional updates in, starting with a look ahead to this weekend's big fall events.
Want your tournament listed here? Submit a recap of what happened right here.
Women's Previews
Carleton, Colorado, and Others Open at Missouri Loves Company
The biggest tournament of the fall for the central regions of the country is MLC, where 25 women's teams are headed into action with rosters that should be pretty close to what we will see in the spring. There are five pools of five teams, with two power pools, including four teams from last year's College Championships and a bundle of teams hoping to reach that destination in 2019.
A lot of attention will be on Carleton Syzygy, who has hauled in another bounty of elite recruits to go with two straight years of high-powered recruiting classes. After losing only three seniors, Kate Lanier and Carly Campana stack the team with proven playmaking talent, headliners of a deep class with multiple solid YCC U20 contributors. Their Seattle pipeline is turned on, and it looks like 2019 will be another year of talking about Carleton's rookies. There's some expectation that, by season's end, they'll be in the mix for semifinals at Nationals.
Colorado will draw interest as well, after a run to the National final last year. While they lost quite a bit of talent, they also put five players on the All-Freshman team last year, including D-line starter Saioa Lostra, who was invited to U24 tryouts. Bailey Shigley joins the team after a successful turn the U20 US National Team as part of what should be another solid class. How the pieces fit together will be interesting to check out.
Beyond those headliners, there's plenty to pay attention to, with Texas, Michigan, Minnesota, and Northwestern in the field. There's a lot to like for each of these squads, and the Great Lakes will be on display with most of the region's top teams in the fold. Northwestern could generate some preseason buzz with a strong returning class, while Minnesota can build on what has been impressive recruiting for them.
Blue Ridge Finale Debuts North Carolina and Pittsburgh's New Lineups
Over in Virginia, a couple of eastern teams close out the fall with some quality competition, including the annual tradition of trying to survive against the North Carolina youth team, Triangle Tourists. Pittsburgh and North Carolina are teams with sparkling rookies and high expectations, and Ohio State will also be on hand.
The post-Normile era begins in Pittsburgh. 2017 Rookie of the Year Runner-up Miranda Kosowsky will be joined by a player likely to be in the ROTY conversation this year, Beth Manturuk. They could begin a long and healthy backfield relationship, and they'll have a very experienced group of handlers with them. Hannah Blizzard and Jessie Sun will be getting plenty of work.
North Carolina will be the hottest preseason name despite, like Pitt, losing a superstar in Jenny Wei. After strong club seasons for many of the team's vets, UNC will add Ella Juengst, Dawn Culton, and a strong class to their roster. The team's new look and athleticism will make them very exciting to watch. It'll also add some pressure as expectations rise.
Classic City Classic Hosts Southeast Preview
Lacking the prestige of past years', CCC is a nearly all-Southeast affair this season. Only South Carolina and Charleston travel from out of region. But there are plenty of question marks in the SE, as the region has lacked a dominant power for a couple of seasons. Word is that Florida will finally get the services of Janina Freystaetter, a welcome boost after losing some of the team's top offensive talents. She and Gabby Krajniak will be given lots of work this season.
Georgia is another team that will draw quite a bit of interest. They return multiple players coming off of their first seasons with Atlanta Ozone, while adding rookie Marie Perivier, an Ozone veteran. Putting all the pieces together will be the challenge for a team that isn't used to playing with a target on their back, but they could emerge from the fall as the regional favorites.
Men's Preview
North and South Central On Display at Missouri Loves Company
A staggering 58-team field divided into two tiers, including Tier 1 power pools, is on tap for this year's MLC in the men's division. It's filled with the powers from the middle of the country. We even get a taste of some of D-III's best.
Power Pool A is filled with intrigue. Carleton gets a fresh slate this year, and while they lost some extremely talented veterans, the CUT cup still overfloweth. They add Ben Preiss to their considerable coffers. Wisconsin brings back a large volume of their production from last year, and have some strong recruits of their own. Colorado's rising junior and sophomore classes are coming off of impactful seasons and offer a chance to buoy the program, while rival Texas brings back Noah Chambers, and should field a strong squad, depending on recruiting and who is back for a 5th year.
In Power Pool B, Minnesota headlines. They return a roster with plenty of elite club experience. The program has been flush with skill, but has looking for an explosive athlete downfield. Curiously, UT-Dallas is the top seed in the pool; they may have been slotted in for another team that dropped. They had a solid regular season last year, but failed to make much of a dent at Regionals, and they'll start the season with a big opportunity. Colorado State returns a strong handler group and has recruited well the past few seasons, but after last year's disappointing performance, it'll be intriguing to see how this year's team is trying to bounce back.
From the other pools, there's plenty of hope for the strong D-III squads and some other teams of note. Air Force, Colorado College, Michigan Tech, and Carleton GoP could all wind up winning their respective pools. Indiana brought in a strong recruiting class, including Alex Henderson, so they'll offer a first look at what their future could hold.
Looking (Further) Ahead
Sean Ryan is coming up on the west coast, while the men's division of Classic City Classic will also be a key draw in the east. College Mixed and U24 tryouts are also going on, so we will see a lot of the division's key players in action in various environments.