In spite of a slim roster and a fiesty new-look NC State team, the defending 2018 division champs earned their first tournament victory of the 2019 season at Carolina Kickoff.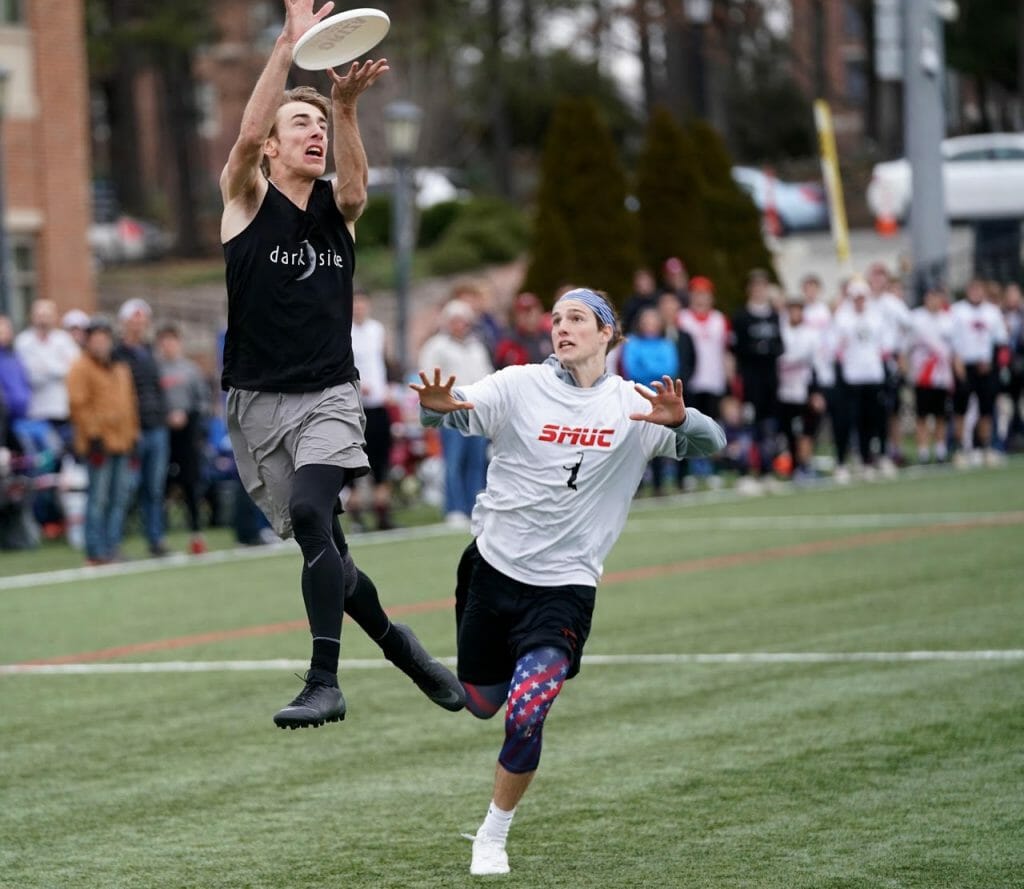 Ultiworld's 2019 college coverage is presented by Spin Ultimate; all opinions are those of the authors. Please support the brands that make Ultiworld possible and shop at Spin Ultimate!
CHAPEL HILL—Of all the teams at Carolina Kickoff, NC State probably had the most to prove. The newly rebranded Alpha squad has been working hard to change its culture after a streak of disappointing seasons. Their commitment to that end showed from start to finish this weekend, culminating in an exciting final where both Alpha and UNC Darkside put on an offensive show. And yet, the defensive prowess of the reigning champs was too much for State. The pressure mounted in the second half and Darkside came away with a 15-12 victory, along with their first tournament title of the 2019 regular season.
The game started off shaky for State's O-line. They did a poor job of fielding the first pull and got broken to start the game. But things kicked into high gear on the next point for Alpha as Conor Chickos sent a perfect flick to Matt Tucker off the pull play. Chickos and Austen Von Alten were electric in the final. For the first few NCSU holds, they were instrumental both in the backfield and the stack.
The teams traded holds until State's Rhys Gretsch, playing tight on 2018 D-I Men's Player of the Year Matt Gouchoe-Hanas, got a run-through block just outside UNC's endzone and immediately launched a scoober into the endzone to put State back on serve 4-3.
State got a chance to extend the lead three points later, as Matt Gouchoe-Hanas laid out up line to catch a backhand from Anders Juengst in the end zone and landed out of bounds. State patiently worked the disc to half field before graduate student Troy Miller set up a perfect S-cut, sneaking behind any possible help defenders to give Gretsch a window to shoot a flat forehand huck. State's hold on the lead extended to 7-5 as Von Alten made a huge grab in the end zone and later notched the assist to Chickos.
"Especially in that last game, defensively they did what we wanted them to do," said NC State captain Michael Lee. "We were forcing them out and being a little flat on the mark and in the past that has been pretty successful for us."
Then UNC took the game over. As stated in the tournament preview, what's crazy about UNC is how successful they can be when their starters are out. Kai Marcus and Liam Searles-Bohs were out this weekend for Darkside and, with only a small roster of 17, the tournament hosts remained unfazed by the pressure they faced from State.
The ability to generate a lot of pressure on the mark and at the point of attack in the backfield has become a trademark of Darkside's defense. That's exactly how they tied the game 7-7, forcing a high stall huck that was easily snatched out of the sky by Elijah Long. A poorly thrown scoober from Bailey Laberteaux was called down by the observers and UNC marched up the force side to take half, with Gouchoe-Hanas hitting Long upline for the goal.
To open the second half, Darkside's Alex Davis nearly lost his grip on the disc after a great catch, but managed hang on. John McDonnell notched a huge layout goal for UNC to extend the lead to 9-7.
State's D-line failed to generate enough pressure tie the game and take back the lead. That said, their offense remained resilient until the end. UNC continued to apply a lot of pressure with their handler marks. UNC freshman Andrew Li got a lot of playing time on the mark and as a rotating short deep in UNC's junks. In the face of that high caliber defense, State's offensive composure and high energy ensured that they never seemed out of the game until a layout block by Walker Matthews shut the door on State's last possession and the final goal was scored.
State gave UNC their best game of the weekend and throughout entire tournament, lived up to the new culture their leadership has been trying to instill this season. On paper UNC will be the superior team with a complete roster, but this kind of test so early in the season for NC State bodes well for their first true tournament against nationals caliber competition. Their performance didn't show any sign of being a fluke. Outside of the final, Alpha dominated the rest of the weaker competition they faced, including a 15-9 beatdown on a short staffed Emory team. Von Alten's return to playing on State's O-line after being plagued by injuries the last two years will be a key story in the team's season.
"I feel really good coming out of this weekend," Von Alten said after the game. "It was definitely frustrating last year being injured and then coming into the spring really cold was not good for me. It was hard to readjust coming back in. I feel really good on offense now but huge credit to everyone on our O-line. It's way different from last year. Heads are not down when we get broken and we're all working off each other extremely well."
"It's just different man," said Lee. "I love being here. For the first time really, I love being here."
For UNC it was the first early spring for a Darkside squad that was outmanned but certainly not outgunned. Walker Matthews filled in well as an isolation cutter as well as defender working double shifts on O and D. Elijah Long crossed over to offense at times to assist Matt Gouchoe-Hanas and Juengst as a third option for a handler.
"We're always trying to find the best combination of people, the best version of ourselves," said Gouchoe-Hanas after the game. "There are some moving pieces and it's hard to say where things will fall once we have all of our roster playing."
For this deep Carolina team, it will be quite intriguing to see where the pieces finally later this season.