The biggest stories heading into the club season.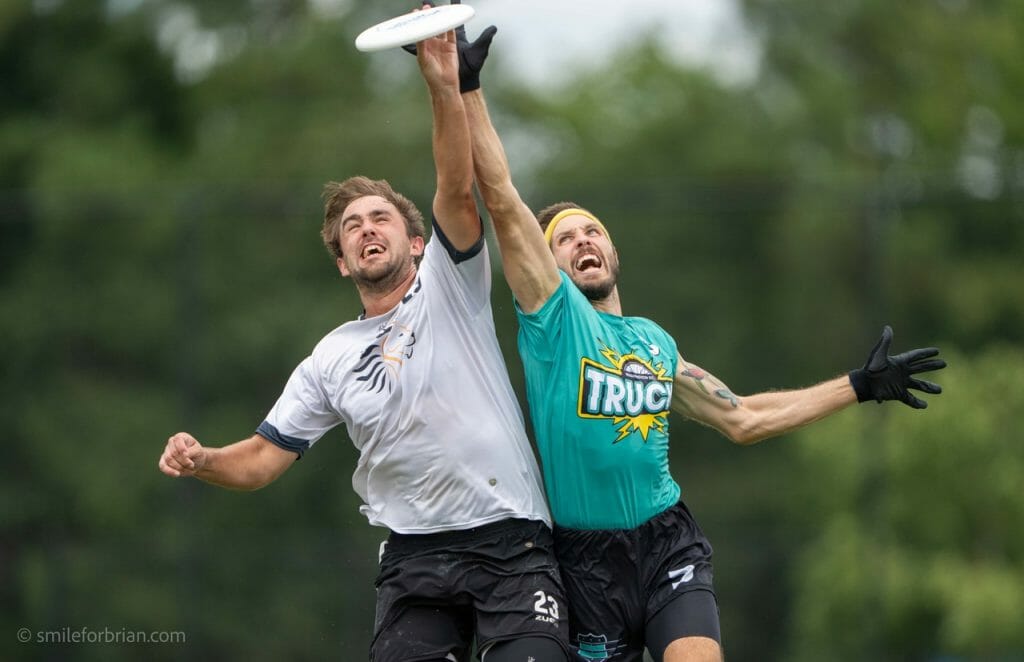 Ultiworld's coverage of the 2023 club ultimate season is presented by Spin Ultimate; all opinions are those of the author(s). Find out how Spin can get you, and your team, looking your best this season.
Ahead of Pro Elite Challenge, the first stop on the Triple Crown Tour and first major event of the 2023 club season, we've got you covered on all the major storylines, players to watch, preseason rankings, and way-too-early semis picks in the Club Men's Division.
Club Division 2023 Primers:   Men's   |   Mixed   |   Women's
To stay updated on the evolving storylines, teams, players, and games this season, support Ultiworld's club season coverage and visit our subscription page.
Major Storylines
How Many Teams are in Title Contention
On the one hand: any team that can play catch successfully 15 times can win the title. On the other hand: three. Three teams can win the title.
Specifically that would be New York PoNY, Portland Rhino Slam!, and Washington D.C. Truck Stop. Each of these teams were semifinalists in 2022 and all stand to be somewhere between noticeably and significantly better based on their offseason roster moves. Truck Stop have another year honing the best offense in the division to an even finer point. Rhino are bringing Dylan Freechild back to Portland to provide a depth of top end talent that compliments their feisty core. PoNY are simply the most talented club team in the entire world. Could one of these teams flame out and miss semis? Sure. But it's tough to see all of them imploding, and you're squinting if you can see a champion emerging from anywhere else.
Current title holders Denver Johnny Bravo were immensely unlikely champs in 2022 and appear to be taking a step back with about half of their O-line departing. Raleigh Ring of Fire are losing their two top offensive threats as the gravity of New York finally proved too much for Jack Williams and Ryan Osgar to ignore. Chain? Doublewide? Please.
If you really do want to squint and see the hazy form of a title winner somewhere other than New York, Portland, or D.C. your best bet might be Chicago Machine. Put the results of the past two Nationals aside and roster looks capable. Joe White and Jordan Kerr are hitting their primes. Johnny Bansfield is still a gamechanger. Keegan North… Paul Arters… Pawel Janas… the core that made this team compelling is still in place. So can they stop weirdly imploding at Nationals? Can they (looks side-to-side, whispers) show that the team's grit didn't leave with Kurt Gibson?
Maybe. But for now, they, and everyone else not named PoNY, Rhino, or Truck, belong outside of the top tier.
-Patrick Stegemoeller
Big Stars on the Move
With so many Kevin Durant-esque moves this offseason, it seems that the ring-chasing era has begun. PoNY is the obvious team to start with because they may force USAU to consider an Anti-Trust Act with how loaded this group is. Everybody knows that Jack Williams and Ryan Osgar are jumping ship, but they also sign Allan Laviollete, Tony Poletto, and Cameron Wariner. The PoNY coaching staff will have some tough decisions to make on who will play offense, but there are some rumors floating around that they will leave their O-line intact and put Osgar and Williams on defense. With these additions, it's going to take a miracle performance from any other team in the division to take down what is potentially the most stacked open division roster ever.
Rhino picks up two bonafide superstars in Dylan Freechild and Will Lohre, which has thrust them into the title conversation. Freechild and Lohre are both Oregon Ego-grown talents that should slot in seamlessly onto a team that they already have plenty of reps playing with.
Although Mac Hecht is in the Bay Area, he has decided to be a travel player for DiG this season. Hecht is among a select few of the dying breed of the Ashlin Joye handler archetype. Even though he will not be at all their practices, he should fit in perfectly on their offense alongside Noah Backer in the handler set as their skillsets play off each other nicely. Hecht should be able to unlock the athletic younger generation of DiG cutters in Orion Cable, Leo Gordon, Peter Boerth, and Simon Carapella.
An unexpected pickup for Chain Lightning this year is lanky lefty bombthrower, Pat Earles. Known mostly for his career on Pittsburgh En Sabah Nur, Earles will get a chance to show off his club skillset on a stacked Chain Roster, where he will hope to capitalize on his years of chemistry with Max Thorne.
The Ring of Fire roster has some cornerstone pieces departing this year. However, the addition of Matt Rehder should help stem the bleeding of Jack Williams, Ryan Osgar, and Henry Fisher leaving the team. Rehder has been an elite big on Sockeye for 10+ years and will have to step up into a pivotal role in his first year if Ring hopes to get back to the National Semifinal this year.
After a brief and somewhat muted stint on Machine, Abe Coffin returns to Doublewide where he will fit in a bit better as a power thrower that can hit any window on the field. Could his return spark a return to the tippy-top of the division?
Speaking of Machine, they've nabbed the electric Malik Auger-Semmar from Montreal Mephisto in what could be one of the most impactful transfers in the division this season. They bring in arguably even more pop with Clapham star Connor McHale – you can decide for yourselves whether coming from a different competitive structure counts as a transfer, but there's no doubt he'll make a huge impact.
Finally, much has been made of the flow of personnel away from Johnny Bravo after last year's championship, but they haven't ended up empty-handed. Noah Coolman was quietly – actually, given his style of play, quite loudly – one of Sockeye's top pieces in 2022, and Jonathan Nethercutt has once again left his traditional spot on Ring of Fire to see how his throws play in the thin air that he calls home for a second stint with the Denver club.
-Jake Thorne
Hotbed Rebuilds
If you ask any ultimate fan where the hotbeds of the sport are, the first places they will name are Seattle and the Triangle, with good reason. Between tremendous support for youth-level playing opportunities, big research universities that attract top collegiate prospects, an entrenched community of oldheads to pass their knowledge to the next generation, and club teams whose history can be measured in decades, they have it all. But success still rolls in cycles, and we might be looking at an ebb in the men's club scene as both Seattle Sockeye and Raleigh Ring of Fire have shed considerable top-end talent (see above).
Is it a full rebuild for the blue-chip programs? If so, it will be fascinating to see how they manage it. Raleigh's pantry appears to be in pretty good shape for a re-stocking despite the big-name losses (Williams, Osgar, Nethercutt). Many of this year's championship UNC Darkside contingent have been playing in an understudy capacity on the club team, and they will look to extend their spring success deep into the fall. Any – or all – of Rutledge Smith, Matt McKnight, or Ben Dameron could help bolster an O-line that has lost a bit of 2022's star power. If all of them play on a line together, it could be transformative, much in the way the 2019 iteration bloomed with the development of so many young players.
The closer analogy to that 2019 Ring team might end up being this year's Sockeye, who will be counting on the area's youngsters to step up in a new way on a new stage like never before. Zeppelin Raunig, Delano Muongchan, Tucker Kalmus, Cedar Hines, and Ocean Hines are all in their early 20s or younger and appear to be (along with Dom Jacobs and Declan Miller, previous Sockeye players both listed on the roster in auxiliary roles for the time being) the foundation for the future of Seattle men's ultimate. This year may be out of reach for true contention for both of these traditional titans, but watching the way they shape the years to come will be fascinating.
-Edward Stephens
Other Storylines
Vault is the Most Interesting Team in the World
One of the pleasant surprises of the 2022 club season was the rise of Virginia Vault from the regionals bubble into the clear elite tier of the division. After a brilliant (and bid-earning) regular season, they stunned Revolver in the last round of pool play at Nationals to barrel into the bracket – where they were a point away from quarters. For 2023, they return most of their throwers (Steven Wartinbee, Max Cassell) and top playmakers (Brandon Lamberty, Kevin Healey, Cam Barnhardt, Miles Grovic). Better yet, they've added significant talent with Nationals-level club experience: Adam Norrbom (Truck Stop '21-'22), Elliott Rosenberg (Slow '22), Rami Paust (NOISE '21) – and, most intriguingly, BYU alumnus and two-time All-American Joe Merrill, who could end up being the most athletic player on the team. While it's hard to see them edging past local frienemies Truck Stop, this ultra-interesting squad likely have what it takes to knock off any quarters-level team in the country.
-Edward Stephens
Can Revolver Get Right?
Revolver missed the bracket at Nationals last year for the first time in seemingly forever after taking a gutshot of a loss to Vault in pool play. It's been four years since they were the perennial open division powerhouse and have lost their claim to being the best club in the division. However, they retain most of their high usage guys from last year (Adam Rees, Simon Higgins, Byron Liu) and also return the Iron-Demi-God of Pittsburgh, Michael Ing, from injury. The season might hinge on whether some other interesting young pieces that are hungry to make names for themselves – Kyle Lew, Riley Kirkman-Davis, Kevin Tien – can step up now, or if they are still a year away from making a big impact.
-Jake Thorne
Bid Bubble Preview
16, and only 16, teams make Nationals. Bids are scarce, and weird stuff happens to teams on the bubble. Were you the top seed in a one bid region and got upset by some scrubs who hit on all of their deep shots? Tough. Were you a top 8 team in the country but a team from a different, perhaps more northern, country punted on the regular season and fumbled a bid for the region, but then showed up in the postseason and stole your bid after you lost on universe to the world champions? Extremely tough.
How the last few bids are allocated can reshape how we think about a season. Looking at the landscape, I think you can lock in 13 of the bids (two each for the NE, NW, SC, SE, MA, and one for the GL, SW, and NC), but its a scramble for the rest.
The most pertinent questions: Can the lesser of Vault and Pittsburgh Temper (for my money, that's Temper) do enough to hold onto a third bid for the Mid-Atlantic? How real is Raleigh-Durham United in the Southeast? Can Cincinnati Omen once again play the exact right schedule that gets them algo points but avoids losses? What tournaments do the Canadian teams go to, and with how much of their rosters? (Toronto GOAT, for instance, is electing to go to SFI instead of Elite flight events, clearly brewing up some new way to screw the Northeast out of a bid.)
-Patrick Stegemoeller
Preseason Rankings
Breakout Players To Watch
Bonus Content for Club Season Primer 2023: Men's Division is only available to Ultiworld Subscribers
Already have a subscription? Log in
Whether you visit Ultiworld for our reporting, our podcasts, or our video coverage, you can help us continue to provide high quality content with a subscription. By becoming a subscriber, not only do you receive benefits like bonus content and full article RSS feeds, you also help fund all of Ultiworld's coverage in general. We appreciate your support!