Dive deep on the 2019 D-III women's season!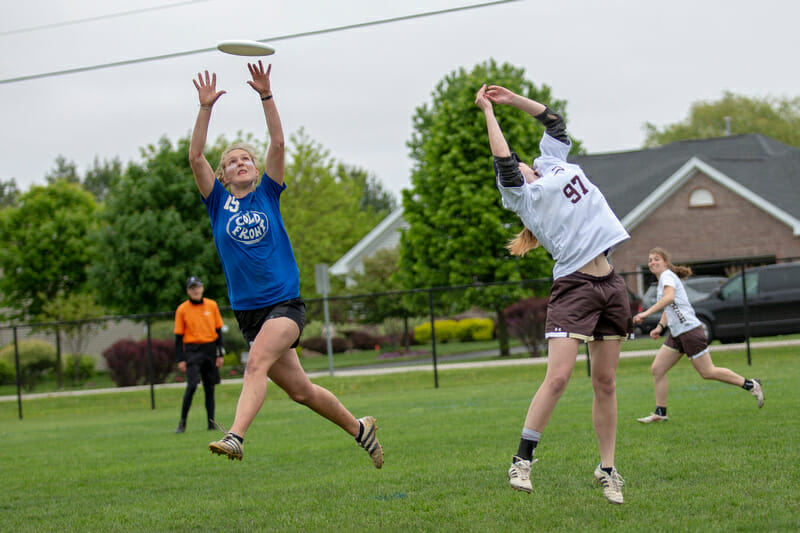 Ultiworld's 2019 college coverage is presented by Spin Ultimate; all opinions are those of the authors. Please support the brands that make Ultiworld possible and shop at Spin Ultimate!
A new spring has rolled around, and with it another season of D-III college women's ultimate. In this tenth year of the division's existence, we're bound to see all kinds of things: new teams come out of the woodwork, old teams make new names for themselves, and everything in between. In the end, the goal of standing on top of the podium in College Station, TX this May burns brightly for many, but it'll be the points played together along the way that will shape and define the season for each team.
Get the scoop on what you should know going into the 2019 season below.
Top Storylines
Can New England Remain Dominant and Take It All in 2019?
No one can say the New England region hasn't been a collective powerhouse in the D-III women's landscape the last few years. In 2018, they were held to the cap of three strength bids, resulting in 25% of the 16-team Championship tournament hailing from the region. It also translated to the region landing a second place finish, two T-5th finishes, and one at T-13th. 2019 brings sky-high expectations for similar finishes in the rankings; anything fewer than two strength bids will taste like disappointment (while being cause for celebration for all the other regions that got left in the cold last season). The other major expectation is that for Nationals performance–almost every team, inside the region and out, is gunning to take their shot at #1 Bates Cold Front and their talented, focused, and motivated roster. D-III ultimate is always a wild ride, and rankings, seedings, and the like have a way of being turned on their side over the course of the season. The Bates squad will have to bend the season's outcomes to their will and make it theirs if they want to add a title to New England's trophy cabinet next to Bowdoin's lonesome 2013 championship.
Regions Primed for Nationals Newcomers and Returning Faces
Sometimes a region is taken by storm with an up-and-coming new team that's picked up a stellar talent; other times it's the culmination of a building program that finally puts everything together across the board from coaching on down. The past few years have seen first year attendees like Catholic University Nun Betta, North Park Allihopa, and RPI Strut break onto the scene and get a taste of the biggest tournament in the division. On the flip side, there are teams that have tasted the glory of attending Nationals, only to have low seasons in recent years and missed out on the big event.
For teams looking for a first time appearance, North Georgia Aurea is gunning for, with a decent shot at taking, the bid that Georgia College Lynx Rufus has ridden each year out of the Southeast since 2013. The Atlantic Coast isn't immune to turnover; unless CUA can make up for roster losses and find roles for younger players, Richmond Redhots have a chance to strike in 2019. In the Metro East, Hamilton Hot Saucers haven't attended Nationals since 2015, and SUNY-Geneseo Escargot has been on the cusp, but always shy of the mark. New England has sent five unique teams in the last five years–a team like the Middlebury Pranksters would love to bump that number up, while others like Bowdoin Chaos Theory want another shot to retake a bid.
The only sure thing? Expect to read up on some new team bios once the Nationals field is set, and don't be too surprised if we see the return of some missing squads in 2019.
Out of Control Uncontrollables: Weather Edition
2018 was a horrendous year for tournament cancellations and conditions across the spring. Teams were left scrambling for alternative options to reach the 10-game threshold to impact rankings, and more importantly, to get in the touches and experience needed to grow their skills in actual weather conditions, like wind. A bevy of significant tournaments on shared weekends in 2019–including a currently scheduled seven tournaments on the final weekend of the season that include I-85 Rodeo, Garden State, and other meaningful D-III women's competition–means a few strong weather events on the wrong day will toss out a ton of chances of game play, experience building, and division connectivity.
Of course, tournament directors and teams are left in a hard spot; try to plan and spread out tournaments, with the opportunity to pull something together if Mother Nature decides to dump some snow or rain. Whether it means more regular use of turf fields, travelling to better weather locales or emergency sanctioned-ish round robins, everyone will be keeping an eye on the radar every Friday through April. And don't even get us started on Nationals' weather.
New Kids on the Block
It's always thrilling to see the smallest of the college divisions grow and welcome new teams to the mix while following young teams as they refine their cultures and playing styles. This year looks promising with the additions of Florida Tech Flux (who already had their first spring event at Florida Winter Classic) and Michigan Tech Superior Ma's. The Ma's, in particular, are noteworthy after a strong showing at an indoor round robin towards the end of January that included a one point loss to Carleton Eclipse.
In addition, the list of the 2019 USAU College Women's Startup Project is also populated with smaller schools like Hampshire College, Ave Maria University, SUNY-New Paltz, and more who we hope to see logging matches on Score Reporter in the near future. Whether they lose every game or cause an #upsetalert, get bageled at Conference Championships or earn a spot to Nationals, it's exciting to see the opportunities for women's college ultimate expand. Regardless of the record at the end of the season, bringing that joy and camaraderie to new players each and every year is a strong tenant of many team programs, especially in the D-III division. We'll be watching the roster log closely to welcome new teams into the fold of the 7500 Club 1 and see if the division tops the 84 teams listed by USAU in 2018.
Regional Storylines
Atlantic Coast
After earning the bid to Nationals for the last two years, #12 Catholic University Nun Betta premieres at their highest ever position in the Power Rankings and serves as the only representatives for the division. If there's one bid to be had in the Atlantic Coast again this year, Nun Betta would love to make it a three-peat. Even with the graduations of heavyweights Grace Castro and Christine "Gram" Tomasic, Nun Betta returns four All-Region selections including senior captains Emily "Yams" McGuire and Katie O'Brien. Others to watch include Maddy Demaret, returning from a full year of study abroad, along with senior Anne "AP" Perry, and juniors Victoria "Smalls" Kirkman and Lauren Coene. The team continues to benefit each year from the increasing number of players learning from club play, notably a cohort playing with D.C. Suffrage, and from an overlap in leadership. Both share head coach Steve "Scuba" Kreider and leadership from Layne Scherer and Blaire Thomson, who are returning as assistant coaches alongside Bridget "Beef" Finnell. They've already gotten off to a strong start this season, winning Hucking and Shucking, including a 13-1 thrashing of admittedly a savage line from in-region rival UNC-Asheville. While nothing is set in stone just yet, things are looking good in 2019 for Nun Betta.
Looking to overtake Nun Betta are the ladies of the Richmond Red Hots. They return captain Rhiannon Begley, alongside the talents of All-Region players Mimi Tran and Allison Zhang, part of a flush 28-player-strong roster. In past seasons, the Red Hots have harnessed both their strength in numbers and their overall athleticism to grind down their opponents with quick movement. Matt Ondek joins the team in his first year as coach, and given the program's consistent strides, they have no reason to aim for anything lower than first place at Conference Championships if Catholic doesn't watch their backs.
In addition to the Red Hots' appearances in the final the last two years, it's worth noting the serious heat in the semifinal matchups of recent years. Last year, Mary Washington Mary Massacre, aided by a boom in numbers and skill, showed their potential under the coaching of Mary Beth Moody, a job passed to Jacob Smith in 2019. Despite the graduation of Madison Spear, their All-Region rep last year, this young team has rising stars in underclassmen Sarah Hood-Recant, Rosie Kostka, Leslie Pullen, and Grace Stephan. The team climbed from a fifth place finish in 2017 to a third place finish in 2018, with a look at playing their way into the final in 2019.
And let's not overlook the diamond in the rough: Christopher Newport University. The program returns both of their All-Region players Charley Mitchell and Caroline Tsui. A recipient of the USAU Women's Startup Project, expect growing pains and gains from this young program.
For the rest of the field, questions remain. Will Elon Wild Rumpus, who won the AC bid back in the not-so-distant days in 2016, push past the fourth place finish they've secured in the last two years? Will this be a down or up year in the up-and-down nature of UNC Asheville Hellbenders, who have finished between seventh and third place in the region? If the Atlantic Coast remains a one-bid region, there will be many ready and willing to claim their ticket to Texas this spring.
Great Lakes
One of the smaller regions in the division, the Great Lakes nonetheless wrote a new chapter of history in 2018 by sending North Park Allihopa to Nationals for the first time, ending Valparaiso Chicks Hucking Discs' attendance streak. Allihopa is gearing up to build a streak of their own, with returning second year coaches Cameron Hodgkinson and Jimmy Sykora. The genesis of a new Great Lakes dynasty is well within their reach–the teams returns top backfield talents in Erin Staurseth and juniors Maggie Johnson and Hannah Lewis, as well as the downfield height and defensive pressure of junior Kajsa Meyer in addition to most of their Nationals roster. Expect a trip to College Station in 2019 while still seeing the team center fun and community ahead of competitive results.
That won't be to say North Park will be able to stroll through the rest of the region on their way to the autobid; the realities of playing in the chilly spring of the Midwest means that whoever can tame the disc in the wind will turn out victorious. The young and growing Knox Alley Cats found success developing their throws in the wind, and while their 15-4 loss at Conference Championships looks lopsided, they should be proud of the 12-9 win they took over Valparaiso to make it that far. Losing senior Lily Sronkoski will definitely hurt, but the continued growth of handler and turnover-maker Meryl Davis will be on to watch in 2019.
Valparaiso will have a lot of work cut out for them as well to replace graduated handler and team force Serena Badgley. Look for Megan Main and Megan Barth to step up and bring the physical pressure on the field. If they can increase their sizes with a strong recruiting class, that can help lay the foundation for future seasons' success now in 2019.
Rounding out the region pending any new programs are Kalamazoo Queen Beez and Wheaton Mastadonnas. Without sanctioned play last spring before conferences for Kalamazoo, we'll likely have to wait until conferences to see what they're made of, although they did hold North Park to the tightest conference score of 15-8 in 2018. Wheaton's small but dedicated roster collected a few wins along the way in 2018, but went winless at Conference Championships. That indicates a lot of ground to cover to get themselves into the bid picture to Texas.
Metro East
The Metro East had a solid finish in Rockford in 2018, with no. 5 seed Wesleyan Vicious Circles and no. 8 seed Rensselaer Polytechnic Institute Strut going T-5. This year, Strut debuts at #7 in the Power Ranking, returning a powerhouse of players: Nancy Bush, Michelle Merritt, Makayla Wahaus, Lindsay Zadunayski, and Candy Zhang, who snagged a U24 tryout this winter. In particular, Wahaus had her breakout moment at Nationals with her deft combination of throwing charisma (tied for sixth in assists) and agile cuts earning her a spot on Ultiworld's All-American second team. While Strut graduated three crucial-role seniors last year (including Donovan awardee Tamar Austin, who served as an emotional core for the team), Strut speaks highly of their 2019 recruiting class, with a capable foundation to build on from 2018. They've already shown their ability to play in sub-par weather, going 4-0 at an unsanctioned turf2 round robin with a group of New England teams that included Williams at the start of February. This team has the grit and determination to keep right in the Nationals conversation if they can continue to bring home results no matter what Mother Nature throws at them in 2019.
The perennial Regional champion of the Metro East, the Wesleyan Vicious Circles, start 2019 at #9 in the Power rankings, a nod of respect for sitting atop one of the deeper regions and making it deep into the bracket in Rockford. While they have the institutional structure to keep their Nationals streak alive this season, the Circles had ten seniors on their 18-person roster last year and no returning players recognized on the All-Region lists, possibly related to their team-first outlook culture. It likely means grading their season on a curve as the Vicious Circles focus on developing the roster and getting in reps to strike when it matters most in the postseason, with serious implications on the strength bid potential for the Metro East as a whole.
A down year means that other teams may rise to the challenge of bringing home a strength bid, or at least putting themselves in a spot to capitalize on the Vicious Circles' turnover. Hamilton Hot Saucers made their way to third in the region last year, although they'll be facing 2019 with players like Alison Kingston and Maureen McDermott. Along the way the Hot Saucers had to grind out tight wins over SUNY-Geneseo Escargot and SUNY-Oneonta Love$eat to make it to the final game-to-go. Escargot players are still stinging from missing a trip to Nationals in 2017, and perhaps returning Madeline Schwenker-Punnett would to lead SUNY-Geneseo to vengeance. Love$eat, who came in third at Regionals in 2017, could also keep the Metro East spicy with seniors Laura Murphy and Valerie Conforti leading the effort. Finally, even though the Skidmore Wombats finished at the bottom of the region last year, captains Gina Pryciak, Clare McInerney, and Isabel Blumenthal note a large rookie class and growing roster that demonstrated abundant potential in the fall. All in all, expect this to be a year for RPI to bring some shine to the Metro East, and the potential for an exciting battle for second place if a strength bid materializes in 2019.
New England
In all likelihood, the New England region will walk away from the regular season with the most bids of any region in 2019; in 2018 the New England teams that went to Nationals went 81-23 collectively, and aren't going to be fooling around this year. With the depth of the region, who will make it out alive will make for some great ultimate to watch.
The closest thing there is to a sure bet is Bates Cold Front: U24 tryout and 2018 All-American First Teamer Josie "Future" Gillett, All-American Second Teamer Grace "Balto" Warder, Sarah "Clubs" Delany, and few roster losses make this squad as talented or more than last year's runner-up group. They and their fans are hungry for the National title in 2019, and had a strong fall with winning the top division at Lobster Pot as the first step on the road to College Station. With the consistency of coaching from Mohdis and Chase Baker for the last five and four years, respectively, a bid to Nationals is theirs to lose.
Not far behind Bates are the rest of the 2018 Nationals attendees, looking to build on their streaks and returning top talent. #2 Williams La WUFA graduated Haley Lescinsky and Mia Wang, but is packing a punch in their large senior class that includes their top Nationals goal scorer Caroline Weinberg, Abby Miller, and Rachel Retica. #8 Mount Holyoke Daisy Chain has the talented Hannah Finn-Erb and Sara Frieze, who were near the top of the stat sheet in goals and assists at Nationals, but they'll be hurting for the handling talents (and defensive height) of 2018 OPOTY Katrina "Tree" Meserve. #10 Amherst Sparkle Motion benefits from returning their top three scoring and assisting players from last year's Nationals, and with a monster rising senior class that includes the cutting and handling skills of seniors Sophia Doerr, Lily Hunter, and universe-line player Kyra Wortley a lot looks bright in 2019 for the team.
On the outside and looking in currently are the #19 Middlebury Pranksters and Brandeis Banshee. A bit of fresh blood in Triangle Tourist alumni Jennie Bob Bizal-Clark to add to the already deep Prankster roster that includes Allegra "Legs" Molkenthin, Lily "Lil B" Barter, and Olivia "Crate" Ryder gives them a good shot, if they can replace the backfield production of graduated players Isabel Jamerson and Becca Holdhusen. The Banshees are using the tried-and-true method of replacing graduated captain Tahlia "Chewy" Quartin by making Quartin their coach in 2019. They will also look to rising players Nakeita "Jarvis" Henry and Grace "Skech" Barredo to raise the bar with speed and defensive pressure in such a deep region.
Rounding out the region, Bowdoin Chaos Theory last made Nationals in 2017, but they, or any of the other remaining 8 teams in the region will need to put together a stellar season if they want to take down the front-runners represent New England in Texas this May.
North Central
Another cold and blustery region, North Central in 2019 is going to be exciting for teams young and storied looking to make a name for themselves.
Defending National champions #5 St. Olaf Vortex are a bit of a question mark in terms of where their spring production will come From. Graduating the immense talents of the class of 2018, including the likes of Tulsa Douglas, Aidan Zielske, Sami Peterson, and others will be hard to replace, especially when they accounted for a collective 87% of recorded assists at Nationals. Expect to see players like Izzy Sullivan and 2018 All-American First Teamer Kaitlyn Mulhern step up in a big way in the backfield, as well as others finding their way to leading the team. Vortex certainly benefits from third-year coach Sean Prichard returning, working alongside Minneapolis Pop veterans Biz Cook and Rebecca Enders. The stat line will look a lot different in 2019, but expect the same upbeat spirit from Vortex on the field as they get their first real challenge at Midwest Throwdown in March.
If any other teams want a chance at making the Nationals field, the region will need to produce stronger finishes across the board to earn a strength bid as well as prepare for the inevitable showdown at Conference Championships. After being eliminated in shocking fashion in the semifinals in 2018, #23 Carleton Eclipse will need to do better than their lukewarm 12-10 record. Led by a trio of seniors in Nora Brown, Kaitlin Schaible, and Abigail Herscovici, Carleton's roster is exactly half populated by sophomores from the class of 2021;3 this season might be a chance to shine, or another stepping stone on the way tor rebuilding for the 2020 campaign.
It wouldn't be fair not to mention the team that eliminated Carleton in the semis–that feat belongs to the #18 Winona State Bad Monaz. Taking the right game at the right time and coming out on top in subpar weather conditions when it mattered, Winona State had a even quieter 7-6 season on paper than Eclipse. Until they prove otherwise, consider them a potential wild card worth catching up with at D3 Midwestern Invite alongside the rest of the field.
Elsewhere in the North Central is additional depth that could make or break the chance for a strength bid. Grinnell–going by the Grinnellen Degenerates in recent years–had a fair 2018 season going 10-3, but were didn't put in an appearance at Conference Championships to throw their hats into the ring; St. Benedict Rapture, Luther Freya, Macalester Pursesnatchers and Drake Ibex round out returning teams who typically attend other Midwest tournaments for the region, although only Luther and Drake hit the 10 game threshold for an impact on regular season rankings with a collective 9-13 record. Worth keeping an eye on is the new women's team from Michigan Tech–the Superior Ma's lost to Carleton by a single point at Minnesota B's indoor round robin in late January. It may portend for an exciting conference event for all in April.
Northwest
Small but mighty, the five team region of the Northwest sent two teams to Nationals in 2018, snagging a strength bid from regions double their size or larger. In the words of a Pacific Lutheran coach: "Every D-III team in the Northwest is competitive." At the top of that list is #3 Puget Sound Clearcut; the reigning Northwest champs who earned a T-3 finish (after losing to St. Olaf by three) at Nationals and cemented a fantastic 2018 season. Three also seems to be their number: 2018 marked the third year in a row for finish T-3. UPS is clearly the regional powerhouse as the 2019 season rolls around, but with a question of  how long their ride on a long wave of success will last–they graduated approximately half of their roster with the class of 2018, a serious amount of turnover. However, they'll also be retaining last year's Rookie of the Year, Emma Piorier, fresh off of a club Nationals appearance with Minneapolis Pop, and Bethany Llewellyn, who had the team's second-most assists at Nationals in 2018. Clearcut is also gaining long-time Seattle youth star Ally Constantino, a remarkable athlete with a ton of experience for a first-year college player. The coaches are back, new talented rookies are in, and lots of experience remains. That's a formula for continued success in 2019.
The other 2018 bid earner, #14 Pacific Lutheran Reign, have a chance to do something only one other team has done in this region: repeat as a Nationals qualifier. The team loses eight seniors, also nearly half of their 2018 roster, which certainly hurts. Jennica Kelm, who was the team's second-best on-paper performer at Nationals last season, is filling in the captain's spot with fellow junior Katie Powers. Eleven returners are back, overall, and coming in to replace the seniors are twenty (!!!) new players, growing a roster from 19 in 2018 to 31 this season. Getting all of these players up-to-speed with the rest of the region will be a tough task in a single season for the bid-seeking Reign, but if even failing to qualify, they are setting themselves up for a long, healthy future.
Nipping at their heels will be #24 Lewis & Clark Artemis, who lost the second game-to-go last year, and are ready to take that next step. A wealth of juniors are back for their senior years, many after playing a summer of club, including an Oh My! mixed team where nearly half of the women were from Artemis. The team also adds third coach, giving them three different club Nationals players from three different teams (Seattle Riot, Portland Schwa, Portland Administrators) in teaching positions. Lewis and Clark do lose a couple of important seniors, but the retained core is strong, with Caley Moon and Ruby Holman returning as captains and Evelyn Hunsberg playing both lines and with a knack for coming down with any disc above her. Many others are emerging as high-floor cutters and defenders, and are creating a deep team that is ready to build their strong rookie class and create a path to Nationals right now.
A smaller, younger, greener roster last season that had zero seniors resulted in Portland UPRoar not repeating their 2017 bid in 2018, but did develop a new team core.  Now, with all but one player returning from last season, and a crop of rookies with experience, Portland can be a competitive fourth team in the region. Watch for Celina Li's play after a summer with Portland's Ivy, and Kristen LeBar in a backfield role that pairs nicely with go-to downfield scoring threat in Heidi Husser. With some residual Nationals experience and a building program, they are a legit breakthrough contender, and, with their eyes already set on Nationals, they know it.
Ohio Valley
The Ohio Valley has been highly contested ground over the last several seasons between Lehigh Gravity, Oberlin Preying Manti, and the Haverford Sneetches, each with at least two trips to Nationals in the last five years. While they came in second to the Preying Manti at Regionals, #4 Lehigh Gravity soared from the no. 10 seed to finish tied for third after the dust settled in Rockford, a far cry from their T-15 finish in 2017. Their roster included a whopping 15 rookies last year, and if their final performance is any indicator of their potential this season, and will remain a force to be reckoned with if they can develop their game around the flush of talent. Despite the graduation of high producing players like Juliet Chung and 2018 DPOTY Madison Cannon, handlers Lexi "Sandy" Meisse and Sarah "Lopey" Cookson will look to the all-cutter captain set of Kelly "Pockets" Skewis, Claire "Jazz" Ternes, and Mariel "Wabs" Weigel to rack up the points. They also return coach Matt  Lubitz, a D-III stalwart and 2018 Coach of the Year, to build a cohesive team built up through speed and conditioning.
Less of a rocket and more of a steady burn, the #6 Oberlin Preying Manti have patiently turned their program towards a vision of discipline in the last several years. The team's focus is one of many components that will ensure the team improves upon the disappointing finish at Nationals, dropping from no. 4 seed to a tied-for-9th place. Expect strong on-and-off field leadership from captains that include 2019 U24 team member Abby Cheng, and standout backfield players Zoe Hecht and Helen Samuel, along with guidance from first-year coach Libby Lehman of Madison Heist. The 17-player A team roster will seen to leverage the individual strengths of each player into a team result that is greater than its independent parts.
Rounding out the list of who to keep an eye on are the #25 Haverford Sneetches. Despite their 6th place the region last year, let's give them the benefit of the doubt as they squeak into the Power Rankings at #25 based on expectations for 2019. The Sneetches return All-Region Opal Bednarik, who has spent several years playing club with Philadelphia Green Means Go, to the field as a captain. Watch for her speed and aggressive cutting to get open for primary handler Bess Cohen. They may see a renewed strength as they unite under a single team, rather than split into an A and B team, and leveraging the growth of a strong class of rookie recruits. While they may struggle to keep up with Gravity and the Preying Manti this season, they'll look to keep up the momentum from a successful fall against their D-III opponents. Elsewhere in the region, the Swarthmore Warmothers and Ohio Wesleyan Yetis will look to crystallize their competitive and developmental goals via team structure, tournament schedule and more as they replace major roster losses and maintain their positive and welcoming cultures.
South Central
The South Central was a toss up bid in 2018, and #11 Rice Torque came down with the sky after a surprising, unbeaten run through Conference Championships. Even if they again play only regional D-I teams in the 2019 regular season, no one will make the same mistake to discount Torque twice. While Rice loses top talents Rebecca Lopez and Sam Paulsen, who lit up the boards at Nationals with assists, Torque won't be losing any other players to graduation, returning the lion's share of the 2018 squad including standouts Emily Wang and Jacqueline Lee. To overlook their tireless, sharp play from contention would be a serious underestimation.
Looking to keep right in the mix are Truman State TSUnami, Air Force Kiwis, and John Brown Savage Skies. #15 Truman State will be putting on the miles this season, planning to make appearances at Jillz Jamboree, Midwest Throwdown, and Illinois Invite as they develop younger talent like utility player Anna Sullivan and newcomer Zoe Rechav alongside seniors Emilia "Bud" Budzowski and Jess Tiller. TSUnami feel ready to do what it takes to avenge their game-to-go loss to Torque and have the season plan and a healthy appetite to do so.
Just outside the top two and spoiling to make things interesting will be #20 Air Force and #22 John Brown. Air Force is still on the younger side, but has been putting in the work to grow and learn to stand with the rest of the region, and will make good use of the skills of Rose Bruns, Maya Slavin and incoming player Gianna Oh. John Brown topped the regular season rankings in the South Central, going 9-2 with their 13-player roster until losing to Rice at Conferences; if they can get over the hump of bracket play, they could take the bid to College Station out from under Rice's noses.
Elsewhere in the region, younger teams like Trinity Altitude, Tulsa Coriolis Force, and Colorado School of Mines Enthalpy won't make as big a competitive splash, but will keep spreading and growing D-III Women's ultimate across the South Central and building up the competitive base and talents of the region. Hopefully 2019 will also mark the year that Missouri S&T is able to attending Conference Championships and overcome the barriers and difficulties of pursuing connectivity.
Southeast
Slowly but surely the Southeast has been growing; formerly a region that determined their auto bid allocation via rankings, 2018 saw an inaugural Conference Championship. Stalwarts #13 Georgia College Lynx Rufus knocked it out of the park with an 11-2 win over North Georgia and reigned supreme another year, but the squad will look a lot different coming into 2019. Gone is offensive line powerhouse Katherine Yost, requiring others like Morgan DeMell and Lindsey Moon to share producing assists for the hands of Melissa Escudero. While not unheard of for younger or less-utilized players to step up after the graduation of top talent, there will be uncertainty until we see a definitive win by Georgia College, especially over their in-region rivals.
Most likely to steal the crown? North Georgia Aurea is hungry to represent the Southeast in College Station and willing to put in the early work for it. Under first year head coach Cameron Nicholes, watch for sisters Gabrielle and Brooke Hartman to own the back and downfields respectively; also noteworthy is club experience brought in by utility player Kay Mallett after a summer with Atlanta Outbreak. It appears to have done the trick with a fall win over Lynx Rufus at CCC. UNG has set a busy spring schedule, having already played at Florida Winter Classic and placing eleventh, with two more tournaments before Conference Championships. No one's saying Georgia College should be scared, but they should have a healthy dose of nerves come April. Before then, we'll hopefully get to see solid intra-regional play at Southeast team Union Jillz' inaugural Jillz Jamboree tournament, and hope to see some action from Florida Tech Flux in their first year.
Southwest
The smallest region in the division with just two rostered teams in 2018, the Southwest is likely going to boil down to a head-to-head rankings rumble between  #17 Claremont Greenshirts against Occidental Women's Air Corp (WAC) unless others pop out of the woodwork. Claremont will need to fill big defensive and handling gaps with their 21-roster travel team after the graduation of Nancy "Oido" Karreman and Montana "Noodles" Roberts. 2019 will be the chance for Becca "Rocki" Wainess and Daphne "Nix" Guo to utilize their growth from the summer play from playing club with Los Angeles 7 Figures and Viva, respectively. They also add from the Southwest club scene coach James Erdmann (who has previously played with the Beyondors and Gridlock), bringing experience to the leadership team and squad with few upperclassmen. Another trip to Nationals in 2019 will mean taking over the longest and longest active streak in the division, but the Greenshirts will want to put more breathing room between them and Occidental than the 213 differential of 2018's power rankings to make it happen.
On the other side of the coin is WAC, a tight-knit team despite growing their roster in recent years beyond close-to-savage lines. Sophomore and captain Nora Fujita-Yuhas will be leading by example with her dominant handling for Occidental.  As this team comes of age in the next few years and builds up their army of 2019's 17 (!!) rookies, Claremont will need to handling the heat if they want to stay on top, but that will likely be a few seasons yet. Both teams expect to attend Stanford Open, hopefully resulting in a matchup of the Southwest D-III women's contingent and give a clearer, sanctioned-game draw for the spring after Claremont won over Occidental in fall scrimmages.
Players to Watch
Josie Gillett (Bates) – The biggest gunslinger currently in the division, it's time to start putting down bets on Nationals stat lines and get excited for some seriously entertaining ultimate as other teams try to find any matchup that could put a hamper on Gillett's game play.
Hannah Finn-Erb (Mount Holyoke) – A cutter skilled out finding space and the disc, if Daisy Chain can get her the disc, it'll be in strong hands.
Abby Cheng (Oberlin) – After a summer of club with New York BENT and now a selection to the U24 team, strategic deployment of her cutting and spacing downfield will be huge for Oberlin.
Kaitlyn Mulhern (St. Olaf) – Not only the highest goal scorer but the second-highest assist thrower on the team in 2018, 2019 will be Mulhern's chance to step up her production on the field while captaining Vortex as well.
Emma Piorier (Puget Sound) – 2018's ROTY made her name with a versatility on either side of the disc, and was a huge piece of Clearcut's semifinal fun; expect to see more of her stifling mark and valuing possession of the disc.
Allison Zhang (Richmond) – Another player building on their skills after a summer of club with Pittsburgh Eliza Furnace, watch for her to control the disc from the backfield with serious confidence for a sophomore.
Rose Bruns (Air Force) – Don't let her small size fool you into thinking that you'll get anything but serious offensive firepower from Bruns.
Maggie Johnson (North Park) – A fearless D-line handler in the wind, watch for Johnson to lead the charge in North Park's break chances on the field.
Candy Zhang (RPI) – A breakout star at Nationals for RPI in 2018, watch for serious defensive pressure and offensive creativity to get open and make big plays in 2019.
Becca Wainess (Claremont) – A season of club with Los Angeles 7 Figures will have upped the confidence and handling of an already fearless and seasoned west coast ultimate player.
Kay Mallett (North Georgia) – Club experience is a huge bonus in D-III women's ultimate, and a summer with Atlanta Outbreak will help Aurea's utility player make big plays with confidence and understanding of the field.
Opal Bednarik (Haverford) – A longtime player for Haverford, watch for senior Bednarik to leverage her club experience to cut with purpose and speed in the downfield space.
Caroline Weinberg (Williams) – While technically a cutter (as evidenced by her topping an evenly distributed goals list at Nationals in 2018), don't sleep on her ability to continue the disc and score goals.
Rookies to Watch
Bella Mulaney (Catholic)
Kiersten Stenmark (North Park)
Mei "Jedi" Ge (Claremont)
Emily Salter (North Georgia)
Gianna Oh (Air Force)
Erin "Rex" Dillon (Lehigh)
Yanyi "Lob" Liu (Swarthmore)
Zoe Rechav (Truman State)
Jennie Bob Bizal-Clark (Middlebury)
Amy Farquharson (RPI)
Lucia Mason (Oberlin)
Siri Bohacek (Williams)
Charlotte Zinda (Carleton)
Ally Constantino (Puget Sound)
Tournaments to Watch
Below is an initial list of tournaments featuring strong contingents of the D-III women's division in (expected) attendance. Let us know if we left off your favorite tournament in the comments below.
Stanford Open

Where: Morgan Hill, CA

When: February 9-10

Attending teams: Claremont, Pacific Lutheran, Air Force, Lewis & Clark, Portland, Occidental, Puget Sound

Commonwealth Cup

Where: Axton, VA

When: February 23-24

Attending teams: Catholic, RPI, Oberlin

Bring the Huckus

Where: Vineland, NJ

When: February 23-24

Attending teams: Skidmore, Haverford, Williams

Midwest Throwdown

Where: Columbia, MO

When: March 2-3

Attending teams: North Park, Air Force, Truman St, St. Olaf, Carleton

D-III Midwestern Invite

Where: Fair Oaks, IN

When March 9-10

Attending teams: Michigan Tech, Oberlin, Winona St., Grinnell, Missouri S&T

College Southerns

Where: Statesboro, GA

When: March 23-24

Attending teams: North Georgia, Middlebury, Carleton

I-85 Rodeo

Where: Axton, VA

When: March 30-31

Attending teams: Richmond, Swarthmore, Ohio Wesleyan(?), Middlebury
---
Also the name of our D-III focused podcast. ↩

read: icy ↩

For those of us out of school who don't feel old enough already–2021! ↩