Brown, Pittsburgh shine; UCF surprises
Ultiworld's reporting on Florida Warm Up 2018 is presented by Spin Ultimate; all opinions are those of the author. Please support the brands that make Ultiworld possible and shop at Spin Ultimate!
TAMPA — With near-record high temperatures blanketing the tournament field site, the Florida Warm Up lived up to its name. 33 teams from Utah to Massachusetts played the first three of their six game match play slate on Friday, giving rookies a chance to get some run and veterans a chance to gel.
Just five teams in the field went 3-0 — Brown, Central Florida, Pittsburgh, South Carolina, and Michigan — and only four (LSU, Boston College, Florida, and South Florida) went winless. With lots of parity through the wide middle, there were lots of tight margins: bringing energy to each game was vital to teams' chances.
Here's a look at the action from today.
The Current Standings
The top eight teams, as determined by the USA Ultimate algorithm, after match play concludes tomorrow afternoon will play for the tournament title. Tournament Director Dario Milano ran the numbers after Friday's games. This is what the brackets would look like if they were decided today. 1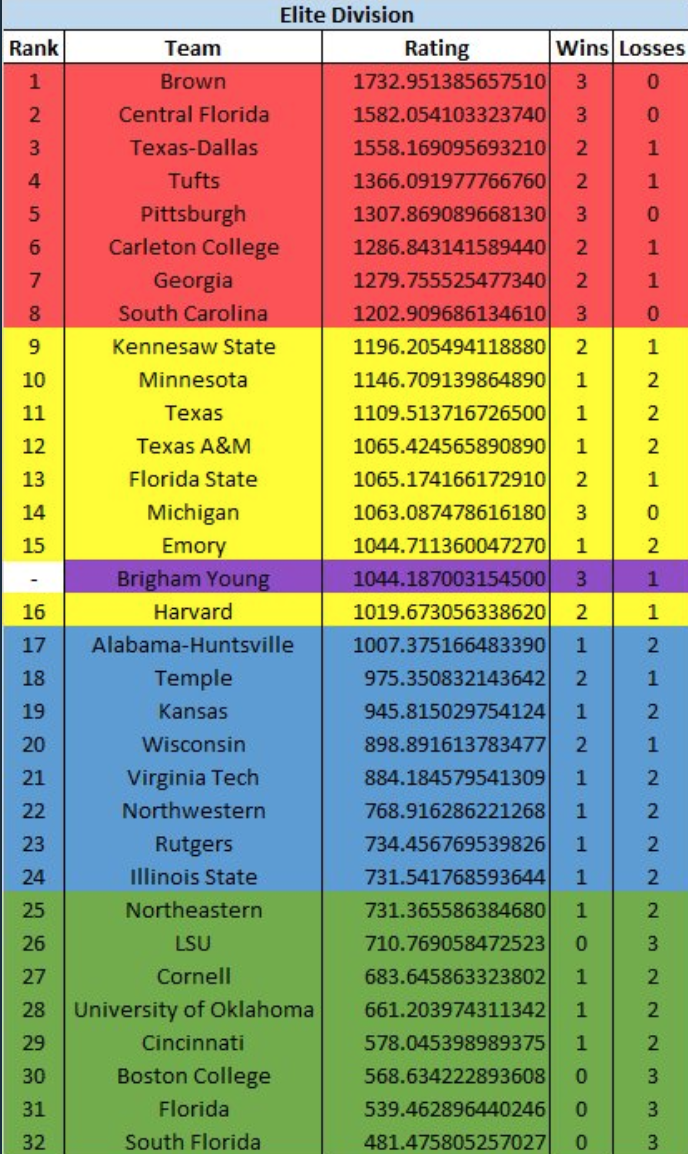 Pitt Wins Thriller Over Carleton
Pittsburgh and Carleton played the game of the day on Friday night, a rematch of the 2018 National semifinal game. The game didn't feel like an early February tuneup between two teams looking to ready themselves for Nationals. It was a back-and-forth heavyweight battle that both teams clearly wanted to win.
The first half was comprised almost entirely of holds, though both clubs missed out on multiple break chances. The first and only break of the half wasn't taken until the final point of the half, when Michael Ing showed off why he's one of the best players in the country. Ing got a deep block in one-on-one coverage, commanded the offense to start the possession, and then took off deep for the huck score to get the break to take half at 7-6.
Both teams traded haymakers in the second half, with Harry Wolff Landau particularly dangerous deep for Carleton. Leo Warren was pivotal in the Pitt backfield, feeding his army of athletic, tall cutters downfield.
It was Carleton who got the first break of the half to make it 9-9 after Pittsburgh turned it over an a dropped under. They were left to rue a missed opportunity on the next point when Pitt turned on a misthrown huck but Carleton couldn't capitalize.
The teams traded holds to 12-11, in favor of Pittsburgh, with big plays from Warren and Kevin Tsui for Pitt and Wolff Landau and Stanley Birdsong for Carleton.
With the game to 13, but still with win by two rules in effect, Pitt put out a 'kill line,' featuring Ing, Warren, and some other offensive mainstays.
Pitt forced an early turn — a high stall punt — and worked the disc downfield before calling a timeout to set up the redzone offense. An easy drop in the endzone out of the timeout, though, gave Carleton another chance.
Carleton coughed it up again, however, and Pitt appeared to have the game won on a huck to Warren, but an injury call brought the disc back. A quick exchange of turns led to another Pitt redzone opportunity. This time it was Ing who was able to escape from an exhausted Birdsong to get the game winning score, 13-11.
For Pitt, the game was a cap to an all around impressive day. Freshman Henry Ing, Michael's brother, was a two-way force, playing major minutes on both offense and defense. Their depth was impressive, too. The whole team was fast and played with an impressive level of intensity for an early season tournament. They were easily one of the two best teams on the day.
For Carleton, it was the end to a blasé performance. They'd gone 2-0 prior to the loss, but a closer than expected 14-12 win over Harvard and an early multi-break deficit to Emory weren't the expected performances from the powerhouse program. To be fair to them, they are missing some important contributors this weekend, including Joe White, but the intensity level was lacking a bit at times.
Brown Redux
One year after Brown catapulted themselves into the top 10 with a huge weekend at Warm Up 2018, they are sitting atop the current standings after a 3-0 day highlighted by a loud 13-7 win over Minnesota.
In many ways, they look like a more experienced version of the team we saw a year ago. Mac Hecht, Ken Noh, and John Randolph are still shredding in a big space offense, Dylan Villeneuve is getting blocks and running the D-line, and improved depth players like Henry Laseter, Sol Rueschemeyer-Bailey, and Alex Liu are contributing.
At least for now, any concerns about rotation problems stemming from the loss of Eli Motycka are out the window. They are getting plenty of offense from the D-line without needing to crossover Randolph and their O-line has been almost untouchable so far this weekend.
Perhaps we will see more flaws once they reach the bracket and face off against a team like Pitt or Carleton, but, for now, we're seeing the makings of a peak year Brown team that will surely have its sights set on a championship.
UCF Surprises
Central Florida's success was the biggest surprise from day one. They started their tournament with a 13-11 win over a solid Tufts team that otherwise went undefeated on the day. But their other two results were the true headturners.
They demolished a solid Texas team 13-7, and then pasted Virginia Tech 13-6 after they'd just beaten Wisconsin. UCF was dynamic on defense, getting massive blocks from Austin Koffarnus and company. And their offense was both solid and capable of making some highlight reel plays, particularly through the 6'8" Adam Lapikas. They didn't even have arguably their best player for the first two games: Adam Vinson did not show up until the Virginia Tech game.
Most of all, UCF seemed to have real buy-in, from top to bottom. That's been a problem for them in recent seasons, so maybe the regime change at the top of the program has helped in that regard.
UCF will face a much tougher test on Saturday, with games against Carleton and Pitt after an opener against Illinois State. Even after their strong Friday, few will be expecting them to be competitive with either Carleton or Pitt, but even hanging with those teams for a while into those games would prove that their early success wasn't a fluke.
And to be honest, it didn't look like a fluke per the eye test. Their team defense was aggressive and sound, and their offense was clean and efficient. No matter how their Saturday or Sunday goes, they were much better than expected on Friday, and certainly looked like they have potential to be competitive in the Southeast again after a couple of down years.
Shaky Starts
Five top 25 ranked teams had losing records on Friday, including a brutal 0-3 day for #21 LSU, who lost two games on double game point (to Northeastern and Harvard).
#14 Northwestern started their day with a double game point win over Northeastern in the North-stern Bowl before getting blown out by Pittsburgh and then Kennesaw State. Kyle Rutledge and Jeff Holm were as good as advertised, but the overall offensive and defensive lines weren't efficient and they lacked the talent top to bottom to even match up with a team like Pitt. They'll get more chances to work out the kinks against high quality teams tomorrow, when they face BYU, Florida, and Brown.
#8 Minnesota, #18 Texas, and #24 Emory all went 1-2. Of the three, Texas probably had the best overall day, nearly upsetting BYU and beating Minnesota (though they lost to UCF).
Florida, though they were unranked coming into the weekend, still had a rough day by their standards (especially at Warm Up, where they usually play well). They lost to Rutgers, Michigan, and Wisconsin. The team, though, is focusing more on development this year, and working to improve more steadily towards Regionals.
Quick Hits
South Carolina may have had a pretty tame schedule on Friday, but a 12-10 win over Texas A&M is a good sign for a team on the rise. With three more winnable games on the horizon, could we see them in the bracket starting Saturday night?
UT-Dallas got two comfortable wins over UAH and Kennesaw State before giving Brown their closest game of the day. Woof, too, is in a great position to make the bracket.
Michigan got off to a good start to their season with a 3-0 day, though they will need to play well against tougher competition tomorrow to have a chance at making a run in the bracket. Shout out to Raymond Lu for effective play despite playing with a broken wrist on his throwing hand.
---
BYU does not compete on Sundays and so will not be included in a bracket ↩