UNC won their home tournament in impressive fashion!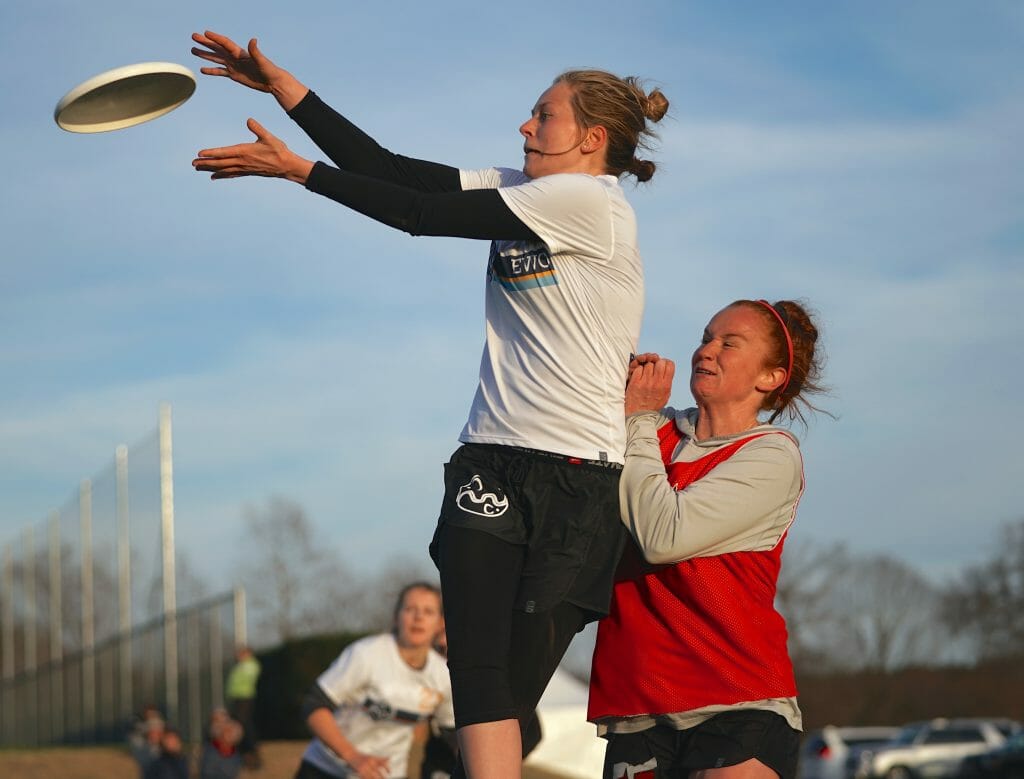 Ultiworld's 2019 college coverage is presented by Spin Ultimate; all opinions are those of the authors. Please support the brands that make Ultiworld possible and shop at Spin Ultimate!
CHARLOTTE– North Carolina Pleiades put on a clinic of patient offense and hard-nosed defense to win the title. Pittsburgh Danger and Carleton Syzygy looked like the clear second tier and top 10 teams. A tumultuous pair, Tufts Ewo and Ohio State Fever, showed their early season miscues and jitters while narrowly maintaining their standing above the rest of the field. Some of our questions got answered in North Carolina, but new ones arose in their place.
North Carolina Pleiades Has the Depth and Composure to Go the Distance
There are too many major contributors on #3 North Carolina Pleiades starting offensive and defensive lines to cover here. Team leaders Elisabeth Parker, Anne Worth, and Rebecca Fagan all had tournament-best weekend performances in the team's decisive first place finish as Pleiades was clearly more well rounded and composed than the tournament field. A few teams were within striking distance in the first halves of games over the weekend (in order: Ohio State, Carleton, Pittsburgh in the Sunday bracket), but none ultimately could match pace down the stretch or disrupt the horizontal stack offensive flow of North Carolina long enough to keep the games on serve. UNC piled on the breaks as fast as they could, encouraging opposing teams to take chances on 50/50 shots over zones or baiting them to hold off defenders in downfield lanes. Look for UNC to capitalize on their depth and make a run for the national championship this year.
Pitt's Ceiling Yet to Be Seen
#9 Pittsburgh Danger found their footing for 2019 at Queen City Tune Up. While their tournament resume lacked high powered matchups against Carleton or Ohio State, Danger only suffered one loss – a second place finish in the final to UNC Pleiades. In fact, Pittsburgh coasted through pool play and remained virtually unchallenged until the final.
The squad utilized several different defensive looks, notably a junk zone look with poaches and switches that really stymied offenses and led to a four break run against UNC in the final. Jessie Sun and freshman Beth Manturuk anchored the backfield and a host of cutters downfield stepped into larger roles as contributors this past weekend. Coach Ben Banyas put the onus on the team this past fall, through split squad tournaments and role communication, both to clearly communicate the team's needs from individual contributions and to embolden the players to take on larger roles in the team dynamic.
"A lot of [the transition] is, 'You know what that person did last year, well, that's you now.' [It] definitely helps that we added Carolyn Normile as an assistant coach. She obviously is not on the field, but still has a presence and I think [that] brings this atmosphere of familiarity," said Banyas.
Pittsburgh did face difficulty against North Carolina with maintaining pace and focus, and ultimately this proved to be the downfall in a game that Pleiades eventually ran away with. "We have tons of players that play great ultimate," said Banyas. "It's a process to have them figure out how to best do that with each other, and I think that this weekend really showed that the work we've been doing has been leading us in the right direction."
Ohio State and Tufts Create More Questions Than Answers
#5 Ohio State Fever and #13 Tufts Ewo entered Queen City with question marks surrounding their 2019 offensive and defensive goals. Fever and Ewo left Charlotte with those questions intact, and some amount of credit can be given to the grudge match that played out between the two on Saturday afternoon. While the game started in a similar style to Fever's games at Florida Winter Classic–with Tufts going up by four points with three consecutive breaks–the tone drastically changed on the fifth point of the game when Fever began to chip away at the lead.
Coach Alaine Wetli had no doubt in her team. "Was I ever nervous that we'd come back? No, I think I knew the whole time that we knew and the team knew, and it [using] was that belief muscle to come back out of that," she said.
Related: Universe Point, Presented by UP Cleats: Ohio State vs. Tufts (Women's)
Tufts Ewo did come away from this game with the victory, and arguably a moral victory as well, given that the long, gritty game took an emotional and physical toll on both teams. No one wants to drop a game after going up by four. However Meridan Estes, a member of the Ewo coaching team, was not too stressed about it.
"We did say it's kind of good that that game was filmed because everyone's going to think we're really bad at Frisbee," said Estes. "If anyone's scouting us, they're going to get to that point and just give up."
Did Ohio State come away with a similar feeling of satisfaction in their performance? Signs point to yes. Because the tournament was following WFDF rules of score to win,1 Ohio State had the opportunity to work their belief muscle, when the game ran long and cap rules would normally have ended the Fever break run. Ohio State Fever will definitely exercise their high risk, high reward style of play as we move forward in the season.
Carleton Youth Lived Up to the Hype
#4 Carleton was a bit short handed on the weekend, so it's difficult to determine how different the results could have been. What we do know based on their performance: the first year players are as advertised. Kate Lanier and Carly Campana strengthened major aspects of Carleton's game: Lanier's throwing ability and availability as a reset and Campana's skill to throw or reel in goal after goal in the downfield lanes. Karen Ehrhardt provided a large target as well, forcing opposing teams to try and cover two major cutters. Carleton maintained a high level of team composure and effectiveness throughout the tournament that will serve them well moving forward.
UNC Wilmington Seaweed Comes Close to Major Wins
Although it is not always promising when a team's resume is built on "good losses," UNC Wilmington had the look of a team on the rise this weekend. With a new coach and a team system, Seaweed took second in their pool with wins over Brigham Young and and Georgia Tech, both seeded above them in the tournament. UNCW showcased their ability to lean on their grit and high energy in late game losses to Ohio State and Tufts, and finished well above their original seed. In her first year as the coach of Seaweed, Sarah Hasch hopes to use this performance in Charlotte as a "catalyst to continue to build and fine tune in the coming months," and they will definitely get their chance in a high-powered tournament at Commonwealth Cup.
Quick Hits
Michigan Flywheel, the no. 6 seed, went 0-4 in pool play and ended up in the 17th place round robin. After a rough Saturday with blowout losses, they did notch two close victories over Cornell and Penn State on Sunday.
Ohio State and Tufts battled for 35 minutes in the point to take half.
Florida earned a consolation win over Georgia that ties the teams at 1-1 on the season. Things are no clearer in the Southeast.
With some confusion, the tournament opted to use a WFDF-style cap ruleset; teams needed to score to win in cap. With some games running long and little time between rounds, some game times were compacted and a there were a lot of small scoring totals.
A 5-2 weekend for Clemson positions them as a dangerous team in the Atlantic Coast. They shut out Penn State in pool play, 13-0.
---
There was a lot of confusion at the beginning of the weekend as to what exactly the cap rules were. ↩