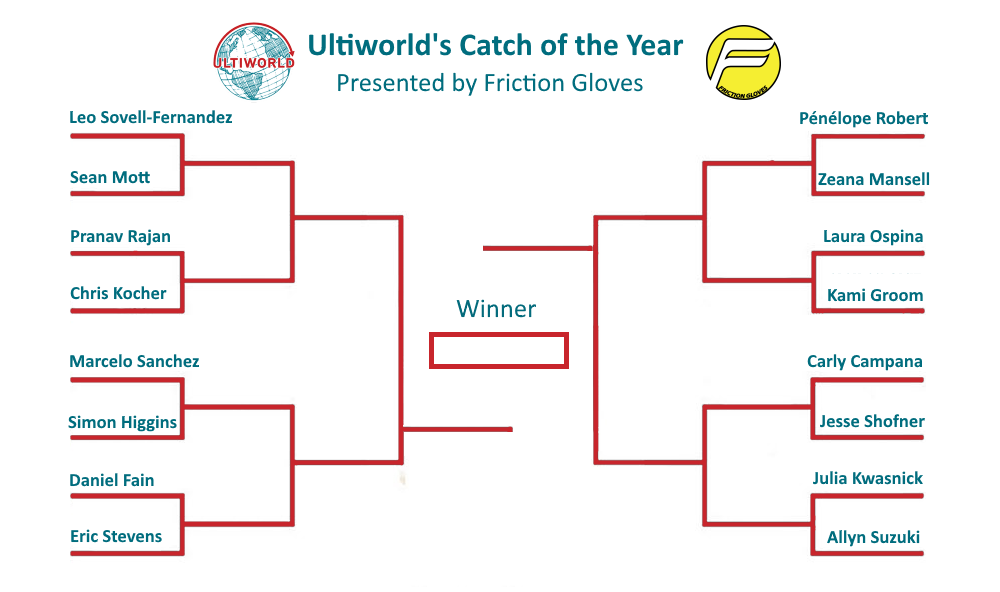 Ultiworld's 2018 Block of the Year bracket is presented by Friction Gloves; all opinions are those of the author. Please support the brands that make Ultiworld possible and shop at Friction Gloves!
You may have thought we'd forgotten, but we won't leave our fans waiting any longer for an opportunity to vote for some of your favorite plays of 2018. Next up is our Catch of the Year bracket! As with our recently completed Blocks bracket, we studied many hours of tape and solicited your submissions to create a list of 16 finalists. Over the next week, you the Ultiworld readers will have a chance to weigh in and select the Catch of the Year.
Take a look at all of the nominees and vote below, then check back to see which clips advance for another opportunity to participate. The first round of voting starts now and closes on Thursday, February 21, at 12 PM Eastern.
Round 1
Matchup 1: Sovell-Fernandez vs. Mott
Leo Sovell-Fernandez – Minnesota Superior (USAU U20 Mixed Club)
Between a standout performance at YCCs and a gold medal win with the U20 Men's National team, Sovell-Fernandez already has plenty of accomplishments to his name before so much as playing in a college game. As Ultiworld commentator Daniel Prentice asked about the Middlebury freshman during the replay of this catch on the broadcast, "What can't he do?"
Sean Mott – Philadelphia AMP (USAU Mixed Club)
Many think Sean Mott was undersold as merely an All-Club Second Team selection last season after routinely making spectacular grabs for AMP, a skill that was on full display throughout the Club Championships in San Diego. While his double game point snag against Slow White in the prequarters1 may have been the more important catch, this one from the final against Mixtape was even more technically impressive, controlling his footwork under heavy pressure from the intimidatingly gargantuan Reed Hendrickson.2
Matchup 2: Pranav vs. Kocher
Pranav Rajan – India (WFDF U24 Mixed)
When Australia went up 7-1 in the opening showcase game at the 2018 U24 World Championships in Perth, it appeared the home team would cruise to victory. India had other ideas. They rolled off seven consecutive goals to take half 8-7, none more spectacularly than this full extension effort from Pranav Rajan that made it 7-6.
Chris Kocher – New York PoNY (USAU Men's Club)
Kocher continued his meteoric rise up the list of the game's top players in 2018, as he showcased an all-around offensive skillset to compliment his already stellar defense. This grab from the US Open semifinal required an incredible combination of both speed and timing, the impressiveness of the feat matched only by the nonchalance of his 'celebration.' Just another day at the office for Kocher.
Matchup 3: Sanchez vs. Higgins
Marcelo Sanchez – San Francisco Revolver (USAU Men's Club)
Marcelo Sanchez may not be the biggest name on the Revolver roster, but when the game is on the line, you'll often see him on the field ahead of some more heralded teammates. That's because Sanchez is absolutely fearless, never shrinking away from the moment, but instead rising to it. If there is a play to be made, you can rest assured Sanchez will make it. Case in point: this catch past the outstretched defensive pressure from Tyler Monroe at a critical juncture of Revolver's Nationals quarterfinal against Truck Stop.
Simon Higgins – San Francisco Revolver (USAU Men's Club)
Squaring off against Sanchez in this round is his San Francisco teammate. On double game point of the national semifinal, Higgins found a seam between a trio of Ring defenders and turned on the jets to speed away into space. Grant Lindsley hung a trust throw out in front of one of his favorite receivers and Higgins delivered, sending Revolver to their fourth consecutive final.
Matchup 4: Fain vs. Stevens
Danial Fain – Georgetown Catholic Justice (USAU Men's D-I College)
We have seen a Greatest to multi-tipped circus catch win this bracket before. This entry from Georgetown not only might match Mehta's in terms of improbability, it dwarfs it in importance. Fain's catch here — which really could be partially credited to nearly the entire Georgetown team — was on double game point at Atlantic Coast Regionals, earning Catholic Justice a spot in the semifinals and an improbable game-to-go. They of course made good on that opportunity, with UNCW failing to recover and missing Nationals a year after playing in the title game.
Eric Stevens – Boston Molasses Disaster (WFDF Masters Mixed)
If Fain's catch felt like it came in a dramatic moment, it may be outdone on that account by its first round opponent. Eric Stevens may have initially misread this disc as the huck came in directly over his head, but he managed to pop it up in the air and then layout to save the disc mere millimeters from the turf. The end result: clinching a world championship title.
Matchup 5: Robert vs. Mansell
Pénélope Robert – Quebec AERA (USAU U20 Girls Club)
In one of the more acrobatic catches you'll ever see, Robert corkscrews her way through the air to track this disc as it soars over her head, only to snag the trailing edge before completing her rotation to land safely. Not too shabby from the young Canadian.
Zeana Mansell – New Zealand (WFDF U24 Mixed)
In a different form of reactionary acrobatics, New Zealand's Zeana Mansell had to read a tipped disc while in midair, then land and immediately project herself back the other direction to snare this defended pass as it fell toward the ground. Clearly, she'd be a major asset in a game of flutter guts.
Matchup 6: Ospina vs. Groom
Laura Ospina – Medellin Revolution (WFDF Women's Club)
Speed. Absolute, pure speed. The wildness of moving the WUCC semifinals indoors created one of the more unique atmospheres the sport has ever witnessed. It was in this berserk milieu than Revolution's Laura Ospina uncorked one of the biggest highlights of the year — big enough to land in an ESPNW year-end reel — and send both her teammates and the crowd of hundreds packed into the indoor soccer arena into pandemonium.
Kami Groom – Boston Brute Squad (USAU Women's Club)
If there is any player on the planet that can match Ospina for speed, it might be Kami Groom — they don't call her "Zoom Zoom" for nothing. What's impressive about this catch is that Groom had already abandoned her cut and begun to clear when the throw went up. Kami somehow managed to shift her weight back toward the direction of the throw, get up to full speed in a flash, then layout to save Tajima's pass and earn Brute Squad a US Open title.
Matchup 7: Campana vs. Shofner
Carly Campana – United States (WFDF U20 Women's)
One in a series of great toe-the-sideline catches to make this bracket, Carly Campana's effort come in a world championship final. When her teammate lofted a soft backhand over a Colombian cup, the wind gusted and threatened to push the disc beyond reach. Thankfully, Campana had inch-perfect length to extend for the grab while also managing to keep her feet down in bounds.
Jesse Shofner – Denver Molly Brown (USAU Women's Club)
If somehow Campana's form isn't the example you find in a textbook, perhaps Shofner's is. The fact that the Molly Brown star had a little more time to line this one up in no way diminishes the full-out concentration and effort required to bring in the goal. That it came amidst a furious comeback in a national semifinal under the bright lights and ESPN cameras only adds to the excitement. Fully worth the aggressive kick spike.3
Matchup 8: Kwasnick vs. Suzuki
Julia Kwasnick – UCSB Burning Skirts (USAU Women's D-I College)
It's not overly surprisingly to see Julia Kwasnick roof an opponent and snag a disc hanging in the air — her teammates nicknamed her 'The Claw' for a reason. But when this huck went up, Kwasnick had A LOT of work to do, as Tufts' Hannah Crowley did everything right to win the position battle and shield the pass from her larger opponent. Watching Kwasnick maneuver around Crowley in fits and starts without fouling her is just awesome.
Allyn Suzuki – California Current (USAU U20 Girls Club)
Coming from the same game as our reader favorite Block of the Year, Allyn Suzuki of California Current rounds out the collection of toe-dragging finalists. After setting this up with a beautifully executed S-cut, not only was Suzuki at full stretch just to reach the trailing edge of this pass, she had the wherewithal to tap her toe while she was leaping to make the grab. The nonplussed response of the 'fans' behind the endzone is just baffling.4
***
Did your favorite catch from 2018 not make the cut? Feel free to let us know and share a link in the comments.
---