Will we get a matchup between #1 Dartmouth and #3 UNC?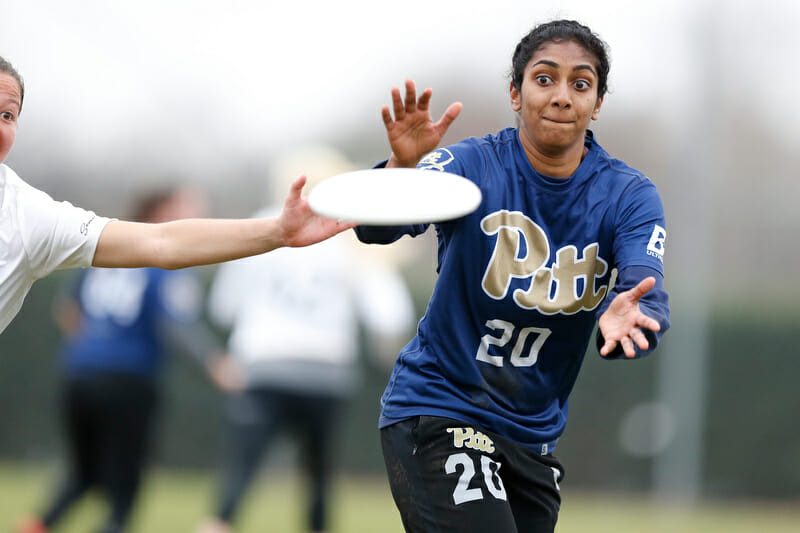 Ultiworld's 2019 college coverage is presented by Spin Ultimate; all opinions are those of the authors. Please support the brands that make Ultiworld possible and shop at Spin Ultimate!
Commonwealth Cup is coming up this weekend, and 36 teams will be taking the field in Martinsville, VA at the Without Limits sponsored tournament. As a WL event dedicated to the development of the women's division, Commonwealth Cup features one division of competition for D-I and D-III teams, together.
The tournament field is diverse in experience and resume, ranging from defending National title holders Dartmouth Princess Layout to developmental programs such as UNC Electra, Michigan B-Fly, and Pennsylvania Venus. There will be three Tier I power pools and five Tier II pools. This tournament has slowly been building in prestige, and its size has grown in step. While all four teams in each Tier I pool will advance past pool play, the top seed from each of the Tier II pools will have a play-in opportunity to enter the championship bracket.
Weather could be the great equalizer this weekend. Underdogs in this tournament field will have an opportunity to shake up the division with a win on a weekend that's projected to be cold, rainy, and windy. It will be a prime opportunity for teams to flex zone defenses, to test the mettle of some of the division's best offenses, and stifle the unprepared – particularly those with limited outdoor practice exposure.
Tournament Profile
Date: February 23-24
Location: Martinsville, VA
Weather Forecast: 40s, high likelihood of rain, 15 mph wind on Sunday
Top 25 Teams: 7 D-I, 2 D-III
Storylines to Watch
NC State, Michigan, and Virginia Ready to Avenge QCTU
Each of these teams was disappointing in their Queen City Tune Up showings. Queen City is historically the premier tournament for the Atlantic Coast region, and most AC teams don't face powerhouse competition from other regions outside of that weekend. These teams will have a chance to pull pick points off of Dartmouth, UNC, or Pitt that could benefit them later in the season. Less than optimal results, however, could hamper these teams' stock in the bid hunt.
Untested Teams Will Enter the Fray
Five teams will be cleating up for the first time in 2019: West Chester, Columbia, Pennsylvania, Ohio, and Delaware. This tournament will be an early and potentially grueling opportunity to work out early season jitters and miscommunications in the mess of a forecast this weekend. Between these teams is a hefty amount of starpower: Lindsay McKenna of West Chester, Yuge Xiao of Columbia, Anna Thompson of UPenn, and Natalie Bova of Delaware all have top level club experience. The latter trio all were teammates on Philadelphia AMP.
The D-III Contingent Ready to Challenge D-I  
This tournament format offers a rare chance for D-III teams to test their mettle against D-I competition. D-III #6 Oberlin (T-9 2018 D-III Nationals, 9-2 vs D-I Competition in 2018), D-III #11 Catholic (T-9 2018 D-III Nationals), and Elon will be looking to challenge their big school foes in pool play.
Saturday Pool Results Predictions
Pool A (Power Pool)
Dartmouth
West Chester
Virginia
Penn
What to watch for: #2 Dartmouth dominance. It's likely that Dartmouth goes unchallenged Saturday. Princess Layout has a marked advantage over #18 West Chester and Penn, who haven't played in a sanctioned event yet this spring, and Virginia Hydra who left something to be desired with their performance in Charlotte.
West Chester is following a successful 2018 with another strong tournament choice in Commonwealth Cup, where they are likely to face opposition who could boost their bid stock come the end of the season… provided they put on a winning performance this weekend. Virginia does have a slight edge on West Chester in one aspect, because they have a tournament worth of experience to build on. But look for Dartmouth at the top of the pool by the final horn of pool play.
Pool B (Power Pool)
UNC
Tufts
NC State
Penn St
What to watch for: #3 North Carolina Pleiades is the deepest team at this tournament, and their depth will help them overwhelm opponents in pool play. #8 Tufts Ewo has shown they have the grit and the talent to make late game and late tournament pushes. After their close games at Queen City, however, they'll be ready for more consistent play to prove they're a step above the rest of the tournament field.
Though Pleiades has not faced NC State Jaga Monsta so far this season, the teams know each other well given the nature of their home state's ultimate scene, and it will be interesting to see how Jaga attempts to limit UNC's Anne Worth and Rebecca Fagan downfield, among the host of contributors for Pleiades. Ewo and Jaga went toe to toe in this tournament last year, with Tufts narrowly securing a victory. While both teams graduated major pieces last year, the Queen City results indicate that the matchup will finish similarly in 2019.
Pool C (Power Pool)
Pitt
Ohio State
UNCW
Michigan
What to watch for: #7 Pittsburgh Danger and #9 Ohio State Fever will square off on Saturday for the top spot in Pool C. If Fever can disrupt the Danger system offense and force them into a one-throw or deep shot contest of athleticism, Ohio State could earn the upset.
#25 UNC Wilmington Seaweed will have the opportunity this weekend to close the gap from 'good losses' to upset wins and expand on their current 2019 resume. They are guaranteed pool play matchups against Danger and an Ohio State team who narrowly defeated Seaweed at Queen City. The rain and wind may throw a wrench into their offensive schemes, which usually revolve around Hannah Samuelson's deep looks to receivers Kristin Reed and Hannah Boetcher. But the weather will help their traditional zone defense. UNCW has been developing their team system this year, displayed in tournaments they've already played, and weather and top competition will be a good test of how nationally competitive this system and program can be in 2019.
Pool D
Columbia
Catholic
George Mason
What to watch for: Columbia looking to prove itself against a hungry Catholic team. Both teams missed the Tier I championship bracket in 2018, and will be looking to improve on their prior year's performance.
Pool E
Case Western
Virginia Tech
UNC-B
What to watch for: Case Western taking the pool with relative ease, and looking to avenge their 2018 prequarters loss to UNCW and crashing the championship bracket this year. A UNC-B squad with some of the overflow from UNC's star-studded squad could test both teams in the pool, but expect Case Western and Virginia Tech to hold seed.
Pool F
Kennesaw State
Ohio
Wake Forest
What to watch for: Three new teams to Commonwealth this year, all in the same pool. Kennesaw State looks to be the favorite for the championship bracket spot, against an untested Ohio and struggling Wake Forest.
Pool G
Duke
Oberlin
Michigan (B)
What to watch for: Duke will be looking to build upon this year's Winta Binta Vinta performance, and take the championship bracket slot from an untested Oberlin. In 2018, Duke dominated their Commonwealth pool, but they were bounced from the bracket handily by a Tufts team who ended up in the final
Pool H
Delaware (+1)
Florida St (-1)
Elon
What to watch for: Delaware is returning to college competition fresh from their absence due to a school sanction. This low seeding sets Sideshow up to upset a Florida State team whose only showing so far is a shaky Florida Winter Classic performance.
Pool I
James Madison
Princeton
Penn-B
What to watch for: James Madison hungry, coming off of a semifinals loss to Virginia at Winta Binta Vinta. All three teams missed the championship bracket last year, and James Madison will look to hold seed against Princeton and Penn-B, teams who have yet to take the field in 2019.
Pool J
Liberty (+1)
Brown (-1)
Drexel
What to watch for: A so-far inconsistent Liberty squad battling to upset untested Brown for the top pool slot, and a chance to improve upon their 23rd place 2018 Commonwealth finish.
Pool K
Maryland
MIT
UVA-B
What to watch for: Maryland to move through pool play unscathed, hungry, and looking to take advantage of a shot at the championship bracket, an opportunity they did not get at Commonwealth in 2018.
Sunday Bracket Predictions
Semifinal: Dartmouth vs. Ohio State
The Florida Winter Classic final matchup featuring these two squads was absolutely electric, with massive throws from Ohio State's Sadie Jezierski and Dartmouth's Caitlyn Lee, complemented by all-tournament team performances from Dartmouth's Claire Trop and Jack Verzuh and Ohio State's Emily Barrett. With similar wind conditions, the game is likely to come down to the wire again if Ohio State can generate the same defensive pressure. The slight edge still falls to Dartmouth's number of elite talents.
Semifinal: UNC vs. Pitt
Another likely rematch, this time from the Queen City Tune Up final. UNC's tournament-best depth and defensive prowess proved to be too much for Danger in Charlotte, and given the conditions, Pitt may struggle again to maintain focus and drive the pace of the game. Pitt coaches Ben Banyas and Carolyn Normile believe in their own depth and process, however, and will attempt to string together some break runs like they did in the QCTU final. If they can manage to control the pace and stay ahead of North Carolina defensively, Pitt could steal a win and snap UNC's winning streak. Winning mentality and depth unparalleled by any other team in the division give no. 2 seed the edge to move on to the final.
Final: Dartmouth vs. UNC
While Pleiades dispatched all challengers rather handily at Queen City a few weeks ago, in years past, Princess Layout has withheld from showing how dominant they can be in early season tournaments. The two teams are on a collision course for the final — barring an upset — and this matchup is poised to be the best game of the tournament, if not one of the best this season, and an early view at a Nationals matchup.
While Dartmouth will have the best player on the field in Jack Verzuh, the Dartmouth defense will also attempt to limit the effect of UNC's depth. It would not be out of character for Dartmouth to drop an early spring game and it is unlikely that this would have any negative effect on their stock with a season-long perspective in mind especially considering UNC's rising stock. The final will likely be either of these teams' only regular season loss.