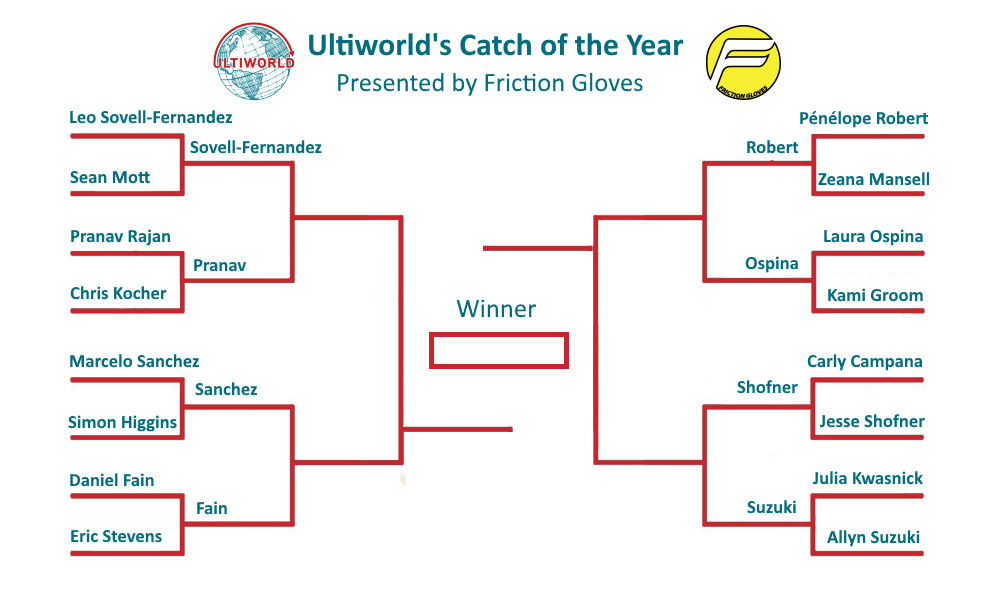 Ultiworld's 2018 Catch of the Year bracket is presented by Friction Gloves; all opinions are those of the author. Please support the brands that make Ultiworld possible and shop at Friction Gloves!
Round 1 of our Catch of the Year bracket is done and we saw one of the most lopsided sets of matchups we've ever seen in a reader-voted battle. But, the results are ultimately consistent with previous contests: youth and international highlights rule the day. Will the same hold true moving forward?
Voting for Round 2 will be open through the weekend, closing on Monday, February 25, at 12 PM Eastern.
Round 2
Matchup 1: Sovell-Fernandez vs. Pranav
Leo Sovell-Fernandez – Minnesota Superior (USAU U20 Mixed Club)
In Round 1, Sovell-Fernandez's impressive flying layout grab from YCC flew past opponent Sean Mott, garnering more than 70% of the vote.Shockingly, that was one of the smaller margins of the round. He'll have his work cut out for him against a potential juggernaut in Round 2.
Pranav Rajan – India (WFDF U24 Mixed)
Perhaps unsurprising to those who have followed along with our brackets in the past, Pranav managed by far the most votes in the first round, buoyed by a continent's worth of support. If past brackets are any indication, it will take massive domestic support to take the young Indian star down in this competition. Can Sovell-Fernandez muster it?
Matchup 2: Sanchez vs. Fain
Marcelo Sanchez – San Francisco Revolver (USAU Men's Club)
Sanchez demolished his club teammate in the first round to move on to the quarterfinals with the largest margin of victory — a cool 87% of the vote. Sorry, Simon. Up next, the Revolver stud will likely be under much heavier pressure from his opponent in Round 2. Then again, this catch proves that won't concern Sanchez in the slightest.
Daniel Fain – Georgetown Catholic Justice (USAU Men's D-I College)
The Georgetown double game point miracle advances comfortably over a world championship clinching grab in Round 1. As this competition heats up, we'll find out if our readers once again want to celebrate a highlight that showcases incredible teamwork and luck, as three different Catholic Justice players combine to direct this pass into Fain's hands for the game-winning goal.
Matchup 3: Robert vs. Ospina
Pénélope Robert – Quebec AERA (USAU U20 Girls Club)
As good as Robert's grab looks in real time, her mid-air tumbling routine is almost even more impressive in slow motion. The complete concentration from the young French Canadian is clearly visible in half speed as you see her eyes lock onto the disc and never waver, even as she twists and flies through the air. Perhaps that's why she advanced so dominantly in Round 1.
Laura Ospina – Medellin Revolution (WFDF Women's Club)
After steamrolling her speed-demon peer Kami Groom in a first round battle, Ospina now squares off against a much different type of catch and a fellow international entry in this competition. The Colombian's all-out effort highlight was good enough for SportsCenter's Top 10 — is it good enough for Ultiworld's readers?
Matchup 4: Shofner vs. Suzuki
Jesse Shofner – Denver Molly Brown (USAU Women's Club)
In the tightest contest of the first round, Jesse Shofner's amazing national semifinal snag was the only Round 1 winner to knock off an opponent from a younger age division. Can it do it again as she faces another young toe-the-sideline mimic in the quarterfinals?
Allyn Suzuki – California Current (USAU U20 Girls Club)
Not many people have been able to slow down Julia Kwasnick to this point in 2019, but Allyn Suzuki stopped her dead in her tracks in this competition. Thankfully, Ultiworld readers gave Suzuki more credit for her incredible grab than the statuesque audience at the back of the endzone.