The Southwest had a banner weekend.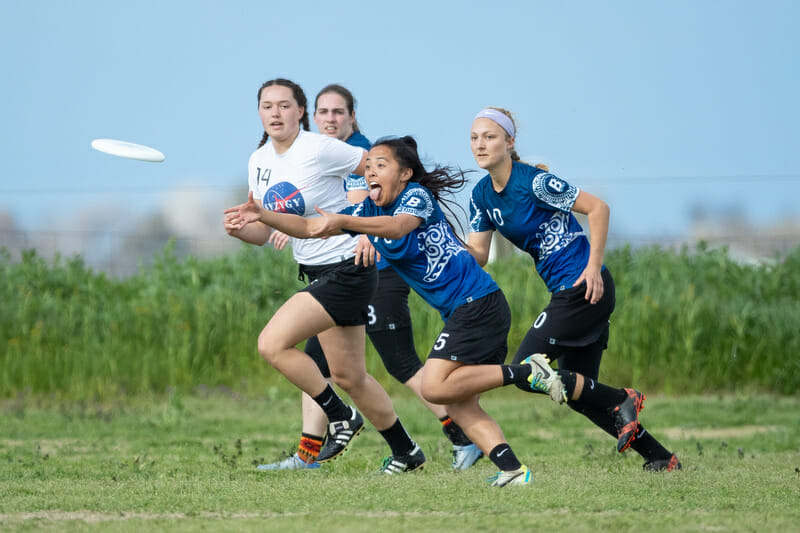 Ultiworld's 2019 college coverage is presented by Spin Ultimate; all opinions are those of the authors. Please support the brands that make Ultiworld possible and shop at Spin Ultimate!
STEVINSON, CA — The weather surprised us in Stevinson, but UCSD didn't; they won the 2019 Stanford Invite with the same utter dominance and composure they've carried onto every field this season. No team has scored double digit points on them this season, and the throne is officially theirs until late March.
Behind the Psychos, results get much, much muddier. There were 16 total upsets, including five from the very first round of play. Out of the chaos, the Southwest emerged a big winner. They could get six total bids, comprising more than a quarter of the Nationals field.
Here's how it all went down.
UCSD Crushes Stevinson
The #1 UC San Diego Psychos won the tournament by an aggregate score of 76-46, clearing competitors from the board with the same unfazed composure as a young prodigy who's only ever known success. Stanford and Colorado played them close on Saturday, but UCSD never lost control of the pace. On Sunday, they ripped past UCLA and handled a young and talented Carleton team 13-6 in the final. Their grip on the game began early with two breaks for an immediate lead. Carleton took a timeout, but from that point on, the final was a departing train that Syzygy just couldn't catch.
Dena Elimelech is still a playmaker and at the top of the Player of the Year list, but this season her talent stands out less because the team around her executes with the same tenacity and skill she had last season. Alexandra Diaz, Marissa Hing, and rookie Ava Hanna were the favored deep looks in the final, and the full team's close defense forced shakier shots from Carleton than they'd taken in the semifinal.
Higher winds and tired legs extended points late in the final, especially in a marathon point at 11-6. Yet the game was always UCSD's to claim. The Psychos ended the tournament like they began it: largely unchallenged. That's exactly what worries coaches Alisha Stoun and Carlo Mosca.
"I hope we get whupped at Northwest Challenge, because we need that for the series," said Stoun in reference to their final regular season tournament. Last year, UC San Diego was taken aback by Dartmouth in the final, losing 15-11. The UCSD coaches are hoping for the same treatment this year. "I hope they break our hearts," said Stoun of Dartmouth.
Don't they want revenge, I asked? Don't they want to prove they're better, faster, stronger this year? Stoun just smiled. "That's for Nationals," she said.
Carleton Delivers on Roster Hype
#5 Carleton Syzygy lived up to the hype building in advance of their Stanford Invite appearance, reaching the final with less dramatic scores than UCSD, but no less poise or talent. The young team played with the depth and trust that you typically only see from National or All-star teams because, well, they might as well be.
Carleton got a slow start on Saturday with a 7-5 win against Whitman. This loss makes more sense in the narrative of their weekend when it was revealed that, due to weather issues, the Carleton women's team hadn't even arrived at their hotel until 5 AM on Saturday. They kicked off the weekend with only two hours of sleep, and still managed to win their pool with wins over UCLA and Oregon as well.
Rookies Kate Lanier, Lauren Carothers-Liske, and Carly Campana are already pillars in the team's strategy, joining Nariah Sims, Karen Ehrhardt, and Hannah Barnstone. The roster's depth is clear, however, in their defense: Carleton played high-pressure, fundamental person defense to earn their blocks. They surged past UCSB in the semifinal because, after those blocks, they used the full field and all seven women to convert efficiently.
Carleton knew what they'd face in the final against UC San Diego, but they weren't able to disrupt the Southwest team's game plan. When they took away break throws, the Psychos handlers shifted into their give-and-go movement instead.
"It was great working against a team with such a different style from us," said co-coach Courtney Kiesow after the game. "They are  handler-centric, and they love to use the break side, and that's something we're aspiring to with our work in the next couple months."
Carleton set several different defenses against UC San Diego, and they forced turns in the increasing wind, but they never landed on a strategy that jarred the Psychos' plans. They'll spend the next few weeks ahead of Northwest Challenge drafting new defensive blueprints for teams like UCSD.
"We tried all the things that we know right now, and we also tried to adapt the things that we know," said co-coach Logan Weiss. "It's more like we need to go back to practice and make a bigger toolbox so that we have more options."
Carleton will get another crack at UC San Diego in a few weeks, but the height of their talent floor should worry every other team in the division. Juniors Maya Powell and Anika Thomas-Toth along with sophomore Isabel Arevalo will also return from abroad by NW Challenge, all of whom were major pieces of Carleton's offense last season.
Southwest Harvests Bids From Northwest
It was a sobering weekend for the competing Northwest teams, and a glorious tournament for the Southwest. Northwest stalwarts #18 British Columbia Thunderbirds and #19 Oregon Fugue stumbled in both pool play and the bracket, going 3-3 and 1-5, respectively. The Whitman Sweets only won one game — against Oregon, no less — and #17 Washington Element went 2-4, with a painful blown-lead DGP loss to Texas to close the weekend.
NW Challenge is still ahead, but the Northwest teams lost a lot of cushion this weekend. The fate of their remaining bids has never been murkier, either: Whitman bested Oregon on Sunday, Washington beat UBC on Sunday, and UBC beat Oregon in their final game. The region may as well have played 52 card pickup with their rankings.
Southwest teams, on the other hand, thrived on the Stevinson fields. #13 UCLA BLU went 1-2 during pool play, but they won when it counted on Sunday. They beat California 9-7 in the quarterfinal, and they outlasted UCSB 10-9 in the third place game to jump eight spots compared to their seeding. These wins, particularly against UCSB, will pull UCLA into bid contention and into the national conversation.
"I think mental toughness was a key contributor to our success this weekend," said the UCLA captains. "There's wind? Okay, let's use the downwind to our advantage and get an upwind break when the time comes. Double game point against Oregon? Okay. Let's play our hearts out. There were occasional lapses, but overall we remained patient and consistently relied on each other to stay heads up on defense and to work it up gradually on offense."
UCLA relied on handler Erin Doyle for a lot of their disc movement. Their zone defenses, born from the brain of longtime coach Alex Korb, were effective in the wind at hampering teams' forward momentum.
#6 UC Santa Barbara Burning Skirts saw their hot streak of finals appearances end this weekend when they fell to Carleton in the semifinals. Up until that point, the Skirts had seemed untouchable: they won all their games by 8+ point margins with their signature defense and their newly composed offense. When Audrey Brown or Julia Kwasnick are on the field, spectators are guaranteed at least one spectacular play per point. Lauren Bedard, Jasmine Childress, Leah Forester, and Kaitlyn Weaver are also mainstays in their offense, and together these women wrenched turns from teams with ease.
In the semifinal, Carleton challenged the Skirts with a new level of physicality that caught UCSB off guard. With closer marks and smaller windows, the offensive calm began to fray.
"We reverted back to not-good fundamental frisbee when that pressure came on," said co-coach Sam Fontaine. "We started just trying to huck to our big targets downfield instead of running our offensive system."
Carleton's bruising break run in the middle of the semifinal kept UCSB's D-line off the field, which meant the team couldn't draw energy from big blocks they counted on. They fought for points throughout the second half, but this semifinal was a new flavor of challenge for the Skirts.
This was UCSB's final tournament of the season, so they'll spend the next few months preparing to face their Southwest neighbors in the post-season. After their loss to UCLA, they'll have more than a little vengeance to dole out.
#14 California Pie Queens pulled nearly as dramatic an upset as UCLA did, rising from a no. 12 seed to finish in seventh place. They beat no. 5 Cal Poly-SLO in the rainy first round on Saturday, and they carried the momentum into a 10-9 double game point upset over British Columbia. California wants to get Anna Wysen into power position whenever they can, and she'll foist the disc deep the moment a cutter takes a step deep. Claire Toth was a popular target during their UBC game, along with Cidney Weng and Sydney Horanic.
This weekend is a promising turn for California, whose mixed SBI and Presidents' Day Invite record foreshadowed tamer postseason prospects. They'll get a chance to build on these upsets in Seattle at Northwest Challenge as well.
#16 Cal Poly SLO Motion's 2-5 record doesn't show the challenges they gave nearly every team they played this weekend. Their defense was able to generate plenty of turnovers all weekend long, and when Thalia Ward was connecting on her forehand hucks, they were able to turn them into breaks. SLO looked comfortable playing long, drawn out points, playing a game of field position, and trusting their defense to continue to get the disc back. The tactic worked best in games against Florida and Texas, and was able to keep them close in games against UBC and Cal.
Ward was SLO's biggest star of the weekend, and she did play on offense when the team needed it, but Autumn Barker and Kelly Dickinson were strong O-line handlers when Ward wasn't on the field, too. Vanessa Beeler was a go-to target for all three of the team's primary throwers, and showed off a consistent ability to make contested catches downfield. SLO was without star Diana Swanson, and her presence was missed, but SLO had plenty of individual performances to be buoyed by on their quarterfinals run.
"Diana missing was definitely tough for us for obvious reasons, but it opened up huge opportunities to put different players in tougher roles, ones they'll have to stay in even when Diana plays with us during the series and that they'll be in in years to come," said Ward. "I think we did a great job staying positive and focusing on the growth opportunities each game brought to us. It is our first time playing at Stanford Invite, so we were really grateful to be there. It was also our first time playing UBC, Texas, and UCSB this year so it was cool to get an idea of some out of region teams' styles and revisit an old rival."
SLO's weekend did drop them out of bid earning range for now, but they remained close enough that they should still have a good chance of earning a bid for the Southwest, especially when the team returns to full strength.
Notes on the Vast and Very Talented Field
#15 Stanford Superfly looked stronger this weekend than at their earlier tournaments, and having Hallie Dunham back as lieutenant of their backfield certainly helped. But their best moments this weekend came from their cutters: Bridget Connor, Sarah Kratzer, and Caroline McKee kept their offense grinding, and Emily Tucci is an excellent shutdown defender. They don't have the raw personnel they did last year, but their expert defense got them two points away from the semifinals.
#12 Texas Melee held seed with a massive comeback fight against Washington to end their weekend. Down 9-6, they gritted out a four break run to take a 10-9 lead late, and then won 11-10. This year's iteration of the Texas brand will look familiar to South Central fans, from big hucks by Domenica Sutherland to quick-footed cutting from Ivy Harrison and rookie Megan Bell. We'll see them again soon at their hometown tournament in Austin.
#9 Colorado Kali also remained on brand this weekend with smart person defense and relentless cutting. Their side stack highlights strong cutters like Meg Henderson, Rachel Wilmoth, and rookie Bailey Shigley. Emma Capra was an absolute terror on defense and is rising the ranks of the DPOTY watchlist. Colorado stuttered against UCSB, but their 12-10 loss to UCSD later in the weekend is a positive signal for their season trajectory.
For once, the UBC Thunderbirds didn't benefit from entering the divisional fray late in the season. Besides their 13-0 crush of Florida in round one, UBC couldn't take over their games, even against regional competition they know well. Their three losses were all by two points or fewer, and the team still has their biggest assets from last year, but an 11th place finish was a far fall from their original no. 3 seeding.