The best of the South Central region on display, plus a few notable outsiders.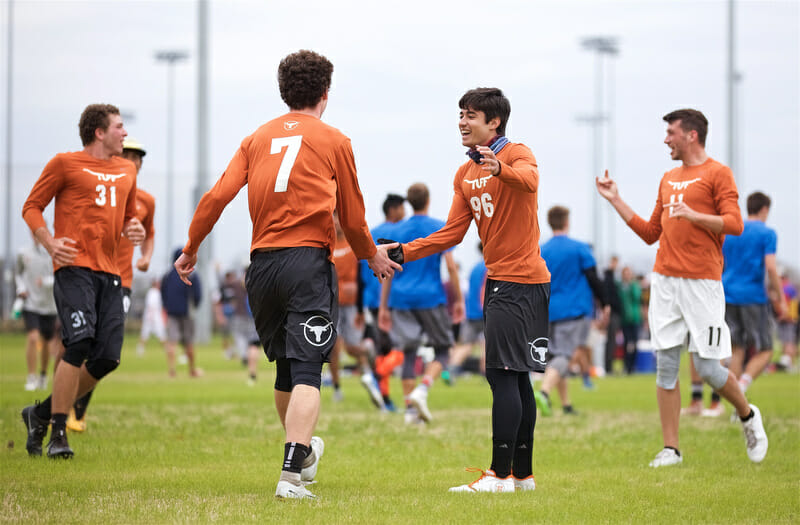 Ultiworld's 2019 college coverage is presented by Spin Ultimate; all opinions are those of the authors. Please support the brands that make Ultiworld possible and shop at Spin Ultimate!
With nine of the top 10 teams in the region competing this weekend, the 2019 version of Men's Centex feels almost like a practice run for what is sure to be a chaotic South Central DI Regionals in six weeks. However, a number of teams have made the trip down to Austin to attempt to upset the balance. The 32 teams in the field are divided up into two tiers that act as two entirely separate tournaments, with no crossover between the teams playing in Tier 1 and those in Tier 2. Each tier is then further divided by the presence of two power pools, allowing for some fantastic Saturday matchups between the top eight seeded teams.
Tournament Profile
Date: March 16-17
Location: Austin, TX
Weather: High 50s/Low 60s and sunny
Top 25 teams: 6
Filming Schedule
Ultiworld will be filming select games that will be posted to our YouTube channel after the event. They will not be livestreamed.
Saturday
9 AM: Oklahoma v. Iowa State
11 AM: Wisconsin v. Texas A&M
1 PM: Colorado v. Colorado State
3 PM: Prequarter (TBD)
Sunday
9 AM: Quarterfinal
11 AM: Semifinal
1 PM: Final
Texas In the Driver's Seat
At this time last season, #4 Texas TUFF was looking for answers as they prepared for Centex 2018. They came in as the 10th seed at their home tournament, having made a disappointing appearance at Florida Warm Up in which they won just three of their nine games. This year, the team has to feel much more confident. After a third place finish at Warm Up and a semifinal appearance at the Stanford Invite, they have earned their status as a dangerous opponent.
TUFF head coach Calvin Lin credits the team's strong finish in 2018 and a year of experience for the turnaround.
"Last year, we had really been struggling… we had some issues that masked our strengths," he said. "Fortunately, we were able to correct those issues and come together by Regionals. I think that this year's team has a better sense of how good we can be."
And how good is that? A lot can happen in the college season, but a championship this weekend would go a long way towards cementing them as one of the contenders at Nationals. TUFF bullied strong teams like Cal Poly SLO and Ohio State at Stanford Invite with their athletic ability, which allowed their experienced handlers, seniors Keivaun Waugh and Reese Bowman, to feel more confident trying lower-percentage looks. They have a winning combination of talented younger players, older players who've been on the big stage, and all-around standouts. They'll face an important barometer right out of the gate Saturday morning, as they face in-state rival Texas A&M for the first time this season.
Mile High Powerhouses On the Rise
The second and third seeds this weekend, respectively, will be #13 Colorado Mamabird and #16 Colorado State Hibida. Both teams have been on similar trajectories over the last year. Each victims of the one-bid South Central region in 2018, they fell short of expectations by missing out on Nationals and came into 2019 with some question marks. They both faltered in their first tournament of the season — Colorado State finished 9th at Santa Barbara, Colorado took 6th at President's Day — before picking up serious steam a couple of weeks ago at Stanford Invite with big wins.
Both teams now sit precariously within bid-earning range coming into Centex, where their paths will cross in Power Pool B. As well as facing against each other for the first time since Mamabird eliminated Hibida at 2018 Regionals, each team will play an important out-of-region game Saturday against LSU, and Colorado will be eager to get another chance at Texas after falling to them at Stanford.
Colorado State seems like they might have the higher ceiling — Jake Marrapode, Dave Miller, and Sam Goldstein played great at Stanford — but Colorado is very deep and getting better. Their matchup should be one of the better games of the weekend.
Texas Contingent Riding Strong Start
The opposite pairing to the Colorado teams are #22 UT-Dallas WOOF and #23 Texas A&M Dozen. Neck and neck in Ultiworld's Power Rankings, these teams boast similarly strong resumes thus far in 2019. Both were surprise qualifiers for the championship bracket at Florida Warm Up, although neither team has yet been able to snag the caliber of victory they can really use as a confidence booster come the postseason. They will have multiple opportunities to do so this weekend, as they each look to maximize the number of bids the South Central can earn.
Usually, when an unheralded program rises to prominence, it does so on the shoulders of one or two stars, but UT-Dallas has showcased consistency and depth in their early tournaments. David Hammer, Jason Dick, Jason Hustad, and a number of other starters have flashed real playmaking ability for the squad. They will look to get revenge on Saturday against Colorado State, who handed them a one-point loss at Santa Barbara Invite in January. Texas A&M, on the other hand, will look to their role players to step up and support fifth year captain Connor Ughetta. They will be eyeing their second game of pool play, an out-of-region matchup with Wisconsin, as a chance to improve their ranking.
Wisconsin Aims to Leave Cold Weather, Shaky Start Behind Them
As the only non-South Central team in the Top 25 attending Centex, this will be a crucial weekend for the #19 Wisconsin Hodags and for the North Central region as a whole. For the first time in recent memory, the North Central faces the possibility of their customary three bids falling to two or even one. Carleton and Minnesota will be anxiously tracking the Hodags' performance in Austin.
It's been a bit of a slow start for Wisconsin, who fell into the third-tier bracket at Florida Warm Up after a couple of tough losses to Virginia Tech and LSU, then took an 11th place finish at Stanford Invite after Sunday losses to Colorado and Cal. However, the Hodags are accustomed to spending the beginning of the season building chemistry, forced to spend their time on track workouts and rare indoor practices by the wintry weather in Madison.
"I'm excited to see the damage that our team can bring offensively once we have the weather for a consistent outdoor practice schedule," said Hodag captain Jeff Maskalunas. "We've put in the work on the track…and plan on winning games by grinding out points, playing the war of attrition. The Hodags have shown tenacity and pride in our defense and athleticism so far this season, a constant that we will rely on."
Look for athletes like star fifth year Nick Vogt and Sam Hebert to put the pressure on Texas and Texas A&M in Saturday's pool play matchups. A run to the final of Centex this weekend could absolutely be the ticket to shift a Nationals bid up north and give Wisconsin some breathing room in the postseason.
Don't Sleep on the Rest of the Field
The six teams in the Ultiworld Top 25 grab the headlines, but the rest of Tier 1 has plenty of talent drawn from across the country. LSU and Illinois are the teams rounding out the power pools, and each has players with the athleticism and experience necessary to pull an upset. LSU, especially, has had early season success, with wins over Auburn, South Carolina, Tufts, and Alabama. Don't be surprised if Jeff Oravic and company test all three of the teams ranked ahead of them in Pool B.
Look out for the representatives from Pools C and D in prequarters, as well. Dartmouth  has already made the long journeys to Santa Barbara Invite and Queen City Tune Up this season, picking up wins along the way, as they prepare for what will be a challenging Northeast Regionals. Texas State may have a small roster, but their top end boasts high-level club and pro experience. Oklahoma are riding an undefeated outing just last weekend at Dust Bowl, and Oklahoma State's Connor Olson is one of the finest young talents in the region.