Upsets, underdogs, and an unexpected title for Northeastern.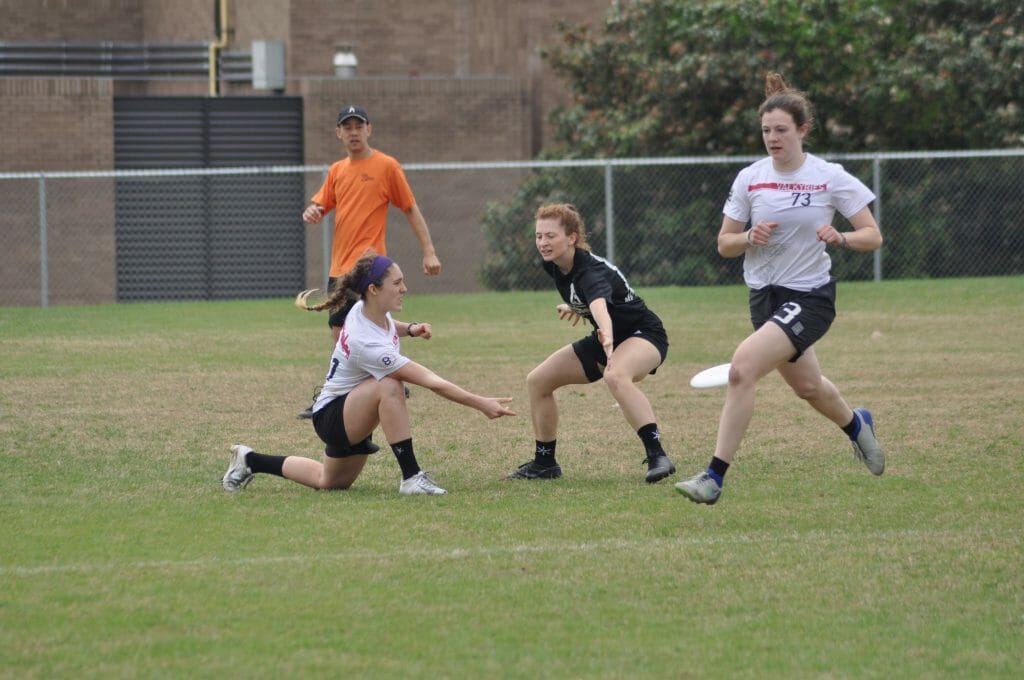 Ultiworld's 2019 college coverage is presented by Spin Ultimate; all opinions are those of the authors. Please support the brands that make Ultiworld possible and shop at Spin Ultimate!
It was a chaotic and crazy weekend at  Women's Centex. A windy Saturday made for some lackluster games, but Sunday more than made up for it with improved play and upsets galore. There's a lot to get into, so let's get straight to it.
Northeastern Claims Centex Title
#24 Northeastern bounced back from a defeat to Wisconsin in their first game, surrendering a two break, 8-6 half time lead in the process, to win five straight games and the whole tournament. They met a Minnesota team in the final that was an even bigger surprise to make the final, and they put on a good show.
The two sides were evenly matched in the first quarter of the game, with each side getting a break apiece in the first three points. Louise Beck and Kayla Blanek led the way for Minnesota, while Ari Nelson, Clara Stewart, and Emma Palacio were the top producers for Northeastern as the teams remained on serve to 5-5.
Northeastern grabbed a couple of breaks at the end of the first half, though, to give themselves an 8-6 advantage going into the half. The first came at 5-5 following a huck turn from Blanek looking for Emma Jaschke. Isabel Tripp blindly caught a huck into a pile of players that was deflected and fell into her arms, and Northeastern was able to get the break a couple throws later. The second came after Beck threw an interception that triggered a quick counter attack from Northeastern to extend their lead to 8-6.
Minnesota were able to claw one back on a four turnover point from Northeastern to make it 9-8, but Northeastern broke again to make it 12-9 to regain some breathing room. Minnesota made things interesting with a break for 13-12, but the ensuing Northeastern hold for 14-12 locked the game up, with hard cap preventing Minnesota from being able to mount a late rally after their hold for 14-13.
The difference in the game was Northeastern's resolute O-line defense. Both teams played to pretty similar levels of effectiveness on offense. Northeastern was just that little bit better at stemming Minnesota's break opportunities. They impressed with their zone defense on D-points, but it was their person defense after the turn that was able to stymie Minnesota's D-line offense. Not only were they able to keep Minnesota's D-line out of their end zone, but they were usually able to keep the disc in the plus side of the field, as well. They played the field position game better, and it manifested itself in them getting those couple of longer points that ultimately made the difference in the game.
"Person defense in general has been a pretty focus, one that we've been focusing on as a program for the last couple years," said head coach Jason Adams of the team's defensive effort in the final. "The Valkyries are pretty well known as being a zone based team and we've been trying to change that. Obviously if you can control field position game, it's gonna help you. But also, obviously if you can apply pressure on every throw you're gonna get turnovers. Some of them were blocks, and some of them were tight windows and throwaways. We felt confident that the team starting on offense for us was gonna be able to defend the end zone."
In a tournament where most teams struggled to consistently work the disc up the field, Northeastern's handler core was the most valuable unit at Women's Centex. Ari Nelson was a weapon against zones, her aggressive blades to beat the defense's shape almost always finding the target. She also did a nice job of flipping the field with big hucks when she needed to. Particularly when it was a windy, that was something other teams didn't do enough, and Northeastern's ability to play the field position game was a big reason for their tournament win.
Freshman Clara Stewart was a solid deputy to Nelson for most of the weekend. She was always available for a reset, and did all the little things right, a perfect compliment to the more aggressive Nelson. But then in the final, Stewart flashed her own ability to take over a game. She had some jaw dropping hucks and was Northeastern's most impressive individual against Minnesota. There's no doubt the Nelson is always going to be the primary handler for this Northeastern team, but that Stewart can provide the rock-steady consistency when Nelson is rocking, as well as pop for a big game on the rare occasions when Nelson isn't on her A game, is a big boon for Northeastern.
Brianna Considine and Emma Palacio, a graduate transfer from Temple, were both dangerous further downfield, offensively and defensively. Palacio, in particular, was dangerous in the deep spaces, and she was the recipient of several of Stewart's hucks in the final. Nelson and Stewart shoulder a lot of the load offensively, but Considine and Palacio did impressive jobs of providing consistent options for their handlers, and not forcing them to have to work it between just the two of them all the way down the field.
It was just the second event of this season for Northeastern, their first being at Presidents' Day Invite back in February. They went just 2-4 that weekend, and obviously looked moved improved at Centex. "I don't know if there was any specifically tactical thing [that was different]. We've had a month. We've had a lot of practices," said Adams, on the team's growth between Prez Day and now. "We've had to create ways to bring excitement to those practices because it's difficult to keep going after each other time and time again. But they show up to work every day and I think it's probably mostly the team coming together more than anything. More than anything we're doing as coaches, it's the work they're putting in to keep getting better and in better shape, and that kind of stuff."
Coming into the weekend, the question for Northeastern was whether they would be able to get an extra bid for the New England region. They certainly did that, and, in fact, leapfrogged Vermont to become the second highest ranked team in the region. Northeastern did more than just earn a bid. In winning Centex, they looked like a team that could be seriously dangerous for some of the teams with higher expectations come Nationals.
Minnesota Goes Above and Beyond
If few people were predicting Northeastern to make the final, probably even fewer were picking #20 Minnesota to get there. Like Northeastern, they rebounded from a one point opening loss to go undefeated the rest of the way to the final. Minnesota's loss to Texas was especially painful to start the weekend, as they went from leading 9-7 to losing 10-9. But they came back with impressive wins over Colorado and Tufts, that were both more comfortable than their 8-7 final scores, to take second in the pool.
They were a little slow to start against UCLA, and they needed three straight breaks right at the end to get their 12-10 win. But they were able to put a complete performance together against Tufts in semis. At their best, Minnesota was a team that racked up blocks. Rachel Elbing had to have the most blocks of anyone at the tournament, and her teammates Cassidy Krawczak-Kummrow and Sadie Reding weren't far behind her. Against Tufts, they were able to convert those D-line possessions into breaks with impressive efficiency, jumping out to a 7-3 lead and holding a comfortable advantage for the rest of the game.
Offensively, Kayla Blanek was an absolute force. She used her height well to be dangerous deep, but also routinely showed her ability to huck. Louise Beck was smooth as can be as the team's primary handler and, with Jessica Halverson in the backfield destroying marks with her inside forehand, Minnesota had one of the most impressive handler pairs on the weekend. Emma Jaschke was a goal scoring fiend, and Sofie Fitzsimmons was often open in the red zone as well.
You could maybe knock Minnesota for their path to the final being a soft. Had they played and beaten a team like Wisconsin, or held on for the win over Texas, their results would have a little more pop to them. But as far as them being a Nationals caliber team, they passed the eye test. And the rankings agree with that, as their weekend skyrocketed them up to 11th. That puts the North Central up to three bids.
The idea of a third bid for the region may not have been Minnesota's primary focus on the weekend, but it was certainly on their minds. "We came into the weekend not really knowing what to expect, but knowing what we needed to do for growth within our team and obviously for a region," said co-head coach Sarah Meckstroth. "The bid picture was a big part of coming into this weekend. Making it where we did was beyond the goal, but we weren't just happy to be here; we gave it everything we had in the final. And being able to win it was icing on the cake to a great weekend."
"We also wanted to make a statement. I feel like we were a little underrated after Prez Day. We had some very good, close games there. We came here to work," said her co-head coach Carlos Lopez. That work paid off for Minnesota in a big way, as they not only locked up a bid for the region, but looked like the real deal in doing so.
Bracket Chaos
Of course, Northeastern and Minnesota may not have made the final were it not for the utter chaos that enveloped the tournament in the quarterfinals round. Each of the top four seeds were all knocked out simultaneously, leaving Northeastern and Minnesota as the highest remaining seeds. After three rounds of pool play on Saturday where no team looked truly great, seeing some upsets on Sunday wasn't shocking. But seeing every single top four seed go down was a surprise, and for the neutral fans out there, equally as exciting.
The two teams that were most responsible of the shocking nature of the quarters round were Utah and BYU. While Northeastern's and Minnesota's wins over Texas and UCLA, respectively, were upsets by rank and seed, the two finalists both finished second in their pool, earned byes before those games, and looked like two of the best three or four teams at the tournament on Saturday. But Utah came all the way from Tier 2 to earn their upset over Colorado, and Tufts went 0-3 in pool play the day before.
Utah's win over Colorado, especially, seemed to come from nowhere. Colorado jumped out to a very early three break lead, and held that advantage into halftime, up 8-5. But Utah was swarming in the second half, and they went on a 6-2 run to win on double game point. They took advantage of Colorado miscues in short field positions, and their D-line offense got hot. It was massive upset, and one that stunned most followers, but the Utah sidelines weren't so surprised.
"We knew we were that good," said heach coach Tania Reitz. "We didn't feel like we brought it at Prez Day, so we expected to play better than our seed here." Utah were athletic and scrappy, and Alicia Dibble was dangerous in and around the end zone. It'll likely depend on how many bids the Northwest ends up with, as to whether or not Utah is a real threat to make Nationals. But, at the very least, they are a team that has the potential to end the season of one of the favorites at Regionals. This weekend should only give them confidence in that regard.
#23 Tufts' win over Wisconsin, on the other hand, was quite as shocking, but it certainly contradicted how the two teams looked on Saturday. Tufts has been a team that's under-performed this season, and they came up just short in a couple of games in pool play. It seemed Margo Urheim had had enough of all that against Wisconsin, because she was unstoppable in their quarterfinal match. Throwing, scoring; Urheim did it all. Really, Urheim was the most impressive individual player all weekend long, but against Wisconsin, in a tight game down the stretch, she was titanic.
Encouragingly for Tufts, they also got some key contributions from players newer to more prominent roles. Julia Lober was solid in the team's backfield; Amanda Giles was a workhorse cutter and defender, and Jordan Bricknell had some unreal, highlight catches. The performance of those three, adding some real depth to the team, has to be an encouraging sign for Tufts as they head to the postseason. It looks like they'll have to steal a bid at New England Regionals, as their 0-3 Saturday held them back from making a surge in the rankings. As a result, they'll be hoping that Vermont can hang onto a third one this weekend. but at Centex, Tufts showed they'll be a dangerous team capable of stealing on of those bids come April.
The Favorites Left in the Wake
With all of the upsets in quarters, that left the top four seeds all to play it out in the fifth place bracket. Usually that section of Sunday play takes a back seat to semis and the final, but it's difficult to shake the notion that the Centex teams that will have the highest ceilings at Nationals were all in this portion of the bracket in the final couple of rounds.
#8 Wisconsin had a tale of two days, going 3-0 on Saturday and then 0-3 on Sunday. It seemed like the issue for them was more a case of individual performances dropping, rather than anything fundamentally worrying about their systems or any true weaknesses. Brittney Kokinos was on fire on Saturday, but not as impactful in their quarterfinal against Tufts, and that was the case for a handful of their top players. Sometimes players just have off days, and when enough of them happen at the same time, you can have a down day like Wisconsin did on Sunday.
If you're looking for a bigger cause for concern, it's that the team's depth wasn't able to step up in those moments to make up for their cohort of Heist players in Kokinos, Margaret Walker, Caitlin Murphy, Sabrina Hoffman, and Camila Flowerman. There were times when Hoffman was the only one on the field for Wisconsin, and they did struggle offensively when that was the case. Sarah Mondschein was a layout machine, and they got moments from others, but if there is an area to criticize their weekend performance, it's their reliance on that handful of players.
Don't forget, though, that Wisconsin was the only team to beat eventual tournament champion Northeastern, and if Margo Urheim doesn't go super saiyan in quarters, maybe Wisconsin makes it to the final and their weekend has a much better look to it.
***
#12 Texas ended up winning the fifth place bracket with an 11-7 win over Colorado and a 13-7 win over UCLA. The team showed improved chemistry from its cutters from the last time we saw them at Stanford Invite, where they were a little too reliant on their handlers to do everything, but there were still moments when the stack was too stagnant. Texas' defense was consistently strong, though, and it's what allowed them to get the comeback win against Minnesota, and their big wins over Tufts, Northwestern, Colorado, and UCLA.
They struggled with Northeastern's zone in quarters, and against Colorado's athletic matchup defense in their pool play game, but Texas bounced back from both of those games well. "After Northeastern we talked about maintaining positivity and how maintaining a consistent energy level within our team would help with our on-field consistency," said the team's coaches, Shereen Rabie and Kayla Ramirez. "Our sideline really stepped up those last two games and it showed on the field. We had also given our younger players more responsibility on the field earlier in the tournament, so by the time we got to the last two games, we had worked out some of the kinks and those players looked that much more comfortable in those positions. We were able to rotate our vets out more consistently, resulting in a fresh wave of energy on the field at the beginning of points."
For Rabie and Ramirez, the weekend was primarily about getting those younger players reps, helping the team be as cohesive and deep as possible before the series. That focus seems to be working, as evidenced by their improved offensive flow from the previous tournament to this one. "We've got a lot of young players that play a lot of points for us, our rookie class is amazing this year. With younger players contributing as much as they do, consistency is something we're constantly working on. Getting those players points on Saturday helped us tremendously on Sunday," said Ramirez and Rabie. "We see growth by leaps and bounds at the end of every tournament and it's because we've got rookies and second-year players contributing heavily on both offense and defense. These young players have incredibly steep learning curves and it pushes our entire team to be better."
***
#9 Colorado's struggles were primarily on the offensive side, too. Their defense was physical and got turns, they simply struggled with the disc in their hands. The loss to Utah was a jarring result, but the one point loss to Minnesota in pool play, and the defeat to Texas in consolation shouldn't be causes for too much concern for Colorado. They just need to get players more comfortable with their throws.
"We're mitigated by our throwing skillset right now. We practiced all winter in a bubble, we practice in really thin air, and so when we came to wind and thick air for the first time, it just gets really tough for us. It will hopefully come together but we need some more work outside," said co-head coach Claire Chastain. The team has had to work in a new system after losing so many of the team's top throwers from a season ago, and with the team limited by practicing conditions, Chastain said the team is just now getting to the "sweet spot" where the team is comfortable enough with the new systems that they can finally begin to work in the improved skill to go along with it.
The last time Colorado was upset in quarterfinals at Centex, they went on to appear in the national championship game. This Colorado team most likely doesn't have that same type of ceiling, but if there's one team that knows not to panic after an underwhelming Centex finish, it's Colorado. Their coaches certainly seemed to be on that page, taking in the data of the weekend's performances, and looking forward to adjusting accordingly without too much concern. "We just need to be a little more accurate and a little more confident with our break throws," said Chastain.
"It was nice that we were looking at the right things a lot of the time. It's just, again, playing outside for the first time literally all spring," said Chastain's co-head coach Elliott Erickson. "It's like, cool, that look that normally works, doesn't work now, so it's just getting outside, honing that is gonna be huge."
***
While the other top four seeds all had reasons to go home with some optimism, things were a little more bleak for #13 UCLA. Most importantly, they fell outside of the bid cut due to their weekend results. It's not necessarily over for their bid earning chances, as a bad weekend from UBC and/or Oregon at Northwest Challenge could put them right back in. But losing that fourth bid for what will be an extremely competitive region was definitely the worst case scenario for UCLA coming into Centex.
Their biggest problems were with their D-line offense, where they struggled mightily to get breaks. In prequarters, they didn't get a break against Michigan until the final point of the game. They were only able to get two, both in the first half against Minnesota. Erin Doyle was tremendous for them offensively, and Malia Smith was dropping hammers left and right, but they just couldn't get get the defensive pressure or the D-line offensive efficiency up to where they needed to be to beat the upper echelon teams on the weekend.
They were without head coach Alex Korb all weekend, and his tactical expertise may have been able to make a difference in those weak spots. But it was a frustrating weekend for a team that was coming off of a third place finish at Stanford Invite. If results at NWC put them back in bid territory, this weekend could be just a blip on their season, but right now it looks like it might be the weekend that derailed their efforts to get back to Nationals.
Quick Hits
Shout out to Washington University WUWU for taking their third straight Centex dance off title! Threepeats are rare in any competition and should be celebrated. On the much less important ultimate side of things, they also made quarterfinals out of Tier 2 and emerged as the arguable number three team in the South Central with a win over Colorado College along the way.
Michigan looks like they may just barely be the favorites in the Great Lakes. They beat Chicago 10-7, and Chicago beat Northwestern 10-9. Michigan also gave UCLA everything they could handle in prequarters thanks to an efficient offense led by Megan Gordon, Phoebe Hopp, and Janine Kerr. Their D-line offense still needs work, and those three teams are all close enough that any of them — as well as Notre Dame — could win the region, but Michigan passed the eye test better than any of them on the weekend.
All Tournament Team
Margo Urheim (Tufts)
Ari Nelson (Northeastern)
Kayla Blanek (Minnesota)
Brittney Kokinos (Wisconsin)
Erin Doyle (UCLA)
Emma Jaschke (Minnesota)
Emma Palacio (Northeastern)