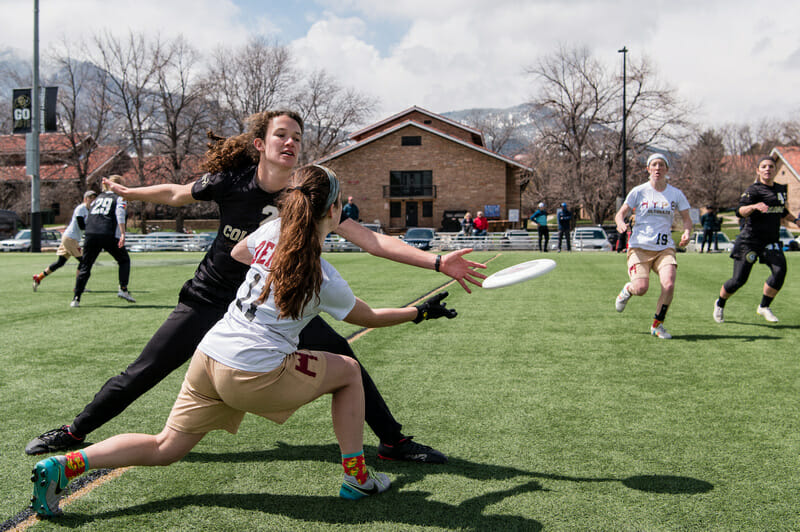 College Update during the 2019 season is presented by Spin Ultimate. Please support the brands that make Ultiworld possible and shop at Spin Ultimate!
During the spring season, we will publish a bite-sized weekly recap of the action across the College Division. This will serve as a supplement to our standard tournament reporting and will offer a high-level look at the latest happenings and the biggest stories of the week.
With the postseason upon us, College Update will be reformatting to deliver you who qualified for Regionals with the Conference Championship results, region by region. We'll be updating at competition concludes and results are reported.
Tell us about your tournament! We will publish recaps of the action from your Conference tournament. Submit a recap right here.
* indicates qualification to Division III College Championships
~ indicates qualification to D-I Regionals for Developmental or D-III teams
ATLANTIC COAST
Women's D-I
The top four teams drew after a lack of open fields caused cancellation of the top bracket. The big news was UNC Wilmington's zone-powered double game point victory over #2 North Carolina. That wasn't the only upset, as Clemson also topped previously undefeated South Carolina, 9-8, in pool play. The necessary lower brackets did compete on turf Sunday, with NC State handily defeating Duke to claim fifth; Duke went on to wallop 12-4 Appalachian State.
T-1. #23 UNC Wilmington
T-1. Clemson
T-1. #24 South Carolina
T-1. #2 North Carolina
5. NC State
6. Duke
1. Delaware
2. Georgetown
3. American
4. Maryland
5. Towson
6. George Washington
1. Virginia
2. William & Mary
3. Liberty
4. James Madison
Men's D-I
UNC Wilmington was one of the stories of the weekend, rebounding from a foul performance at Easterns to upset NC State 11-10.
1. #2 North Carolina
2. #12 NC State
3. UNC Wilmington
4. #20 South Carolina
5. Appalachian State
6. East Carolina
7. Duke
1. Maryland
2. Johns Hopkins
3. Georgetown
1. Virginia Tech
2. William & Mary
3. Virginia
4. Liberty
5. JMU
Virginia Tech looked stellar all weekend, handling any team they played. Joe Freund was unstoppable. William & Mary bounced back on Sunday after a 2-2 Saturday — Norrbom does most of the work. Virginia looked like the second best team there; their loss to W&M on Sunday was meaningless. Liberty is different than past years: their top three players are all sophomores (Jake Norman, Dan Mills, and Ben Reutner). They were the best players at the tournament outside of Freund. They upset William and Mary in quarters on Saturday. JMU played scrappy defense to claim the 5th bid. They rely on energy to beat teams late.
Women's D-III
No. 6 seed Mary Washington upset top-seeded #21 Catholic 9-7 in the final to claim a bid to the D-III College Championships!
1. Mary Washington*
Mary Washington Mary Massacre goes 5-0 over the weekend to earn a trip to Nationals. They defeated 1st-seed Catholic University Nun Betta 12-7 on Saturday and 9-7 on Sunday. While the rest of the teams did not show deep benches, all teams include key personnel that indicate there's growing strength in the division. – Layne Scherer
Men's D-III
1. #7 Davidson
2. #24 UNC Asheville
3. Elon
4. High Point
1. #5 Mary Washington
2. #8 Richmond
3. Navy
4. Christopher Newport
1. Georgetown B
Men's Developmental
A lot of close games at play in the battle for four spots to AC Dev Regionals, but Delaware B emerged the champ, earning wins over Maryland B in both pool play and the final.
1. Delaware B
2. Maryland B
3. George Washington B
4. Georgetown B
UNC-B will join their A squad at Atlantic Coast Regionals, fending off quality challenges and winning all of their games by three or more. They won the final 12-8 over Virginia Tech B.
1. North Carolina B~
2. Virginia Tech B
3. Virginia B
4. South Carolina B
GREAT LAKES
Women's D-I
1. Michigan
2. Notre Dame
3. Purdue
4. Ball State
5. Michigan State
1. Northwestern
2. Chicago
3. Illinois
Men's D-I
1. Notre Dame
2. Indiana
3. Purdue
4. Kentucky
Weather cancellations leave brackets unfinished. Northwestern and Illinois State will meet in the final.
1. #18 Michigan
2. Grand Valley State
Women's D-III
Weather cancellations leave brackets unfinished. North Park went 4-0 in round robin play, but the brackets have to get played out to crown a champion and Nationals qualifier.
Men's D-III
1. Butler
2. Valparaiso
3. Rose Hulman
1. Knox
2. Olivet Nazarene
3. Wheaton
4. North Park
5. Eastern Illinois
Men's Developmental
1. Michigan B~
METRO EAST
Women's D-I
Columbia's depth and skill was unmatched as they rolled through the EME competition, and they look like a real threat to win the region.
1. Columbia
2. Yale
3. Princeton
4. UConn
5. SUNY Albany
6. Rutgers
1. Cornell
2. Ottawa
Men's D-I
1. UConn
2. Yale
3. SUNY Albany
Connecticut survives Yale in pool play, down 8-6 in a game to 10, winning 10-8. Yale avenges pool play loss to Albany in semis before falling to Connecticut in the finals 10-5. Albany takes down New Paltz for the third bid. -Bryan Jones
1. Rutgers
2. Princeton
3. NYU
4. SUNY Stony Brook
Coming in as the bid 'earner' for the lowly Metro East region, Rutgers took care of business at the Metro NY conference championship, going undefeated en route to their second conference championship in a row. After going 3-0 in their respective pools, Rutgers faced off against Princeton in the final, going on a 3-0 run out of half to take the game 9-7.
Princeton then held seed with a victory over NYU in the second place game while Stony Brook dispatched Columbia in the game to go to finalize the four teams heading to Metro East Regionals.
On the Rutgers side, Tanner Yuhas and Isaac Duan came up huge for the D-line in crucial moments against Princeton and NYU, providing constant defensive pressure and making plays on the turn to get those much needed breaks. Victor Kao on NYU and Dylan Baroody for Princeton were major contributors to their teams O-lines, acting as field generals and getting open constantly in crucial moments. 
Every game between the four qualifiers had a final margin of at most three points, and while things largely went to seed, any game could've gone another way. I expect all four teams to have a shot to compete for the lone nationals spot at Regionals.
Shouts to NJIT for their first sectionals appearance as well! While they didn't have the best results, they played with energy and great spirit throughout the tournament. -Dmitry Suvorov
1. Cornell
2. RIT
3. SUNY Binghamton
4. Syracuse
5. SUNY Buffalo
Women's D-III
1. #10 RPI
2. #19 Skidmore
3. #12 Wesleyan
4. Vassar
1. SUNY Oneonta
2. #24 SUNY Geneseo
3. Colgate
4. Hamilton
Men's D-III
1. Marist
2. Wesleyan
3. Army
4. UNREPORTED
1. Stevens Tech
1. Hamilton
2. Ithaca
3. Colgate
4. SUNY Oneonta
5. SUNY Geneseo
6. Rochester
7. SUNY Fredonia
1. Connecticut B
NEW ENGLAND
Women's D-I
1. #8 Dartmouth
2. #16 Vermont
3. Brown
4. UMass
5. New Hampshire
1. #17 Tufts
2. #9 Northeastern
3. Harvard
4. Boston University
5. Boston College
Men's D-I
1. #1 Brown
2. #8 UMass
3. Vermont
4. UNREPORTED
Metro Boston
1. Northeastern
2. Harvard
3. #21 Tufts
4. Boston College
5. MIT
6. Boston University
7. UMass Dartmouth
8. UMass Lowell
Women's D-III
1. Brandeis
2. #18 Wellesley
1. Bates
2. Middlebury
3. Bowdoin
1. #2 Williams
2. #5 Mount Holyoke
3. Amherst
4. Smith
Men's D-III
1. #21 Bentley
2. #22 Brandeis
1. Dartmouth [to D-1 Regionals]
2. #1 Middlebury
3. #25 Colby
4. #12 Bowdoin
5. #24 Bates
1. #4 Bryant
2. #21 Williams
1. Vermont B~
Men's Developmental
1. Tufts-B
1. UMass-C
NORTH CENTRAL
Women's D-I
1. #15 Wisconsin
2. Wisconsin-Milwaukee
3. Marquette
1. #5 Carleton
2. #11 Minnesota
3. Iowa State
4. Minnesota-Duluth
5. Iowa
Men's D-I
1. #10 Wisconsin
2. Wisconsin-Milwaukee
3. Wisconsin-Whitewater
4. Marquette
1. #4 Carleton
2. #21 Minnesota
3. Minnesota-Duluth
4. Minnesota State-Mankato
Tucked away on the recreational fields of Carleton College, the University of Minnesota and Carleton College played for the de facto Conference Championship and the right to not play on Easter Sunday.
Minnesota started with a break to go up 1-0, but Carleton shortly broke back twice to take control early. The teams traded points but Carleton's depth held strong and led them to a 7-5 halftime lead.
It was the Joe White show for CUT, and it was obvious how much he meant to the team, often playing both ways and matching up against Cole Jurek, Minnesota's only active U-24 player (Cole Wallin has been sidelined all season with injury). Jurek played well in his own right, also playing both ways in big moments, highlighting his day with a long, late second half chase down block past White, then finishing the point with a layout goal in the end zone.
Sam Kaminsky quarterbacked Minnesota's D-line all weekend and was instrumental in converting breaks against Carleton. Wills Weimer could be the big man Minnesota has been looking for and was just inches away from what would have two game changing goals.
At the end of the game, Minnesota generated a turnover with the opportunity to tie the game at 11. They couldn't convert and Carleton took the game 12-10.
Carleton is still Carleton and won with depth and a hefty dose of Joe White. They looked very strong and picked up right where they left off at Easterns, but Minnesota looks leaps and bounds better than what they looked like at the beginning of the season. If Cole Wallin comes back and plays at the level he is capable of, Minnesota could make some noise deeper in the postseason.
Minnesota State-Mankato's Isaac Leonard was the best player not on CUT or Grey Duck and played well for the Minnesota Wind Chill after four games in Conferences earlier that day. -Tanner Jurek [disclosure: brother of Cole]
1. Iowa State
2. Iowa
3. Northern Iowa
1. St. Olaf*
2. Carleton Eclipse*
Men's D-III
1. #10 Michigan Tech
2. Wisconsin-Platteville
1. #11 Luther
1. Minnesota B~
NORTHWEST
Women's D-I
1. Utah
2. Whitman
3. Boise State
1. #4 British Columbia
2. #7 Western Washington
3. #20 Washington
4. #14 Oregon
5. Victoria
Men's D-I
1. Utah State
2. Montana
3. Utah
4. Montana State
5. Boise State
1. #16 Washington
2. #6 Oregon
3. Victoria
4. Oregon State
5. British Columbia
Washington and Oregon both breezed through pool play and met in the final, while UW-B stunned Western Washington and Oregon State in the wind to take second in their pool. In the final, UW started the game with an upwind break, then locked in the downwind break after an upwind hold from each team. All downwind holds the rest of the game and UW takes the conference 13-10. UVic and Oregon St take 3rd and 4th, respectively, while UBC beats WWU on double game point to take the final bid. Wind was a factor all tournament and teams with the deepest set of throwers generally had the most success. – Derek Mourad
1. Puget Sound
2. Portland
3. Lewis & Clark
1. Whitman [advances to D-I Regionals]
2. Portland*
OHIO VALLEY
Women's D-I
1. #1 Ohio State
2. Ohio
3. Case Western
4. Dayton
5. OSU-B
1. Pittsburgh
2. Penn
3. Carnegie Mellon
4. West Chester
5. Penn State
Men's D-I
1. Temple
2. Villanova
3. Pennsylvania
4. Drexel
5. Lehigh
6. West Chester
1. Ohio State
2. Ohio
3. Cincinnati
4. Case Western
5. Dayton
6. Miami Ohio
1. #7 Pittsburgh
2. Penn State
3. Carnegie Mellon
Women's D-III
1. #6 Oberlin
2. Xavier
3. Cedarville
4. Oberlin B
1. Swarthmore
2. Lehigh
3. Haverford
4. Messiah
Men's D-III
1. Swarthmore
2. Muhlenberg
3. Haverford
1. Oberlin
2. Cedarville
3. Franciscan
4. Xavier
5. Wooster
6. Denison
1. Messiah
2. Shippensburg
3. Grove City
1. Pittsburgh B
SOUTH CENTRAL
Women's D-I
1. Wash U
2. Kansas
3. Oklahoma
1. #12 Colorado
2. Colorado College
3. Colorado State
4. Denver
1. #10 Texas
2. Texas-Dallas
3. Texas State
4. Texas Christian
5. Texas A&M
Men's D-I
1. Texas-Dallas
2. Texas Tech
3. Baylor
1. Oklahoma
2. Oklahoma State
3. WashU
4. Kansas
5. St. Louis
6. Arkansas
7. Kansas State
1. #9 Colorado
2. #22 Colorado State
3. Colorado-B
1. #11 Texas
2. Texas State
3. Texas A&M
1. #4 Truman State*
Men's D-III
1. #18 Missouri S&T
2. #25 Truman State
3. #20 John Brown
1. #2 Air Force
2. Colorado School of Mines
3. Colorado College
1. #6 Rice
2. Trinity
SOUTHEAST
Women's D-I
1. Florida
2. Florida State
3. Central Florida
4. South Florida
1. Vanderbilt
2. Auburn
3. LSU
4. Mississippi State
1. Georgia
2. Emory
3. Georgia Tech
4. Kennesaw State
Men's D-I
Florida
1. #13 Central Florida
2. Florida State
3. Florida
4. South Florida
1. Auburn
2. Alabama
3. LSU
4. Alabama-Huntsville
5. Tulane
6. Alabama-Birmingham
1. #24 Georgia
2. Tennessee
3. Kennesaw State
4. Georgia Tech
5. Emory
6. Tennessee-Chattanooga
1. North Georgia*
Men's D-III
1. North Georgia
2. Embry-Riddle
3. Berry
4. FIT
5. Stetson
1. Samford
2. Belmont
3. Union (Tennessee)
1. Florida-B
SOUTHWEST
Women's D-I
1. Northern Arizona
1. #21 Cal
2. #13 Stanford
3. Chico State
4. UC Davis
1. #3 UC San Diego
2. #19 UCLA
3. #22 Cal Poly SLO
4. #6 UC Santa Barbara
5. San Diego State
6. CSU Long Beach
7. Southern California
Men's D-I
1. Arizona
2. Northern Arizona
3. New Mexico
1. #17 Cal
2. UC Davis
3. Stanford
4. Santa Cruz
5. Chico State
6. Santa Clara
7. Las Positas
8. Humboldt State
1. #5 Cal Poly SLO
2. #14 Southern California
3. UC San Diego
4. UCLA
5. UC Santa Barbara
Women's D-III
There is no Conferences or Regionals event in the Southwest Women's Division III. The highest ranked team at the end of the regular season, #32 Occidental, qualified for the D-III College Championships.
1. Claremont*
1. ASU-B
Tell us about your tournament! We will publish recaps of the action from your Conference tournament. Submit a recap right here.