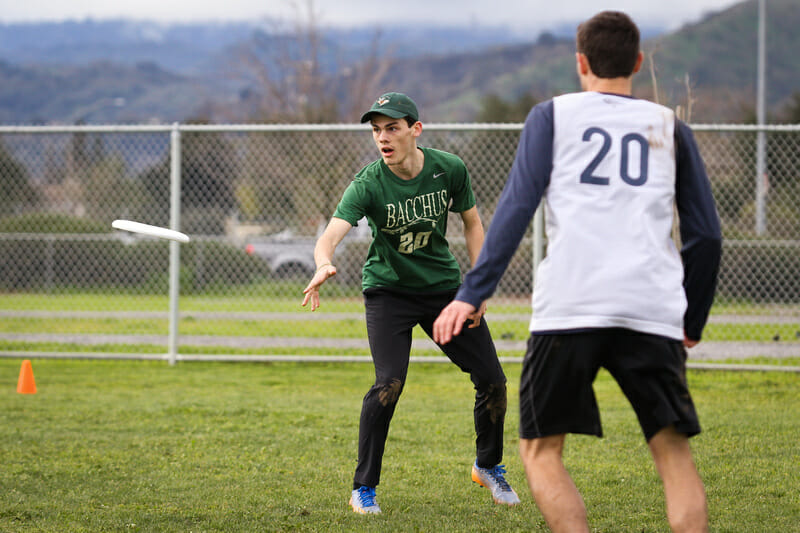 Ultiworld's 2019 college coverage is presented by Spin Ultimate; all opinions are those of the authors. Please support the brands that make Ultiworld possible and shop at Spin Ultimate!
Before Regionals weekend arrives, a whopping six more D-III bids will be determined at two Conference Championships events in the D-III Women's division. This weekend will feature both elation and heartbreak as teams earn their spot to attend D-III Nationals, or lose out in games to go. Get ready to follow the action with each tournament below.
Women's
North Central
Tournament Profile
Location: Madison, WI
Nationals bids available: 2
Top 25 teams: 4
Weather: Partially sunny; mid-40s to low 70s
One of the largest Conference Championships that doesn't feed into a Regional event, the North Central's strong collective season becomes a fight for one of two bids by the 11 teams (as of Thursday night) slated to attend.
At the top are the bid earners — #9 Carleton Eclipse and #14 St. Olaf Vortex. Both programs have brought home D-III national titles — St. Olaf their first in 2018, Carleton most recently in 2017 and 2016 — and both have played well in 2019. Carleton ekes out the top seed with a pair of wins over St. Olaf during the regular season; small yet respectable, Eclipse's résumé is decent, but the team will need to generate serious production from senior captain Nora Brown, Abigail Herscovici, and Kaitlin Schaible among others to remain at the front of the North Central pack.
On the other side of Northfield, MN, St. Olaf has been tuning up for the chance at a repeat national title. Roster loses have been filled with the talent of rookies Anna Clements and Anna Mulhern to complement the abilities of Kaitlin Mulhern and Emma Purcell. St. Olaf has done an admirable job making up for the losses of 2018, but the rest of the North Central, the likes of which they have yet to play in 2019, is always spoiling for an upset.
Most likely to generate an upset? Things look very good to decent for #22 Michigan Tech Superior Ma's, St Benedict Rapture, or Grinnell Grinnellenor Roosevelts. Michigan Tech pulled solid results and found success in the North Central's wind at Midwestern Invite, but hasn't played a sanctioned game in over a month. Watch for the offensive anchor that is Jayleen Rossi's creative throws and bids, paired with primary handler Leah Arnt. The Superior Ma's zone and the pressure from Anna Schmalzel in the cup will also likely be readily thrown if the conditions call for it. St. Benedict Rapture has had a solid season, holding their own with a close 9-7 loss to #4 Truman State (who ended at No. 1 in the final regular season power rankings) and getting wins against other wind-tested teams from the Great Lakes like #21 North Park. Grinnell struggled at Midwestern Invite as a young team with growth potential; Conference Championships will be the last chance for them to strut their stuff and show just how much progress they've made in building their team and program for 2019, and maybe spoil a game or two.
Outside the top set will be teams like Luther Freya, Drake iBex, Cornell College Randy's Angels, Macalester Pursesnatchers, in addition to second teams from St. Olaf and Carleton. Collectively Cornell, Luther, and Drake are 1-17 on the season (with the singular win being a forfeit by Cornell awarded to Drake) making the tournament the last chance for the teams to play together and end on a high note.
Notable is the missing of #13 Winona State Bad Monaz, who've had a commendable season based on play at Midwestern Invite and Meltdown from the likes of Mckenna Miller and Joanna Brown. The North Central 2018 runners up are expected to not attend due to low numbers available for the event, shutting the door on a similar run in 2019.
Northwest
Tournament Profile
Location: Puyallup, WA
Nationals bids available: 3
Top 25 teams: 3
Weather: partly cloudy, low 40s to high 60s
When it comes to bid vs. region size ration, Northwest has the best by far — four teams will be facing off for three bids earned during a well-played regular season in the eyes of the algorithm and the rest of the D-III landscape. All of teams have a win and a loss against at least one of the other teams, making this region one of the most interconnected within the division, and this tournament is worth keeping an eye on.
#7 Puget Sound Clearcut takes the No. 1 seed after a 15-4 season that included wins against all three other Northwest teams, as well as a close, hard-fought loss of 14-12 to Lewis & Clark Artemis in an energetic PLU BBQ matchup. With players like Archie Gill and reigning D-III Rookie of the Year Emma Piorier in the downfield both receiving and continuing the disc, Lilli Olson's deep zone play, and the handling talents of standout rookie Ally Constantino, Puget Sound has the athleticism and skill to come out on top of the region yet again.
#8 Portland UPRoar will be wanting to not only take a bid, but make a statement in how they do so. Their own 2019 record includes wins over Pacific Lutheran Reign and Lewis & Clark, but a win against Puget Sound has thus far eluded their grasp. It's not outside the realm of possibility — they lost their regular season matchup 10-9 — and the deep looks of Julianna Kampe, pinpoint shots from Celina Li, and defensive pressure of Kim Dorr could elevate them to the region's top spot if they play their schedule and matches right.
Rounding out the bid earners, and the team whose ticket to Nationals may be the most in jeopardy, will be #15 Lewis & Clark Artemis. With losses and wins against the top two teams, Lewis & Clark is so far only missing a spot in the 'W' column against Pacific Lutheran this season. Going down in an 11-5 thrashing from Reign stands out as an anomaly against the rest of their 10-7 record, but should make them the most nervous if the game-to-go shakes out to be another showdown with Pacific Lutheran. The backfield and downfield talents of Ruby Holman and Rose Terner will bring quick plays and big defensive opportunities to go along with the sticky hands of Evelyn Hunsberg. With an energized roster, they could make a repeat of PLU BBQ and comfortably earn their way to a spot in College Station, but without it may walk away empty.
Left on the outside looking in is Pacific Lutheran. While their results against Puget Sound and Portland aren't pretty — clocking in at 11-5 and 13-5 losses, respectively — their win against Lewis & Clark leaves them in with a chance at the moment. Off the quick handling work of Emma Mickelson and on-field leadership of Jennica Kelm and Katie Powers, Conference Championships will be the last chance for their large rookie class to step up, take a bid, and keep Reign's 2019 season alive into May.
Men's
Northwest
Tournament Profile
Location: Puyallup, WA
Nationals bids available: 1
Top 25 teams: 3
Weather: partly cloudy, low 40s to high 60s
While the women in the Northwest are drowning in bids, the situation in the men's division couldn't be more different. Three teams from our Top 25 will be competing for just a single bid. While all eight teams present will make the bracket, pool play on Saturday will be crucial for avoiding a lurking D-I heavyweight and a pack of challengers more than capable of scoring an upset win.
The event this weekend can't be discussed without first addressing the wrench in the schedule presented by the Whitman Sweets. A D-III team that has elected the D-I pathway this season, Whitman will be competing for their spot at D-I Regionals rather than a bid to Nationals. The Sweets are a formidable obstacle: had they elected the D-III pathway, they would have ended the regular season ranked second in the division in the eyes of the algorithm. Whether or not it makes sense that Whitman is competing in D-III Conferences is a separate discussion; the reality is that the teams competing for the bid to Nationals this weekend will need to treat the Sweets like any other team in attendance.
The favorite to take that bid to Nationals is #13 Lewis & Clark Bacchus. It's been a long time since Bacchus last tasted defeat, going a perfect 14-0 across both tournaments they attended in March. More importantly, Lewis & Clark is 9-0 against the D-III opposition they will see this weekend, notching wins over all six teams. Led by handlers Azen Jaffe and Marco Dregni, Bacchus will hope that their handler-driven offense and creative defensive sets can keep their undefeated streak going all the way to Texas.
#14 Portland UPrise enters the weekend as the third seed and with a taste for revenge. The last time UPrise took the field, they lost to L&C 13-11 in the final of Northwest Challenge Tier 2. Portland didn't attend Flat Tail Open or PLU BBQ like many of the other teams in the Conference, so they're not as tested against this weekend's field as some of their opposition, but they do have two wins over Puget Sound, both by a single point. A team that prides themselves on their depth, UPrise will still need big weekends out of players like Phil Sanfilippo, Jack Padon, and CJ Hermosura if they want to emerge with a ticket to College Station.
The #15 Puget Sound Postmen have perhaps the most distinct style of any team in attendance: they're big, athletic, and look to send it deep. Imposing cutters like John Leslie, Destin Newfont, and Bryce Ulrich will be looking for the deep ball from Cameron Waugh and Sam Keller. The Postmen have yet to score a signature win this year, with two losses to both L&C and Portland, but if their deep game catches fire, Puget Sound are capable of beating anybody this weekend.
The other four teams in attendance look to be a tier below the top half of the tournament. Whitworth Bangarang is the best of the bunch, but in their only matchup against one of the top four this season, they lost 15-7 to Lewis & Clark, who they'll see in pool play. Pacific Lutheran are 0-5 this season against other teams in the field, with a point differential in those losses of -26. Seattle Throbot and Willamette Asylum both bring small rosters to Puyallup and will just be hoping for good experience against stronger opposition.