Design training sessions that reinforce skills and build toward season-long goals.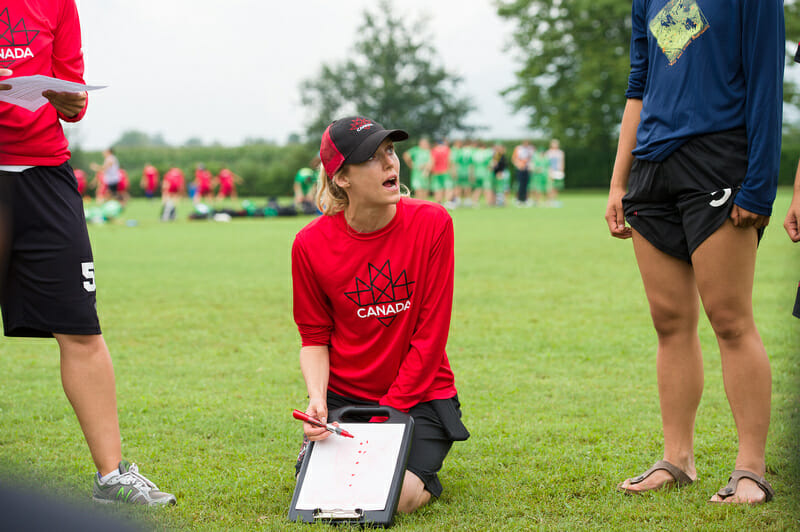 Tuesday Tips is presented by Spin Ultimate; all opinions are those of the author. Please support the brands that make Ultiworld possible and shop at Spin Ultimate! 
Taking on a leadership role with a team, whether as a captain or a coach, is about a lot more than just talking in huddles or calling lines. In order for your team to achieve their full potential, you need to put in plenty of planning work to make the most of the time you have together over the course of a year. Practices shouldn't be thrown together ad hoc on the drive to the fields nor should big concepts or strategies implemented in the middle of a tournament feel brand new to the team simply because you forgot to go over them in advance.
Last week, this column focused on laying out a holistic plan for a full season. This week, we'll focus on how to thin about designing each practice session.
Define Your Aim
In order to get the most out of training, you must first ask: "What is the aim for this practice?" A good coach will structure a series of practices so that they build on each other, using analysis of previous practices or competitions to decide on a specific focus for each practice. This is all part of a coach's process between practices.
Once a focus for the practice has been identified, then you can begin to adopt a 'divide-and-conquer' strategy of how to spend your time. Planning an eight-week schedule can seem daunting, but by making a list of the topics you want to cover — such as basic throwing and catching skills, handler resets, offensive and defensive strategies — and assigning one focus per practice, it will become easier to decide what your team should be doing each week to make sure that all topics are covered.
There tend to be four main categories of practice:
Learning something new
Refining existing skills
Fixing a specific part of the offense or defense that needs work
Just playing ultimate
Learning something new
Teaching your team a new skill or strategy is the most fundamental element of improving a team. A concept is described or demonstrated and then drills are designed to reinforce the new ideas.
Whenever learning something new, there must always be time for a questions and answers session; many coaches make the mistake of assuming that certain parts of what they teach will be 'obvious' or self-evident to everyone on the team, and therefore there can often be misunderstandings at a fundamental level. By walking through a scenario and allowing questions to be asked, many pitfalls can be removed at an early stage.
The pace of such a practice is often much slower than others; players are working hard mentally rather than physically. Because people tend to switch off mentally when they are tired, it is important that people are relatively fresh whenever new concepts are explained. Therefore, there should be less emphasis on running drills or fitness that invites fatigue to set in. Sometimes these practices will seem "easy" in terms of effort, but placing the stress on learning means that this is necessary if you want to see results; people tend to revert to old habits under stress, so if you want them to do something new, remove the pressures until they are comfortable.
Here is an example practice structure for learning something new.
Refining existing skills
This is the most common type of practice; repetition is key to developing confidence and mastery. In order to achieve this, ensure that there aren't too many different types of drills and that each drill is done regularly enough that energy is spent focused on the skills involved not the mechanics of the drill so that the fundamentals sink in.
Having said that, being a well-rounded player means practising a range of skills for a range of situations, as would be required in a game. Therefore, it is useful to try variations on the same drill; for instance, try switching the force on the thrower, adding defenders, or changing the angle of the cut slightly.
It is still useful to maintain a specific focus for each practice. Without one, it is easy for the coach to lose control of the session, and difficult for the players to know what is expected of them. For instance, it could be as completing 80% of all throws for the duration of the drill. Alternatively you could theme each practice; you might want to stress breaking the mark, for example, by including several break mark drills with the aim of seeing more break mark throws during a scrimmage played at the end of the session.
An example practice structure for developing existing skills.
Fixing a specific strategy that needs work
All teams have weaknesses. If you identify a specific aspect of your team's game that needs attention, then you may want to devote a practice to it. This may typically happen immediately after a tournament or friendly against another team where they were able to do something that you weren't able to deal with. Maybe you got stuck on the sideline against a zone, or struggled to convert goals when close to the endzone. The key is to break down the scenario into individual components that will form the basis of drills that you can run; these can then be built up into a game scenario. For example, if struggling near the endzone then you may spend some time talking through what structures to use near the endzone, any communication vocabulary you may utilize ("Endzone!"), how to identify which people are responsible for initiating movement, and so on. If you have struggled with something at a tournament that your team have never drilled (such as a poach or sideline trap) then firstly talk about this scenario, then describe how you want to deal with it.
Rather than playing a normal game, start in the problem scenario, then practice getting out of it. Mimic other teams' defense in training to give your offense a chance to practice against it, and vice versa.
Here's an example practice structure for fixing a specific aspect of offense.
Just playing ultimate
While many people aren't keen to do drills, there are plenty of reasons to do so. Well designed drills allow people to get far more repetitions of each skill under their belt, which is great for skill acquisition.
But the best way to get better at playing ultimate as a team is by playing ultimate as a team. If people are only interested in playing games, there are lots of variations you can introduce to make them productive as practice:
Mini: Small-sided games such as 3-on-3 or 4-on-4, played on smaller pitches allow you to play with fewer numbers, make it impossible to hide on defense, give lots of disc time to all players, encouraging confidence in their catching and throwing skills.
Adjusted stall count: Lowering the stall count encourages people to make faster decisions and time cuts better.
Odd-numbered teams: Playing 7-on-6 or 4-on-3 helps people learn to poach and deal with poaches.
Here's an example practice structure focused on game play.
Consider Limitations
While ultimate practices frequently adhere to a predictable cadence — warm up, teach a skill, drill, scrimmage, cool down — there are a number of factors to take into consideration that should influence the elements involved in each training session and its flow.
Practice length: Shorter practices (i.e. 90 minutes or less) need fewer components, but always make time for a warm up and cool down. If time is short, then stick to a few drills and have a single focus such as a game or progressive drill. With a longer session, there is more time for learning new principles while still having time to run through appropriate drills and game scenarios. Longer practices should be split into sections, each no longer than one hour, both to give players regular breaks for drinks and food, as well as a chance to switch off mentally — it's near impossible to maintain mental focus for hours on end.
Weather conditions: While not easy to plan for far in advance, most practice plans should have the flexibility to reflect what kind of elements you're playing in. Warm, dry training sessions are ideal for learning new concepts, since players can sit or stand and listen without getting cold; in fact, the breaks may be a bonus if the temperatures are too hot. Meanwhile, cold or wet training sessions require players to almost constantly be on the move, so make sure to choose drills that involve lots of players or a quick rotation. Wind should also be considered, as it's hard to derive much value from some drills when catch and throw percentages change dramatically.
Team ability: High-level teams can often learn, retain, and master skills or concepts quickly and in concert with each other. Lower-skill squads or teams without much history together may need more time with each individual skill or concept. Beginners benefit from lots of repetition, so simple drills that give them lots of throwing opportunities in a short space of time are far more beneficial than playing games where they might only make a few throws in an hour. Even within a single team, each drill or session could be split either by position/function — maybe the offensive players will do one drill while the defenders do something else — or by ability. Splitting by ability level may seem a little condescending at first, but it will allow you to work effectively with mixed ability groups. An important note: you will need at least one willing coach per group if you want everything to run smoothly.
Incorporate Fitness
Ultimate is a dynamic team sport that requires high levels of physical strength, endurance, and speed; being in good shape is vital to success on the field. Fitness training can be built into practice for a number of reasons: team bonding, ensuring continuing athletic improvement, or to practice playing tired.
In order to know how best to incorporate fitness work into your ultimate practices, think about what you want to achieve:
Team bonding: Can be done at any time during a practice. Try to select drills that force people to work together, such as partnered shuttle runs.
Ensuring continuing athletic improvement: Can be done either at the start of practice (when people are fresh) or at the end (when they are tired). Note: if you play at a high level and you rely on ultimate practices for the bulk of your conditioning then you are likely to end up injured.
Practice playing tired: Fitness drills should be done directly before scrimmages or drills where you have a specific goal of training a tired skill.
Help with mental toughness: Do this at the end of practice, when people are already tired to learn to push through exhaustion to keep working.