If you haven't heard, the women's rookie class is taking over the division.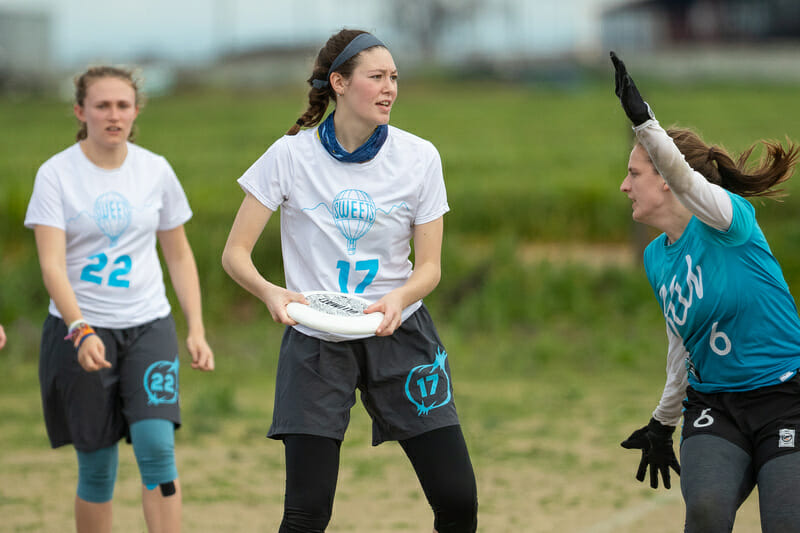 Ultiworld's 2019 postseason coverage of the D-I Women's division is presented by VC Ultimate, the official gear outfitter of the Premier Ultimate League.
For a long time, college ultimate teams have been filled with transfer athletes – basketball, soccer, cross country, you name it. Players from other sports at the elite or casual level who saw some folks tossing on the quad, joined in, and left the days of their mainstream competition behind them. Even some of the most notable players in the game now are transfer athletes – from recent graduates like Jenny Wei and Kristin Poijunis, to seasoned veterans like Claire Desmond, Claire Chastain, and Opi Payne. Even some current elite college players only started their first or second years of college, like Emily Barrett of Ohio State and Dena Elimelech of UCSD. Those were the days where pure athleticism and enthusiasm were enough to power you to the top level of players, before you even developed refined throwing skill. When I started playing competitively my freshman year of college, the bar for rookies to impress returners was throwing a flick without it turning over.
Nowadays, "rookies" can enter college and immediately start as an O-line center handler on a top ranked team. The elite player who started in college is becoming more and more rare. There's a new breed taking over the division.
Redefining Rookies
There's been a rise rise in girls' ultimate across the country. Seattle has always been strong, but now DC, Raleigh, Atlanta, and others are catching up. Two years ago was the first time ever that the Seattle U20 team had lost even a single game at YCC championships, and they haven't made it to the final since. Looking at the all around talent of this year's freshman class, it is wild to imagine a time so recently where a single city could be so dominant.
Additionally, with the spreading of talent and increase in visibility of women's ultimate, the top women's teams are influencing potential recruits. Carleton and Dartmouth woo players from across the country. While this isn't the first year that high schoolers have considered ultimate when deciding on colleges, the legitimacy and parity has increased significantly, making ultimate success in college seem like a worthwhile pursuit. The increase in media coverage and visibility allows high school girls to see what they may have to look forward to and inspire them to reach elite levels before they even get there, while familiarizing them with players, teams, and their cultures. Some of the first years I spoke with mentioned how incredible it felt to finally take the field with players they had been watching for years now. While ultimate may not be the only consideration for choosing a school, it certainly rules out certain schools for high school players.
The Returns of an Investment in Youth
The level of pre-college involvement in the sport is growing, and growing fast. The youth membership numbers have more than doubled in the last 10 years to just under 16,000 in 2018.1 In 2013, the number of 12 & under memberships jumped from 42 to 329. That's over a 650% increase in 1 year. That same year, the 13-18 year old group also increased an impressive 32%. For reference, many of the 18 year old freshmen who are starting this year may have joined during that huge jump. Given these massive growth numbers, and youth memberships accounting for 25% of all memberships since 2014, don't be surprised if we continue to see this pattern of impressive rookies over the next few years.
Over the last few years, USA Ultimate has targeted efforts toward promoting and increasing participation in girls' and women's ultimate. These efforts include projects to financially support girls' coaches as well as an increase in media coverage and promotional material about the girls' youth division.
"All these efforts aim to make it easier for girls to get involved in ultimate by providing financial support and resources, increasing access to certified coaches and to the coach certification process. We're also focused on creating more excitement around girls' and women's ultimate, sharing with as many people as possible how great our sport is," said Stacey Waldrup, Senior Manager of Communications at USAU.
Not only do we see increased membership at the high school and YCC level, communities are expanding their reach to the middle school and even elementary school levels. That's something that older players can hardly fathom.
"As more and more local disc organizations are able to expand playing opportunities for youth, talent continues to develop, and experience increases considerably," continued Waldrop. "Many more youth players are exposed to high levels of competition, preparing them for what they'll experience at the college level long before they arrive as freshmen."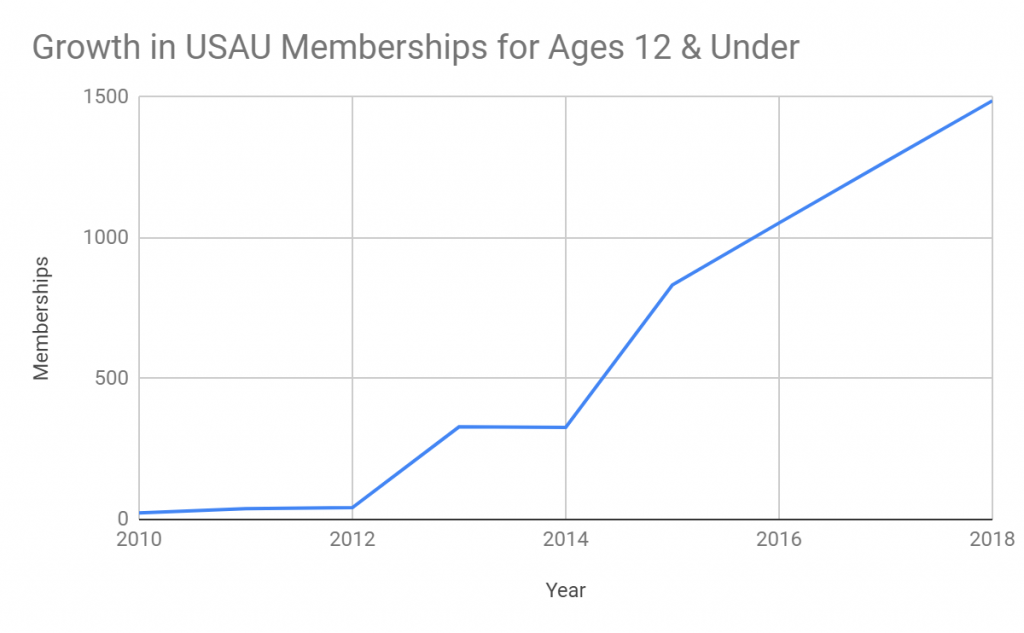 There has also been an increase in the number of coaches over time. In 2014, the number of "Coach" and "Coach-player" memberships grew by 25%. "Coaches are maybe the single most important element to the development of youth ultimate around the country," says Waldrup. "As the number of experienced youth coaches has significantly increased, they have turned teams into programs – programs that can sustain the graduation of a great player or the loss of a coach who had to move away."
Coaches don't only add immediate benefit as mentors and strategists, but also build up team cultures and foundations of how to understand the sport. These are the benefits that develop skill, confidence, and a high ultimate IQ and persist through player turnover. With the data showing an increase in the number of coaches, we are seeing those long term investments paying off. And it creates a positive feedback cycle. More coaches strengthen youth players, which strengthens college programs. Stronger college programs lead to more college players engaged with their local community, coaching at the youth level. And so on and so forth.
Enough about general trends. Let's look at some of the awesome examples of rookies who are crushing it in their first year in the college division. I've spoken with several freshmen and their captains from across the country who have had a significant impact on their respective teams and the division overall.
Player Profiles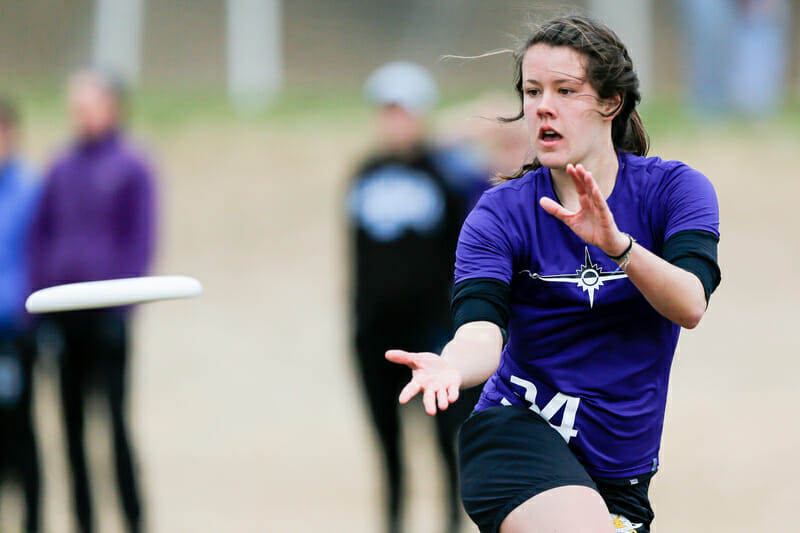 Kate Lanier #34
Team: Carleton Syzygy
Expected major: "I have no idea"
Hometown: Chapel Hill, NC
Position: Handler
Started playing competitively: Middle School
Self-described Ultimate Superpower: Hucks for days
Pre-College Experience
Triangle Warhawks U20 Women's YCC
Carolina Friends School (Girls' and Open High School)
Rogue (Women's Club)
Phoenix (Women's Club)
U20 Women's National Team
Accolades
3x High School All-State First Team
2x U20 Girls YCC champion
2x U20 Girls YCC captain
WJUC Silver Medalist
WJUC Gold Medalist
U20 Women's National Team Captain
U24 Women's National Team Selection
Not many players could start college as a center handler on the O-line. But Kate Lanier is different. She's exceedingly poised for an 18 year old, but her resume explains her compsure. She has played longer and had more high pressure experience than many club players.
"Syzygy has made the transition [to college ultimate] easy," said Lanier. "I have loved competing at a higher level with a team that I get to play with for more than just a few months. It is easy to invest time and energy and love into a team that I know I will get to play with for multiple years."
She grew up with parents who played in leagues, but it was her older brother, Dillon, who is an All-American at Carleton, who inspired her to start playing. She also ran Cross Country and swam in high school, but stuck with ultimate. And it is easy to see why. She has been quarterbacking teams since early high school. Her smooth throws and sneaky quickness landed her a spot on multiple US National Teams.
Carleton has a lot of stars, including other very talented rookies, but Kate fits in exceedingly well. Here you can see her casually launch a near full field flick huck in the Stanford Invite semifinals against UCSB. She opens up the field in a way that allows the awesome athletes on this team find success. If she continues to play the way she has all season, she can help cary Syzygy to success in Austin.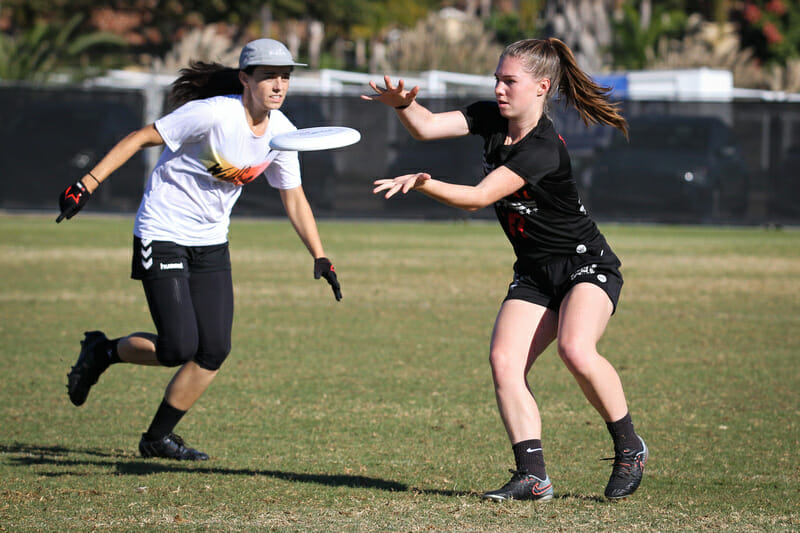 Caroline "CT" Tornquist #7
Team: Dartmouth Princess Layout
Expected major: Computer Science or Engineering and minoring in Government or Econ
Hometown: Arlington, VA
Position: Cutter (Hybrid)
Started playing competitively: 8th grade
Self-Described Ultimate Superpower: Smart defense, smart offense
Pre-College Experience:
HB Woodlawn Varsity (Girls' High School)
DC Rogue 2017-2018 (Girls' U20 YCC)
Swing Vote (Mixed U20 YCC)
U20 Women's National Team
Grit (Women's Club)
Scandal (Women's Club)
Accolades:
2x U20 Mixed YCC Champion
2x Runner up at U20 Women's YCC
High School National Invite Champion
Regional Champion
2x State Champion
WJUC Gold Medalist
CT joined one of the very few college teams in the nation where she isn't actually the star player, despite her wealth of experience and skill. That doesn't bother her though – in fact she says it pushes her to be better.
"I also have been really lucky to get to play with some of the best players in college right now. This is one of the hardest working teams I've ever played for," said Tornquist.
CT is another player with a lot of on field maturity. She plays calm, taking the right throw, no matter what the defense tries to do to phase her. It's a big task to be a rookie on the two-time defending National championship team, but she has integrated seamlessly. She plays O and D, offering all manner of contributions.
Here you can see CT exercising her on field intelligence. She's not the tallest player out there, but she plays much bigger than she is, which is probably why veterans like Caitlyn Lee throw trusting hucks to her. She uses her body to box out her defenders, maintain positioning, and seemingly miraculously come down with this huck through significant contact from the UCSD defenders.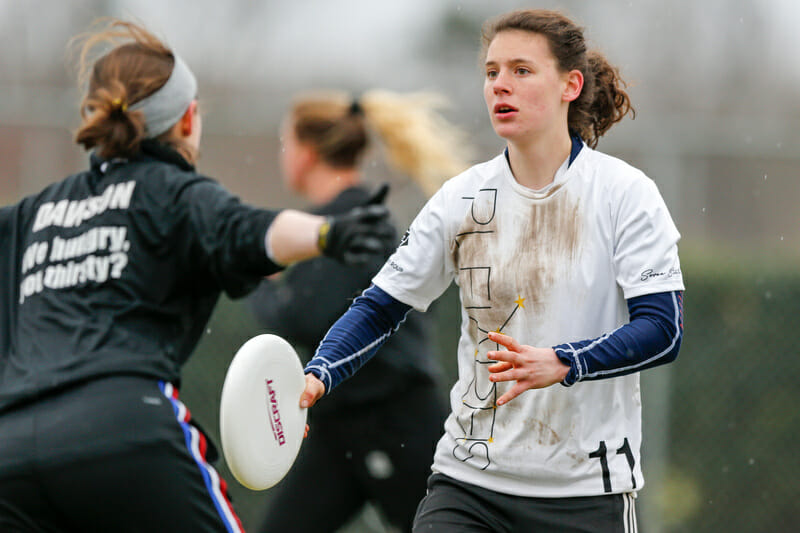 Dawn Culton #11
Team: North Carolina Pleiades
Expected major: Sociology and Management and Society
Hometown: Chapel Hill, NC
Position: Cutter
Started playing competitively: 9th grade
Self-Described Ultimate Superpower: 100% effort 100% of the time
Pre-College Experience
NC Galaxy (Club Mixed)
East Chapel Hill High School (Girls' and Open High School)
Triangle Tourists (Girls' Youth Club)
Warhawks U20 Girls' YCC
U20 Women's National Team
Accolades
2x YCC U20 Girls' Champion
Individual YCC Team Spirit Award Winner
WJUC Gold Medalist
Paideia Cup Champion
Dawn is a defensive monster. Her raw athleticism gave her success in her youth career, and the higher competition of college has continued to refine her skills rather than dampen her confidence. She has been a stellar addition to the UNC D-line, not only generating blocks every game, but pushing the pace after the turn and helping the D-line offense efficiently convert.
Pleiades has had a successful regular season, but Dawn is no stranger to tournament success. The Triangle Tourists (a team of high schoolers that plays in the college division) frequently won tournaments during her time with them. However, working towards a larger end of season goal is new. "[The] outcome of these tournaments was not the priority, development with the goal of being the best we could be by Nationals is the goal," she said.
"It's definitely a fine line between breaking old habits, and allowing players to play their game," said the Pleaides captains. "We want to allow these young stars to make Pleiades their own, but it's also important that they use the systems we've crafted to succeed. We've been very pleased with the way the rookies have embraced the team system, finding ways to excel at what they do best within our structure."
Dawn has certainly integrated well and proven herself to be a highlight reel player. This is one of many incredible bids just at QCTU. This play not only demonstrates her speed and incredible bid form, but also that 100% effort mentality that will absolutely blow you up if you're not giving your all, and sometimes even when you are.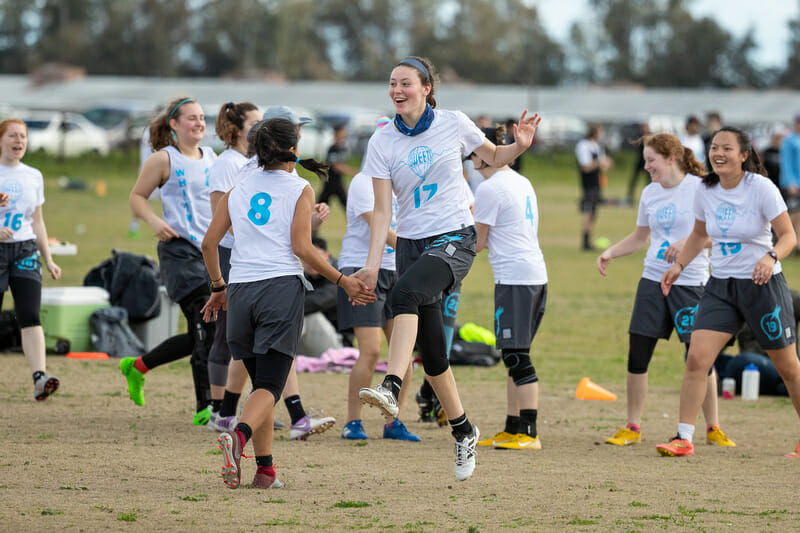 Kaia Roast #17
Team: Whitman Sweets
Expected major: Sociology or Psychology, minor in creative writing
Hometown: Seattle, WA
Position: Handler
Started playing competitively: 4th grade
Self Described Ultimate Superpower: Field Vision and Break Throws
Pre-College Experience:
Fryz (Girls' High School and Mixed Middle School)
Ingraham Rams Varsity (Girls' and Mixed High School)
U17 Disc NW (YCC)
U20 Nisc NW (YCC)
Seven Hills (Girls' Youth Club)
Seattle Soul (Women's Club)
Accolades:
4x High School Captain
Co-Founder of Ingraham Rams Varsity Girls' Team
2x YCC Captain
2x YCC U17 Champion
U20 YCC Champion
Kaia has been involved in the ultimate community since a young age. How does someone get started that early? "All of my friends were doing it, my parents were pressuring me to try out a new sport, and I thought that one of the boys on the team was cute," she explained. "Accidentally fell in love with the sport instead!"
Not only has she been playing since 4th grade, but she has also been involved in leadership roles as well as other contributions since high school, including being a GUM editor and a contributor to Ultiworld.
"I love how much higher the expectations are to be in shape and fit, able to play at 100% for a full three day tournament," she said. "No more excuses! It's great! Every matchup that I end up with is tough [and] is another great learning opportunity. Free lessons!"
The Sweets captains love her dedication and contributions on the field, as well as the fun she brings off the field. "She's an avid film watcher with superb practice attendance and a fierce will to show up and work hard. Her attitude reminds us all of why we play. She's an excellent dancer, teacher, thrower, and listener. She demonstrates emotional honesty on our team and leads by example with her passion for the sport," they said.
She has been a valuable contributor to the team already as an O-line handler. She towers over her matchups, and her length and experience show in her impressive tight window break throws that few others would dare to make. Here is an example from the Stanford invite in their quarterfinal game versus Oregon. She not only executes an excellent throw, but sets up her reset in a great spot towards the middle of the field.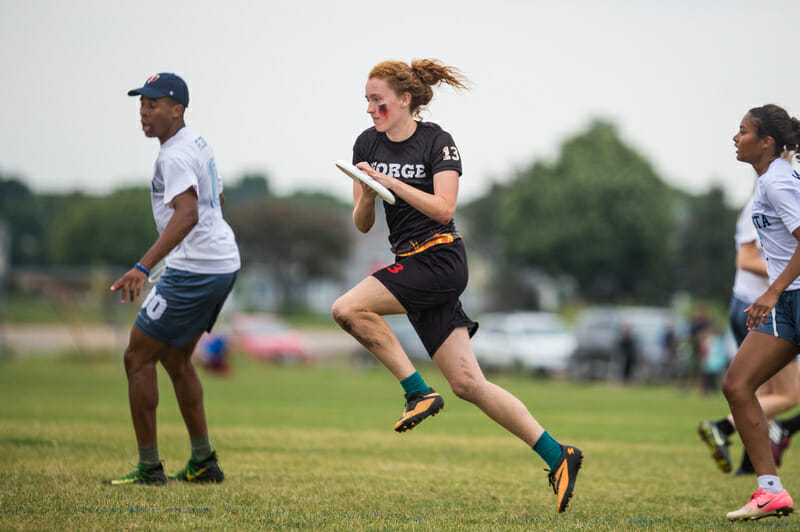 Bethany "Big B" Eldridge #13
Team: Vermont Ruckus
Expected major: English and History and minoring in Special Education
Hometown: Wynnewood, PA
Position: Cutter
Started playing competitively: 9th grade
Self-Described Ultimate Superpower: Doing whatever it takes to get to the disc
Pre-College Experience:
Lower Merion Lady Baba (Girls' High School)
Philadelphia Forge (Mixed U20 YCC)
AMP Practice Player (Mixed Club)
Accolades
2x Pennsylvania State Championship
2x State Championship team MVP
3x All-State team
Lady Baba Senior Captain
Third place at U20 Mixed YCC
Individual YCC team spirit award winner and Spirit Captain
U20 National Team Tryout Invitee
After a few years of Vermont Ruckus being on the cusp of Nationals contention, they burst on the scene in La Jolla at Presidents' Day Invite, thanks in no small part to rookies like Bethany Eldridge. Coming from the Philadelphia youth scene, Bethany is a big target and a dynamic cutter for Ruckus.
"The first point that I ever played in high school, I laid out for the disc. Laying out is the closest I will ever feel to flying, so I will try my hardest to get that feeling as much as I can – on offense and on defense," said Bethany. "I never give up on that feeling of getting the disc in my hands, especially under high-pressure circumstances."
Even more impressive than her skill on the field, she balances ultimate, school, and activism, as well as other leisure activities. "In high school I helped lead my LGBTQ+ and Women's Clubs…I volunteer for 80 hours every year, mainly at a shelter that serves low-income youth. Another big hobby of mine is outdoor adventuring, so when I was not playing ultimate, I was off in a canoe somewhere in Vermont, though always with a frisbee hanging off my hiking pack," she said.
The Ruckus captains thoroughly value her presence on and off the field: "She has absolutely surpassed all of our expectations. She's always throwing her body around for catches and Ds, is positive on the sidelines, always welcomes positive criticism. "
Here's a clip from Presidents' Day Invite. Defenders have to back her because of her size and prowess in the deep space. Unfortunately for them, it's not much better to let her catch it under, as she can drop dimes like these: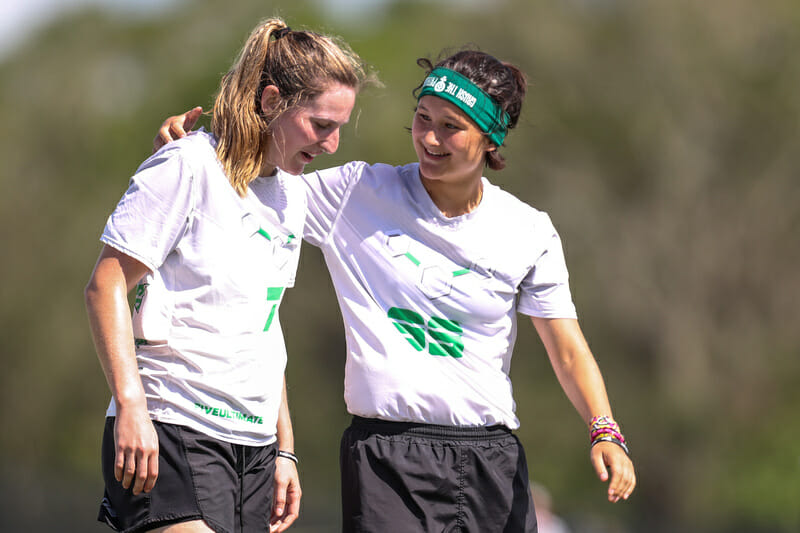 Marie Perivier #99
Team: Georgia Athena
Expected major: Engineering
Hometown: Atlanta, GA
Position: Hybrid
Started playing competitively: Middle School
Self-Described Ultimate Superpower: #1 Teammate Supporter
Pre-College Experience
cATLanta (U20 Girls YCC)
flATLine (U20 Mixed YCC)
U20 Women's National Team
Atlanta Ozone (Women's Club)
Accolades:
WJUC Silver Medalist
U24 National Team Tryout Invitee
Marie has been one of the best players on Georgia this year. It can be tough going to a college fall from high level play with teams like the U20 National Team and Ozone, but it doesn't bother Marie. "We're kinda just in for the fun of it, and that's really refreshing to me," said Marie. "It doesn't mean we aren't competitive or that we don't get heated. It means that we don't cry when we lose."
Athena will have to fight hard through the one-bid Southeast if they want to make it to Nationals this year. Marie's captains said they would be looking to her to contribute heavily at Regionals. "She brings such a positive energy to the game and is a joy to play with. There is no denying her skills, so to learn from her as well as push her to mold as a college player, has been a privilege," said her captains. "As we gear up for the series, we are hoping to utilize her broad skill set as well as mentality as an example for what kind of team Georgia hopes to be."
UGA may not be the biggest name in college women's ultimate right now, but Marie Perivier shouldn't be overlooked. Her story is likely most familiar to any cutters who came into college with experience – she has to be a handler. Fortunately for Athena, she has taken on her role beautifully.
This throw came after a long point with a lot of turns. Often when you see a huck during a long point, it's a desperation throw, trying anything to end the suffering, but this was a calculated dime. She faked her defender out enough to somehow be able to throw an IO backhand to the break side.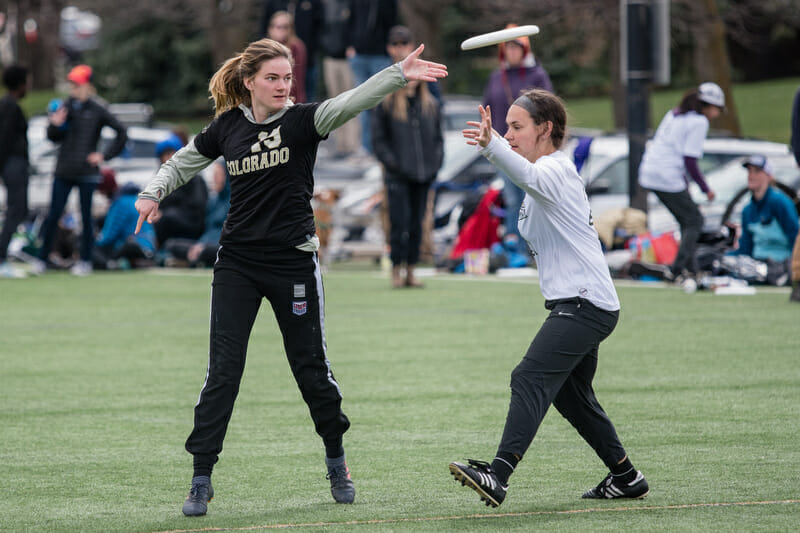 Bailey Shigley #19
Team: Colorado Kali
Expected major: Integrative Physiology and minoring in Business
Hometown: Seattle, WA
Position: Cutter
Started playing competitively: 4th Grade
Self-Described Ultimate Superpower: Offensive Versatility
Pre-College Experience
Roosevelt (Girls' High School)
U16 Girls' YCC Seattle
U20 Girls' YCC Seattle
U20 Women's National Team
Accolades
3x High School All-State First Team
2x U16 Girls' YCC Champion
U20 Girls' YCC Champion
2018 Seattle Invite Champion
2018 Neuqua Knockout Champion
2x Seattle Public School Champion
WJUC Gold Medalist
Bailey has been a focal point for Kali this year. She fills all sorts of roles. She is a threat deep, can grind out unders, and adds to the offense with her disc skills. "I only applied to schools with strong ultimate programs. That is mostly because ultimate is such a big part of my life and not being able to play it competitively would affect my success in school," said Bailey, exemplifying the evolving recruiting environment. "I also knew that Kali had probably the best coaches in college ultimate, which made my decision a lot easier."
"On the field, Bailey has made a big impact on our O-line. Kali has many initiating and continuing cutters and Bailey has found a role as both and integrated into our system to benefit both cutting roles," said the Colorado captains. She has a lot to look forward to as well. Her captains see that she will have a lot to offer off the field, serving as a future leader for a team with a huge emphasis on culture: "Bailey also has a larger leadership role then she has yet to realize. Teammates look up to the hard work that she puts in and the opinions she shares."
Bailey also brought up an interesting point about the changes from high school to college. "Playing high school ultimate in Seattle, all we had were 2-3 games once a week, like most high school sports," she said. "Adjusting my training and mental game to playing long tournaments over a few months has been the most difficult part."
There were a lot of plays to choose from to show off Bailey's playmaking. But we can save the rest for her inevitable 2022 callahan video. I liked this one in particular because its not only a great catch, but it demonstrates the trust her teammates have in her to reel in anything they put in her direction. She attacks the disc fearlessly, even with a defender on her hip to ensure the score.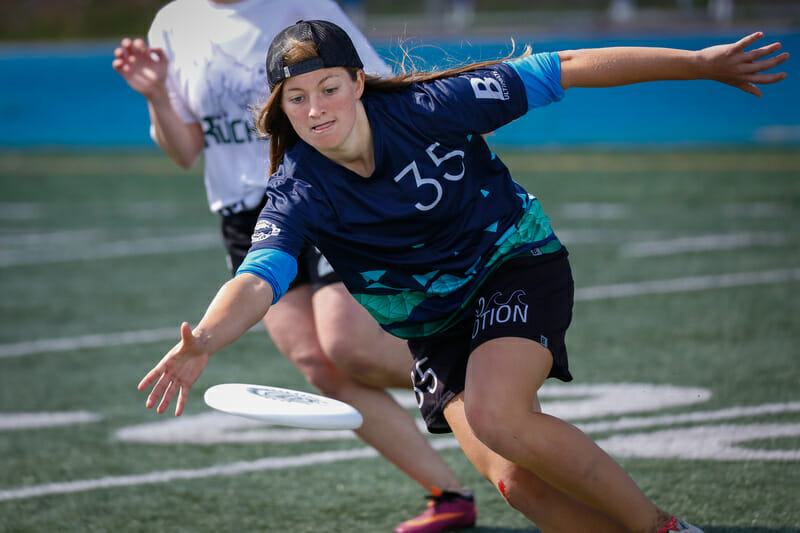 Vanessa Beeler #35
Team: Cal Poly SLO Motion
Expected major: Computer Science
Hometown: San Diego, CA
Position: Cutter
Started playing competitively: 5th grade
Self-Described Ultimate Superpower: Speed and Deep Cutting
Pre-College Experience
Space Cats (U16 Girls' YCC)
Belly of the Beast (U16 Girls' YCC)
Powerline (U20 Mixed YCC)
Discombobulators (Middle School)
Spurs of the Moment (Girls' High School)
Accolades:
U20 Mixed YCC Champion
Individual YCC Team Spirit Award Winner
Spaghetti Western Champion
Vanessa was one of the only people I talked to who didn't primarily play ultimate in high school. "My primary sport was running, through cross country and track. I ran six days each week all year round, and mainly just played ultimate in the summer and when I had spare time," she said. According to her, the youth scene wasn't quite developed enough to make it her sole focus. However, that didn't stop her from playing five years of YCC (with other young stars on UCSD, the Hanna twins, Ava and Lauren) winning a mixed YCC championship, and becoming a fantastic player.
Here she demonstrates why she is already a major contributor. Sure, there are lots of instances where she is wide open deep, under wherever, but this clip displays the attitude and intensity it takes to turn a good player to a great player. After a messy throw-and-block situation, instead of resigning to the turnover, as everyone else on the field did, she went after it. She was able to dig out a second effort grab inches from the ground and calmly get up and throw an easy assist. Not only did she leave it all on the field, she punished her defenders who didn't.
The Tip of the Talent Iceberg
It may be nostalgic for folks like myself, who learned the game through the golden years of the transfer athlete, to see so many players with years of experience joining the college ranks. I am thrilled with the growth shown so far in the women's division. This year's class has both stars at the top and depth throughout, and this list is only a glimpse, with many more around the division. They are armed with more coaching and aided by infrastructures created for them at younger ages.
The community sees this influx of talented rookies as novel and exciting, but we shouldn't be complacent and settle for the success we've seen so far. Despite the evidence of the growth of the women's division, both through the numbers and in the individual player examples, we still have a ways to go. Though the youth memberships of USAU continue to grow, the girls membership numbers are less than half of the boys. We are just scratching the surface of the level of talent that we can reach. With the explosion of youth players and efforts to excite and inspire women about the sport of Ultimate, the talent levels will only grow if we continue to invest in girls' ultimate and coaches.
There is still a long way to go for the women's division to get the recognition it deserves, but I for one, am ecstatic to see where these women take us.
---
Information taken from USAU Membership trends website, https://www.usaultimate.org/membershiptrends/ ↩