The region's stalwarts held off a deep field.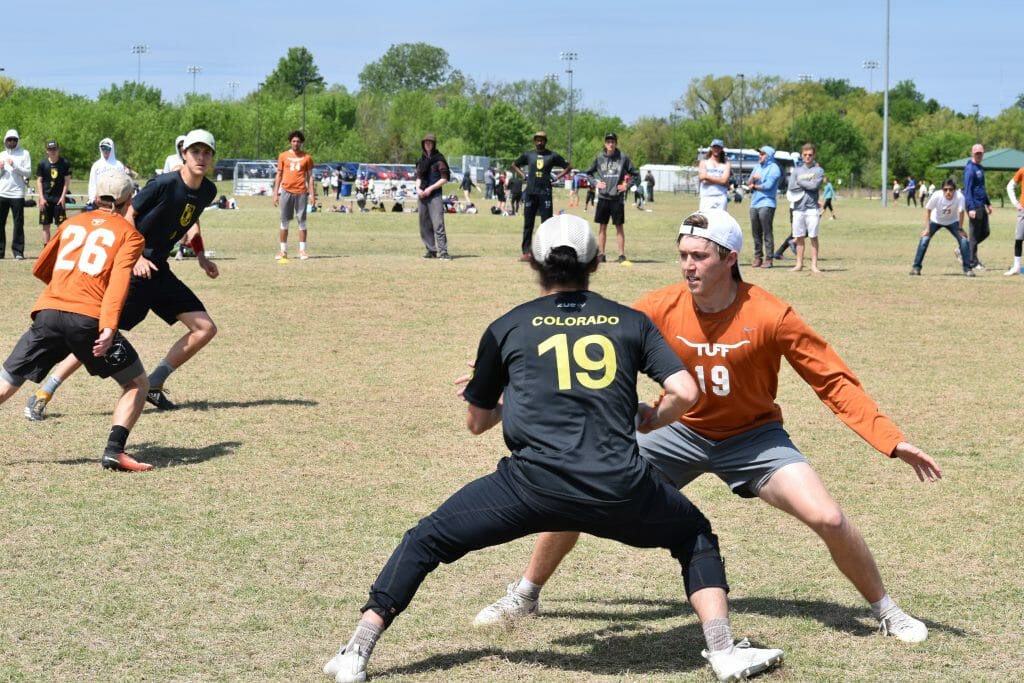 This article was written by USA Ultimate hall-of-famer Andy Borinstein. Disclosure: his son, Alex, plays for Colorado's B team.
Ultiworld's Men's Division college coverage is presented by Spin Ultimate; all opinions are those of the author. Please support the brands that make Ultiworld possible and shop at Spin Ultimate! 
TULSA, Okla. — Mohawk Sports Complex was the scene for D-1 South Central College Regionals for Men and Women as well as D-III Men's Regionals. When the weekend's gusty winds finally settled on Sunday afternoon, regional order was restored as some familiar teams advanced to College Nationals.
In all, 36 teams competed across the three divisions, each vying for two Nationals bids. The region, the sport's largest in terms of land mass, drew teams from as far east as St. Louis, west from the foothills of the Flat Irons, Fort Collins to the North and as far South as San Antonio.
The Bracket
The South Central was the only region in the country to institute straight double elimination bracket play to determine its two spots to Nationals (the Ohio Valley Men's region adopted this format for Sunday due to Saturday's rain-out) and original seedings largely held during the first round of play. One exception was the 9-8 game featuring in-state rivals Texas State Buckets and Texas A&M Dozen. Some felt that A&M had received a decidedly low regional placing despite having a USAU regular season ranking above a number of teams from the Ozark Conference as well as Texas State who, at Regionals, were seeded above the squad from College Station by one spot.
As the game proceeded, it looked like that 9th place ranking may have been the right call as A&M trailed 8-6 at half. But they came out of the break on fire, scoring four straight to take a 10-8 lead. Texas State finally held and forced a break to even things at 10, but the small squad from San Marcos, who had upset Texas in pool play at the Conference Championships, appeared to tire as A&M scored the last three points of the match to advance to play top seeded Colorado Mamabird.
A&M pulled downwind to Colorado in the first place quarters and held that advantage for the first eight points of the game, highlighted by a nasty cross field hammer by Connor Ughetta, Dozen's main handler, to tie the game at five. The teams traded goals before the game turned on a Callahan by Alex Tatum. Bird broke again to take half, 8-6. By the time A&M scored its 7th point, Colorado had 11. Colorado closed it out, 14-9.
The tournament's biggest upset came on the adjoining field where the Colorado B-team, CUCU, scored an upwind break on the game's first point and never looked back in a stunning, convincing 15-9 upset of the 8th seed, Texas State. But that was a far as the B-team would fare as it proceeded to lose to Oklahoma State in the 2nd place quarters 15-11 and then to St. Louis, 13-9, to finish in a tie for 11th place with Kansas. Not a bad showing for a B-team and suggestive that the pipeline to Mamabird may be a long one.
Tough Semis For Both Bid-Earners
Mamabird advanced to semis later that afternoon where they would be tested by an extremely psyched Texas Dallas Woof, the 4th seed, angling for an upset. The game did not start well for UT-Dallas as Mamabird broke them twice in the first five points. UT-Dallas would start to be patient in possession and then turn up the intensity with their tight person defense resulting in two breaks and a 6-6 tie, but Colorado held and broke for an 8-6 halftime lead.
Out of the half, Woof held and then forced Mamabird to stall-out 10 yards from their own goal line. UT-D quickly converted and the game was tied at 9. But, again, Mamabird held and then broke upwind on the ensuing possession. The teams traded holds the rest of the way as Colorado emerged with a hard-fought 13-11 win and a place in the Regional final.
Texas Dallas was also done for the day and would take care of business against Oklahoma the following morning, setting up a match against Texas A&M with a big chip on their shoulder.
With K State and OK State out of the way for 2nd seed TUFF and CSU surviving a double game point 10-9 win over Arkansas in the 15 mph winds of the first round (and more easily getting by 6th seed Oklahoma), the 2/3 seed collision course was set. And what a game it was.
CSU started with an upwind break. Texas held, as did CSU before forcing another break to go up 4-2. Texas held and then slapped a zone on Hibida which turned in the desired result. 4-4.
After a CSU hold against the zone to go up 5-4, Noah Chambers and #12 on CSU both went hard for a 50-50 disc and Chambers was taken out from behind as the CSU defender first made contact with the disc. From my vantage point, it looked like the unfortunate result of two competitive players going for plastic at the same time. There was at least a 10 minute delay as the trainer needed to come to field and tend to the injured Chambers, who was carted off for additional treatment. It was later revealed that he broke his left fibula.
The turn of events momentarily stalled Texas, who seemed to be in a state of shock as one of their best players was lost for the rest of the season. When play resumed, CSU took advantage and scored the break to go up 6-4.
But Texas soon became more focused, rattling off three breaks in a row to take a 7-6 lead and, after two holds, an 8-7 halftime lead.
Out of the half, CSU received, held, and, on the next possession, broke via a rebound to gain the downwind advantage, 9-8. Undaunted, TUFF held going upwind and now had a chance to flip the break. They did, taking a 10-9 lead, but CSU quickly answered with a hold to set up double-game point.
I counted at least five possessions for each team, including the seeming game winner in the front of the right end zone cone early in the possession count where it was unclear if there was a simultaneous foot planting of one in the end zone and one on the sideline off a push pass for game point. The involved players got together and agreed to a replay, culminating in a dropped Texas disc in the endzone.
Back and forth the teams went, when Texas finally ended the most exciting Men's Division game of the tournament, 11-10.
It was a very tough loss for Hibida, who have been involved in many of those close games this season, but there was still a way back in if they could get past A&M at 8 AM the next morning. But that wasn't in the cards, as A&M, led by the stellar play of Ughetta and Timmy Robison, ignited for a spirited 13-11 win where the score was closer than the final outcome.
A Classic Final
A few fields over, Texas and Colorado set up for the final. Needless to say, TUFF and Bird have a long-time rivalry, and this match-up of the region's perennial top teams would write another chapter to this running history.
As one neutral spectator noted, it was Texas who stopped Colorado last year from its record Nationals appearance streak when the region had only one bid to Nationals and felt that Bird might be motivated to exact a measure of revenge.
That observation soon became very prescient as Mamabird started with a four throw first possession and then slapped their D-line on TUFF who initially had no answer to the relentless marking, sags in throwing lanes, and consistent downfield pressure.
Quickly, Texas was down 3-0 and took a timeout to settle things down. The offense, though not particularly clean, started to get the job done as the teams traded holds for six points. Texas finally turned up their defense and forced their first break to close to within one at 7-6. Colorado held to take an 8-6 lead at the half.
Texas scored out of half, Bird held, Texas held and then turned in another break to tie it up at 9-9. Mamabird held and then got a huge block from Matt Agee. After a timeout, Colorado took advantage of the possession to increase the lead to 11-9 and Bird stormed the field thinking they had won the game. But there was one more point to play.
Texas worked down to about 20 yards from Bird's endzone when a high stall count led to a timeout at stall nine. Texas completed the first throw out of the stoppage, but a subsequent errant cross field hammer gave Colorado the last possession they would need. Tatum to Agee. Colorado Mamabird were back on top in the South Central, 13-10.
While the finals were going on, the 2nd place semifinals were unfolding on the next field over with A&M playing Texas-Dallas in a game to face Texas, ultimately. Both teams came out with different offensive strategies. A&M was perhaps the most patient team in the tournament, working the disc for high percentage cuts and throws before finding Ughetta in a power possession to launch from either side of the force after 9 or 10 completions. Woof, on the other hand, would score their first two goals in rapid succession, finding cutters deep for easy strikes. The first A&M break came on the 6th possession of the game and again on the last point before halftime to stake a 8-6 lead as they were able to pickoff some of Woof's long throws and convert. Coming out of the half, A&M employed a zone and UT-Dallas wasn't ready. After a series of holds with some great individual efforts from players on both teams, Woof closed the lead down to two, but A&M would eventually prevail 14-11 as time ran out.
Game-To-Go
The underdog Texas A&M Dozen had made it to the game-to-go. It would be their seventh game of the tournament and Texas's fifth. Those extra games started to wear on them, but they held serve through the first eight points of the game, employing elements of that high possession game they used to get this far in the tournament. But Texas–deeper, more rested and smarting from a close game against Colorado–was not going to let the tournament upstarts pull another upset. Two breaks in the first half and one right after the half, and a tweaked ankle from Ughetta on the last point of the first half, basically sealed the game's destiny. Final score: 15-10 Texas.
All-Tournament Team
Alex Tatum (Colorado)
Quinn Finer (Colorado)
Mathieu Agee (Colorado)
Brian Street (Texas)
Matthew Armour (Texas)
Reese Bowman (Texas)
Connor Ughetta (Texas A&M)