Minnesota claim the regional crown as ISUC disrupts the typical narrative in the North Central.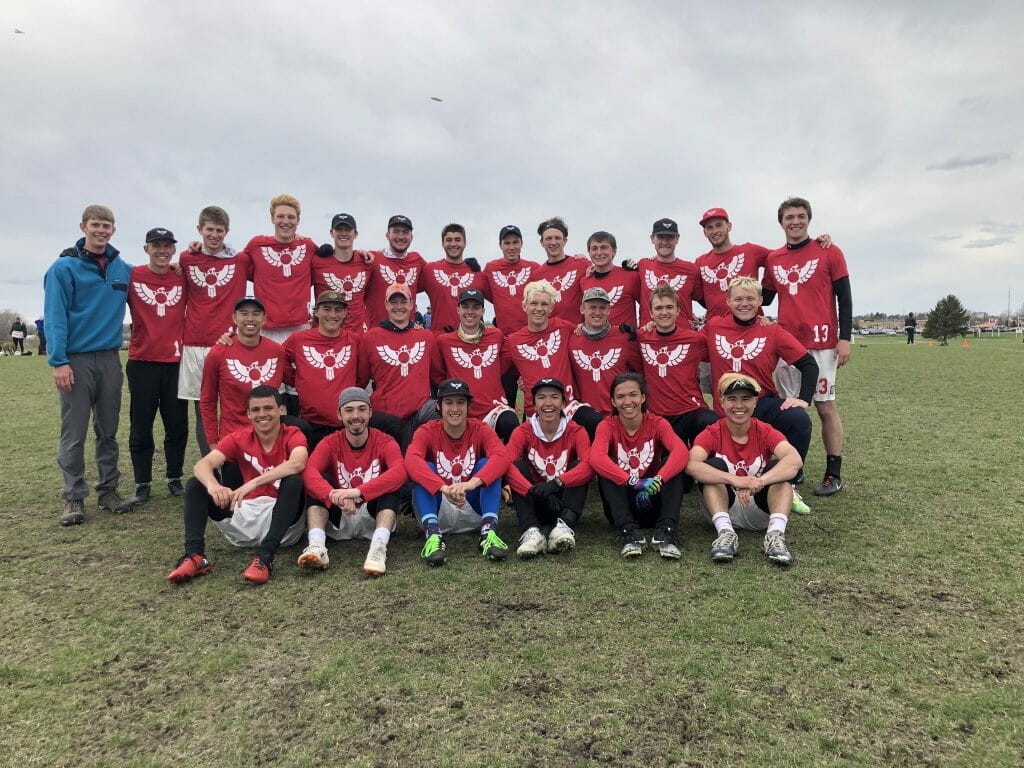 Ultiworld's Men's Division college coverage is presented by Spin Ultimate; all opinions are those of the author. Please support the brands that make Ultiworld possible and shop at Spin Ultimate! 
BLAINE, MN — The North Central has, at least recently, had the reputation of being a foregone conclusion. Three bids? Carleton, Wisconsin, and Minnesota. No questions asked. Initially, 2019 appeared to be no different. Saturday at Regionals was generally uneventful. Carleton defeated Minnesota 13-9 in a game that was never really close, while Wisconsin beat Iowa State 13-8. Everything was going according to plan.
Enter Iowa State ISUC.
With three bids, a win in semifinals meant an automatic bid to Nationals. With everything on Saturday going to seed, #4 Carleton faced off against Iowa State, while #20 Minnesota and #10 Wisconsin slugged it out on the adjacent field.
Grey Duck came out hot, riding fantastic offensive flow from Wystan Duhn and Cole Jurek for easy downwind holds. The Hodags' offense, on the other hand, struggled early, and Grey Duck's Sam Kaminsky and Malakai Stern helped cash in multiple upwind breaks, eventually taking half 8-5. While the Hodags managed to right the ship to a degree in the second half, the early hole proved insurmountable. Grey Duck took the game and the bid, 15-12.
What the Minnesota/Wisco game lacked in drama, the Carleton/Iowa State game made up for in spades. After Carleton quickly took a two-break lead, the game looked like it could, as expected, quickly get out of hand. But Iowa State rolled with the punches, led by dynamic play from Scott Hearne, Ben Joerger, and Becker Mathie. Slowly but surely, ISUC began punching in the break opportunities that CUT's offense was giving them. Suddenly it was halftime and Iowa State was up a break, 8-7, receiving out of half.
Without Stan Birdsong (hamstring) and Joe White (concussion), CUT lacked two veteran players they often rely on when the going gets tough. White's absence was especially huge — in a 10-15 MPH upwind/downwind game, his throwing prowess could've made an enormous difference.
As it was, CUT turned to Dillon Lanier, Andrew Roy, and Ethan Bloodworth to cut through the wind and marshall the offense. After the half, CUT came out firing. A quick downwind break was followed by a gorgeous upwind huck from Bloodworth to Tim Schoch, giving CUT the lead, 10-9. But perhaps the turning point of the game came on the following pull: D-line handler David O'Dea attempted a big OI backhand pull from the left sideline — and it never came back in. Iowa State tapped the disc in on the goal line and two throws later punched in the pivotal upwinder. ISUC consolidated their position by securing the downwinder.
Point after point, both teams were given opportunities to convert another all-important upwinder and failed to do so. At 13-12, ISUC finally managed to put together a cohesive, patient, and game-deciding upwind offense. With an assist from Becker Mathie, Iowa State sealed the shocking upset and the first Nationals bid in program history.
After the ensuing celebration, coach Brian "Strings" Schoenrock was almost at a loss for words.
"Coming into semis, we knew seeing Carleton was going to be a huge test," he said. "The guys really stepped up. They came in and played fearless because they knew we had nothing to lose."
A disappointed Carleton and Wisconsin headed over to their third place semis (versus Wisconsin-Milwaukee and Iowa, respectively), while Iowa State and Minnesota played a largely ceremonial final (which Grey Duck won 15-13). Two hours later and it was time for the game everyone was waiting for: Hodags vs CUT in the game-to-go.
The game started, at least for CUT, poorly. Spurred by some incredibly athletic grabs from defensive big Jeff Maskalunas, Wisconsin jumped out to a huge 6-2 lead. It wasn't just the score that wasn't going CUT's way, either. Already dealing with significant injuries to prominent personnel, a terrible bid from Wisconsin's Sam Hebert into the back of Ethan Bloodworth's legs took him out of the game with a significant knee injury. An understandably angry Joe White confronted Hebert on the sideline, telling him "FUCK that, Sam," as well as asking Hodag coach Becky LeDonne if she planned on sitting Hebert for the rest of the game.
The Hodags certainly didn't shy away from contact throughout the game, eventually earning four misconduct cards for various dangerous bids and plays. Their defense was intense — but there certainly is a fine line between playing physical and playing recklessly.
CUT managed to right the ship and get a few breaks back behind fantastic handler movement between Andrew Roy and Chris Padilla. Still, Wisconsin held on to take half 8-6. The second half was more of the same — both teams struggling in the wind and more physical Wisconsin defense.
Trailing 12-11 and pulling downwind in a game to 13, a Wisco drop gave Carleton fantastic field position with a chance to tie. But an O'Dea throwaway gave the Hodags the disc right back, and that's all they'd need. One awkwardly-placed huck later and the Hodags took the third and final bid to nationals, 13-11.
Hodag coach Andrew Brown commented afterwards on the gravity of the moment. "Talking to the guys afterwards, we said how, yeah, it would've been nice to beat Minnesota in semis and automatically qualify, but this just feels even more rewarding," he said. "Rather than a forgettable final, they got to play in a game that will be remembered in this program for years to come."
For Carleton CUT, some introspection is probably needed. What went wrong? Two seasons in a row the team has come up short of expectations, albeit exponentially more so this year. With the injuries to prominent players, their depth was certainly lacking. But what if the problem is more systemic? Their hugely talented junior class will be back next year, and CUT will undoubtedly be one of the top-ranked preseason teams. But can they finally live up to expectations and put together a complete season? We'll find out in 2020.