Whether as a red zone offense or a handler set to get an offense moving, a weave is a valuable tool to have in an offense's arsenal.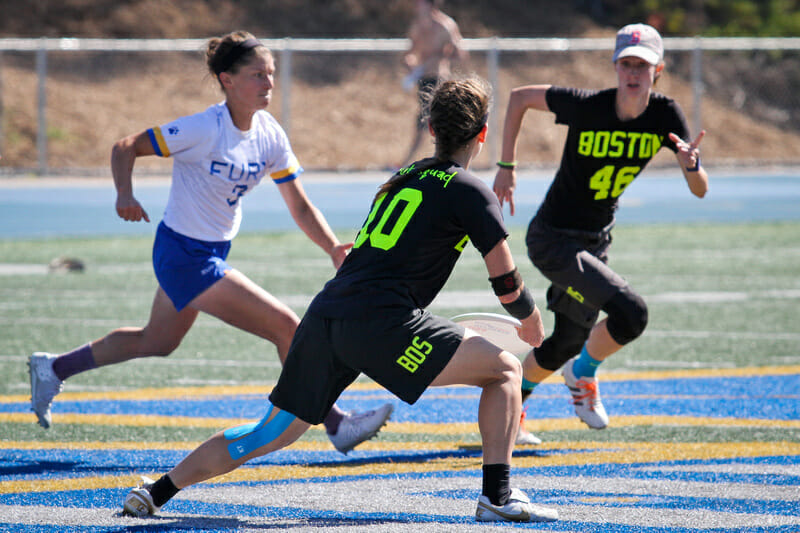 Tuesday Tips is presented by Spin Ultimate; all opinions are those of the author. Please support the brands that make Ultiworld possible and shop at Spin Ultimate! 
As the distributors in ultimate, handlers arguably have the biggest impact on the offense and the most important position on the field. The center handler especially will in many ways be the quarterback of the offense, directing movement and spacing not only through throws, but also through their movement.
This is a key point to remember: handlers, while obviously valued and lauded for their throws, also do critical work to help their team and drive the offense with their legs. Just like any position or player on the pitch, the legs control the game — you can't throw if you can't get open to get the disc.
A good handler reset system therefore, relies largely on movement, rather than on passive players. Even the best team of over-the-top bombers will be more successful when the disc is in motion quickly and often. Instead of calling handler cuts dumps or resets, think of the handler movement as a weave, or a system of multiple cutting players trying to get the disc in dynamic attacking positions. Cutters are likewise incorporated into this, so in an ideal system every player knows the checkdowns and the anticipated cuts to get open.
An essential tool in the regular offense, deadly near the endzone, and guaranteed to make for easy resets, here is a step-by-step guide to running an effective handler weave system.
Step 1: Attack the Breakside
First and foremost, whether cutting or handling, it is important to remember as an offense what you are trying to do: score easily. It is also important to remember that the defense is going to try to do everything in their power to stop you. Their strategies will vary, but a basic tenet will remain the same: attack their weakest point.
For nearly every defense, the weakest point is the break space, and this can be attacked through throws (break throws, over the top throws, hucks) or cuts (downfield breakside or backfield breakside). Attack with both, and often.
The first move in any handler reset or weave system should be to attack the breakside. A thrower should attempt a break throw look downfield (to a cutter) or laterally (to a handler). Doesn't matter what type of throw — dealer's choice — but around looks are ideal; if the throw goes off, so many option open up and most good teams are off to the races with at least three open looks.
If the break throw isn't there, it comes time for a handler to make a strong breakside cut. There two good options: the 7-cut (see number one move here) which is preferred if the disc is on the live side (force side) half of the field, or the behind the thrower (a cut from the force side straight behind for the dish dump).
The behind the thrower cut is easier in general for all players — with a good box out, it doesn't require anything more than a short backhand, rather than for a break — and should the ideal option, provided you have a handler on the force side or aren't trapped on a sideline.
Completing either option, however, will immediately give your new thrower an advantage: their mark will be trailing on the wrong side, leaving a break throw likely wide open.
Step 2: Original Thrower MUST Drop Back
This is the part where, for most teams, a truly good handler movement system fails. Most people roll their eyes at step one (yes, both are obvious and tried-and-true handler cuts), but they then totally ignore that original thrower in any game-planning.
As soon as the original thrower gets the disc off (whether to a 7-cut or straight back), he or she must then move. Staying stationary not only allows a mark to flash the lane, but also clogs the throwing space with an extra body and destroys any chance of give-go. The original thrower must pass, and then must immediately cut backwards towards the force side, filling a space as an open side reset.
This is a quick move that opens up the field throwing lanes and is easy to accomplish, but most people either don't do it because they don't know it or don't react quickly enough. Instead, they often race directly up field (or worse to the breakside), therefore making it much more likely that a quick pass won't go off. If you clear, clear hard on the force side to leave the breakside open for that hopeful continuation. Ideally, you drop into the handler space that is vacated and relatively without threat. There, you can stay out of the way of the developing play and also set up a hinge move for a next strike.
Step 3: The Give-Go
One of two things will happen once a 7- or behind-the-thrower dump goes off: either the continuation break throw will happen or it won't.
If it gets off, great! The offense has several attacking options up the field. The handler who made the throw should immediately follow the attack, getting ready to receive a reset back and be able to center or swing the disc to the other side. Going sideline to sideline with swings and attacks of easy unders is the best way to make the defense cry.
If the break throw doesn't go off, worry not. A nasty surprise can be waiting for the defense if Step 2 was accomplished well. After a big around fake (remember, this is a natural look as attacking the break side is ideal), the thrower can turn immediately back to the force side, hit the original thrower with the disc with an easy flip, and take off up the line.
The early part of this video clip demonstrates the power of this weave well, although things get messy with too many players trying to jump in.  This move is run well by Dylan Freechild, although he often eschews the breakside look/fake and just immediately wants the give-go.
Basically, this is a great give-go move that adds a dynamic attacking element to a handler reset/weave system.
Step 4: Attacking Upline
Attacking upline should be a very important part of any handler system but it is especially dangerous in a weave, where it can happen in motion, like the give-go. If you have a very, very talented handler (speedy fast) or are playing weaker teams, this is a viable option one. As soon as a reset to the force sideline happens, the thrower can attack upline. Getting the disc upline near the endzone frequently results in a goal, while in regular play it leads to power position which is great for hucks.
However, if a huck isn't timed right or the upline cut is covered, simply be ready for the next move. The upline-cutting handler might be out of the play for a moment, meaning motion from the off handler in the weave is key so the thrower isn't stranded.
This is a great time for the third handler in the weave to set up the 7-cut or another big swing reset cut, since the thrower might have a big open breakside throwing lane after a mark shifted to stop the upline pass. If a 7-cut move makes sense, then the weave simply has a chance to reset, and you can continue to dominate down the field. This flexibility is why so many teams use their handlers as their primary endzone offense.
Step 5: Open the Lanes
The weave is often used for endzone offense, dominator offense, or for a reset system. However, as a regular offense cogwheel, its primary purpose is to open up throwing lanes.
When run at speed, it creates dynamic attacking options for the handlers. Don't fall into the trap and get too focused on continuing the weave forever — for long term, full-field offense, it really isn't sustainable and can be very tiring. Instead, focus on the new options that defenses will now present to you.
Worried about throw-and-go and breakside looks, handler defenders will switch more often or likely give wide space. This makes several downfield attacking options much easier, including force-side throws and inside-break throws. An IO break throw can be just as deadly as starting with an around break and whipping up the field. Likewise, an easy swing because of fear of the give-go can create simple break throws or back-and-forth movement attacking both sides of the field.
Aim to get the cutters involved, or else find handlers who can sit in good positions with defenders worriedly backing away from them. Cutters here can slide in and get easy upfield looks. Then, if properly spaced, they can use the same system for attacking the breakside with their throws as easy upfield looks.
Remember, as the offense, you have the flexibility and power. Defenses must react to you, and when they do, take the easy pickings they will give out.
Conclusions
Handler weaves are great ways to run redzone offenses, reset systems, and give-gos. A good weave, when practiced, can provide all three.
Don't forget to be active after passing and position yourself to receive a give-go cut (see Step 2), and also don't get so locked into the weave that you forget about the downfield. Open looks and power positions, whether breakside or forceside, should still be the primary attack. Don't get too caught up in looking for the next handler so quickly that you miss easy scoring chances.
Overall, if you practice this system — easily done with a 3 v 3 walkthrough and then running it at speed — you give handlers a variety of options and make defenses truly worried.