A wealth of elite men's talent descend upon Bruges this weekend.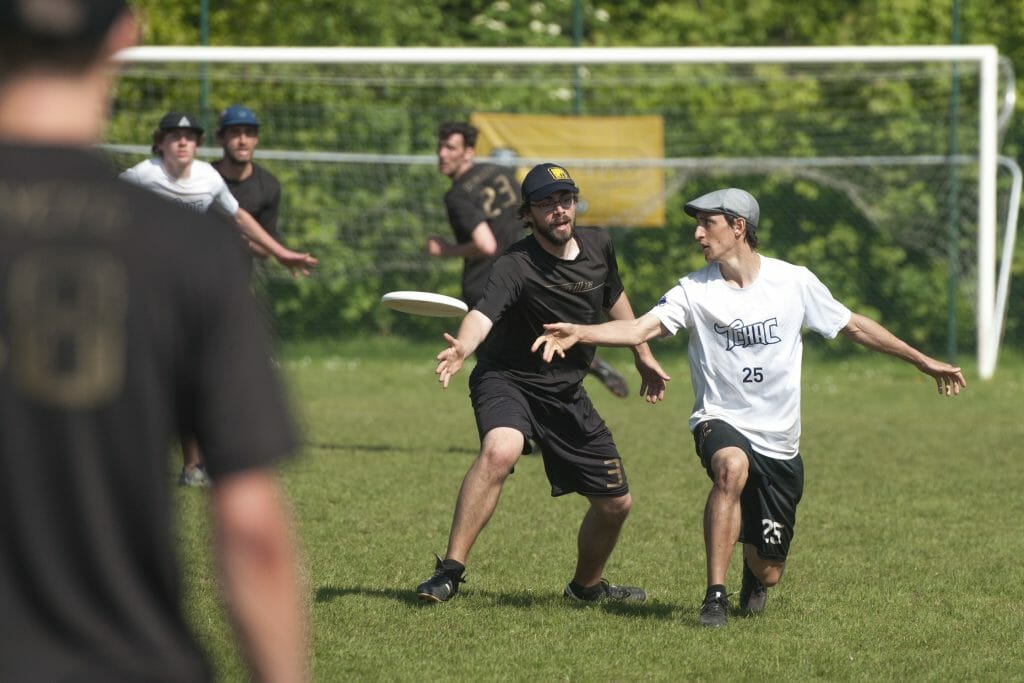 Ultiworld's coverage of Tom's Tourney is presented by VC Lookfly; all opinions are those of the author. Please support the brands that make Ultiworld possible and shop at VC Lookfly!
Since 1992, teams from across Europe have been flocking to Brugge for the first weekend of May. Tom's Tourney is often the first stop for many of Europe's elite as they start their competitive outdoor season. There are 44 men's teams participating in the event: 24 teams in premier Open Division 1, with another 20 teams in the Open Division 2. Open Division 1 is split into six pools of four while Open Division 2 is divided into four pools of five. For the first time at Tom's Tourney, there will be a free livestream of field one Saturday and Sunday. This will also include a showcase game Saturday night between France Open and Belgium Open at 20:30 local time. High level ultimate and delicious Belgian beer await all who travel to the beautiful city of Brugge.
Tournament Profile
Date: 3-5 May
Location: Brugge, Belgium
Weather: 9-11 °C, scattered rain and wind ranging from 10 to 37 km/hr
The Favorites
Chevron Action Flash (1) come into the tournament as number one seed. For anyone who attended the event last year you will understand why. Chevron dominated the group stages and also took care of French champions, Tchac, in the late night showcase game.1 They looked like favorites to go all the way last year but faltered in classic Chevron fashion in the semi finals.
The British men fell victim to the ferocious Tom's Tourney hard cap, essentially losing on a buzzer beater to local Freezzz Beezzz. The home town heroes went on to win the event but will not be back this year to defend their title.
No doubt the controversial semifinal loss left a sour taste in the mouths of the northern boys. Standout player last year Ben Burak will be back again to try and go all the way, alongside big receiver Rollo Sax Dixon and the tenacious Joe Wynder. Chevron's greatest threat is often their own mental game, but this could very well be the year they put the jitters behind them.
CUSB La Fotta51 (2) will be drawing talent from the European capital of ultimate, Bologna. The number 51 is included in the name of the Italian team as a tribute to their ever aging talisman, Davide Morri, who turns 51 this year.2
If these men can play anything like their U24 national team, they stand a good chance of making the final. Considering they have Arturo Laffi and Luca Tognetti on their roster, they might be able to channel some of that young energy. The men from Bologna have only just wrapped up their own tournament the Bologna Invite, with many players competing for a national team. Taking into account this event leading up to Tom's Tourney and EBUC starting literally hours after, the Italian talent pool has been rather stretched. The 2017 champions may not have everyone in attendance but Bologna is a conveyor belt of talent with others very capable of stepping up to the big stage. The average age of the roster is 25 years old but expect old man Davide to carry his team to a podium finish.
Last year's semi finalist, Freespeed (3), will be looking to go one step further as they try and win their first title since back to back wins in 2012 and 2013, when the Swiss renaissance was in full swing. Freespeed may have had the best O-line in Europe last season; however, they fell to French team, Tchac, in the semis after an almost perfect performance. Matthieu Bosser marked Luca Miglioretto for the entire match with little success until the final point of the match. The Freespeed offense finally coughed up the disc, and Bosser was there to score the winning break. If Freespeed can keep their offense solid they are capable of beating any team, they even gave Revolver a run for their money at WUCC. The Swiss have rostered 28 players for this event so they take the opportunity to blood some new faces. However, the most notable name on the roster is Pieterjan (PJ) De Meulenaare. PJ is returning from a year sabbatical with his birth club, Freezzz Beezzz, after winning the tournament last year with them.
Freespeed look geared up for a strong outdoor season and it's likely PJ will be keen to win back to back titles in his hometown.
The Contenders
French champions Tchac (5) are coming off a tremendous season last year with a top 8 finish at WUCC. It remains to be seen whether last years runners up will be able to compete at the same level this year. The biggest story coming out of France this year was the massive exodus of talent to AUDL side Montreal Royal. Sacha Sokolsky, Matthieu Bosser, Laurent Faye, and Quentin (Krash) Rodger have all jumped ship. It is now up to the likes of Vincent Abita and Thomas Hervouet to carry the mantle. As it stands, the French team would be lucky to make it past quarters, but look out for some of the squad competing with the French national team during the showcase game.
GB U24 (4) will be looking to bounce back after a loss in the final of Siege of Limerick to Irish side Ranelagh in atrocious weather. Malaysian born Chun Lee was a standout performer in the windy conditions but they will be hoping for fairer weather this weekend. Dec Cartwright and Josh Eeles have both been playing ultimate for 11 years and will bring a lot of experience to the young offensive line. Although they are young, the GB team are very capable of making the semifinals and have been training hard for the world championships this summer.
Many people will be surprised to see the Belgium U24 (6) team seeded above the Belgium Open (8) team but the Belgium youth scene is very much blossoming at the moment. The Open and U24 teams have had several scrimmages in preparation for the season ahead and have come out on top the majority of the time. A lot of this is down to the new cool kids on the block, Benjamin and Raphael Jonkers. Or Bonkers and Ronkers as some broadcasters like to call them. The Jonkers brothers took the ultimate scene by storm last season, owning the skies over Tom's Tourney and WJUC. This young roster have an average age of 20.5 year old with most players eligible for the following U24 cycle. A strong coaching staff of Robin De Sutter, Joram Mossink and Moby Espita will be looking to take score some upsets over the weekend. Perhaps we might see U24 showdown against the GB over the weekend.
The older Belgian consortium find themselves playing second fiddle to their U24 countrymen, but there is no shame in that. Well, maybe a small amount of shame.
It's important to remember that the Belgian men's team made quarters at WUGC in 2016 and semis at EUC 2015. They have the likes of Moby Espitia and Jonas Dewaele to lead the charge and are definitely capable of going all the way, especially on home soil. All the scouts will be watching the showcase game Saturday to see how good this team is.
Amsterdam Ultimate Club (16) are definitely contenders for this event. The main reason for this is the addition of the GRUT boys to their roster. Walt Jansen3 , Basten De Jongh and others take a break from the mixed division to add some real fire power to the Amsterdam roster. Combine this with the addition of big man Alan Fitzpatrick from Ireland and Wade Hankin from the US and this team has never been stronger. If they stack their lines, a trip to the quarter finals is on the cards but their low seeding won't make things easy.  
The Challengers
Ragnarok (7) continues aging as a team but also continues to dominate Danish ultimate. They are likely to be without English rogue agents Richard (Gash) Harris and Conor McHale, which may hinder their hopes of a top four finish. Irish side Craic Dealers 2.0 (12) 4 have a stellar roster of top Irish players but are probably more focused on reinforcing Irish stereotypes than actually winning games. WUCC attendees Devon (10) and Iznogood (11) will be looking to break from the pack but are likely to spend a few quid sampling some of the famous Brugse Zot.5
It will be interesting to see how new Scottish team Alba (18) fare in their inaugural season as many players transition from the mixed scene. The core of the team is full of WUCC experience from last year with players from both Glasgow and Black Eagles.
Predictions
1. Chevron Action Flash
2. Freespeed
3. CUSB La Fotta51
4. Belgium U24
5. GB U24
6. Belgium Open
7. Ragnarok
8. Craic Dealers 2.0
---