Georgia exerted their will at Southeast Regionals.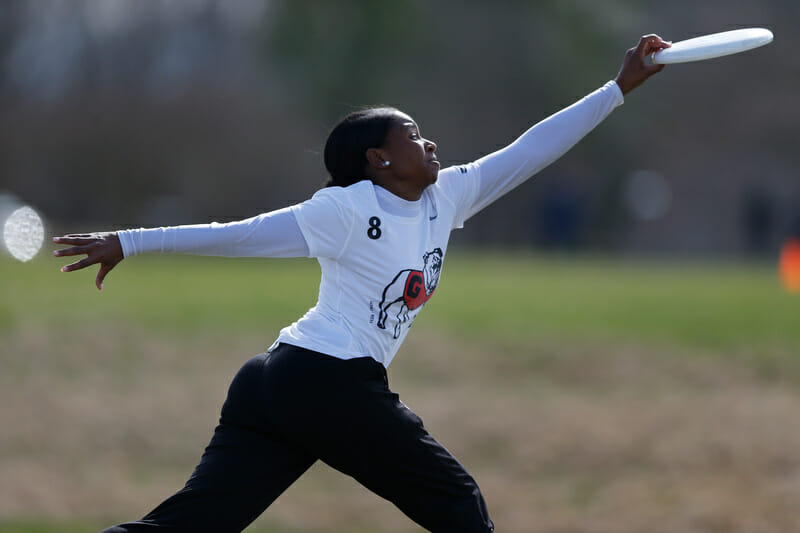 Ultiworld's 2019 postseason coverage of the D-I Women's division is presented by VC Ultimate, the official gear outfitter of the Premier Ultimate League.
Georgia Athena is headed to Nationals for the first time since 2013 thanks to a dominant run through Southeast Regionals. They didn't have a single game that was closer than 15-7 and outscored their opponents by a combined score of 75-26 over five games.
With so many young players on the team, and the dominant nature of their win, it felt like the start of a new reign in the Southeast. Freshman Marie Perivier looked like the best player on the field all weekend long, but where Georgia really separated themselves from the field was with their depth. Even the teams that had players who could slow down Perivier couldn't also come up with answers for Alex Fairley, Amy Strozinsky, and Josie Veal too, to name just a few.
After cruising through a two game pool play schedule on Saturday, they knocked away UCF 15-3 in quarters, Florida State 15-7 in semis, and Florida 15-7 in the final. The win over Florida was a bit of revenge for an excruciatingly close loss to Florida in semifinals a year ago. The final was the one game all weekend in which Georgia hadn't put the game away by halftime. The got a break on their first defensive point of the game to make it 2-0, but didn't get another until the 7-4, and went into the half up just two breaks at 8-5.
But they pulled away in the second half, outscoring Florida 7-2 after the intermission, despite starting the half on defense. Again it was their depth that was too much for their opponents, and that captain Alex Fairley's big take away from the team's weekend. "The difference I see [from last year] is the talent we have, but in terms of our coach, this is the best use of the talent that I've felt we've had. Gaining people like Marie [Perivier] and Emma [Jones], who can really step up as rookies was very pivotal to our success, as well as having very, very solid returners, who also continuously stepped up to the plate. It was an all around effort," said Fairley.
First year head coach Javid Aceil was impressed with is team's depth as well. "Marie was out for five points [in the final against Florida], and we were still able to kinda cruise," he said. "Everyone has developed a lot this year and improved this year, on their throws, their conditioning, everything, commitment to the team. It's been great."
Fairley and Aceil both saw this weekend as a potential start to something special for Georgia. "I guess we could say that Athena is on the brink of having a good run over the next few years," said Fairley. "I've been close before, we've been nowhere close before. I've seen our success; I've seen our failures. I just knew what it took in terms of focus and the hard work that we really needed to bring. The entire time, I was just like, let's focus on us. We don't need to worry about what team we're playing next. We know the tools we have in our tool box, we just need to use to them to our advantage. And I think we did that."
"We've worked really hard," said Aceil, "And this year, thanks to Alex and a lot of other community members, is the year that we kind of say that this is our region for the next few years, and hopefully we can take that level of play and then take that into Nationals and put the Southeast back on the women's ultimate map."
Fairley, even though she's in her last year with the program, knows that making Nationals this year is a big step in helping Georgia reach those potential heights in the team's future. "We prepared ourselves so that we wouldn't necessarily be afraid of what's in the region, but we prepared to put ourselves where we could compete with the teams at Nationals," she said. "I'm really excited just to see where we stand against those teams, but also grow and work hard. It's been a long time, so we don't even realize what it takes to necessarily win Nationals, so it will be exciting to see that level that we really need to be at if we want to go and win Nationals."
Quick Hits
Florida made it to their third successive regional final, but didn't have the firepower to match a deeper Georgia team. They still had an impressive weekend, cruising through their pool and quarters, and then upsetting no. 2 seed Vanderbilt in semis 14-10. With the amount of players Florida lost over the last two seasons, making their third straight final is a testament to the program they've built, but they weren't ever quite able to hit the same heights as the previous two seasons.
Florida State was the only team seeded outside the top four to win their pool, beating no. 4 overall seed Emory 15-1 in pool play. FSU played their most consistent ultimate they'd played all season, and only allowed two points in their two pool play games. They easily dispatched Georgia Tech in quarters before running into Georgia in semis.
Vanderbilt had their chances in semis against Florida, but they just couldn't convert D-line possessions into breaks. They were able to hang around for a while, as Florida squandered their early break chances, too, but once Florida's D-line did find the end zone a couple of times, Vandy was never able to get them back. They did take third place with an 11-10 win over Florida State, but had they been able to convert one or two more of their early break opportunities, they might have been playing in the Southeast final for the first time in team history.