MagnUM ran 5-0 through the freezing rain to top the Great Lakes.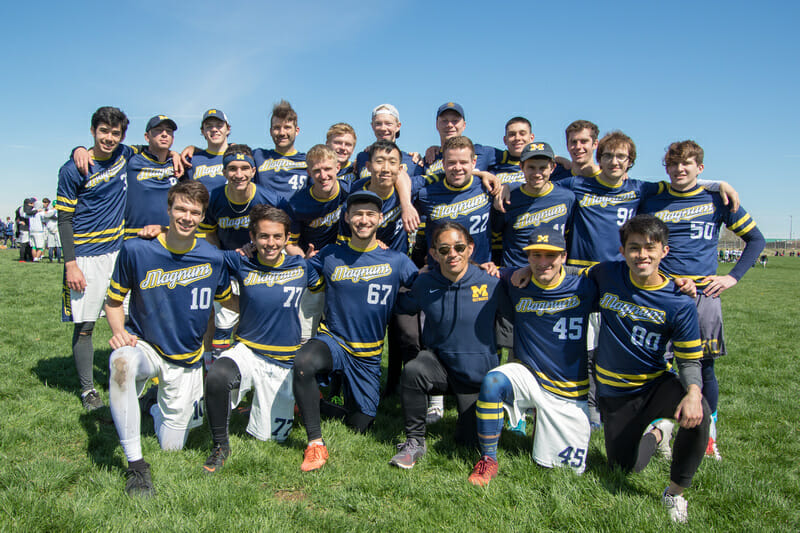 Ultiworld's Men's Division college coverage is presented by Spin Ultimate; all opinions are those of the author. Please support the brands that make Ultiworld possible and shop at Spin Ultimate! 
In spite of nasty weather and the adrenaline rush of postseason play, #20 Michigan MagnUM easily returned an expected result: an undefeated run through five games, ending in a 13-4 routing of the No. 5 seed Indiana Hoosier Mamas in the final.
Conner Henderson pulled to start the final for Indiana but was overheard saying, "I won't make it through this game." He was correct because he didn't make an appearance after the first point of the game, but even a healthy Henderson would have struggled to stop Michigan's hot start.
Michigan rushed out of the gate to a 5-1 lead on the back of Jared Schwallie's strong defense and precise throws. Adam Stautberg had speed and a motor that no one on Indiana could match. His multi-goal and assist performance led to an 8-2 score at the half. MagnUM closed out the game with an easy 13-4 win.
Indiana is a team built on young stars, so a game-to-go loss will only build the legacy of a rising program. This was Indiana's most successful regionals since 2007, and it looks to be a stepping stone for future years.
Not to be outdone by stellar performances from Indiana freshman Alex Henderson and Illinois' Joey Kennedy, Michigan fifth-year Nicholas Gerber and senior Jared Schwallie dominated the field with accurate deep throws and quiet intensity to lead MagnUM to their fifth regional title in the last ten years and a spot at Nationals.
Messy Weather Turns Pool Play Into Slog
Saturday of Regionals was marred with freezing rain and wind. The weather affected even the top teams as everyone seemed to falter at times, throwing away key possessions, having star performers drop open looks, and stirring up some internal arguments among teams. #6 seed Purdue started their day off with a loss to Michigan-B in what was probably the best weather of the day. In the final round of pool play, #3 seed Northwestern showed their weakness as Joe Byerly for Purdue shredded NUT's defense to give Purdue redemption. MagnUM scraped by with a DGP win over #8 seed Illinois State. #2 seed Notre Dame lost to Grand Valley State 12-10. Illinois was the only top team to do as expected, holding off Loyola and Indiana to win the pool.
Illinois' general size advantage was highlighted by play from Josh Deeman, Ben Sabourin, Jacob Cuthbert, Drake Hill, and Frank Dore occupying a lot of space in zone play. They were down two breaks to a composed Indiana team but battled back, never relenting on their huck-happy offense and aggressive 2-3-2 zone.
Sunday was a much calmer day but was even more unpredictable in bracket play. #2 seed Notre Dame had to play in prequarters, which were postponed from Saturday to Sunday morning, forcing shorter rounds. Even worse, Notre Dame had to play through #1 seed Michigan in the quarterfinals. After a strong start 4-1 start for Notre Dame, Michigan cleaned up their play and took half 8-5 and never looked back.
Indiana over Northwestern and UChicago
Indiana took a quick two break lead over Northwestern NUT in quarters and kept their foot on the gas. The field was reduced to a mud pit and play resembled it. Northwestern's star Kyle Rutledge made an early bid and was an unidentifiable brown for the rest of the game. Indiana gritted out a win on the backs of Alex and Conner Henderson.
UChicago was a bit of surprise in the semi-finals as the nine seed, but anyone familiar with UChicago and coach Zubair Abdulla's pedigree shouldn't be surprised at all. Jason Vallee is a big-time athlete and worked in conjunction with agile Milan Rivas to beat out a streaking Grand Valley State.
The start to the UChicago-Indiana game was fairly tame as both teams trading holds until Indiana broke for a 6-5 lead. In a dueling bid, Conner Henderson blocked a UChicago goal but started to cramp on the ground. Both players went out, with younger brother Alex subbing for Conner. This injury wasn't significant to this game as Indiana pulled out a 13-10 victory anyway, but Conner was noticeably limping on the sideline.
Michigan over Illinois in the Semis
Michigan started the semifinals with a break and never relinquished the lead. However, Illinois did threaten many tight moments throughout the game. The strong winds aided the zone defense of both teams, Illinois with a fresh 2-3-2 look and Michigan in their familiar junk defense. There were plenty of turns to go around: it was just about being able to capitalize on them. Jared Schwallie, Nicholas Gerber, and Eli Weaver were huge components for MagnUM punishing Illinois mistakes. The Michigan trio could rely on each other to reset the disc until a downfield opportunity opened up. Illinois's defense was intentionally weak to the over the top fade throw, and Gerber was able to expose it multiple times.
Michigan broke twice in a row for half at 8-5 and put Illinois in a tough position after several bad goal line possessions. Knowing that MagnUM didn't have the downfield athleticism to match up, Jacob Cuthbert, Joey Kennedy, and John Kulikowski excelled at getting key touches and collecting goals to keep Illinois' hopes alive. Freshman Kennedy was a particularly calm and effective presence in the Illinois comeback. Illinois brought it back to one at 10-9 in a game to 11. With shortened rounds, Illinois didn't have enough time to pull any closer. Schwallie hit a streaking Stautberg for the final hold and a chance at the regional finals.
All-Tournament Team
Jared Schwallie (Michigan)
Nicholas Gerber (Michigan)
Adam Stautberg (Michigan)
Alex Henderson (Indiana)
Jason Vallee (UChicago)
Conner Henderson (Indiana)
Joey Kennedy (Illinois)