With a target on their back, UNC emerged from a competitive Atlantic Coast.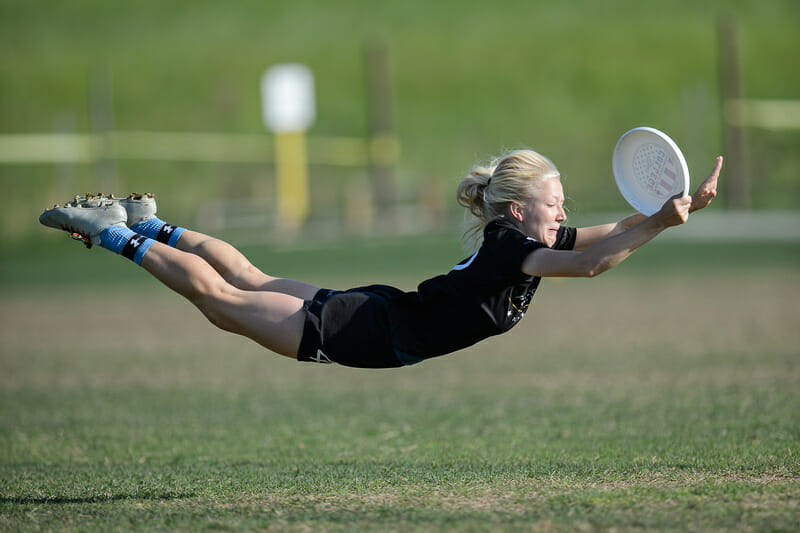 Ultiworld's 2019 postseason coverage of the D-I Women's division is presented by VC Ultimate, the official gear outfitter of the Premier Ultimate League.
Axton, VA — With the exception of a dreary championship round on Sunday, the idyllic hills provided the backdrop for a weekend of heroism, desperation, and dejection. Triumph, however, was in short supply. Of the sixteen teams in attendance, only UNC Pleaides managed to extend their seasons. They will represent the region in Austin.
On a clear spring day in the Virginia piedmont, adjacent the brilliant, forested hills poised above a picturesquely languid Smith River, you could forget the reason you'd traveled there. But the momentary stupor would be short lived, broken by the bellowing celebration of a delirious horde from your sideline on your periphery. That was Atlantic Coast Regionals.
A glance at the final score of the women's championship — a 15-3 drubbing of #24 Clemson — suggests that #4 North Carolina Pleiades' path to Nationals was a cakewalk. The game wasn't even as close as the final score would lead you to believe: UNC took half 8-0, and most points were never in doubt. The Tiger Lilies, coming off of a win against UNC Wilmington that lasted the full two hours in spite of a lopsided 15-6 final line, simply did not have the gas mentally or physically to hang with the composed, athletic favorites. With a little less fatigue, the Rachel Conway-led Clemson squad could have played the champs closer. Alas, the UNC program is one of the best in the country right now, a surefire quarterfinalist in Austin, at least. While 15-3 is an outsize margin for any regional championship, a comfortable victory for Pleiades had been in the cards.
But if there was little surprise in their tournament victory, the challenges they faced in bracket games against Virginia and South Carolina more than made up for it. In the quarterfinal, tournament no. 7 seed Virginia Hydra played with a sense of purpose on offense that I had not seen from them at all earlier in the weekend. They were isolating cutters, hitting the disc at top speed, and throwing or pivoting decisively — honestly, on offense they looked for all the world like a Pleiades doppelgänger. The performance was enough to keep UNC's top-tier defenders away from the disc most of the time, and the 13-9 final score testified to the worthiness of the effort.
After the stiff challenge from Virginia came an even stronger push from #25 South Carolina Scorch. USC began the semifinal on a 4-1 run and went on to take half on a beautiful backhand huck to space that not even the speedy UNC defense could get within ten yards of. South Carolina are a bit of a one-note team, but it's a good note. "That zone, they have it down. They implemented their plan well," said UNC assistant coach Lindsay Soo.
Scorch have been perfecting their zone over the last couple of seasons. Except for a few frantic moments in transition now and again, they don't run any other defense. It's got a wide four-person front wall with an obnoxious mark, wings that frequently pinch to cut off passes to the center, and Julianna Madigan, who plays much bigger than her average height, roaming around the deep space to pick off punts and mistakes. The look completely overwhelmed their pool play opponents, and it had UNC looking like they might go down in the same way.
Pleiades blinked, but they did not buckle. Soo is pleased with the way her team responded to adversity: "In the past we haven't been the best at handling emotional up-and-downs. But [the team was] very aware of what we needed to do. They kept the season going."
A portion of the credit for UNC's resolve belongs to their freshmen. Dawn Culton and Ella Juengst remained focused in spite of their youth and left their fingerprints all over the semifinal. Juengst played particularly well in the second half, scoring several goals to help Pleiades take and extend a lead. "We love our rookies," said Soo. "Several of them have been playing for longer than our seniors." Their long familiarity with the rhythms of the game showed. Combined with a typical smattering of highlight reel plays from Rebecca Fagan and Anne Worth, it was enough. UNC outscored South Carolina 6-1 out of half to take the game.
UNC are in a good place heading into Nationals. They've got as much top-end talent as anyone in the country, and their reputation for making big plays on the disc will precede them into any matchup and make opponents fearful. But they're going to have to play more efficiently in order to get the better of the other top teams consistently over a long weekend. Their trickier-than-expected run to the Atlantic Coast championship may have been just the thing to help spur them to a title.