The stories we're watching for one of the key events of the spring season.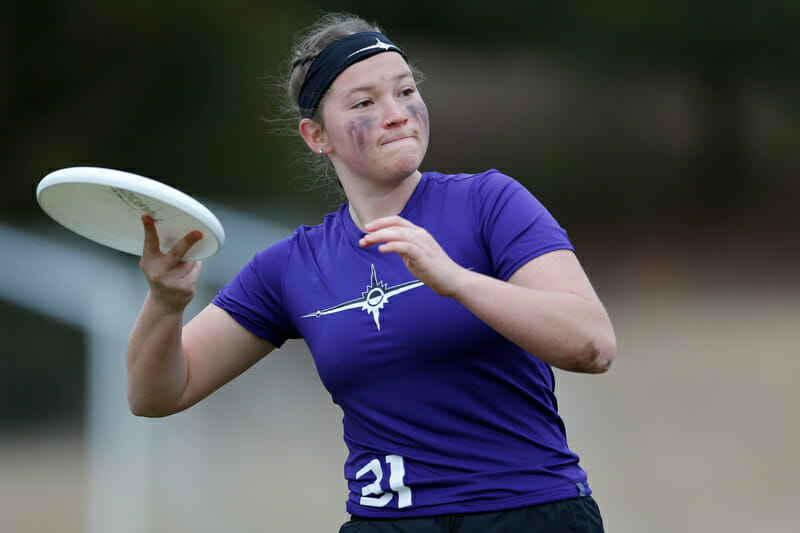 Our 2020 college coverage is presented by Spin Ultimate. Please support the brands that make Ultiworld possible and shop at Spin Ultimate!
Queen City Tune Up annually provides one of the best lineups in the D-I women's season. This year is no exception. The top three ranked teams in the country, along with impressive clubs like Georgia and Tufts, indicate we'll likely see some competitive matchups with long-term implications. But beyond even the bracket battles on Sunday, teams on the margins are hoping to position themselves for potential strength bids or hone their skills in the pursuit of a strong season. Upsets are often par for the early-season course.
Tournament Profile
Date: February 8-9
Location: Charlotte, NC1
Weather: Mid 50s, partly cloudy
Top 25 Teams: 6
Filming Schedule
These games will be available online next week for Ultiworld Full and Plus subscribers (and teams with a Team Pack!)
Saturday
12:30 PM2 – Virginia vs. Michigan
2:00 PM – Tufts vs. Clemson
3:30 PM – Ohio State vs. South Carolina
Sunday
Final
Carleton or North Carolina?
This has been the major debate of the preseason. These two powerhouse programs are the major frontrunners of the women's division, with hot debate even among our own staff about which is better. #2 North Carolina has the experience, having been in big situations and won big games. #1 Carleton is still young, but with few important losses from their 2019 roster. This is the first tournament of the season for both teams and theoretically puts them on a level playing field. However, a recent update from the UNC squad is that their star fifth year and POTY frontrunner Anne Worth fractured her throwing hand and will not be playing this weekend in Charlotte.
This significantly shifts the odds in favor of Carleton. Last year, the two clubs entered QCTU with the Pleiades ranked #3 and Syzygy at #4 before the home team handled Carleton 15-10 in the semifinal round. Given the other talent at this tournament, it's possible the teams may not even see each other this time around. Expect the bench to get plenty of run for the North Central squad as they stretch their outdoor legs, show off their new rookies, and continue to build for the promising 2020 run.
UNC will have the chance to show the strength of their depth, or at least get some quality reps in for their other veterans and supporting cast. The team's fortunes without their trump card, Worth, are difficult to forecast. There's still plenty of talent on the roster to steer them to winning their pool, but should they cross paths with the other top seeds, they might find themselves really missing their veteran star. Those within the team and looking on will have a clear chance to evaluate the rest of their roster in meaningful action.
Opportunity Ahead for Ohio State
#3 Ohio State squeaked out a win over the reigning national finalists Dartmouth at Florida Winter Classic last month. Fever still have a strong squad with a pair of All-Americans in Emily Barrett and Cara Sieber, but their full potential is unclear. Queen City was set up to be a great measuring stick for how wide the gap is between the top two and the rest of the field. Instead, given North Carolina's absences, Fever has an opportunity to win the whole event.
If all goes to seed, Fever will catch Virginia in the quarters. Even more interesting would be a potential semifinal matchup with UNC. While North Carolina and Carleton have been the assumed finalists for this and many future tournaments, without Worth, UNC may struggle to make it all the way. OSU will have to pounce on the opportunity to bump out the #2 ranked team to make it to the final.
Ohio State's first effort this season went well and their depth looked solid. This weekend provides a much tougher test for standout rookie Grace Conerly — enjoying a bit of a homecoming, heading back to the state where she played youth ultimate — Madison Fleming, and company. Fever's pool provides a variety of types of opponents, giving OSU different looks to build their adaptability. They could put an end to the Big Two conversation quickly.
Pool Play's Top Matchup
What will probably be the most exciting pool play matchup of the tournament is the Pool D clash between no. 4 seed Georgia and no. 5 Tufts.
While we saw a weakened #16 Georgia underperform against Dartmouth and Ohio State at Florida Winter Classic, with the return of sophomore handler Marie Perivier, Georgia will have another chance to shine. She is a huge driving force for the team along with Josie Veal. Although UGA is seeded above #6 Tufts in the tournament, Ewo is the favorite in Ultiworld headquarters. The New England team seems likely to take the upset to win the pool. Margo Urheim was a top player in the country last season and they return handler Hannah Wells after a semester abroad last spring. Ewo won QCTU in 2017 and reached the semifinal last year,3 and winning the pool would put them in a great position to continue their run of success at this tournament.
However, this is Tuft's first tournament of the spring, and there will likely be some kinks to work out. Additionally, both teams may have more trouble on Sunday due to the extra game — against Saturday-only BYU — and no byes they have on Saturday. Although the games are shortened — played to 11 — this will certainly make the pool winner's path to semis more difficult than anticipated.
Battle for Title of Atlantic Coast's Top Challenger
What can #23 South Carolina Scorch do this weekend? We have been anxiously awaiting their arrival at a competitive tournament since their stellar 2019 regular season and impressive performance at last spring's AC Regionals, where they almost upset UNC in the regional semifinal. Although they ultimately finished fourth in the region, they won't be sneaking up on anyone this spring and are the favorite for the second spot in the Atlantic Coast this time around.
Their suffocating and ever-present zone is insurmountable for teams without strong throwers, and still very challenging for more talented teams in windy conditions. Will they have enough raw athletic ability to power through the tournament and manage upsets? Or will they need more experience against high-level competition before that can happen? The team went undefeated in the 2019 regular season, finishing just outside the bid cutoff after failing to see many elite teams on the road to the Series. They've redesigned their season plan for 2020, whether that be to increase their chances of getting a bid or ability to win the games that matter come April.
Virginia is also a question mark. Hydra went handily undefeated at their home tournament, Winta Binta Vinta against regional competition to kick off their season last month. With a strong programmatic history of success — they made five consecutive quarterfinals appearances from 2013-2017 — this iteration of UVA is young, but has been building back up over the last two seasons with a large roster and dedicated coaching staff. It's difficult to imagine them upsetting Carleton, but their performance in the bracket and consolation play will be telling for their place in the regional hierarchy. If they are going to climb the regional ladder, it will likely start here.
Pittsburgh's Problems vs. Potential
In 2018, Pittsburgh Danger surprised the division by upsetting top teams to make it to the semifinals of Nationals. And in 2019, after the loss of Carolyn Normile (although retaining her as a coach), they went disappointingly winless in Austin. It'll take quite an effort to reach the Queen City Tune Up final, as they did last year.
In the fall, Pitt showed some promising results, including a one-point win over regional rival Ohio State. They started off in our preseason rankings at #24, but dropped recently after some early season tournaments put other unranked teams on the map. Losing Miranda Kosowsky, who may have been their top playmaker, will be tough to overcome given who they graduated.
This will be Pitt's chance to put their name back on the national contender table. Their first real test of the spring will come in their fourth pool play game against North Carolina. Jessie Sun and new acquisition Annelise Peters form a solid backfield core, and the addition of experienced coach Lauren Boyle could help Pitt outpace our projections. On Sunday, they will likely have to upset Georgia or Tufts in the quarters in order to advance in the bracket.
Weather
As is the case with many spring tournaments in the area — see: Commonwealth Cup 2019, QCTU 2018 — weather is unpredictable and seldom cooperative. According to the tournament director, although this weekend's forecast is pleasant, the fields are currently soaked and may be unplayable if the storm on Thursday comes through as predicted. While there are backup fields, they are over an hour away in Winston-Salem. Although the schedule would likely remain the same, who knows what chaos this could bring to game-day performance.
Quick Hits
Clemson had an impressive second-place finish in the AC region in 2019, but lost their best thrower and one of the best players in the region, Rachel Conway. They may struggle to maintain their regional standing this spring. Tiger Lilies have mostly been on the upswing in the Atlantic Coast, but QCTU may show if they've peaked or if their program has strengthened the foundation behind their recent success.
Brigham Young comes in as the last seed in the tournament. They will have five games on Saturday to try to perform better than they did at Santa Barbara Invite. Other squads in Pool D — Georgia, Tufts, Clemson, Duke, and Notre Dame — will have to dominate CHI if they have any chance of jumping in the rankings. BYU is the only connection to the West Coast that many of these teams will see this spring.
Vanderbilt VUDU are making their QCTU debut. They, along with Georgia Tech, will hope for a strong showing this weekend to bring some ranking points to the Southeast. Both teams have plenty of reason to believe they could upset the Atlantic Coast teams in their pool and break their fairly low seeds.
---
Rain Backup Site: Winston-Salem, NC ↩

All times Eastern ↩

2018's bracket was mostly rained out. ↩