UNC and NC State advance in very different fashions.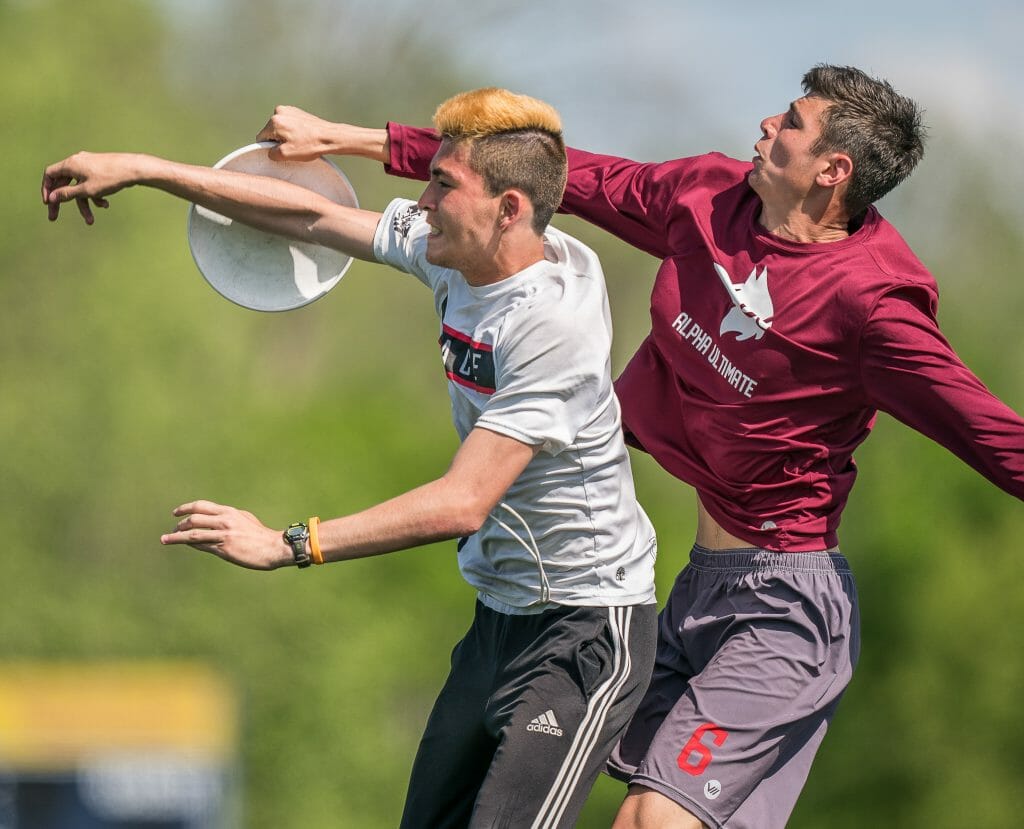 Ultiworld's Men's Division college coverage is presented by Spin Ultimate; all opinions are those of the author. Please support the brands that make Ultiworld possible and shop at Spin Ultimate! 
Axton, VA — With the exception of a dreary championship round on Sunday, the idyllic hills provided the backdrop for a weekend of heroism, desperation, and dejection. Triumph, however, was in short supply. Of the sixteen teams in attendance, only UNC Darkside and NC State Alpha managed to extend their seasons. They will represent the region in Austin.
On a clear spring day in the Virginia piedmont, adjacent the brilliant, forested hills poised above a picturesquely languid Smith River, you could forget the reason you'd traveled there. But the momentary stupor would be short lived, broken by the bellowing celebration of a delirious horde from your sideline on your periphery. That was Atlantic Coast Regionals.
Top Seed UNC Cruises to Third Straight Regional Title
#2 North Carolina Darkside closed out a dominant regional championship of their own. Unlike Pleiades, Darkside never faced a true test. They cruised through pool play and the first two rounds of bracket play. Then, for an encore, they laid waste to #15 NC State Alpha in the final. (Alpha, it must be said, seemed to have their eyes on the game-to-go from the second point on.) The score was 15-2, by far their largest victory margin of the tournament. It was as complete a weekend as the defending national champions could have hoped for.
Captain Matt Gouchoe-Hanas — referred to by the coaching staff as "coach" at one point — offered some perspective on the team's performance after the game: "The thing that stood out to me was how much this weekend was a team game. You saw a lot of fresh starting players [because] the depth players made plays and converted breaks." Since at least Easterns, in fact, UNC have been rotating more players into their O- and D-lines and placing starters in less familiar roles. This includes Gouchoe-Hanas, an O-line mainstay for years now: he played five of the first six defensive points in the final. "I like crossing over a lot. I like playing in the big points that matter," he said.
It's a stretch to say that UNC's march through Regionals featured many such points. Then again, Darkside played as if every point were a big one that mattered. They maintained a high level of focus throughout the tournament. Gouchoe Hanas agreed: "We're playing to win Nationals."
The Second Bid Scramble
Given the uneventful way in which Darkside took the region's first ticket to Nationals, the battle to secure the second was refreshingly frenetic. Seven teams other than UNC entered Sunday with a real shot at Austin. Three of those had already, in pool play, lost to teams that were eliminated in the backdoor prequarters late Saturday afternoon. It was a fine mess.
#23 UNC Wilmington, having already done their region a bad turn in losing a potential third bid at Easterns, attempted to complete a full pivot to heel by stepping to the head of the line, anyway. With Connor Russell playing like a man possessed, they came pretty close to pulling it off. They won their pool to earn a spot in the championship semifinals, but consecutive losses Sunday at the hands of two deeper teams, NC State and Maryland, ended the Seamen's season. It would appear that the injury sustained by Rick Hennighausen was one of the costliest in all of college ultimate this spring, and we are left to speculate how high Wilmington could have risen with him on the field.
Like Russell, Johns Hopkins' star transfer Gabe Hernandez did all he could to lead his team through the grueling Atlantic Coast bracket. The Callahan winner was every bit as good as his sparkling résumé. Using a conservative style built around resets and red zone patience, Hernandez ran the Johns Hopkins offense while expending as little energy as possible. He almost single-handedly eliminated Virginia in prequarters, and he played every point along the way to narrow Sunday upsets of William & Mary and Virginia Tech. For that three-game span, it seemed like opponents' only answer for him was to wait for a miscue. Hernandez's miscues, however, were rare, and his moments of brilliance all too common. But nobody, not even the great Hernandez, can sustain that level of play point after point without eventually yielding to the effects of fatigue. In the backdoor semifinal against Maryland, he finally found open reset looks hard to come by and started to miss on more of his finishing shots in the red zone. Johns Hopkins settled for fourth place. Still, it was a legendary performance from one of college ultimate's best.
NC State Alpha and Maryland Space Bastards met in the game-to-go. History was on the side of the Space Bastards. They had players on their roster who had already been to Nationals in 2015 and 2018, the latter of which required a run through four elimination games at Regionals. (They had already equaled that total at 2019 Regionals: the game-to-go was their fifth.) Meanwhile, NC State had a tradition of missing the big dance since before many of their players had ever touched an Ultrastar. On the other hand, NC State were perhaps the fresher team, effectively having played only one game (to Maryland's three) on Sunday after they rested their starters against UNC in the final.
The game took a turn in Maryland's favor early, with NC State's star defender Trevor Lynch injuring himself on a bid. He did not return. Alpha's offense looked shaky, too, and Maryland earned the game's first break to take a 4-2 lead. After the game, I asked Alpha captain Michael Lee whether he was worried at the time. "No. Not at all," he replied. Bold words. As for me, I held a less sanguine view of Alpha's chances, mostly because of how well the Maryland defense was playing. Coach Darryl Stanley and his D-line players succeeded in implementing a clever, coordinated system of switches and sags. It resulted in remarkably few clean deep looks before high stall scenarios, and regularly forced offenses to resort to third, fourth, and fifth options. The effect was not dissimilar from New York PoNY's schemes in the 2018 club season. Opposing offenses simply played worse against Maryland than against other teams.
As it turns out, though, there was a reason Lee was unfazed by the early deficit. He admitted that Alpha were nervous in the week leading up to Regionals. "We had a meeting on Friday where we went over all our goals from the whole season, going back to the fall," he explained. What they realized during that detailed review is that they had done everything they set out to do from a training and team-building standpoint. At that point, they figured, there was no way they wouldn't make Nationals.
True to their vision, Alpha remained calm and righted the ship. Cutters slipped into new spaces before the Maryland defenders could rotate. Rhys Gretsch, Bailey Laberteaux, and Conor Chickos started to find better windows for their hucks. Dylan Hawkins and Matt Tucker began to make plays deep. Austin Von Alten sprung up for a monstrous sky over an incredulous John Walden. When the rubber pellets settled — the teams elected to play the game on a turf field — NC State had roundly defeated Maryland by a final of 14-9 and ended the ten-year Nationals drought. Tucker, holding the disc in the end zone as if unaware how to handle the moment, let the celebratory mob come to him.
The loss takes a little of the shine out of an otherwise bright weekend for Maryland. Their comeback against Wilmington, in particular, was a banner moment for the team. In the end, though, the demanding bracket schedule may have worn out the Space Bastards. "Our play on Sunday was a good indication of the depth of the program," said Stanley. "But the top end ran out of gas." It's hard to argue with his assessment, especially given the way the more rested NC State starters continued to make plays deep into the game. Captain Rudra Menon and Walden, among others, played wonderfully most of the weekend, but they showed signs of fatigue by the end of Sunday. Stanley anticipates making some adjustments next season to focus on durability as a main point of conditioning.
Alpha aren't looking ahead to 2020 just yet. "Let's go win Nationals," said Lee about his team's next steps. "It's not a happy-to-be-here. We're going to go smack on some teams." He considered his words for a moment before adding, "Get buckets and make money."