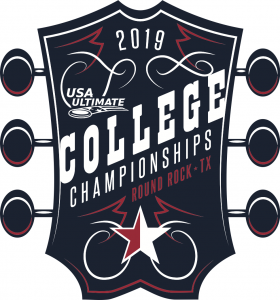 After two exciting weekends of Regionals, we now have the full field of teams and the latest rankings update from USA Ultimate. It's time to start thinking about what the seeding and pools might look like for Nationals.
This is the fourth year that Regionals finish does not bind seeding at Nationals. Please note that we do our best to follow USA Ultimate's guidelines for seeding: USAU's post-Regionals rankings are very heavily weighted, head-to-head wins matter at the margin, and historic success is considered. We do not explicitly try to avoid regional matchups.
Let's kick things off right away with the pools generated by my predicted seeding.
| POOL A | POOL B | POOL C | POOL D |
| --- | --- | --- | --- |
| UNC (1) | Brown (2) | Pittsburgh (3) | Cal Poly SLO (4) |
| Ohio State (8) | NC State (7) | Oregon (6) | Colorado (5) |
| Georgia (12) | Texas (11) | Wisconsin (10) | Washington (9) |
| Minnesota (13) | Michigan (14) | Tufts (15) | Northeastern (16) |
| Cal (17) | Iowa State (18) | Victoria (19) | Rutgers (20) |
1. UNC
#1 ranked team, defending champs, obvious #1 seed.
2. Brown
#2 ranked team. Easterns champs. Clear #2.
3. Pittsburgh
The first real question mark. Pitt is the #3 ranked team, and rankings are king. But could USAU punish the team for losing the Ohio Valley final to Ohio State? I say they'll go with the rankings.
4. Cal Poly SLO
The #4 ranked team. Southwest champs. Top team from the west at Nationals.
5. Colorado
Here's my first of just two swaps compared to the rankings. Colorado has a head-to-head win over Oregon, and the teams are just 12 points apart in the rankings. It makes a lot of sense to reward Colorado for that win since it prevents a rematch of Oregon and Washington in pool play.
6. Oregon
If they don't go here, they'll likely go at #5, unless USAU gets crazy with Pitt!
7. NC State
My second swap. NCSU has a head-to-head win over Ohio State and the teams are separated by a small margin in the rankings. This prevents a UNC/NCSU rematch in pool play. To be clear, USAU doesn't go for changes simply to avoid regional rematches, but when the justification is there otherwise, we have seen them make a swap.
8. Ohio State
You could definitely see OSU go at #7. Ohio Valley champs.
9. Washington
Almost certain that Washington will go at #9.
10. Wisconsin
The third place finisher at North Central Regionals will be the highest seeded team from the region at Nationals!
11. Texas
Not only does Texas slot here in the rankings, they also lost H2H to Wisconsin and beat Georgia. Lock.
12. Georgia
Southeast champs.
13. Minnesota
Rankings land the North Central champs at #13.
14. Michigan
No reason to move Michigan out of their position in the rankings.
15. Tufts
Tufts is ranked quite a bit higher than Northeastern.
16. Northeastern
It gets very clear at the bottom due to large differentials in team ratings.
17. California
The second-place finisher from the Southwest will be the first of the five seeds.
18. Iowa State
The shock qualifiers from the North Central will be the 18th seed.
19. Victoria
Thank you to BYU!
20. Rutgers
Rutgers' thrilling win over UConn this weekend won't get help them escape the last seed at Nationals.