Chevron shines above a competitive field in Bruges!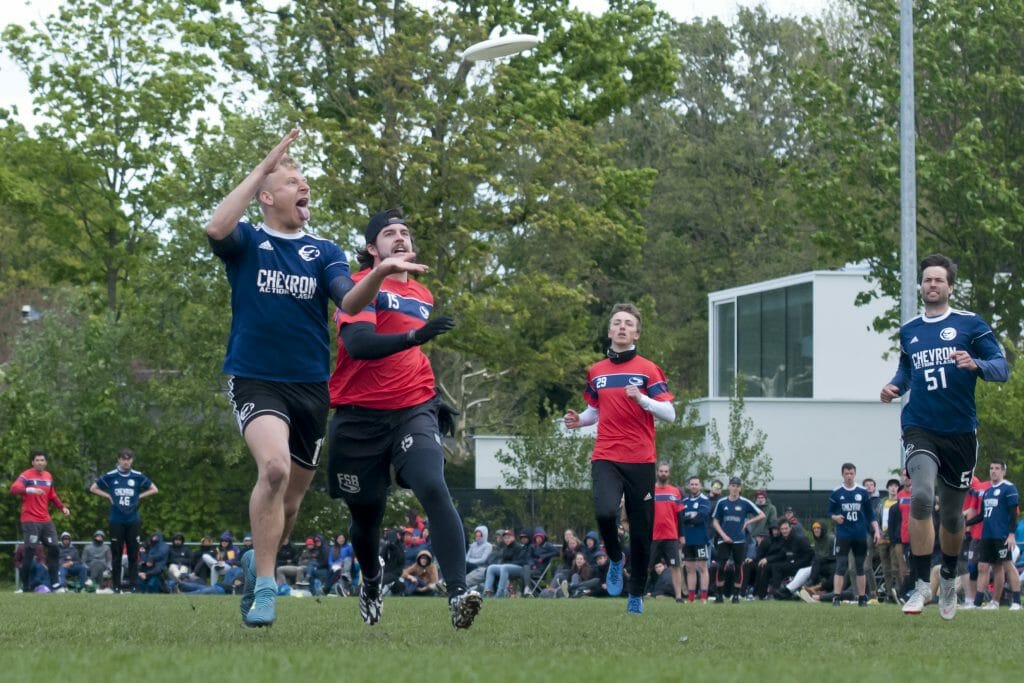 Ultiworld's coverage of Tom's Tourney is presented by VC Lookfly; all opinions are those of the author. Please support the brands that make Ultiworld possible and shop at VC Lookfly!
All hail broke loose at the 27th Anniversary of Tom's Tourney last weekend. The only thing more crisp than the delish Belgian beer being served was the icy north winds that swept across the beautiful city. While the weather was harsh, the ultimate was sublime. It was discovered during the weekend that you can have fun and be good at sports. Here's how things went down at Colin Farrell's favorite tourney.
Chevron Action Flash Hold Their Nerve
Chevron Action Flash from the UK take their first ever Tom's Tourney title with a comprehensive win in the final. The men from north of London were the only team at the event to go undefeated all weekend but they did have some close calls on their road to victory. Sudden death wins against Craic Dealers 2.0, Tchac, GB U24 and CUSB LaFotta51 demonstrated that this team has the confidence and character to be champions. Rumors circulated before the first game that top seed Chevron wouldn't have a lot of their big stars. Ben Burak and Dom Dathan did not make the trip over and Rollo Sax Dixon was nursing an injury. However, this allowed for others to step up. Tom Bennett made the transition from mixed team SMOG this year and looked right at home. He recently got cut from the GB Men's team but played some stellar offence all weekend. Joe Wynder looked like the best handler in Europe at times rifling half field hammers. After some hard fought games, Chevron demolished Freespeed in the final. The Swiss didn't have an answer for the Brits' athleticism and they struggled to get any foothold in the game. Chevron look like a team that could do damage in Europe this season and are definitely not bottlers.
Freespeed Continue to Grow
Freespeed had a rough final. Luca Miglioretto tried a few of Joe Wynder style big hammers but his team mates struggled to reel them in. Throughout the rest of the tournament, though, there were a lot of positive moments from the Basel men. They tactically dismantled a strong Belgium U24 side in the semi final. Playing zone for most of the match meant that the Jonkers brothers never had the space downfield that they wanted and they eventually took the bait of throwing one to many overheads. Freespeed were being tight on the rules calling plenty of travels and even a few offsides which stifled the young Belgians. Although they didn't win, they managed to blood some new rookies in high level ultimate scenarios, including some big wins against CUSB LaFotta51 and Wall City and also a surprising loss to the Sexy Devon Fish Monsters. Like last year, Pieterjan (PJ) De Meulenaare didn't look fully fit and they will need him at his best if they want to win big in Europe this season.
Belgium U24 Take 3rd Place
There's been a lot of talk about the Italian U24 men this season but the Belgian outfit are doing their best to steal the limelight. The young men couldn't hold it together against a Freespeed zone in the semi final but played incredibly well for most of the weekend. They won the bronze medal match with ease over the Parisian side, Iznogood, who looked more surprised than anyone to have made it that far in the tournament. One year after their breakout tournament and the world won't stop talking about the Jonkers brothers but there was other players like Arthur Feller and Arthur Vande Weghe who made big contributions. Right now they look like the second best U24 team in Europe with GB U24 struggling to push for big wins.
Bologna Boys Show Up Big
Both CUSB LaFotta51 and Red Bulls both made it to the quarter finals of the event which is amazing when you consider that many of the best players from Bologna were watching the live stream at home. Fabio Coppi played like a well aged Andrea Pirlo all weekend for the older lads while Alessandro De Lucca was unstoppable for the much younger Red Bulls. LaFotta51 put up a valiant effort in the quarters against Chevy but their zone could only get them a double game point loss. The youngsters looked like title contenders throughout the group stages but Red Bulls wings were chopped by Iznogood in a low scoring affair. LaFotta51 won the battle for Bologna keep their pride over the wee ones for another year. Cota Rica Grandes finished 8th after a good run in the group stages but ran out of gas come the knockout stages. The roster of few ended up forfeiting their last game against the Red Bulls because they were completely spent.
Talking Points For The Season Ahead
Current US National Champion and PoNY player Conrad Schloer took to the fields for Berlin side, Wall City, this weekend. Rumor has it that he has moved to Berlin in order to play with the German National Team which he is eligible for as a dual citizen. If this is true Germany have picked up one of the best defenders in the world right now and PoNY will probably win nationals without him. Iznogood might win french nationals this year, particularly if Kevin Ou plays as well as he did all weekend. Alba from Scotland can be an elite club in Europe. Bottom seed New Age from Israel looked like a solid team and looked more than ready to compete with the best. Devon are still the sexiest team in the world and are rather good at sock wrestling.
Full list of Results can be found here
Streamed games are available on the Tom's Tourney youtube channel