Our wall-to-wall coverage of the College Championships starts this weekend!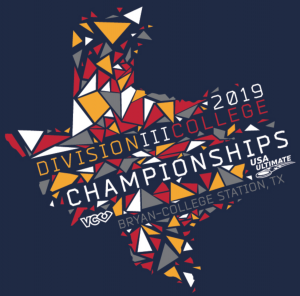 Ultiworld is thrilled to announce that, in partnership with USA Ultimate, we will be streaming four games LIVE from the 2019 Division IIII College Championships in College Station, TX, on Sunday, May 19th, and filming five additional games on Saturday, May 18th, for tape delayed release to Ultiworld subscribers.
Below is the full filming and livestreaming schedule. All live games will be easily accessible on our Live page alongside our extensive reporting from the tournament or can be found on USA Ultimate's YouTube channel. Ultiworld live game replays and recorded games will be available in our archives to Full and Plus subscribers.
If you enjoy the games and our reporting, please consider getting an Ultiworld subscription!
All times Central.
Saturday, May 18th [TAPE DELAY]
8:00 AM: Puget Sound v. St. Olaf (W)
9:45 AM: Portland v. Mount Holyoke (W)
12:00 PM: Michigan Tech v. Franciscan (M)
1:45 PM: Carleton GOP v. Colby (M)
3:45 PM: Women's Prequarter
Sunday, May 19th [LIVE]
8:00 AM: Men's Quarterfinal
10:00 AM: Women's Semifinal
12:00 PM: Men's Final
2:00 PM: Women's Final