Breaking down the favorites, the stars, and even making some predictions.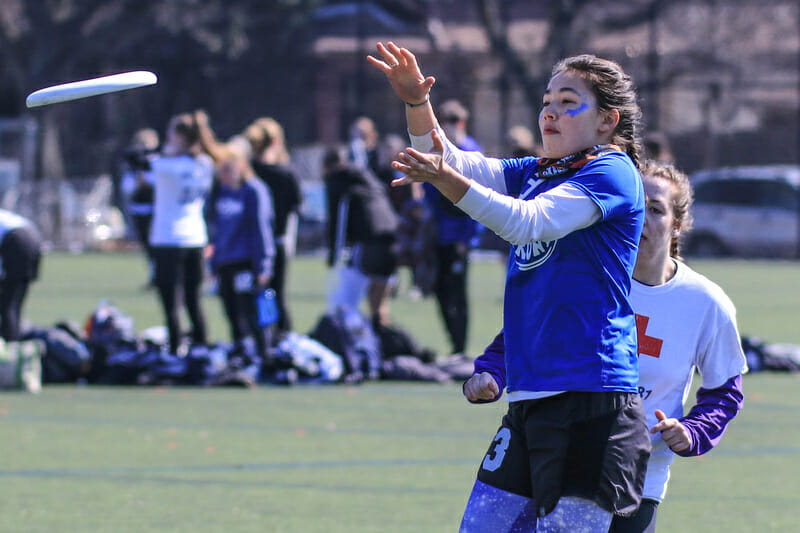 Ultiworld's 2019 D-III College Championships coverage is presented by VC Ultimate, the official gear provided of the Premier Ultimate League.
The D-III College Championships are bringing together a colorful cast of characters in College Station, TX for a winner-take-all showdown. In a division where teams often have very few games, and even fewer between one another, and attendance for seniors is often up in the air, seeding is akin to gambling and that leads to very exciting results. The talent in D-III has been on the rise year after year, and the stars will be out in Texas. Let's look at each pool, it's favorites, players to watch, biggest game, and foolishly attempt to predict the outcome.
Tournament Profile
Date: May 18-19, 2019
Location: College Station, TX
Weather: Saturday is projected for a high in the low-80s, 15-20 mph winds, and a high likelihood of thunderstorms in the afternoon. Sunday may start off with some residual showers or thunderstorms in the morning, with some sun and light winds and a high approaching 90 degrees in the afternoon.
Top 25 Teams: 15
Livestreaming and Filming Schedule (Tape delay Saturday, Live Sunday)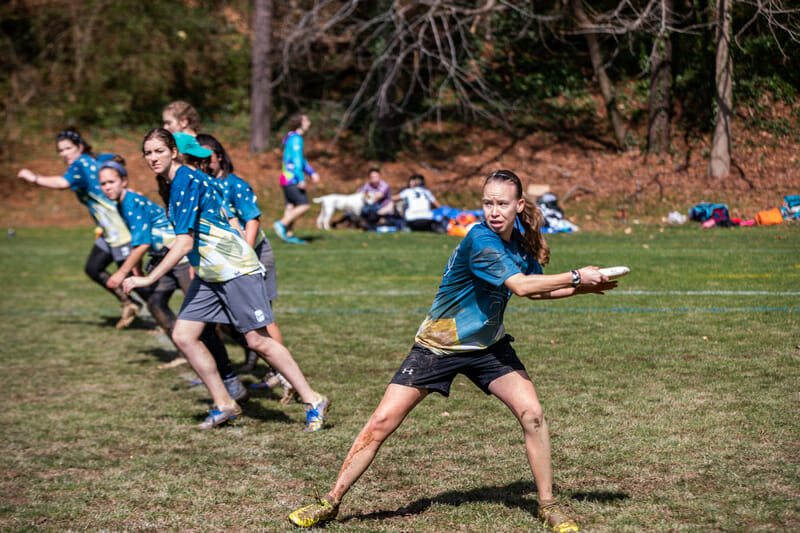 Pool A
The Teams
Favorite to Win the Pool
Has there been a Nationals Pool A where the no. 1 overall seed isn't the favorite? With Bates' status as the oppressive top team in the division well established, Pool A is theirs to lose. If the weather conditions are less than idyllic, all the better for the team with the most powerful thrower in the division, some strong supporting handlers, and a healthy dose of experience. But Wesleyan is no stranger to playing spoiler, eliminating a talented RPI club to reach Nationals, putting their uneven regular season performance in the rear view. Seeded behind them but ranked above them1 is Lewis & Clark, whose close results against no. 4 seed Puget Sound paint them as a trapdoor for unsuspecting opponents.
Players to Watch
The pool may become a stage for the Wesleyan duo of Lily Gould and Sydney Taylor-Klaus. Gould powers the offense, comfortable in virtually any role or matchup. Taylor-Klaus acts more as a director from the backfield. While Lewis & Clark spread production out effectively over a roster anchored by a strong senior class, Ruby Hulman could prove to be a difference-maker with her quick handler maneuvers. She's flanked by Caley Moon, a consistent presence for Artemis. Brooke Hartman will be a central figure for North Georgia in their bid to score an upset, and her athleticism could prove problematic for the rest of Pool A. Her sister, Gabrielle Hartman, offers similar benefits, and Kay Mallett is the heartbeat of UNG. Oh, and there's Player of the Year frontrunner, Bates' Josie Gillett. She's alright, I guess. She and cutter Grace Warder are early favorites to top the tables in points scored.
Game to Watch
Rounding out pool play will be a matchup between Lewis & Clark and North Georgia, both first time attendees to the D-III College Championships. If things go to seed, both teams will be playing for their first Nationals win in program history, as well as a chance to compete in the bracket. While Artemis has seen a bit more of the top competition playing in the Northwest, UNG's athleticism could offer a surprise.
Pool Hot Take
The experience — both this season and over the past few years — of Lewis & Clark will power them to a strong pool play performance and more. They've played as many games against the field this season as the rest of the pool combined, albeit exclusively against Northwest foes, Puget Sound and Portland. But beyond that, they've also seen quality D-I programs, losing 11-10 to top 25 club Cal Poly SLO and earning wins against solid Northwest clubs like Boise State and Victoria. And they're laden with seniors and juniors. Upsetting Bates is a tall task, but Artemis may offer them the toughest competition in the pool, and start a run towards a strong Sunday.
Pool Prediction
Bates
Wesleyan
Lewis & Clark
North Georgia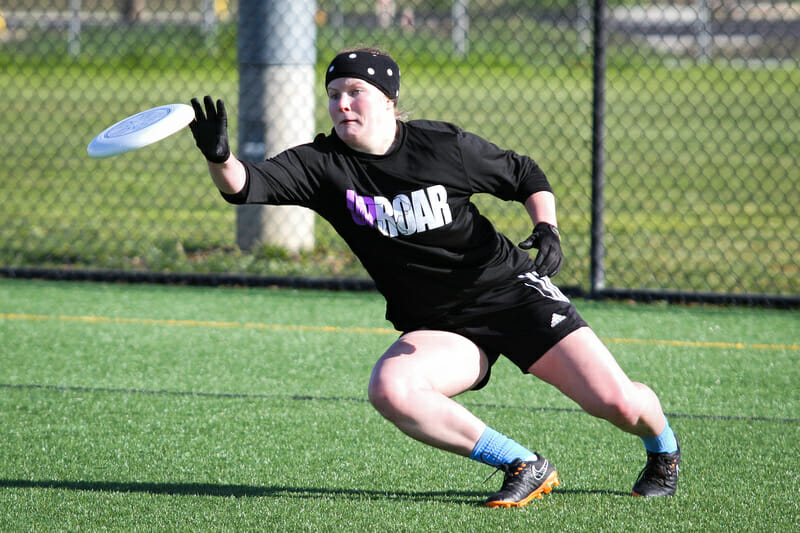 Pool B
The Teams
Favorite to Win the Pool
In last year's championship, Pool B was home to both finalists. This year, three powerhouse teams will be shouldering their way into bracket positions. Truman State comes in seeded second with an undefeated record in the regular season, but only a single game against Nationals attendees (a 13-4 win over poolmates North Park). But their roster is far from inexperienced, with nearly a dozen upperclassmen on their roster of 16 making their way to Texas, and seven D-III Nationals appearances behind the team as a whole. While it won't be easy, TSUnami will like wash out the rest of their competition in the fight for the top of the pool.
Coming in no. 7 seed is Portland and their more varied 16-8 record, which holds a bit more tack when considering a third of their games were against fellow Nationals teams. With only one Nationals appearance behind them, they've made a strong showing against teams at this level. They're 1-2 with Puget Sound, with an even score differential; also notable is their +8 score differential over Lewis & Clark across a 3-2 record.
Somehow just as notable as the first two is #11 Mount Holyoke, who are +9 over Wesleyan and -4 against consistent powerhouse Williams. Last in the pool is North Park, bringing a roster of 12 to their second Nationals appearance. All of the lower three teams have the possibility to step up and take the second spot – keep an eye on this pool if you're after upsets and drama this weekend.
Players to Watch
Hannah Finn-Erb and Sarah Frieze both had impressive showings at Nationals a season ago for Mount Holyoke during the team's run to quarterfinals, and North Park returns their two points leaders from their prequarters run in Erin Staurseth and Maggie Johnson. North Park's Kiersten Stenmark and Truman State's Zoe Rechav are both Freshman of the Year candidates that might make a push towards the award podium while helping their clubs find success.
Game to Watch
We'll be filming the Portland vs. Mount Holyoke game as they grapple for rank in their pool. In terms of dramatic ultimate, this game certainly holds the most clout and will be a must see. For those fortunate enough to find themselves at the fields, or following along on social media, keep an eye on the Truman State games against these two teams – an upset could always enter the picture.
Pool Hot Take
While the heavy rains and wind predicted for this weekend could prove an equalizer in other pools, all four teams in this pool will have plenty of experience playing in less-than-favorable weather. It could be the edge that the strong, but lower-ranked Portland and Mount Holyoke need to move up in their pool. Mount Holyoke has in particular faced gnarly weather this season, and it gives them an edge with the chance to take over against Portland.
Pool Prediction
Truman State
Mount Holyoke
Portland
North Park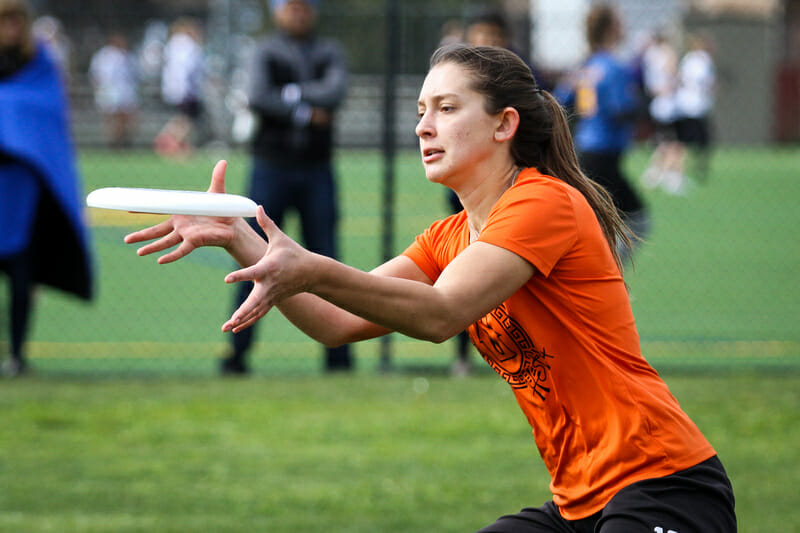 Pool C
The Teams
Favorite to Win the Pool
Williams is one of the most successful teams when it comes to dominating Saturday pool play. They won their pool as the top seed last year, and their 2019 iteration is just as talented and determined as recent years. Bracket play may be a different story, but they've got the chops after only losing to in-region top talent Bates and Middlebury within the division. Also with a fair shot is Oberlin, thanks to the spread of talent across their roster and clean offensive styles, even in the wind. They've got the grit and unending verve to make the best of any weather situation and play their way to the top if La WUFA lets up the gas.
Players to Watch
If there's one Donovan nominee video you shouldn't miss, it'd be Caroline Weinberg's. The Williams senior puts her body on the line, laying out and extending to keep the play alive or bring home the score. Abby Miller and Rachel Retica were also important playmakers in 2018–expect them to drive the offense forward even more for La WUFA. Oberlin will also be packing an offensive punch with the handling of Abby Cheng, PUL Columbus Pride star Zoe Hecht, and rock-solid consistent handler Helen Samuel. Watch for Rosie Rudavsky to also play the linchpin in their zone with a serious penchant for hand blocks. Carleton will get a lot of end zone looks to and from junior Katie Chavez and senior Kaitlin Schaible to get Eclipse on the scoreboard, and defensive pressure from Maia Kosek and Lena Nyblade. Occidental is full of young talent looking to make names for themselves; team leader and sophomore Nora Fujita-Yuhas will undoubtedly be headlining the stat sheet, but up-and-coming freshman like Sophie Havranek and Lily Hue among the massive rookie class will be worth watching.
Game to Watch
Once the jitters are out after the first round of play, things will likely heat up in the second round match pitting Oberlin vs. Carleton. This will be a chance for the Preying Manti to play against another team that's cut their teeth in windy, subpar weather conditions all season, and won't go down without a fight. Oberlin will also be seeking redemption after an early exit in 2018; they'll need to leverage their best cutting and handling combinations and fine tune strategy before their face off against Williams. For Eclipse, this will be the litmus test in determining if their rebuilding year of 2018–when they didn't even qualify for Nationals–has returned the program to powerhouse status. Of all of the pool games, Carleton has the clearest pedigree to topple the pool seedings, and a win over Oberlin would be critical in a campaign to win the pool.
Pool C Hot Take
With the strength of the teams in Pool C, a good number of matches should have small point differentials. Across the top three seeds and their cross matches, expect for close games and at least one game to go down to double game point. If topsy-turvy results happen, a tie breaker–going down to point differential–could mean the difference between heartbreak and a smooth path to the quarterfinals for the teams of Pool C.
Pool Prediction
Williams
Oberlin
Carleton
Occidental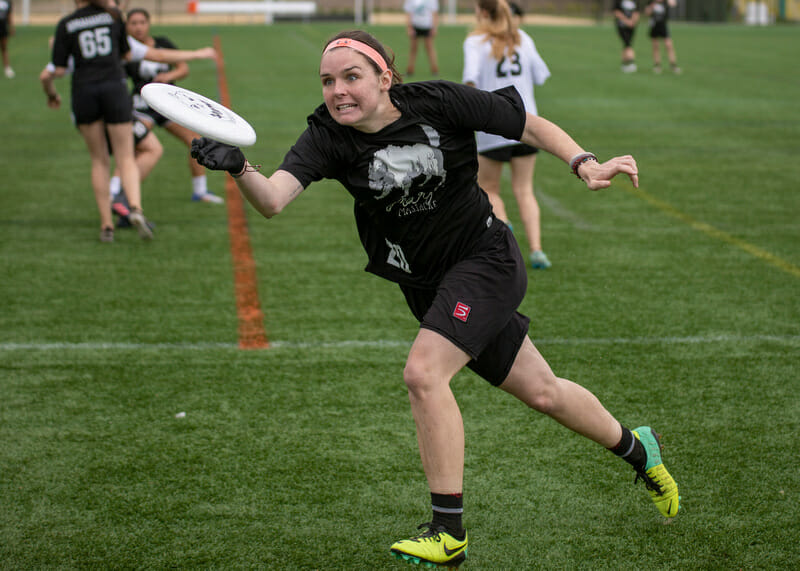 Pool D
The Teams
Favorite to Win the Pool
Pool D is definitely a close call this year, with powerhouse programs St. Olaf and Puget Sound squaring off against Nationals first-timer Middlebury and a Mary Washington team in their first championship appearance since 2013.
The favorite is Puget Sound, an unnervingly consistent program placing third at Nationals for the last three years in a row. Their 2019 effort will be hampered, if not hamstrung, by the loss of their senior captains to graduation. It'll be up to the younger players and the sting of memory as they play for their seniors on the path to breaking the curse, starting by ending Saturday at the top of the pool. St. Olaf is not to be counted out and should be given due as defending National champions, having proven themselves throughout the 2019 season as players have stepped up under the guidance of the impressive trio of coaches. They'll need to find producers on the field, considering their 2018 seniors accounted for over 85% of recorded assists–big shoes to fill for sure.
While Middlebury was unable to beat out Williams and Bates during the post season at New England Regionals, with their first year at Nationals they're unknown quantity may come in hand against other out-of-New-England teams. Their Achilles' Heel will be a lack of a coach, meaning added pressure on senior captains Allegra Molkenthin and Olivia Ryder to manage lines and team strategy.
Players to Watch
There's loads of talent to be had in Puget Sound's ranks, even missing senior players.The rookie to watch is Ally Constantino, an athletic Seattle-area native with gobs of youth experience and a fearsome backhand. Archie Gill will provide expansive air coverage for Clearcut as a downfield defensive force other teams will need to account for. For Mary Washington, Leslie Pullen and Sarah Hood-Recant serve as valuable handlers; Massacre's opponents at Regionals found that the team runs a formidable dump-and-swing game through those two. Additionally, look for Grace Stephan on defense in the deep field. Leading the charge to St. Olaf will be seniors Eva Cornwell and Kimberly Nissen, as well as standout junior cutter junior Kaitlyn Mulhern. On the Pranksters' line, Donovan finalist Olivia Ryder will demonstrate her cutting skills and her uncanny ability to find the open space, while seniors Allegra Molkenthin and Lily Barter will serve as key handlers.
Game to Watch
Eyes will want to be tuned in to Puget Sound vs. St. Olaf; Puget Sound lost to St. Olaf in the semifinals last year, so the match up early in the day will look to be a story of good old-fashioned vengeance or a replay of dominance. The other question of this pool is how Puget Sound and St. Olaf will fare against the Middlebury Pranksters in their D-III Nationals debut. After a likely quicker warmup victory against Mary Washington, Middlebury will get serious and ready to grind to upset the long-held dreams of Puget Sound and St. Olaf.
Pool D Hot Take
Let's not rule Mary Washington completely out on the weekend– they entered Atlantic Coast Regionals seeded no. 6, then went undefeated for the entire weekend. Mary Massacre might have another surprise up their sleeves this weekend, and has the best change to inject the exciting, underdog results that D-III can produce. Massacre knows it as well, calling themselves "wolves disguised as sheep."
Pool Prediction
1. Puget Sound
2. Middlebury
3. St. Olaf
4. Mary Washington
---
in our Power Rankings ↩