A cadre of Carleton underclassmen show their mettle as one of the division's finest plays her final game.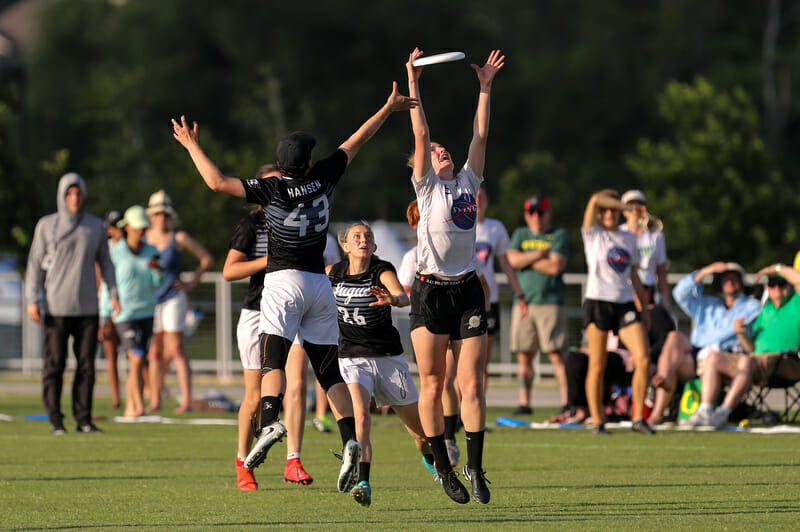 Ultiworld's 2019 coverage of D-I Women's Division is presented in by VC Ultimate, the official gear provider of the Premier Ultimate League. All opinions are those of the author. Please support the brands that make Ultiworld possible and shop at VC Ultimate!
Carleton Syzygy defeated Oregon Fugue 12-10 in prequarters to earn their first quarterfinals appearance since 2015. A late rally from Oregon made the scoreline look a little closer than the game really was, but Carleton won comfortably in a wind-dictated game to keep their tournament alive into day three of the tournament. In a game where working the disc upwind was a near impossible task at times, every upwind break was quickly followed by a downwinder, and Carleton's better depth of throwing ability proved to be the difference.
The game got off to a bizarre start. Neither team was aware that the start of the round was pushed back to 5:15 PM, and they started at the originally scheduled time of 4:45. They played three points before any of the tournament organizers noticed and brought them to a stop. After a lengthy discussion about whether the points would count or if the game would start back over at 0-0, the sides agreed to keep the opening three points. Carleton agreed to this despite being down a break, and play was put on pause until 5:25, which meant a stoppage of about 20 minutes, so that the winner wouldn't gain a competitive advantage in later rounds by ending 30 minutes sooner than the rest of the games of the round.
Oregon grabbed another break immediately after play resumed, a downwinder, to go up 3-1, but that advantage was forfeited when Carleton immediately answered with a hold and upwind-downwind break combination of their own to get the game back on serve at 4-3. After holds were traded, Carleton added another upwind-downwind to make it 7-4. Downwind holds were then traded into the half for an 8-5 Carleton lead.
Neither team looked particularly strong in the wind, but Oregon played almost entirely through Ella Hansen, who was clearly the only player on Fugue that felt comfortable throwing in the conditions. She had three of Oregon's five assists in the half, but even when she wasn't responsible for the assist, she was usually the one that put Oregon into scoring territory.
Carleton, on the other hand, could rely on a handful of different throwers. Freshmen Kate Lanier and and Ada Wright each had multiple assists in the first half, and juniors Maya Powell and Karen Ehrhardt were both comfortable throwing in the wind too. Powell, in particular was important for Carleton on their upwind points.
The teams traded holds out of halftime until it was 10-7, when Carleton was able to stack their third upwind-downwind break set to make it 12-7, effectively ending the game. Oregon held, got an upwind break of their own, and then Hansen got bookends to complete their upwind-downwind, but the late goals only served to make the final scoreline more flattering, as hard cap brought the game to a close.
It felt fitting that Hansen, who played all but one of the game's 22 points for Oregon, caught the final goal, considering what she's meant to the program over the course of her five year career. "Ella's been the backbone of this team," said Fugue coach Angela Tocchi. "We joke, like 'ride or die with Ella.' I think she might be one of the best ultimate throwers here at this tournament. I think she might be the best — hot take, there. She's great."
While the loss for Oregon felt like the end of an era for Fugue, the Carleton win signified the start of one for Syzygy. With just two seniors on the team, Carleton has relied on their young budding stars all season long, but their freshmen really stepped up against Oregon. They handled the oddity of the start of the game like a veteran-laden squad, not one filled with players that were all playing their first-ever bracket game at College Nationals.
"We came out of it strong," said captain Ehrhardt of the early stoppage in play. "We talk about not letting the uncontrollables overtake us, so I thought that was a good way to show that we've put that into practice."
The youngsters filled the stat sheet for Carleton, too. Lanier ended the game with a game high four assists and showed off why she's one of the front runners for rookie of the year. Wright added an assist and a goal to her two first half assists. All across the roster, freshmen, sophomores, and juniors led the way for Carleton, which indicates the strong future ahead of them.
Before looking too far into the future, though, they have a quarterfinal game against UC San Diego to look ahead to. They'll need to avoid the late game lapses that allowed Oregon to shrink their big second half lead, but if their collection of young, skilled, confident playmakers competes like they did for much of the game against Oregon, Syzygy's bright future has a chance of arriving sooner than expected.