The best final in recent memory.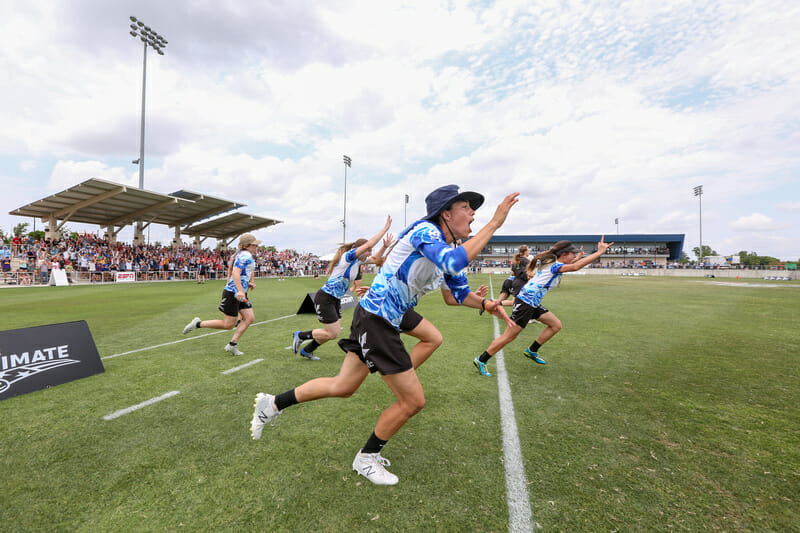 Ultiworld's 2019 coverage of D-I Women's Division is presented in by VC Ultimate, the official gear provider of the Premier Ultimate League. All opinions are those of the author. Please support the brands that make Ultiworld possible and shop at VC Ultimate!
AUSTIN — UC San Diego won a thrilling double game point final 12-11 vs Dartmouth in an already legendary final performance between the division's two biggest heavyweights and its two biggest stars, Dena Elimelech and Jack Verzuh. UC San Diego trailed for nearly the entire final, breaking upwind to score the final point and win against the two-time defending National champion. This is UCSD's first national title since 2002.
Foot blocks. Jump balls. Astounding wind-bending throws. Ankle catches. This final included every flavor of drama a fan could hope for, including a wild double game point that Spielberg has already bought the film rights for.
This final rematch was the third (and likely last) chapter in UCSD and Dartmouth's history. They first met in the 2018 Northwest Challenge, where Dartmouth beat UC San Diego and Jack Verzuh won the matchup against Elimelech. They met again this year at Northwest Challenge, but absent Elimelech and Dartmouth's Claire Trop — UCSD won handily.
There were no more asterisks or excuses in the College Championship final. UC San Diego and Dartmouth were at the top of their seasons, and the resulting game was an instant classic. This final will be shorthand for years to come for ultimate fans and players alike.
The game began in much windier conditions than teams had played in on Saturday during the semifinals. Dartmouth pulled downwind to start, and Trop got a block and a goal to open the game. UC San Diego and Dartmouth then traded holds until 4-3, when Trop again got a block on UCSD's huck deep downwind to Alexandra Diaz. Dartmouth worked up the backhand sideline, and Tornquist hucked deep to Trop who sprinted at top speed and made the better read and the grab over Elimelech. She hit freshman Cindy Yuan for the upwind break.
After a few mistakes and turns, UCSD found their rhythm and worked the disc up onto the upwind goal line. Kelli Iwamoto and Avery Jones ran quick give and gos before a UCSD receiver dropped a pass. Dartmouth raced down the open side to complete the break and build their lead to 6-3.
That mistake would not be the only time that UCSD would dash their own hopes for an upwind score. UCSD got within 10 yards of the upwind endzone four times throughout the game, and every time they either fumbled a pass or threw into coverage.
"It's hard to score upwind in this wind when you're playing a two-time national champion," said UCSD co-coach Carlo Mosca. "You know, like, every time we got close was a giant achievement."
Luckily, they had Dena Elimelech on the field. She played 22 of the game's 23 points and led the game in blocks (5) and assists (6). In the next point, Elimelech got a handblock on Hannah Marr to recover possession. It was her second point block of the game after she emphatically footblocked a Verzuh huck earlier in the half. UCSD held after the block, and they got their first break upwind through Elimelech once more.
"It's funny because everyone sees her on TV and are like, 'Wow she's having such a great game,'" said Kelli Iwamoto. "And we on the sidelines are like, 'Classic Chrome [Dena].' We see this every single game."
Of the Jack vs. Dena matchup, Dartmouth coach Eugene Yum said: "I think over the last couple years, there's always the hype of who Jack is gonna face next…we've been lucky to win most of them, but this year we were testing it over and over again because we were used to it working, and as a coach, I wish we went to our second or third option, but that's how it is."
UCSD set several iterations on the same zone concept against Dartmouth: clog the middle of the field and challenge the first reset. One zone they set was a box-and-one style zone with two players around the mark, one player chasing the closest reset, a three person wall, and then Elimelech patrolling the deep space. This zone made it hard for handlers like Lee to easily reset their stall count, and Dartmouth's cutters struggled to get open in the under cutting lanes.
"They just doubled down on knowing that when the going gets tough, we look for our top players," said Yum. "I was trying to help out, trying to place other players in those spots as options, but we didn't get to practice that as much in our season…UCSD really doubled and tripled down on clogging wherever Jack [Verzuh] was. I feel like everyone was covering them in the middle. You can expect a lot out of them, but they can't do it all."
Two more blocks and an assist from Elimelech earned UCSD their next break downwind to tie the game at 6-6. As she threw a high release into the end zone, the crowds chanted "MVP! MVP!" at her, drunk on the feeling that they were witnessing a once in a lifetime game and athletic performance. Truth be told: they had no idea what was coming.
Teams traded holds into half, with Dartmouth leading 8-7 and UCSD knowing they would need an upwind break to win. Out of half, UC San Diego matched Dartmouth's opening downwind break with one of their own to tie the game 8-8. Then the rest of the second half was holds until the teams reached 11-11. During those points, UCSD had two upwind endzone chances, but they couldn't score. Dartmouth kept running through their core three players: Verzuh threw the team's three points in the second half, two to Lee and one to Trop.
The score was 11-11. The fans clearly favored the underdogs UCSD, putting the Psychos' name in other team's cheers. UC San Diego pulled upwind and set a poachy zone around the Dartmouth handlers. Lee looked for options under, and then tried to boost a forehand deep as her final option. But the throw was short, and Stacy Tran blocked it easily.
UCSD had one final chance to work the disc upwind, something they'd only done once successfully, and that was by hucking a risky shot to Elimelech. They couldn't take risks now, with so much on the line. UCSD handlers start their give and go movements, until Samantha Wool threw a pass behind Elimelech, who reached behind her body, corralled the disc into herself, and caught the disc between her ankles as she fell. The crowd went berzerk as the observer confirmed what we'd all seen: the disc was up. Elimelech managed to stop rotation with her calves as she fell, saving possession for her team and their season.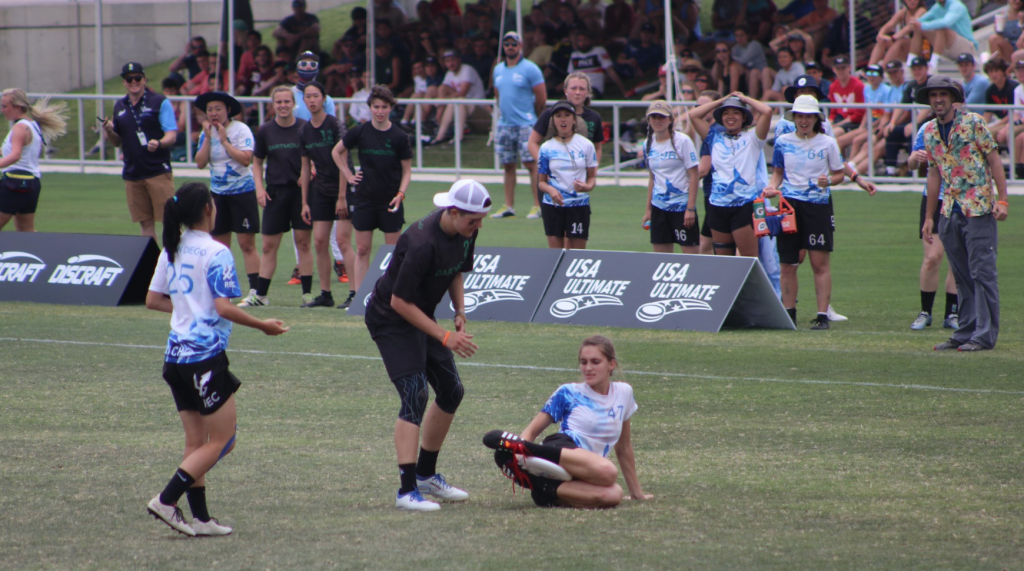 "Everything kinda tightened up because I knew if that was a turn, it would be hard to get back on D," said Elimelech with the casual tone of something discussing why they decided to wear green socks instead of black socks. "It kinda just worked out."
Time slowed after that point. You could feel your heart beating as the UCSD handlers worked the disc patiently and relentlessly up the field. Iwamoto, Wool, Jones and Elimelech played small ball despite big marks and bidding defenders.
"Normally we play and we don't know the score," recalled Iwamoto, "and this was a weird situation where we knew definitely knew where we were. And I just remember repeating to myself, 'It doesn't matter. This is just one point, one point. Don't think about it. Just 100% throws, don't throw it away, 100% throws. Play my hardest."
By contrast, Elimelech recalls, "I didn't feel much pressure. I was just like, 'Oh let's just play our game and see what happens.'"
They swung the disc across the field over and over, moving foot by foot closer to the endzone. Jones overshot Elimelech on a break swing, and Elimelech laid out to save possession. Once standing, a high release lefty backhand into the wind to Iwamoto past Verzuh's shoulder sealed the game's fate: on just the third upwind break of the game, UC San Diego won the College Championships 12-11.
The final point of this game was the most exciting ultimate of the weekend, and the final, with all its drama and big plays, lived up to the hype expected from these two dominant teams. UC San Diego took the crown from Dartmouth after a near-perfect season, winning through the excellence of their zone defense, their offensive system, and a healthy dose of Dena Elimelech.