Aggressive throws and smart defensive adjustments kept Chaos ahead of Minnesota in a wire-to-wire victory.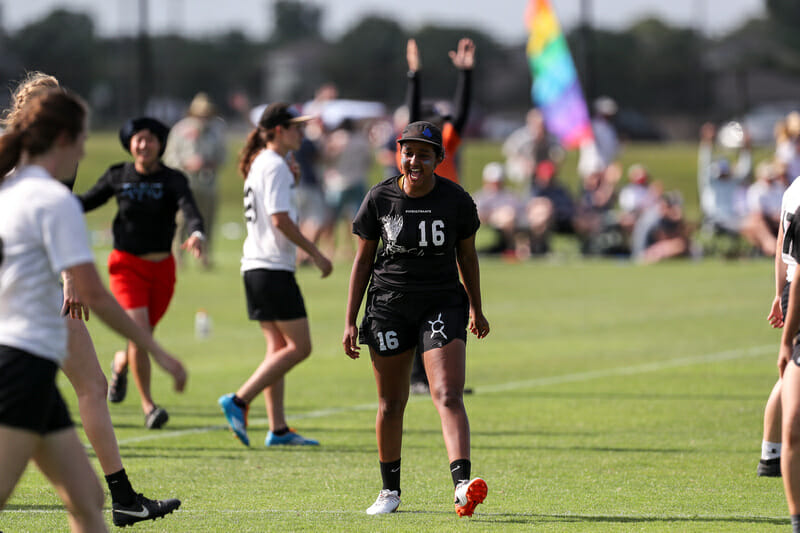 Ultiworld's 2019 coverage of D-I Women's Division is presented in by VC Ultimate, the official gear provider of the Premier Ultimate League. All opinions are those of the author. Please support the brands that make Ultiworld possible and shop at VC Ultimate!
While many of the teams around them succumbed to Saturday's whipping wind, with their season on the line, Western Washington powered through the wind and Minnesota's defense to beat an otherwise sound Ninja team 12-8 with their undeniable throwing prowess.
Western Washington's ability to navigate the wind was apparent from the first point. After an overthrown pass from Minnesota, Western Washington went to work with their upwind offense. With Minnesota immediately transitioning to zone, Chaos had to deal with the added pressure of the Ninja cup when trying to work it up the field. Instead of the regular handler swings, Western Washington opted for a number of risky upline flicks along the sideline. For a less experienced team, these shots would have inevitably ended in disaster, but somehow, they worked to perfection.
Ruby Cassidy and Nellie Joselyn were largely responsible for this success. Cassidy in particular had quite a performance in the game. Smart defense, reliable cuts, and consistent upwind throws made her invaluable for Western Washington's offense. She did all the little things right, ensuring that there was little chance of Chaos losing the disc when she was running things.
Between Cassidy, Joselyn, and Samiya Ismail, Western Washington earned three upwind breaks early in the game, setting the stage for a blowout win. Credit should go to Riley Tauer, Maddie Gilbert, and Sonya Morris, too. They were just as impressive for Western Washington going downfield, and prevented Minnesota from getting any sort of rhythm going for most of the first half.
After going up 6-1, Chaos looked firmly in control of the game. But Minnesota wasn't done, not by a long shot.
Minnesota's offense must have hit a reset switch midway through the first half because their entire demeanor changed. The huck-and-hope downwind offense that had failed them was discarded for a tactical, patient system that was far more emblematic of the team's offense that they had ran all season.
Minnesota replaced hucks with handler resets, and blades with low-release backhands. Where once they had been frenetic, now they were the picture of serenity. This was most obvious in their first upwind hold. Despite being down five breaks, Minnesota steeled themselves to WWU's zone defense and patiently worked it up the field. Jessica Halverson, Kayla Blanek, and Maggie Peck made all the right passes up the field, ignoring the score and focusing on completions. It took them over 60 passes, but Minnesota scored upwind and all but broke the confidence of Western Washington's zone defense.
The 6-2 lead that Chaos had built suddenly felt very fragile, and Minnesota aggressively attacked Western Washington while they were vulnerable. What started as a 6-1 lead soon dwindled to a 6-3 lead, and then a 6-4 lead. The pendulum of momentum had firmly swung in Minnesota's favor.
It would take a dropped swing on the endzone for WWU to break the curse. Minnesota's defense caused yet another turn on Chaos by forcing an ill-advised huck, only to lose the disc themselves with a sloppy reset pass. It was there that Cassidy managed to punch in a pass to Eleanor Heberlein, ending the team's cold streak.
Western Washington's captains recalled that point, and remembered steadying themselves in the moment. "We were coming to Nationals to play teams at their best, and we were excited for the opportunity to beat teams playing at their best," they said.
Chaos would take half soon after, and the break gave them all the time they needed to regain their composure.
If there was some secret sauce that led Minnesota to the break train that they had late in the first half, they lost the recipe in the second. The same players that had caused Western Washington to panic suddenly couldn't catch a break. Much of this was due to the clever defensive adjustments WWU made. They added a dogged handler defender to their zone, preventing easy resets and forcing Minnesota's handlers to throw passes through the cup. Western Washington also used their fast break offense much better in the second half, pushing the pace and forcing Minnesota to keep up.
On offense, WWU continued to allow Tauer to take whatever shot she wanted, but made play after play to save the disc. Minnesota had few easy turns off of WWU's offensive line, and when they did, there wasn't much opportunity to close out against them.
"We work our system really well. We knew we could beat teams if we held to it. We've been practicing it all season and stuck to it really well today," said the Western Washington captains.
By the end of the game, Western Washington had thoroughly beaten Minnesota with their throws. While Minnesota's upwind offense could look magical at times, Chaos scored through brute force and sheer volume. They took the same shots as that they would have made without the wind, and enough went through that Minnesota stood no chance by the time cap rolled around.
Apart from Minnesota's small surge in the first half, Western Washington was in control the entire game. With a quarterfinal against Dartmouth looming large in their future, they'll need to recapture the same energy and fighting spirit that they had against Minnesota if they want a chance to upset the reigning national champions.