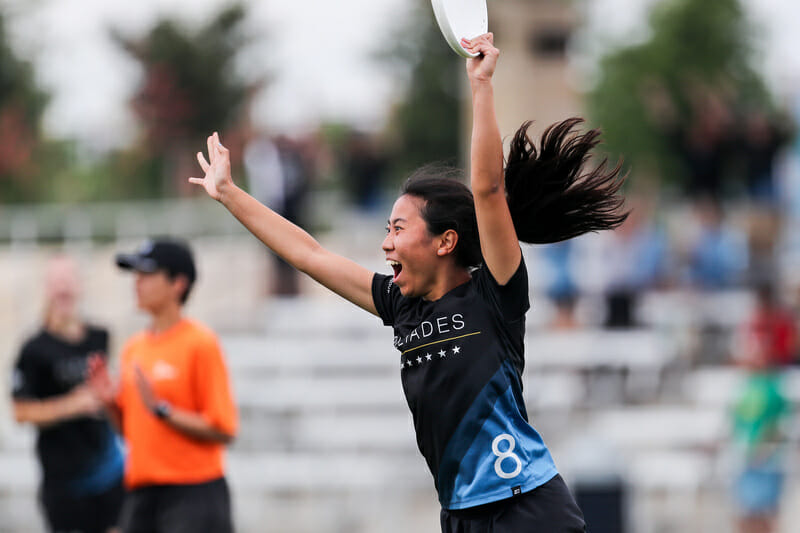 Ultiworld's 2019 coverage of D-I Women's Division is presented in by VC Ultimate, the official gear provider of the Premier Ultimate League. All opinions are those of the author. Please support the brands that make Ultiworld possible and shop at VC Ultimate!
North Carolina Pleiades knocked off the UC Santa Barbara Burning Skirts 14-11 to clinch their first-ever national semifinals berth. After getting broken on the first point of the game, North Carolina rolled off five straight goals to take a commanding lead from which UCSB could never recover. North Carolina expertly used their advantage in depth to minimize the impact UCSB's stars were able to have on the game. UCSB did get one break back before the half, and there were some tenuous moments late in the second half where UCSB nearly got an upwind break that would have forced North Carolina to hold upwind to maintain their lead, but Pleiades never felt in danger once they went on that early run to make it 5-1.
North Carolina knew that UCSB would try to run primarily through just a few players, and they sought to use their superior depth to minimize Audrey Brown's offensive impact, and Julia Kwasnick's defensive one. Carolina was able to put multiple elite different defenders on Brown, like Mary Rippe and Bridget Mizener, and forced UCSB to move the disc through less offensively polished players like Kwasnick and Kaitlyn Weaver which led Santa Barbara to play less efficiently with the disc. Brown was limited to just two assists, and while Weaver stepped up with four assists, she also had 10 turnovers.
The focus from the North Carolina defenders was to limit Brown's around throws. "We were able to put some people on her who could put a big, flat mark, move it side to side, so it limited her ability to throw those big around backhands," said coach Lindsay Soo. "We talked a lot about downwind going flat flick because a lot of teams like to work that around backhand side and, if we're flat, the wind will just carry it down to the ground. We want to make sure that what they're doing, we're making it as difficult as possible. We also knew that they were short staffed. They have a couple players that they rely on a lot, and those are great players, but we were able to use a decent amount of the depth of our roster to just keep running them."
When North Carolina had the disc, Kwasnick primarily covered ace cutter Anne Worth, and did so relatively effectively, but Santa Barbara didn't have the depth of defenders to also slow down the likes of Mizener and Ella Juengst. Much of North Carolina's forward progress, especially in the first half, was generated by Mizener and Juengst crushing Santa Barbara for gainers underneath. Those two finished the game with a combined seven goals and five assists, and many of those came from one passing to the other. "They have some great players but they don't have four great defenders that can totally shut down our four great cutters," said Soo. "We just knew that whoever is poached, whoever is the most mismatched, you're gonna work and you're gonna get the disc."
The initial swing of momentum for North Carolina seemed to overwhelm Santa Barbara, while North Carolina did a tremendous job of preventing that opening break from becoming a game determining point. They dropped a pull at 3-1 and didn't get a hold until their fifth O point of the game. Soo said that the surrendering that initial break was a bit of wakeup call for the young Pleiades team, playing in their first ever National semifinal. "Sometimes I think it's good to get kicked in the butt a little bit," she said. "When we got broken, it was like, okay, pressure's off, all we have to do is score now. We don't have to worry about getting broken now because it already happened. We were just able to come back and come back hard."
UCSB didn't have a single player with experience playing in the Nationals bracket on their roster, and the early game jitters aren't entirely shocking for a team playing in uncharted moments of pressure. "We were just having slight miscues that resulted in turnovers. UNC was doing a really good job of using the width of the field and we just had miscommunications that resulted in turnovers," said UCSB head coach Ronnie Eder.
Once UCSB finally got that first hold, they did settle down a bit, and in fact outscored North Carolina 10-9 after the early flurry. But with UNC's ability to get holds up and downwind, the hole was too big for UCSB to come back from. Santa Barbara got breaks at 7-4 and 11-8, and came close to a couple more on the final couple points of the game. UNC wasn't as dominant offensively as they had been in the second half, as UCSB made some adjustments defensively,  and UNC was unable to turn possessions into breaks as consistently. "We were focused on the front endzone cone, stopping their movement to the front endzone cone. I think that really helped in our endzone D," said Eder. "And then focusing on not biting on the breakside cuts downfield, really trusting our marks."
But ultimately, UCSB didn't have enough defensively to generate the necessary break chances against a UNC offense with Mizener and Juengst playing so effectively, especially when Kwasnick began to show some signs of fatigue and Worth also began to find success underneath. And when they did have the opportunities, they didn't quite have the throwing ability to get the needed upwind break.
North Carolina's early surge gave them a lead that their depth was able to ride out for the rest of the game. They did an excellent job of maximizing the impact of their depth and they were able to limit UCSB's most polished thrower to a minimal impact, and those were the differences as North Carolina earned their deepest ever run into the bracket.