Dartmouth's top talent controlled the matchup.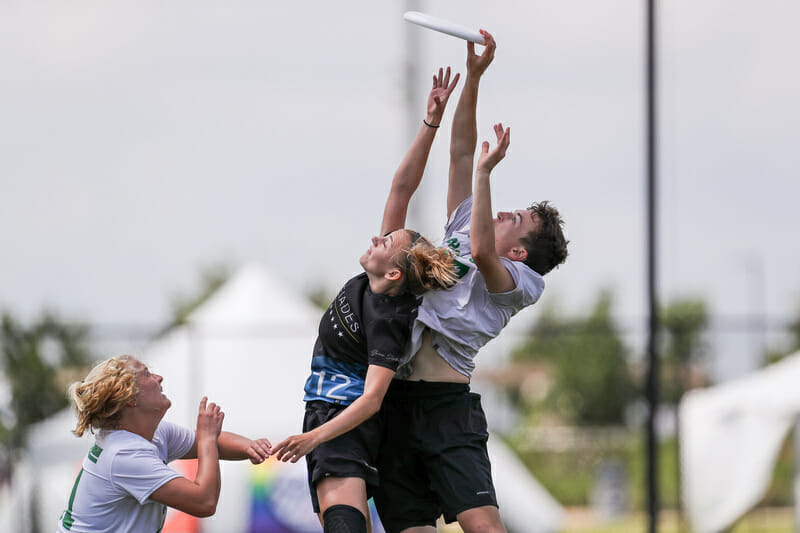 Ultiworld's 2019 coverage of D-I Women's Division is presented in by VC Ultimate, the official gear provider of the Premier Ultimate League. All opinions are those of the author. Please support the brands that make Ultiworld possible and shop at VC Ultimate!
Dartmouth vs. North Carolina Pleiades was a battle of top end talent vs. depth. Dartmouth has played through their four best players — Jack Verzuh, Caitlyn Lee, Claire Trop, and Caroline Tornquist — all weekend to great success, while North Carolina, also dominant through the tournament's first two days, spread out the offensive and defensive responsibilities through the top 11-12 players on their roster. Before the game, the question was which would roster-usage strategy would rule the day. After Dartmouth's 12-10 win, the answer was clear: Dartmouth's top end still reigns.
Verzuh, Lee, Trop, and Tornquist combined for 106 touches in the game, while the rest of the roster's 16 players had 29. Hannah Marr and Maggie Pizzo had 17 of those non-top four touches, meaning that 10 other Dartmouth players combined for just 12 touches. Dartmouth's plan to play through its hyper-elite top end was the most evident when Verzuh elected to holster an upwind, backhand huck to a wide open Abby Ritterband. Perhaps Verzuh was reluctant to attempt a half field throw into the wind, but it felt like if Lee, Trop, or Tornquist had been as open, Verzuh would have tried to make the pass.
Dartmouth's star players held an even greater percentage of the team's scoring plays. The top four were responsible for 11 of the team's 12 goals, and all 12 of the team's assists. Rookie Grace Alston was responsible for the one non-top four goal, and to her credit, Alston made an unreal layout grab to save an upline throw from Verzuh for that score, but the team's core playmakers were responsible for all of Dartmouth's playmaking.
The majority of Dartmouth's creativity was even more concentrated within the top four, as Tornquist and Trop each contributed just one assist on the game. Verzuh, easily the game's most talented thrower, had six, and Lee had four.
To Dartmouth's credit, it wasn't as if their top four players were on an island out there. Marr and Pizzo had only three turns on their 17 touches, and the other 12 touches from the team resulted in another three. That's not game-changing efficiency, but they were certainly strong enough to not undo the team leaders' excellence.
North Carolina, conversely, had nine different players with double digit touches, three of whom had more touches than anyone on Dartmouth. That was because of Dartmouth's preference for zone defense, with Dartmouth's star power in the deep space keeping North Carolina playing small ball. Tyler Smith led Pleiades with 60 touches, and her four assists were most on the roster, too. But Smith had just 23% percent of North Carolina's touches, compared to Verzuh's 27% for Dartmouth. Considering Smith was the center handler for a team playing against a zone, while Verzuh played against mostly matchup defense, Verzuh's higher percentage is indicative of a more jarring contrast than the raw totals present at first glance.
The next highest volume players for North Carolina– Anne Worth, Sydney Rehder, and Bridget Mizener– combined for 107 touches, which, when combined with Smith's 60, means that North Carolina's four highest volume players were responsible for 63% of North Carolina's touches. Dartmouth's four highest were responsible for 79% of theirs. And again, North Carolina playing against a zone means they were always more likely to have a few players with a disproportionate number of touches, while Dartmouth playing against matchup should have, in theory, spread out the touches a little more evenly.
North Carolina also spread out the goal scoring load more than their Dartmouth counterparts. Four different players scored, and five different players had an assist, and no one had more than six combined goals and assists. It was clear that North Carolina intended to counteract Dartmouth's star players with their superior depth. Dartmouth's zone defense played a part in preventing UNC from maximizing their advantage in that area, but ultimately, Dartmouth's superstars won out over UNC's quality depth, and that's why they made their third consecutive national final.