A trio of players to keep an eye on in 2020.
Ultiworld's 2019 Men's College Awards are presented in part by VC Ultimate, outfitting the world's best players since 1998. They are also presented in part by the National Ultimate Training Camp, who can help prepare you to be an All-Star. All opinions are those of the authors. Thanks for supporting the brands that make Ultiworld possible!
Ultiworld is pleased to announced our sixth annual D-I College Awards. The criteria for each award can be found here — we consider both regular season and postseason performance in our selection of awards. As the overall top performers of the year, players selected as top three in Player of the Year voting are removed from consideration for other individual awards.
Links to all of the 2019 D-I Men's Division awards will be added as awards are announced:
Player of the Year Award
Offensive Player of the Year Award
Defensive Player of the Year Award
Breakout Player of the Year Award
Rookie of the Year Award (will be announced later this week!)
Coach of the Year Award (will be announced later this week!)
All American 1st Team (will be announced later this week!)
All American 2nd Team (will be announced later this week!)
D-I Men's 2019 Breakout Player Of The Year
Solomon Rueschemeyer-Bailey (Brown)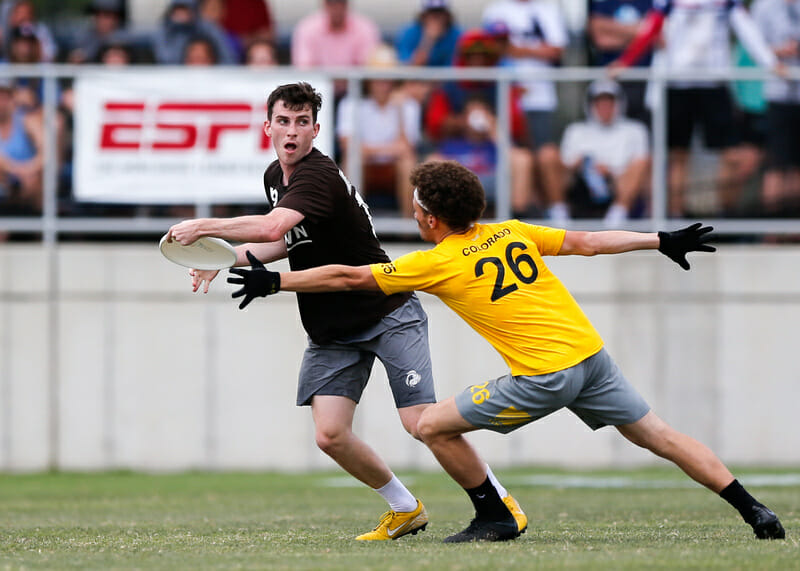 Rueschemeyer-Bailey was supposed to be a nice piece for Brown in 2019, the kind of player every good team needs. You know the type: a low-ego, low-turnover, hard-working upperclassman that does a lot of the little things right, a trusty player on the mark or with the disc, the guy that coaches love.
To say that Rueschemeyer-Bailey's season fulfilled those expectations is both entirely accurate and a titanic understatement. It became clear during the regular season that he had found his niche as a cog in Brown's formidable D-line offense, and he began to blossom into something more. He and fifth-year teammate Ned Dick gained a reputation for their stubborn, effective, reset-heavy weave after turnovers: together, they punched in a lot of breaks.
But even after a season of unquestionable success, Rueschemeyer-Bailey's star was only beginning to rise. To see him play at Nationals was to witness an apotheosis of tireless dependability. Shouldering the load of injured O-line mainstay Ken Noh in addition to his own on the D-line, the junior wasn't just hardworking, but indefatigable. He seemed never to stop churning through cut after cut to keep a long Brown possession going. And far from being merely reliable, he was rocksteady in the oppressive Texas wind, pulling off thorny high-releases and arounds like an old pro at indoor league.
Rueschemeyer-Bailey saved his best act for last. Between the semifinal and final, he notched nine assists on 80 completions against just two turnovers, all while leading Brown in points played. It was a sterling performance and as good a closing argument for this award as anyone could have made. Nice piece indeed.
1st Runner up: Alex Atkins (Colorado)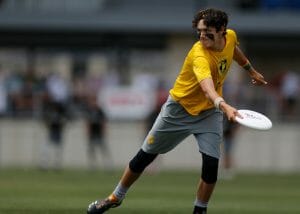 Atkins, the lanky shooter who propelled Mambird to a semifinals run at Nationals, is hard to miss. A loud presence in both his demeanor and his play, Atkins put up an impressive 8 goal, 21 assist performance at Nationals that turned the heads of anyone who wasn't already looking in the sophomore's direction.
As Colorado picked up steam over the second half of their season, Atkins took on a larger and larger role for the team. It's no coincidence that Mamabird's success came about at the same time Atkins took his game to the next level. Impossible to mark high releases and screaming hucks that unfurl from his long 6'3" frame became a trademark for the Colorado sophomore. While his obvious talents sometimes strayed from aggressive to reckless, Atkins was a necessary injection of verve and pace into an otherwise largely conservative Mamabird team. Expect more of the same next season.
2nd Runner up: Jeff Gao (Michigan)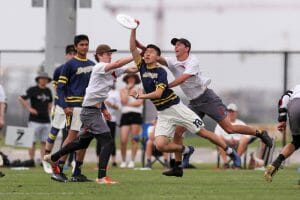 Michigan MagnUM's return to the national stage after a disappointing 2018 campaign peaked with a surprising appearance in the quarterfinals in Austin. Shifty, agile sophomore cutter Jeff Gao was at the heart of that high finish.
Anchoring a defensive line that strung together devastating runs of breaks against NC State and Oregon, Gao was the go-to option for Michigan when they needed to punch in a score on the goal line. The team's reliance on his consistent ability to shake his mark in tight spaces contributed greatly to their three narrow victories at Nationals and Gao's team-high 18 goals on the weekend, which outnumbered anyone else on the roster by 10.
Gao, alongside other young Michigan talents Raymond Lu and Eli Weaver, will be a force in the Great Lakes region for the next few years, especially if new coach and former MagnUM player Parker Howard remains at the helm. They will have to hope that the late-game magic Gao created in Texas will carry over to MagnUM's Team 23 in the upcoming year.